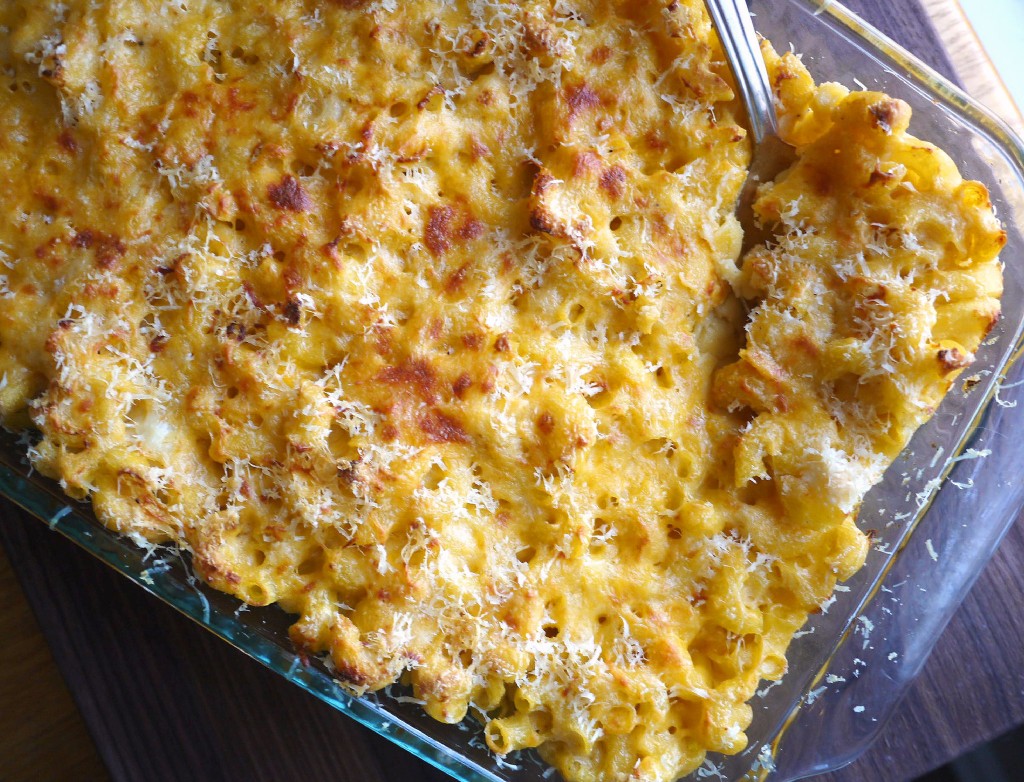 Little did I know when my friend Amy challenged me to make a gluten-free, low-lactose version of Martha Stewart's mac 'n' cheese (via Smitten Kitchen), that it would lead to this. One of the best days yet for HRx. Not only did I hit 100 blog followers today, but I got my first featured post on POPSUGAR Food. Yeahhhh!!!!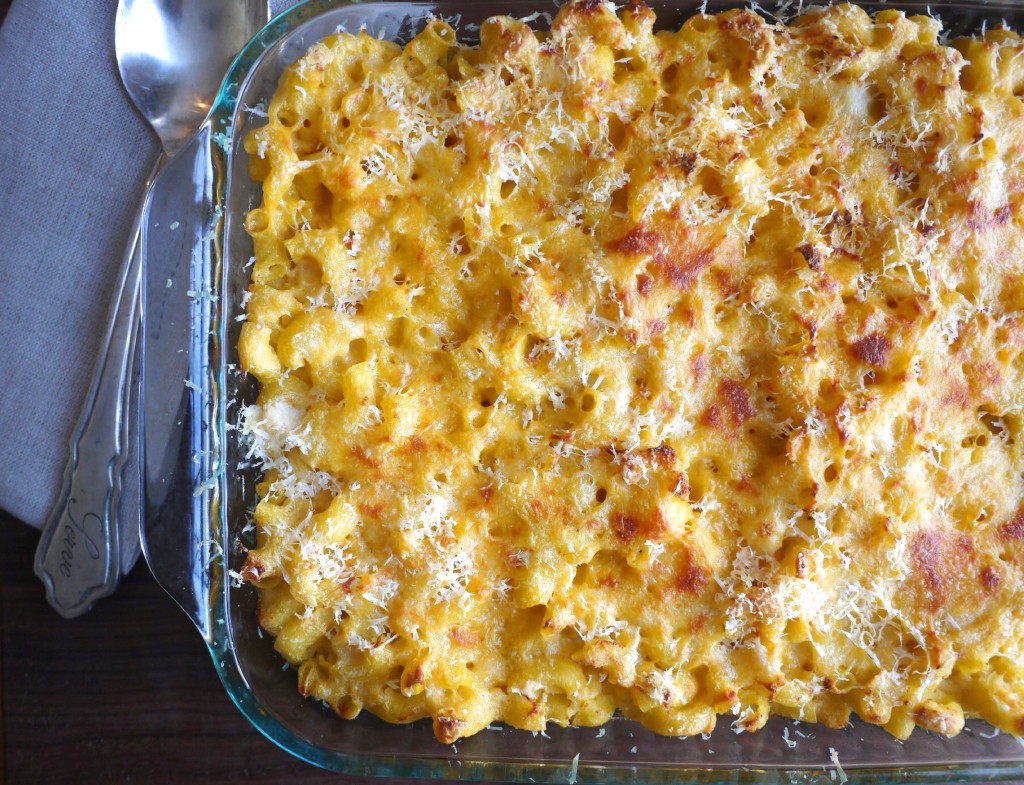 My journey towards the great mac 'n' cheese makeover began about a year ago with said friend asking for my advice. She was throwing a dinner party and wanted to make a baked mac 'n' cheese because (a) casserole-type dishes are the easiest way to feed a group and (b) who doesn't love mac 'n' cheese? Don't answer that or we can't be friends. However, among her guests were those with gluten and lactose intolerance. So, she challenged me to come up with a version of Martha's mac 'n' cheese that would still impress at a party but would be easily ingested by all those with dietary constraints. Challenge accepted! But, first, I had to taste the real thing. So I made Smitten Kitchen's version. Like everything Deb does, it was the mac 'n' cheese mecca. Creamy, cheesy, crunchy, casseroley – you know, the 4Cs (we're talking mac, not diamonds – step away from the shiny baubles). It's the real deal. I was determined to start playing around with my version right away. Then, life got in the way. Weddings, trips to Paris, other foods, new cookbooks, you know the deal.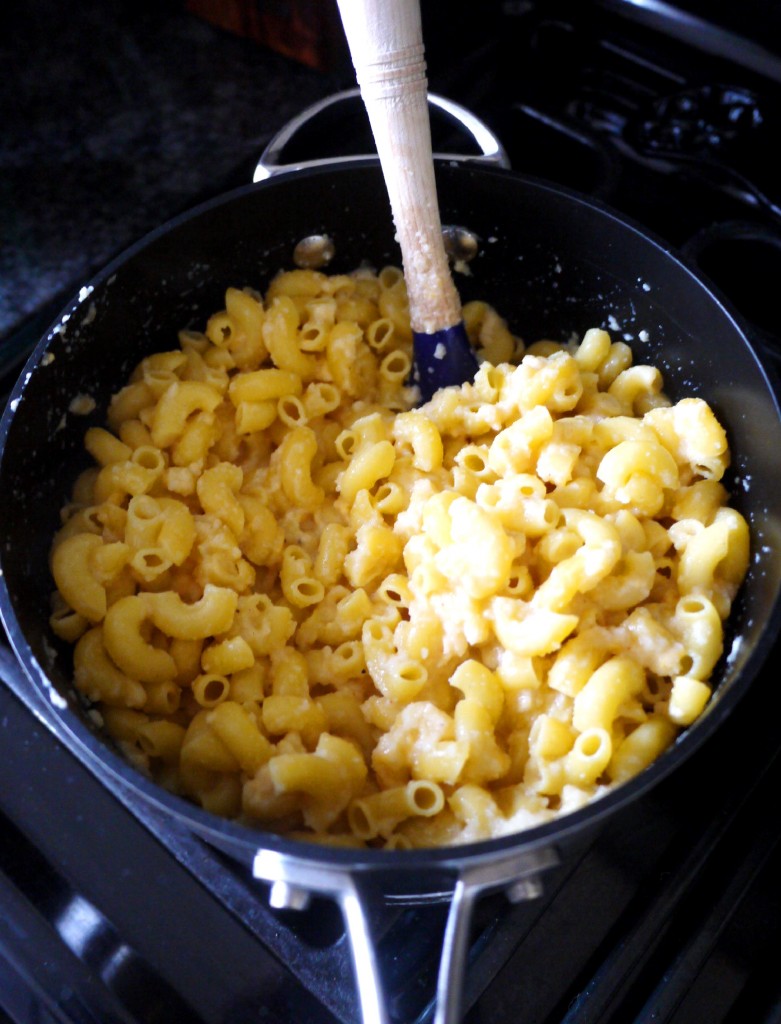 Despite the craziness that was my life last year, every so often my thoughts would drift to the mac 'n' cheese (almond milk bechamel? coconut milk bechamel? brown rice noodles? quinoa noodles?), but it wasn't until this fall that I really started thinking clearly. Quinoa noodles were an obvious choice for me because they are, thus far, my favorite gluten-free pasta substitute. The cheeses were fine because cheddar and pecorino are already low-lactose. It was the dairy-heavy bechamel sauce and the crunchy bread topping that really got me. I just could not decide what to use. Then, as I was remaking my cauliflower crust pizza for the zillionth time, it hit me. Cauliflower puree. I've made cauliflower crust pizza, cauliflower soup, and cauliflower mash, and each time, the cauliflower has taken on a new form that excites and delights my palate. As far as I was concerned, it was the only way to go. As for the crunchy bread topping, my mind went from crushed potato chips to almond flour bread crumbs to crispy pancetta to chopped nuts (all of which I think would be a fine addition, though the pancetta makes my knees weak), but I realized that, sometimes, the best things in life are simple. Fancy toppings come and go, but I wanted to perfect the simple base that is the baked pasta dish we all love.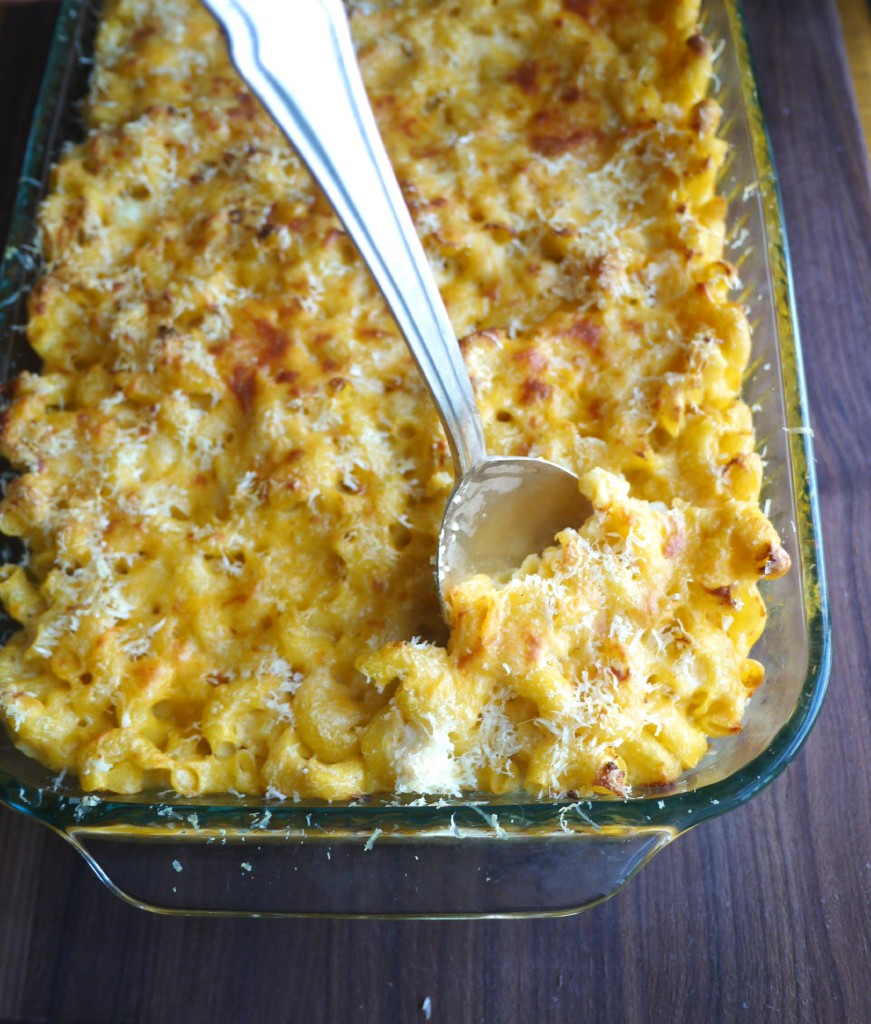 Anyways, after making and adjusting my version a few times (a little less nutmeg, a little more cayenne, a little less cheese, a little more cheese), and having my gluten intolerant stepmom give it her stamp of approval, I was planning on posting this mac 'n' cheese right around the holidays. But, then, I saw POPSUGAR's request for "Comfort Foods for the New Year." Come on, I said. Could this recipe BE any more perfect? (Could I BE wearing any more clothes?? 10 points and free mac 'n' cheese for whoever can guess what show that's from.) Mac 'n' cheese is the ultimate comfort food and my makeover makes it perfect for keeping with New Year's resolutions. I just had a feeling that I was a shoe-in.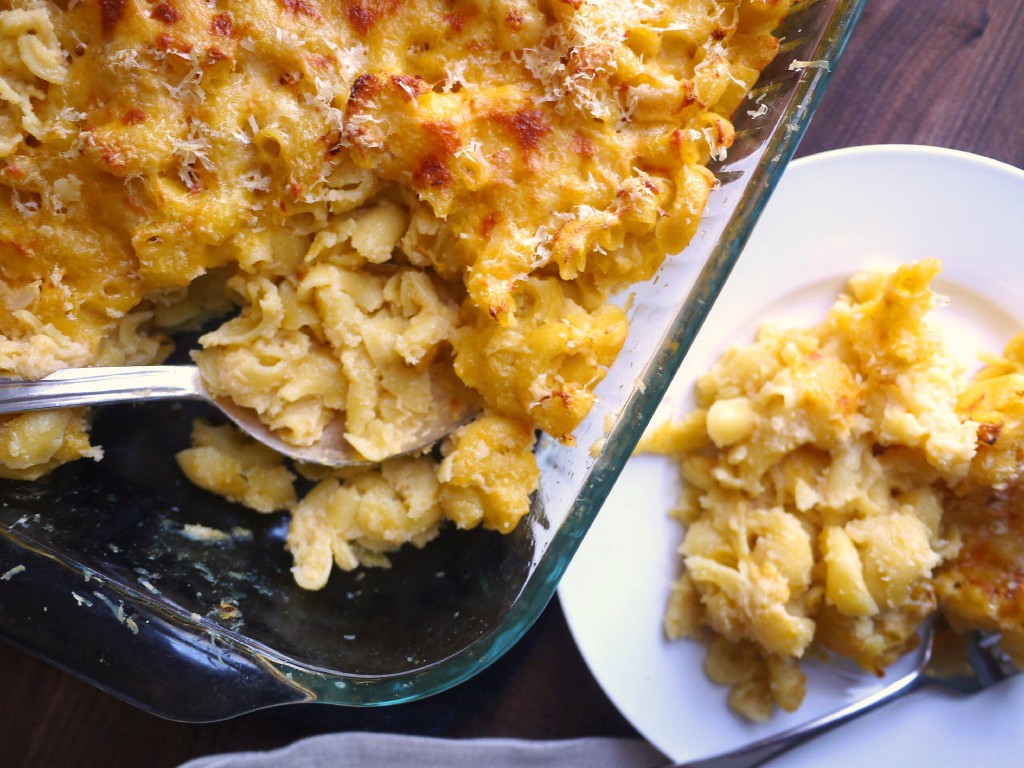 Fast forward to today – the day I found out my recipe was posted for all the masses to see. It makes me feel like I'm doing something right. That all this hard work and force-feeding Alasdair healthy recipe after healthy recipe wasn't for naught. And, maybe, just maybe, I'm on to something. 🙂