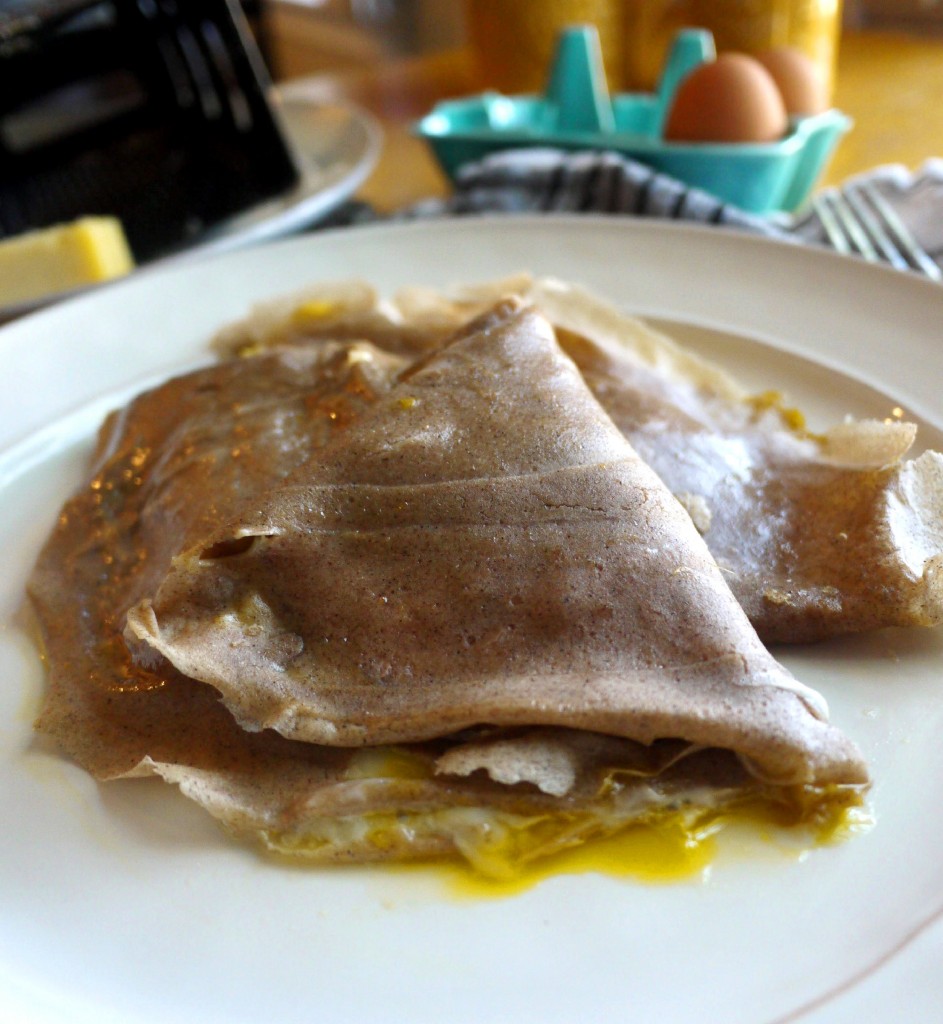 When I was planning our big D.C. wedding, before the impulsive yet brilliant decision to abscond to Paris, I was *slightly* fixated, infatuated, obsessed with having crepes at our reception. Not fancy, eat-off-your-plate with a fork and knife kind of crepes. Nope, the kind of crepes I had in mind were the big, cheesy, savory kind wrapped in foil that you buy off one of the many street vendors in Paris and eat standing up with butter dripping down your arm to your elbow. Salivating, yet? I am. Unfortunately, finding the perfect Parisian crepe outside of Paris is like finding the perfect New York bagel outside of New York. It probably won't happen – at least not if you're a crepe snob. I won't say my desire to have a galette with jambon, fromage et oeuf at my wedding was the reason we ditched the D.C. wedding and headed across the pond. But I would be lying if I said the possibility of a cheesy crepe on my wedding day didn't play a tiny part in my side of the decision.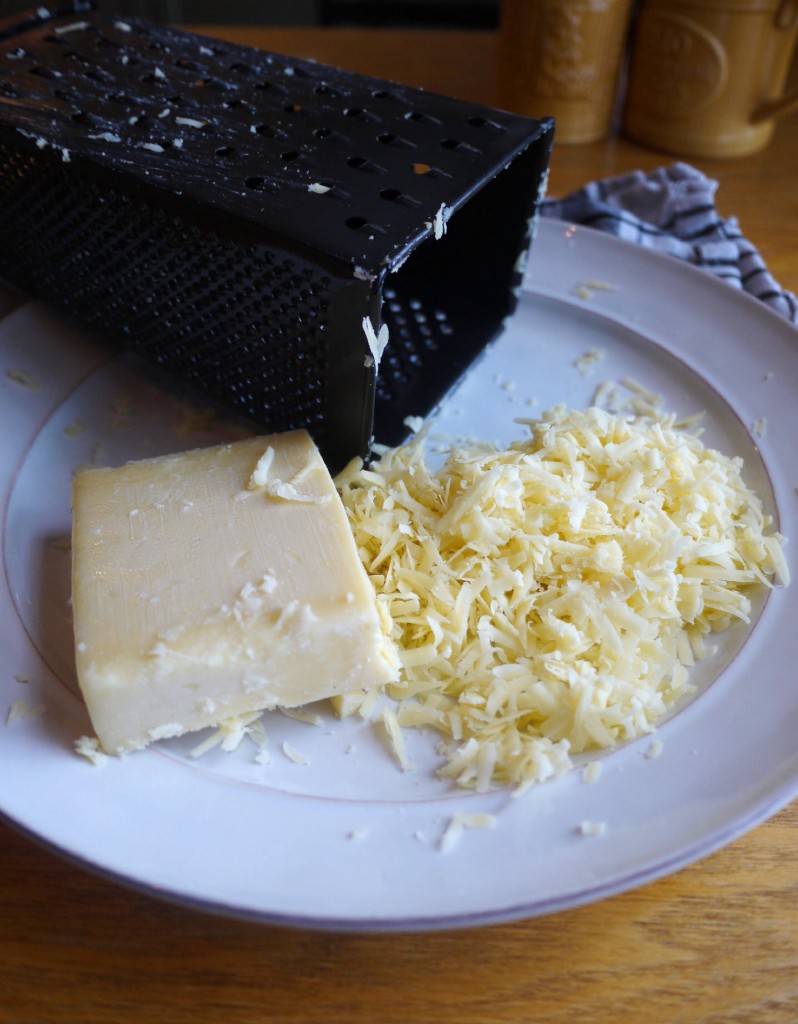 It probably won't surprise you then that, within five minutes of checking into our hotel and dropping off our luggage, I was back on the street, getting my first galette complète- a ham, egg, and cheese crepe, pretty much the only crepe I indulged in during my four months living in Paris. Before I go on, I should explain that "galette" is the word the French use for savory crepes. Anyways, back to my crepe. It was just as delicious as I remembered. So delicious that I promptly forgot that I was getting married in three short days and had a dress to fit into. Fortunately, and for reasons almost solely related to anticipated crepe consumption, I had the foresight to buy a dress that was flowy and forgiving. 🙂 I devoured that crepe in less time than it took me to order it.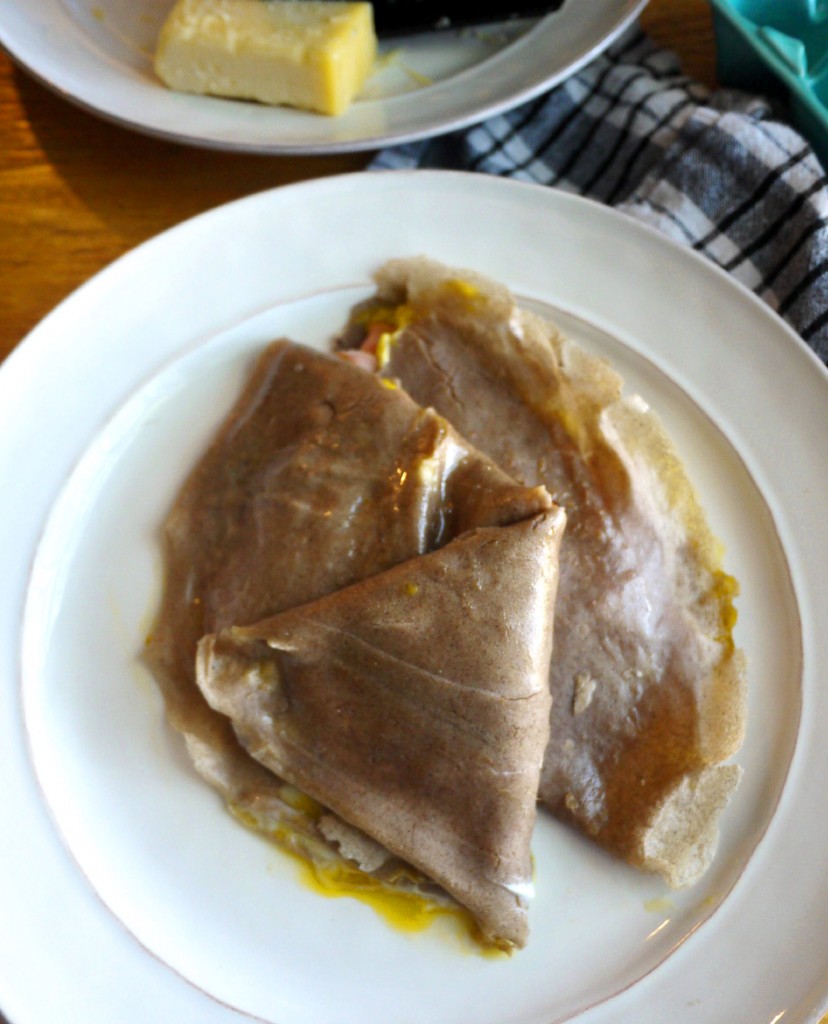 Imagine my delight when I was at the airport flipping through the French edition of Saveur to find a recipe for a galette complète comme la creperie (like the crepe stand). Now, don't get the idea that I'm fluent in the French language and go around reading French cooking magazines. Sure, I can make my way around the city in halted French, but, in order to decipher the galette recipe, I needed much assistance from the internet. Not just in terms of translating the language, but I also had to translate from grams to cups and centiliters to ounces. It shouldn't come as a surprise then that, after a double translation, my first attempt at making these crepes didn't exactly pan out (pun intended). They tasted great (how could they not with a combo of ham, egg and cheese?), but they unceremoniously fell apart in the pan when I tried to flip them.
So, I re-translated, re-calibrated, made a few adjustments, and they got better. Still not perfect, but I think I know why. I'm no stranger to crepes, and when I use my light, medium-sized skillet, they're surprisingly easy to make. But, in order to get the proper French crepe size, big enough to hold the hefty fillings, I had to use my largest skillet, which just so happens to be my heaviest skillet. Not so easy to maneuver and quick maneuvering is extremely important in crepe-making. I've always thought a crepe pan with its big bottom girth and its light weight was useless when I had at least three decent skillets in my cabinet, but now, I see the point. And, maybe I also see the point of the strict, by-the-book regimen that personifies French cooking. Despite my lack of appropriate cookware, I pushed through and was rewarded with a pretty gosh darn délicieux crepe. It may not be the prettiest thing in the world, but don't judge a crepe by its cover. 😉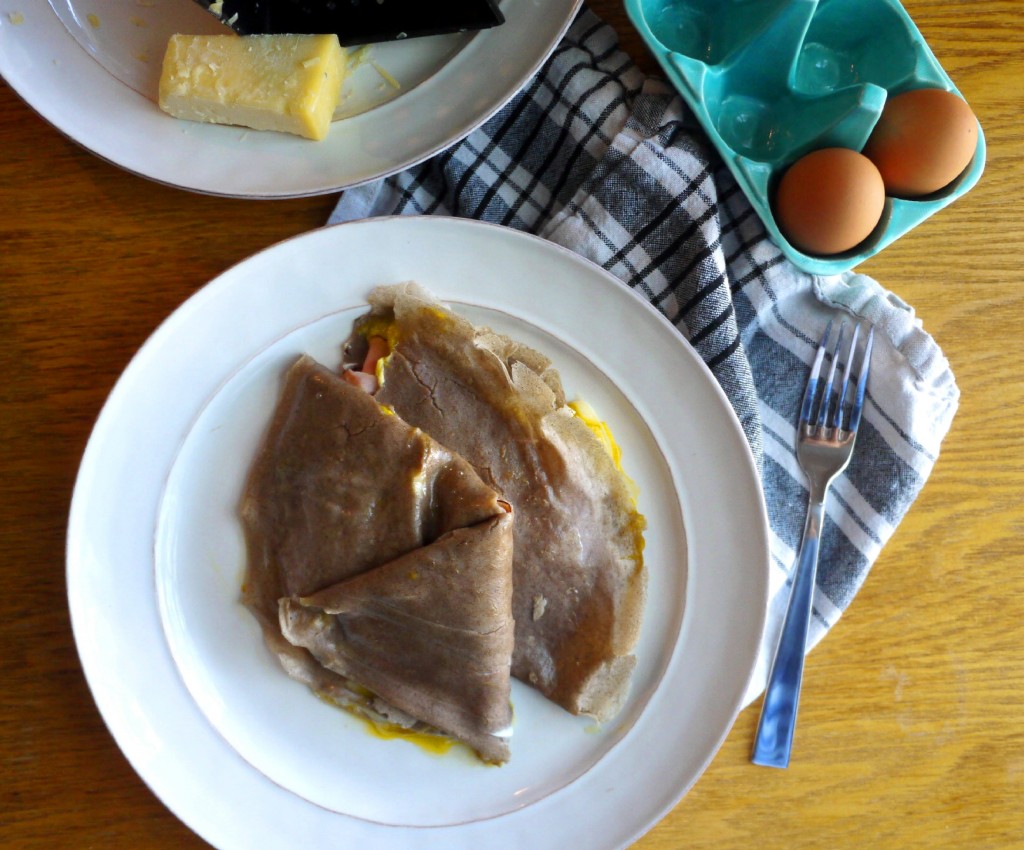 Healthy Recipe Ecstasy? Here's the thing about proper French crepes – you're only going to reach that point of street food ecstasy when you exchange your euros for a galette complète on a cute cobblestone street in Paris and chow down while you walk past the Louvre, trying not to drip juicy crepe on your scarf. But if your budget doesn't include airfare to France anytime in the near future, these galettes will definitely satisfy your craving.  Did I mention they're gluten free?? That's right. A lot of French savory crepes are made with buckwheat flour. Sometimes its a combination of buckwheat and regular wheat flour; other times, it's just pure buckwheat flour. In the case of this recipe, the galette is made with just buckwheat flour, which is great news for anyone with a gluten sensitivity. If you're not feeling the ham, egg and cheese filling then you should have your head checked, I mean, you can experiment with a filling of your choice….. But, I will swear on this blog that nothing is better than a basic galette complète.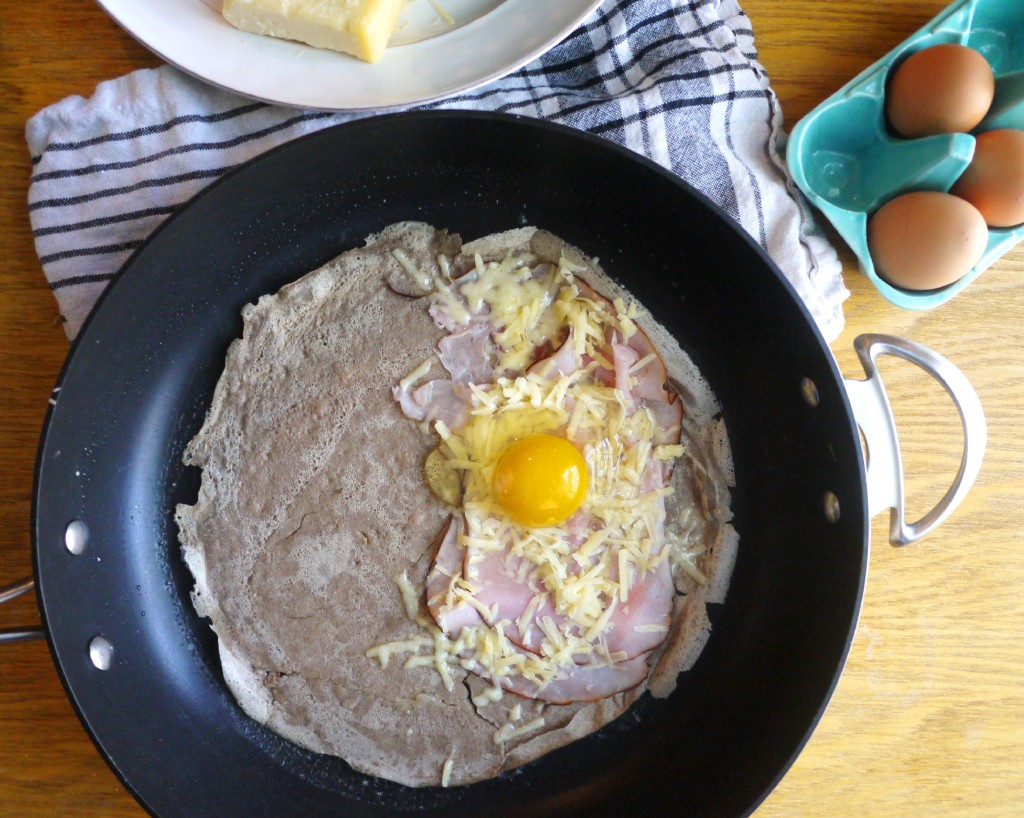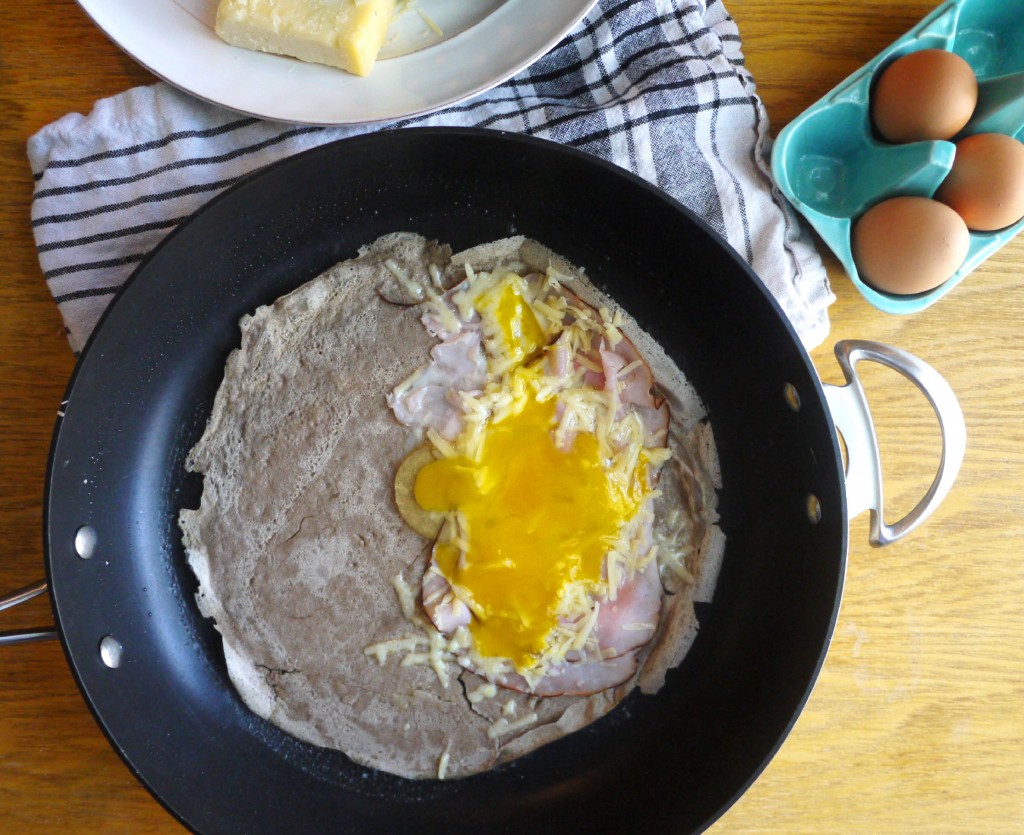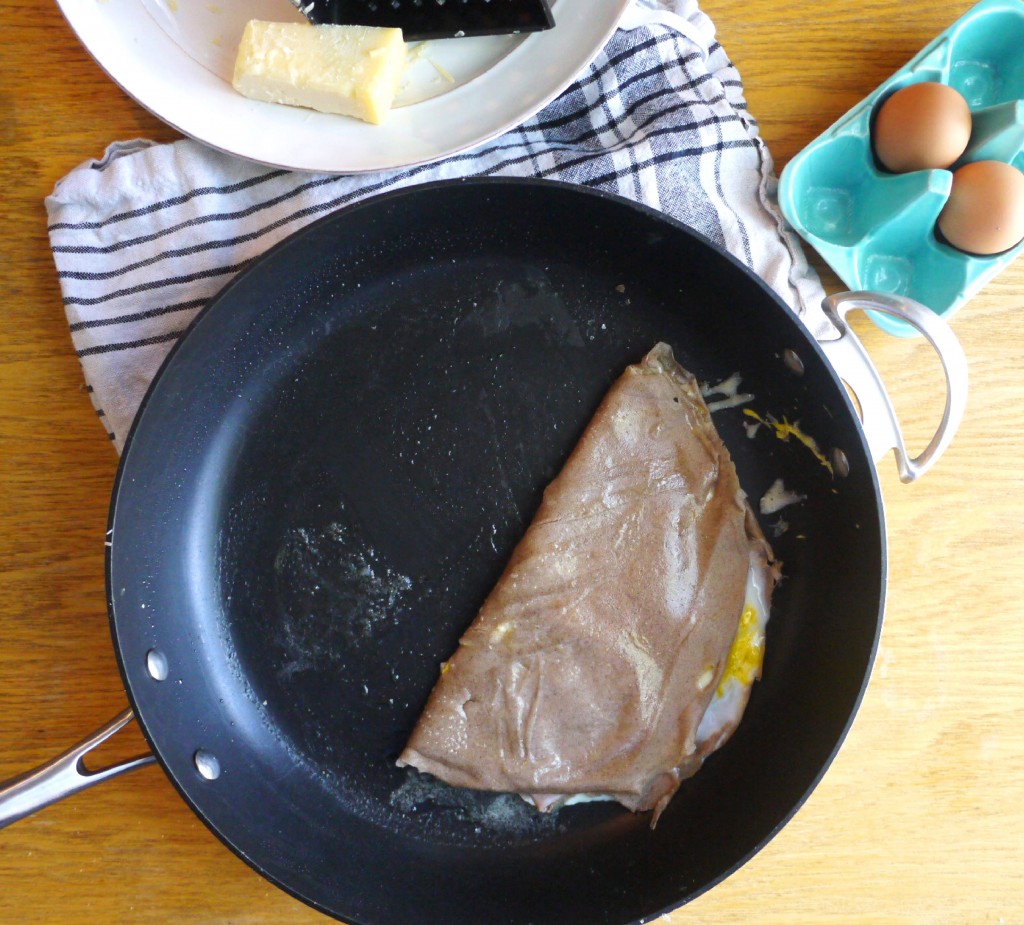 The Perfect French Crepe: Galette Complète
Author:
Healthy Recipe Ecstasy (Adapted from Saveur)
Ingredients
Galette Batter:
1 and ⅓ cups buckwheat flour
1 egg
2 teaspoons table salt
2 cups water, plus 1 tablespoon, if needed
For the filling:
8 slices ham
1 cup grated gruyere cheese
4 eggs
Salt and pepper to taste
4 tablespoons butter
Canola oil for cooking
Instructions
In a large bowl, mix the flour with the egg and salt; then add the two cups water slowly, whisking until the batter is combined and smooth. Let the batter rest for at least one hour in the refrigerator. If the batter has thickened while in the fridge, whisk in one tablespoon water to thin it out.
Heat a crepe pan or large, flat skillet with one teaspoon canola oil over medium heat. Spread the oil around the pan with a paper towel. Pour ⅓ cup of batter into the pan to test the batter. *I find that the first crepe never works out right so I just make the first crepe a tester to see if the pan is heated properly and the batter is the right consistency.
Next, pour ½ cup plus one tablespoon batter into the pan with one hand, picking the pan up with the other hand and swirling the batter around until it covers the bottom of the pan. Cook the crepe for two minutes. Gently run a spatula under the crepe to loosen it from the pan, then use the spatula and your hand to gently flip the crepe. Cook for another minute. Repeat with remaining batter and canola oil, as needed.
Wipe out the pan; then melt one tablespoon butter in pan and turn heat to medium low. Add one crepe back to the pan.
Add two slices of ham and ¼ cup of cheese to right side of the crepe. Crack one egg on top of the ham and cheese and break the yolk with a fork, spreading the whites and yolk over the ham and cheese. Let the crepe and filling cook for another three minutes or until cheese is melted and egg reaches desired consistency. Salt and pepper to taste. Fold the left side of the crepe over the right side and then fold the crepe in half again.
Repeat with remaining butter, crepes and filling. Serve hot.