Ok, maybe I'm getting a little carried away with the cauliflower. First the cauliflower crust pizza, then the cauliflower mash, now cauliflower soup. But I can't help it. Cauliflower, former enemy number one, is now my new best friend. There are just so many things you can do with this little white veggie that looks like broccoli's albino cousin.
Cauliflower soup is deceptively delicious. By looks alone, it's a big bowl of white pureed vegetables and may not catch many people's eye. But that phrase "don't judge a book by its cover" applies to this soup.  Believe me, I had to do some convincing with Alasdair who balked at the idea of eating just pureed cauliflower for dinner. After two bites, he had to admit defeat in his war against vegetables. Especially when I added the  delicious fried shallot and basil garnish.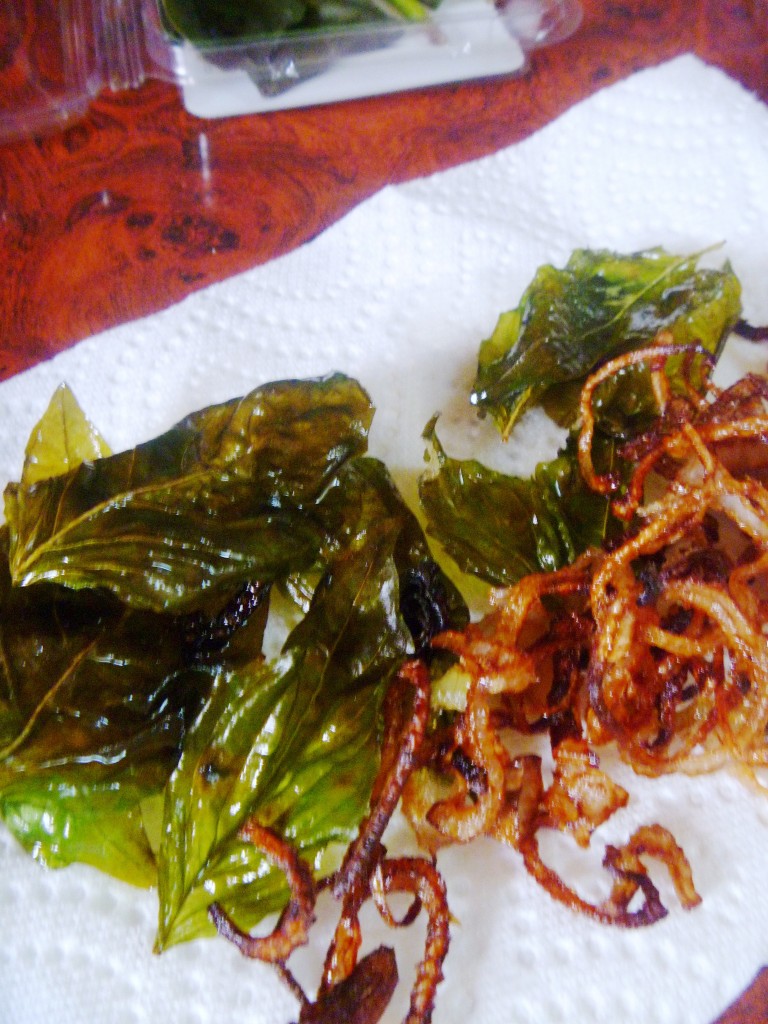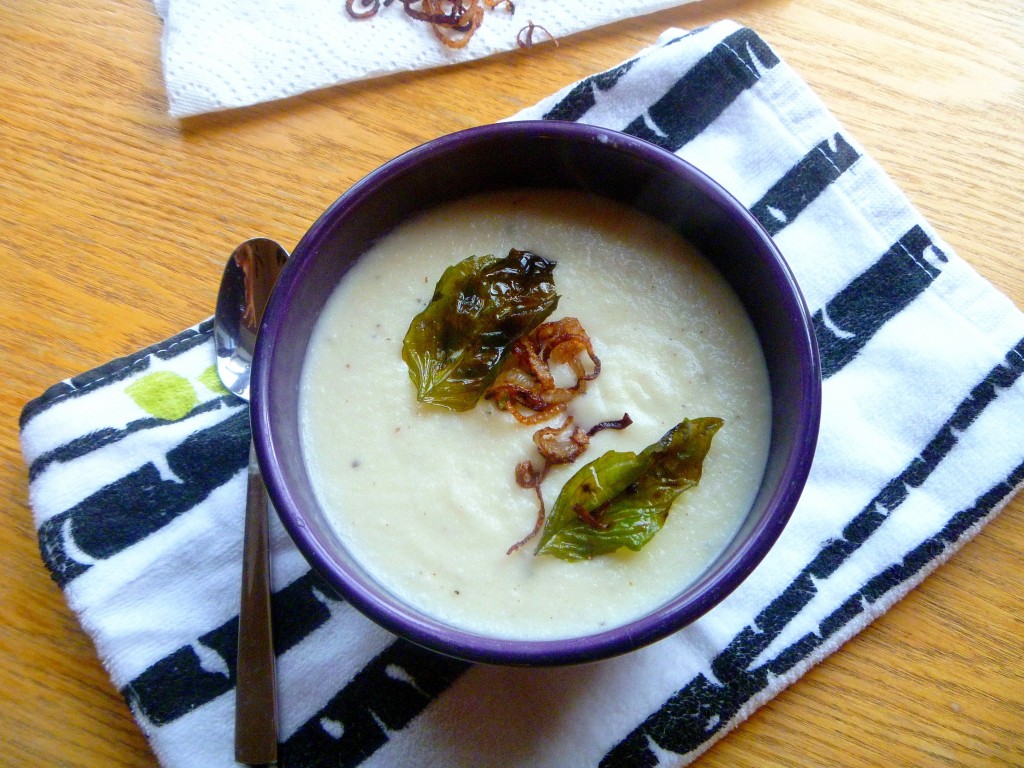 Healthy Recipe Ecstasy? I did not know that there could be a soup this creamy without actually using milk or cream but that's the beauty of cauliflower. It becomes its own cream. Sure it has butter, but I am still in denial that butter counts as dairy. Let's call this dairy-light. And, though it won't be quit as thick and creamy, you could leave out the flour to make this soup gluten-free – just check your chicken broth ingredients. Change the chicken broth to veggie broth and it's a full-on vegetarian recipe.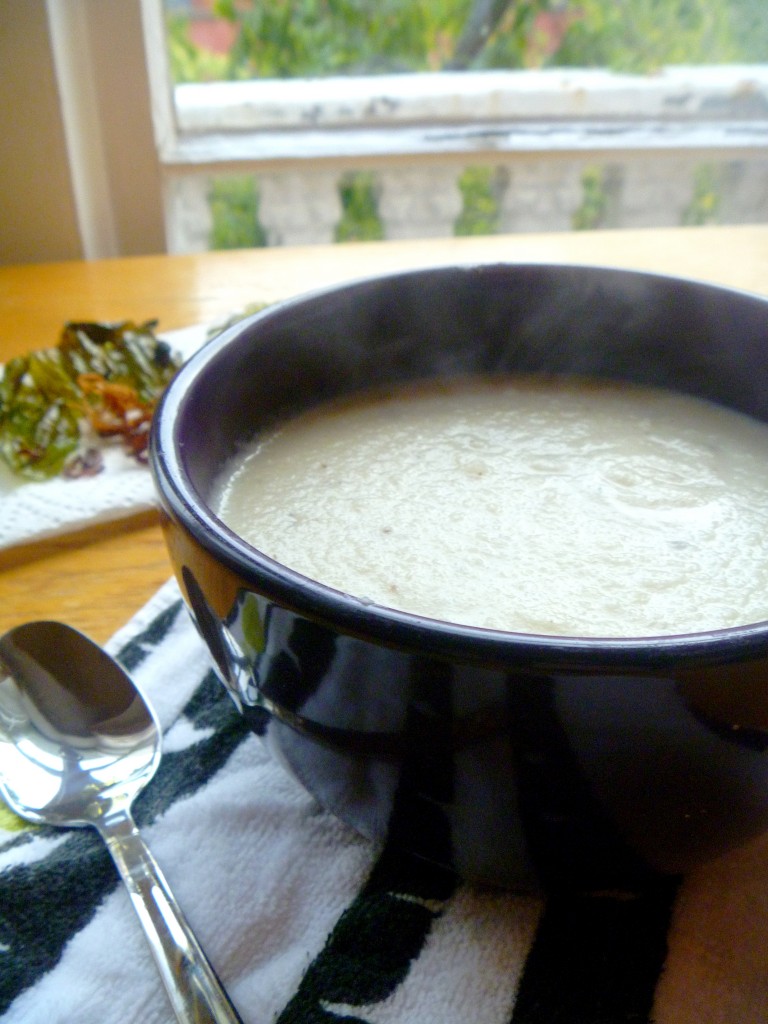 Cauliflower Soup with Fried Shallots and Basil
Author:
Healthy Recipe Ecstasy
Ingredients
5 tablespoons unsalted butter
1 medium onion, chopped
2 large garlic cloves, chopped
¼ cup all-purpose flour
4 cups chicken (or veggie) broth or stock
1 head cauliflower, coarsely chopped
Coarse salt and freshly-ground pepper
2 shallots, thinly sliced
1 handful basil leaves
Canola oil for frying
Instructions
Melt the butter in a medium saucepan over medium heat. Add onion and saute for 2-3 minutes. Add garlic and saute together for another 2-3 minutes until onions are translucent. Add flour and cook, stirring constantly for one minute.
Pour in stock, whisking to incorporate and bring to a boil. Reduce to a simmer and cook for 10 minutes, whisking often to help thicken the liquid.
Add cauliflower and season liberally with salt and pepper. Return to a boil, stirring to combine. Reduce heat and gently simmer until tender enough to mash, about 15-20 minutes.
Puree the soup. I used a handheld immersion processor and pureed directly in the pot. You can also use a food processor but then you have to work in batches and transfer it back and forth which can be messy!
While the soup is cooking, heat about an inch of canola oil in a small pot to 300 degrees. Fry shallots over medium-high heat until golden and crisp, 1-3 minutes. Use a slotted spoon to transfer to paper towel to drain. Next, drop the basil leaves in the liquid to fry until crisp, about 20-30 seconds. Drain.
Top soup with a handful of basil and shallots. Enjoy!