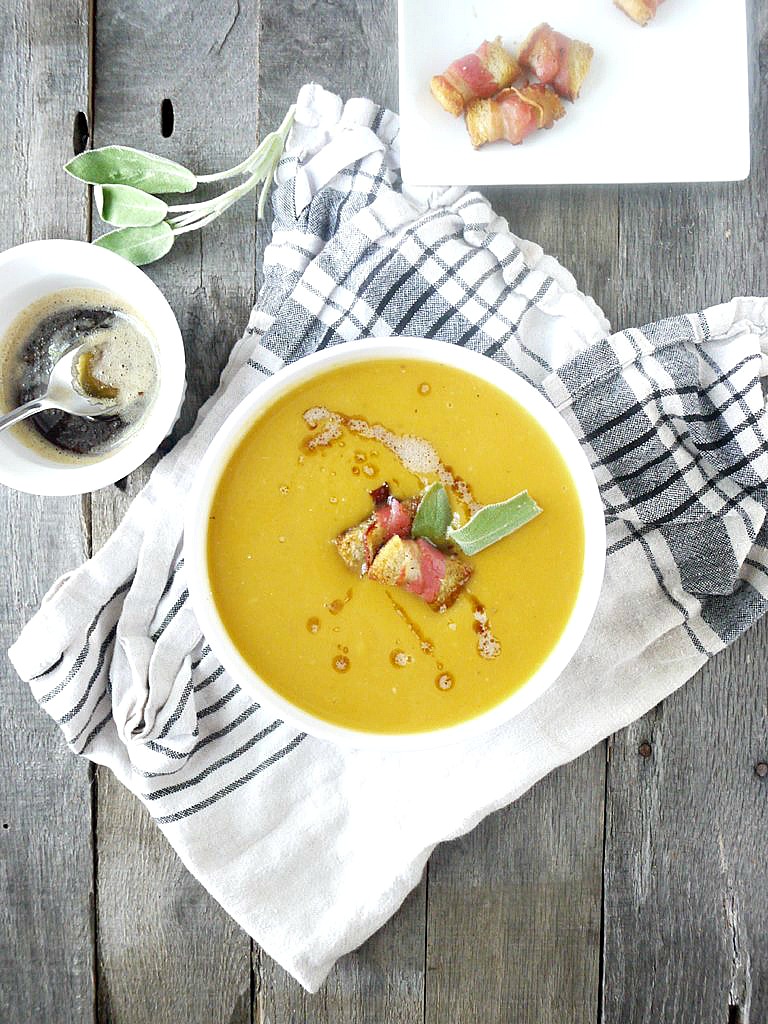 It's soup time!!!! This week, I woke up to 50 degree weather which I HATE. I'm a 75 degree and above kind of girl so even though I love the fall season – changing leaves, fall foods, cozy scarves – I just can't get on board with the cold weather. The only thing that makes cold weather OK for me is soup. When its 95 degrees outside, as much as I want to, I just can't stomach a steaming hot bowl of creamy soup without passing out from heat stroke. And, I get cold soup is an option in the summer, but it's not really my thing. I did make melon gazpacho once and it was pretty decent (hellooooo frizzled prosciutto) but I'm not going to make cold soup a regular thing.
So, when the temperatures drop, I find solace in a big bowl of creamy, steamy, pureed veggies. It does a tummy mmm mmm good and warms my soul. Not to get all dramatic but you all know that soup can invoke some pretty hefty childhood memories. I remember coming back into the house after playing in the snow with freezing cold fingers and icicles dripping from my nose only to be warmed by a bowl of soup and some hot chocolate. Wait, maybe that was a Campbell's soup commercial…. Either way, it happened and it was memorable.
This soup, though, isn't any old soup. It's something special. I get that people throw around the phrase "it's fall in a bowl" pretty much the entire fall season but, I promise, this time it's for real. This soup is "fall in a bowl." If you look up the definition of "fall in a bowl," there's a picture of this soup.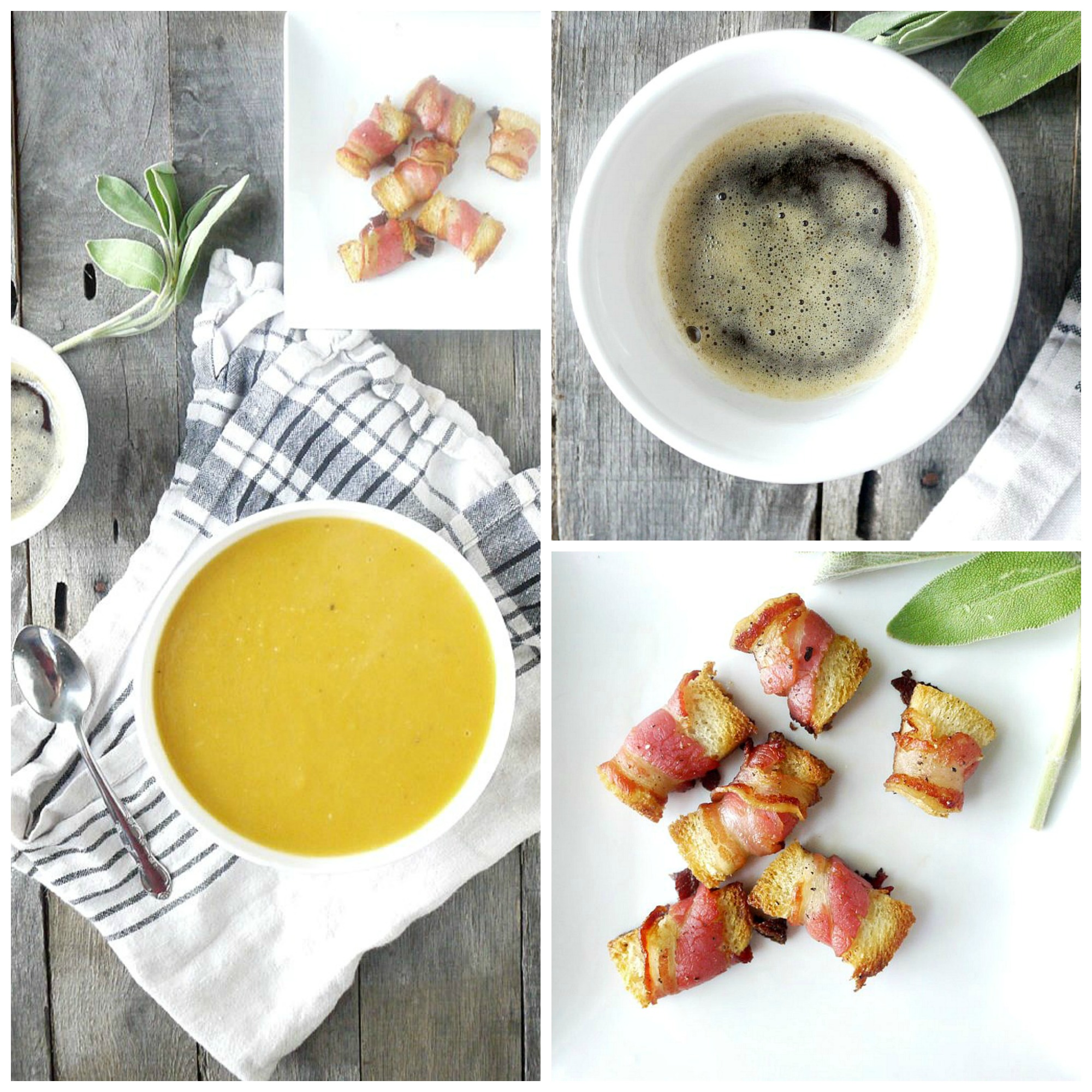 Sweet potatoes and apples are quintessential fall produce along with butternut squash and pumpkin. But we've done pumpkin enough this month so let's just put that to the side for now. This soup is all about sweet potatoes and apples. Then, you have sage which goes incredibly well with most fall flavors. And the pancetta croutons just take the soup over the top. Without the toppings the soup is quite sweet but with the addition of savory, herby brown butter and salty, meaty croutons, it's perfection.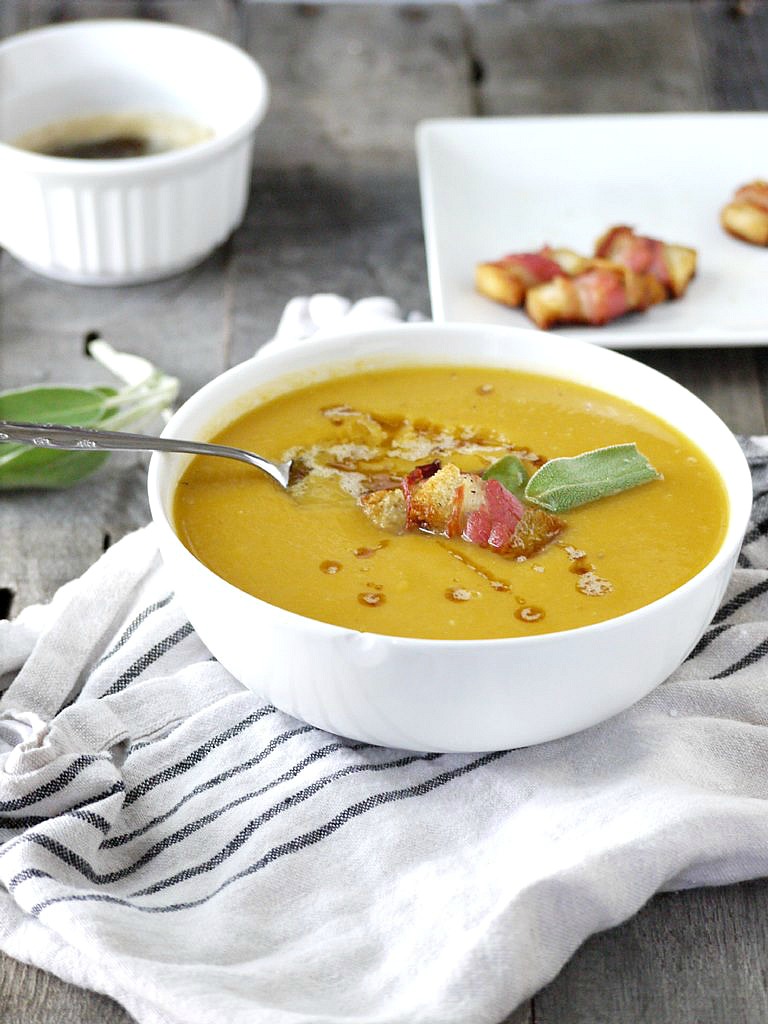 You can use any butter for the soup, but I used Kerrygold butter because (a) Cooking Light sent me some Kerrygold coupons and (b) it's freaking amazing. When I'm cooking, I usually switch between using Earth Balance vegan butter (when I want to be completely dairy-free) to using Brummel and Brown's yogurt butter (when I want to be moderately healthy). But when I want something to be really special, I'll break out the lightly salted Kerrygold butter. It sorts of reminds me of the ridiculous salted butter I ate in France. The weak in the knees butter. I still feel like I'm being healthy because it's made from grass-fed cows but it tastes so indulgent.
Speaking of indulgence, this soup is the perfect example of indulging in moderation. The main part of the dish – the soup – is made mostly of fruits and veggies with minimal butter and no cream or cheese. Super healthy and seasonal. The brown butter, pancetta and bread are important but minimal pieces of this dish. They provide just enough taste flavor, fat, salt and carbs to make me happy but not enough to ruin my diet.
P.S. Why have I not been eating pancetta croutons my entire life??? They might just become a daily thing for me.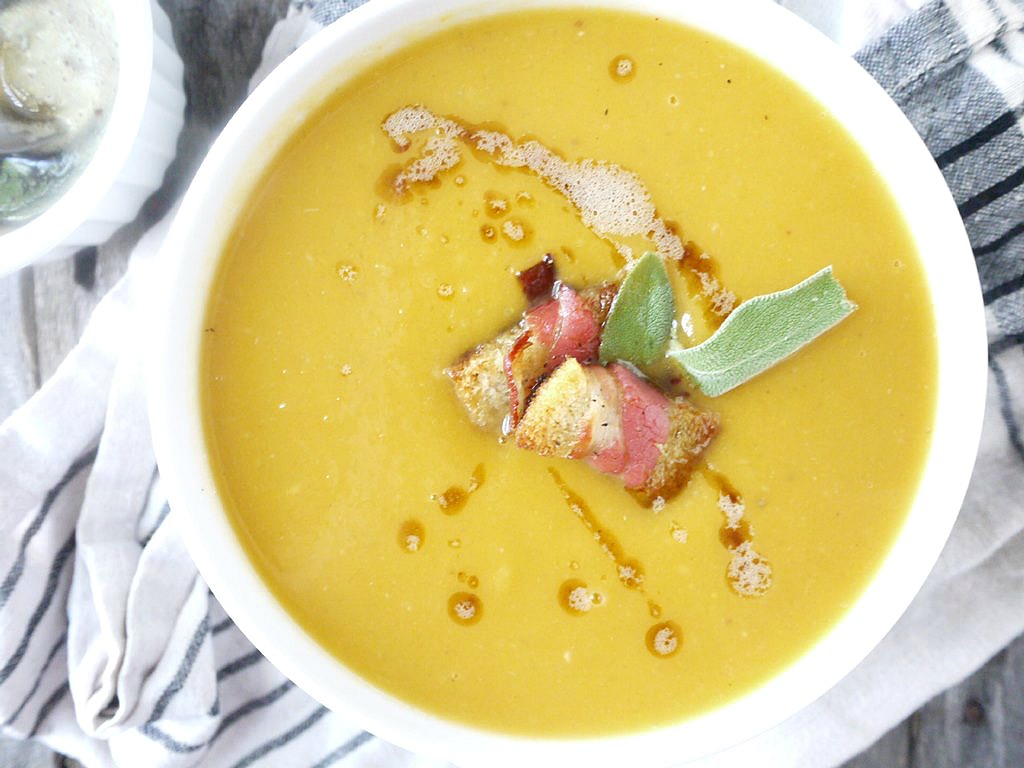 Disclosure: I received coupons and a gift in exchange for talking about my favorite Kerrygold product (BUTTER!!!) but all opinions are absolutely my own.
…