You know what I love most about baby showers? The food. Are you surprised? Yeah, didn't think so. I think we can all agree that the games and the hours of unwrapping tiny little outfits and weird breastfeeding-related gadgets get a little, well, boring. But never the food. I mean who can bore of tiny hors d'oeuvres, yummy salads and the inevitable sweet pastry treat? Not this girl.
That's what I love so much about throwing these virtual showers for my awesome blog friends. There's no dressing up, making small talk or creating who knows what out of diapers. It's all about what's important – celebrating mamma and baby and talking about some delectable party eats.  Oh and amazing giveaways – hello $100 worth of seafood! The only drawback is that we don't actually get to eat all this food because, well, virtual and all. But no system is perfect!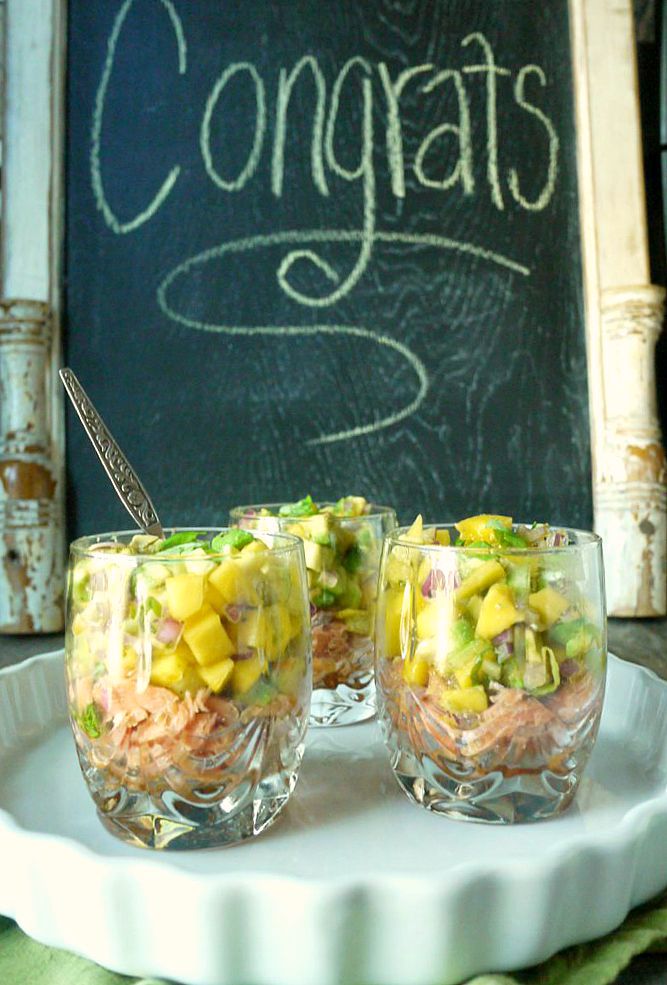 Speaking of mamma and baby, I am especially excited about this little one's arrival. Not only do Michelle from Vitamin Sunshine and I share the same name, but her husband's name is Alexander and her son's name is Xander and my husband's name is Alasdair (the Scottish Gaelic version of Alexander) and our son's name is Alexander. Oh, and we both decorated our nurseries with big world maps on the wall!  Can you say twinsies? Seriously, it's like we're blog/baby soul mates!
Michelle has some really great light and fresh recipes on her blog and I just know she will love these Roast Smoked Salmon and Mango-Avocado Salsa Cups (recipe below)! And don't get me started on the rest of the shower menu. My mouth is watering just looking at it!!…