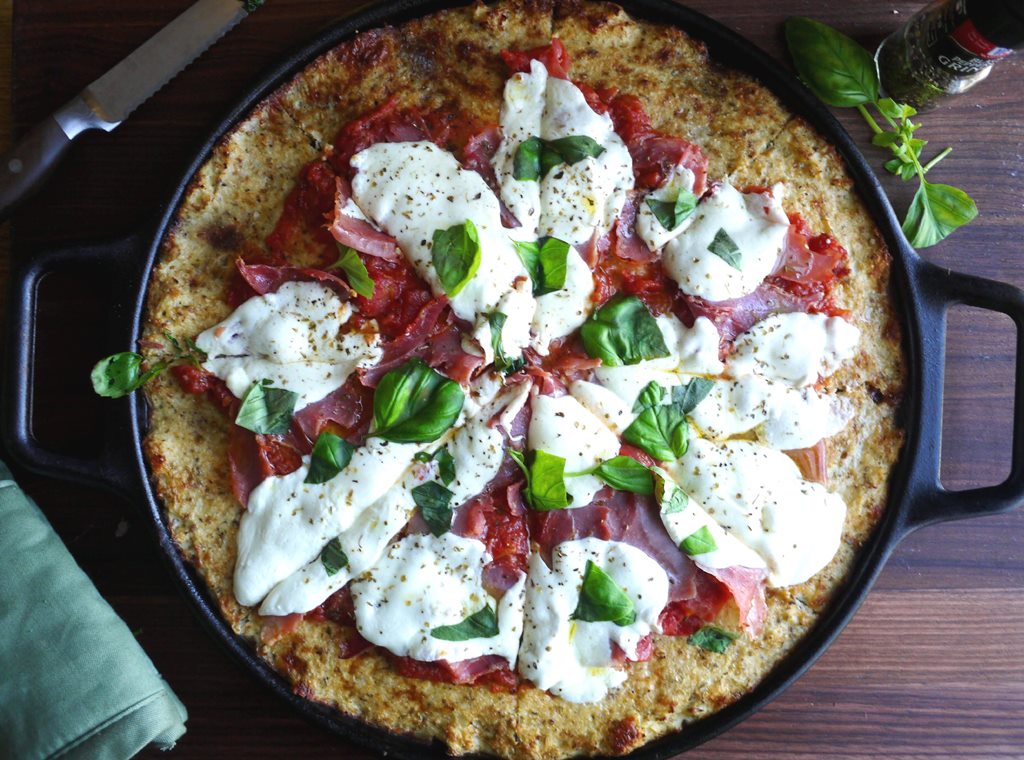 Low-carb, gluten-free pizza?? C'est pas possible, non?? Yes, it's possible AND delicious. If you're on Pinterest, then it's hard to miss the new trend in pizza: cauliflower crust. Years ago, when a certain low-carb diet was all the rage, I remember hesitantly testing out cauliflower mashed potatoes. I've never been a huge fan of cauliflower, so I was skeptical to say the least. Imagine my pleasant surprise when I learned that pureed cauliflower produced a creamy mashed substance resembling mashed potatoes in taste and texture. Sure nothing beats the real thing, but when you add a couple pats of butter, cauliflower is suddenly a major contender at the mashed potato bar. Still not convinced? Check out my Garlic Cauliflower Mash recipe.
Knowing the changeling powers of cauliflower, I couldn't wait to test out cauliflower crust pizza. Especially after reading the many recipe reviews which focused on skeptical husbands and boyfriends falling head over heels for the low-carb crust. My fiance – a self-described meat and potatoes guy who doesn't eat "plants" – balked at the idea of vegetables taking the place of doughy carb-loaded pizza crust. Fortunately, between the grocery store and recipe-testing night, he forgot all about the dreaded veggie crust and was too focused on watching TV to see me in the kitchen furiously shredding a head of cauliflower (I have since learned that the food processor will do this for me). Though I originally spotted the cauliflower crust pizza on Pinterest, in order to get the recipe, which includes Hawaiian-style toppings, I had to follow the photo through cyberspace to its original home on Recipe Girl.
I'm not a huge fan of pineapple, so I nixed the fruit and used my favorite pizza toppings (prosciutto and mozzarella cheese) instead. My first attempt at the crust (un-adapted) resulted in a delicious but soggy mess which fell apart under the heavy meat and cheese toppings. With a few minor changes, I was able to alter the crust to better stand up to my toppings. Of course, sans gluten, cauliflower crust will never be as sturdy as regular pizza crust but, with my changes and extra cooking time, it definitely holds its own.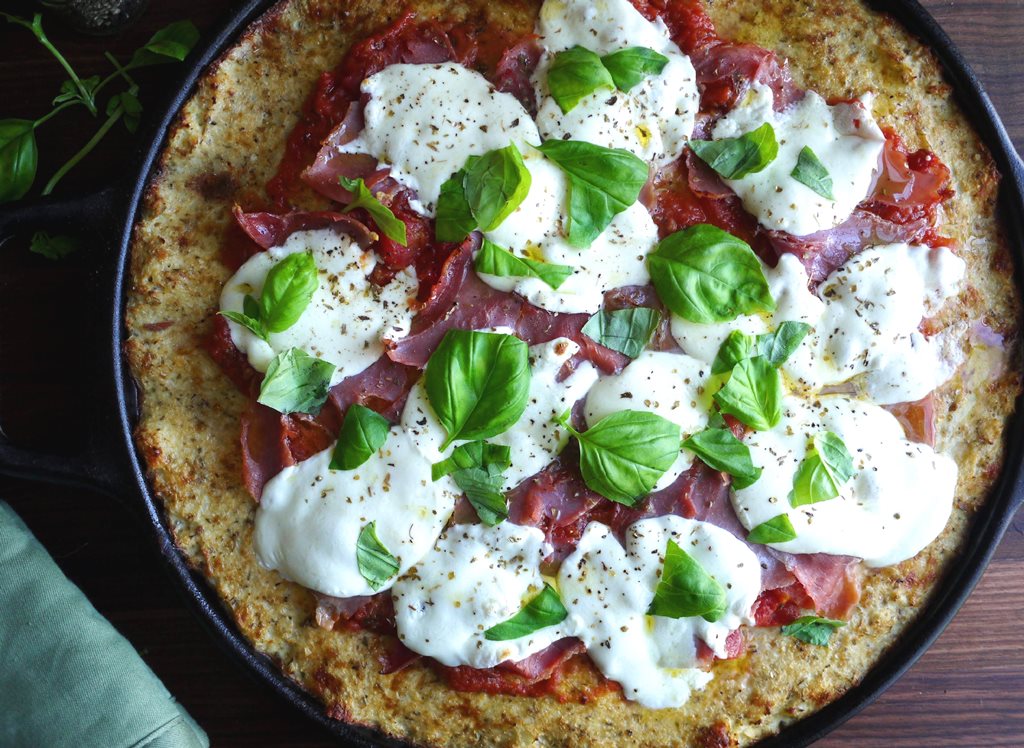 Healthy Recipe Ecstasy? YES!!!! Alasdair said (1) this dish was better than the pizza we had in New York City during our last trip and (2) it tasted nothing like cauliflower. Score one for our little white vegetable friend. I mentioned before that this crust is gluten-free which makes it a great choice for you pizza lovers who are gluten intolerant. But, I don't like to think of this pizza as just a gluten-free option. This crust is so tasty that the pizza stands on its and should be enjoyed by all pizza lovers. Sure, you could toss some bruschetta sauce, cheese and prosciutto on regular pizza dough and it would be delicious. But there's something about the combination of the toppings and the taste of the cauliflower crust that just works. This is an HRX SUPER SUCCESS!
Prosciutto, Mozzarella, and Bruschetta Pizza with a Cauliflower Crust
Author:
Healthy Recipe Ecstasy
Ingredients
CRUST
1 large head of cauliflower
2 large eggs
2 cups finely shredded mozzarella cheese
3 teaspoons dried oregano
3 cloves garlic, minced
1 teaspoon kosher salt
½ teaspoon freshly-ground black pepper
Cooking spray
TOPPINGS
1 jar of Bruschetta spread (I used the Harris Teeter brand but any brand would work or you can make your own)
8 ounces of whole-milk mozzarella cheese, sliced into rounds
¼ pound thinly-sliced prosciutto
Dried or fresh oregano to taste
Freshly-ground black pepper to taste
Fresh basil for garnish
Instructions
Heat the oven to 500 degrees or as high as it will go on bake. Place your pizza stone in the oven while it's preheating to warm up the stone. Take the stone out of the oven when the temperature reaches 350 degrees - otherwise it will get too hot to handle when you're pressing in the crust. Coat the stone with cooking spray.
Shred or food process the cauliflower into small crumbles. I've done it both ways and the food processor is so much faster. If you're going to use the food processor, make sure to pre-chop the cauliflower and then do a pulse/chop in the processor so that the cauliflower does not puree. We're making crust not mash!
Place the cauliflower crumbles in a large bowl and microwave them (dry) for 8 minutes. Let the cauliflower cool.
In a medium bowl, mix the cooled cauliflower crumbles with the remaining crust ingredients (eggs through black pepper).
Gently pat the "crust" out onto the pizza stone with a spatula. Spray the crust lightly with nonstick cooking spray and bake for 15 minutes or until golden. If your oven doesn't heat to 500 degrees then you may need to cook the crust an additional 5-10 minutes. Remove the crust from the oven once it's browned.
Spread the Bruschetta sauce on top of the baked crust, leaving a ½-inch border around the edge. Tear each prosciutto slice into a few pieces and add the prosciutto in an even layer on top of the crust. Top the prosciutto evenly with the mozzarella slices. Finally, sprinkle the pizza with oregano and black pepper to taste.
Cook the pizza for an additional 7-8 minutes, or until the toppings are hot and the cheese is melted. Let cool for a few minutes, then cut the pizza into 6-8 slices. Garnish with fresh basil and a drizzle of olive oil and serve immediately.
NOTE: If you don't have a pizza stone, a baking sheet would work as well. Just pat the crust into a rectangle instead of a circle.