I feel like I'm slowly becoming a master at creamy "no cream" pasta sauce. I've used cauliflower, I've used onions, I've used soy milk, and I've definitely used white beans. All with much success.
The one thing I haven't tried is tofu. No reason, just haven't gotten around to it. But, last week, that all changed when I found myself staring into my fridge at a half used box of tofu. I was planning to make Cooking Light's Brown Butter Gnocchi with Spinach and Pine Nuts (because it sounds awesome) but I could not stop thinking about that poor box of tofu sitting all lonely on the top shelf. I have much food waste guilt.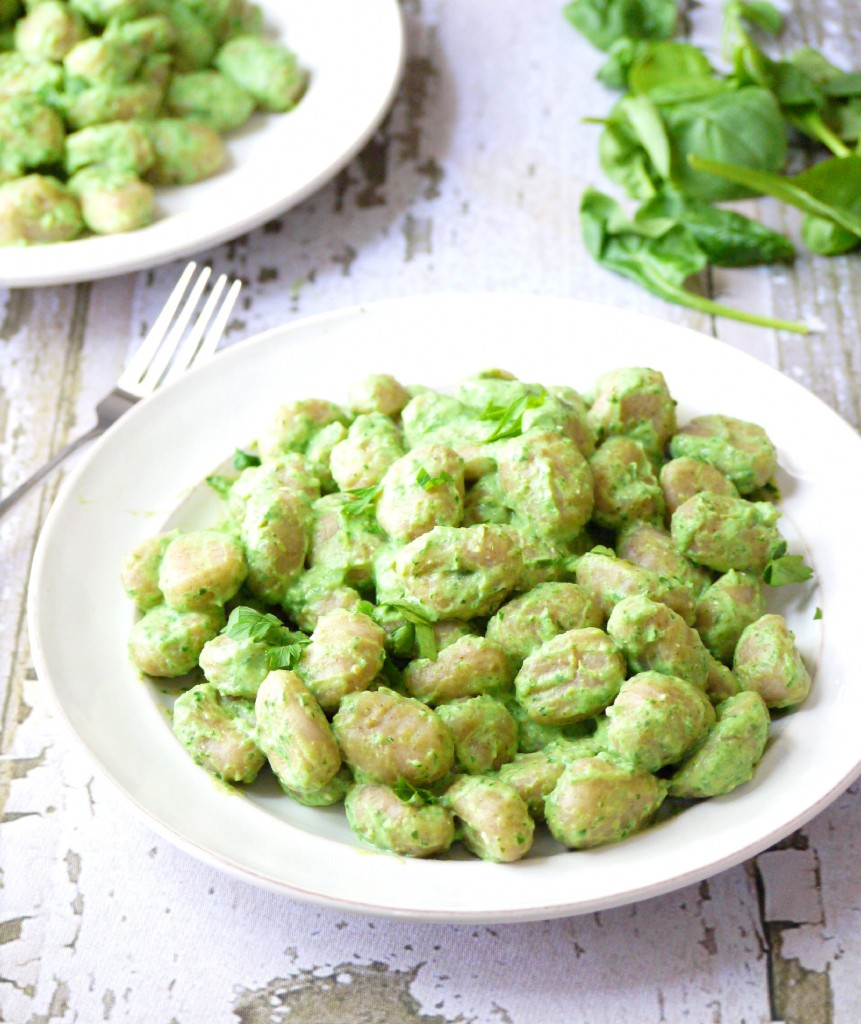 So, I made a last minute dinnertime switch-a-roo. I stuck with the gnocchi and spinach idea, but instead of a brown butter sauce, I went for a tofu-spinach cream sauce. A little parsley, a little red pepper flake and a whole lotta garlic later, I was all like, why I haven't I tried this before?? We all know that the best thing about tofu (other than when it's fried and super crispy) is that it takes on the flavors around it. Really does taste like chicken, amiright?
What I'm saying is that the tofu imparted nothing but creamy, thickness to the sauce, letting all the other flavors shine on.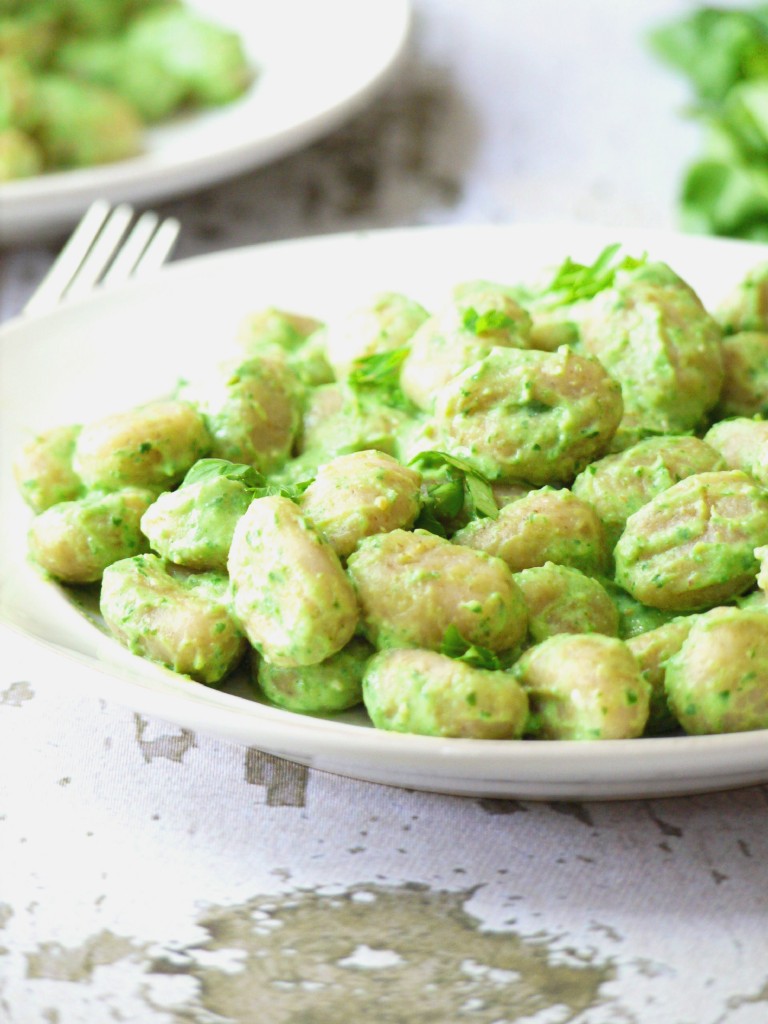 Here's the kicker. When Alasdair came home from work, he asked if there was anything in the fridge for dinner. I said, oh you know, yesterday's leftovers and some gnocchi I made today. I neglected to mention anything about tofu because he HATES tofu with a passion. So, he sat down to his smorgasbord of leftovers and gnocchi, and I patiently and oh-so-nonchalantly waited for his reaction.
"This is good," he said.
"What? The gnocchi?" I responded, nonchalantly, of course.
"Yeah. I like the sauce.
"Oh, you do? That's interesting…"
"Why, what's in it?"
"TOFU!!!!!!!!" I jumped up and ran around howling like a maniac.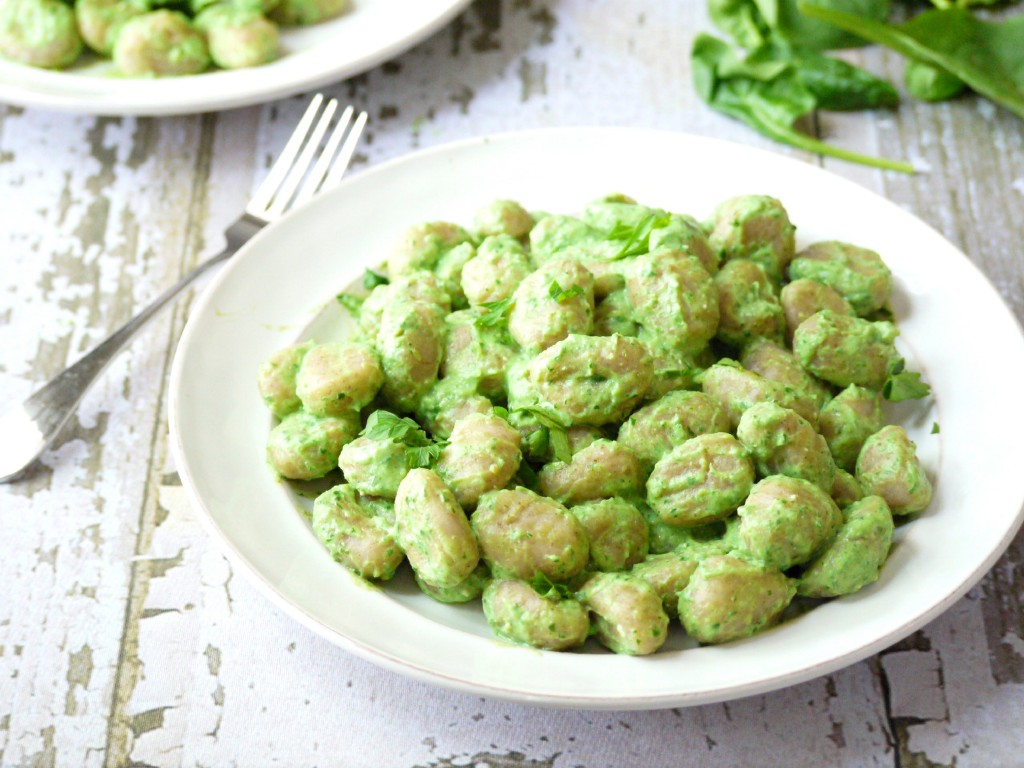 I could try to be modest here but what's the point? For those of you out there who have significant others who blatantly refuse to eat certain foods and find more pleasure in eating Chipotle than in eating a home-cooked meal, you know what a victory this is.
All hail the victorious home cook who is masterful at hiding healthy ingredients from picky family members!
Speaking of healthy, I totally didn't mean to create another dairy-free, vegan pasta sauce. Really, I didn't. I was all about browning some butter for you. But it just, you know, happened. And, I don't regret it one bite…I mean one bit. The more creamy pasta recipes I can enjoy without guilt or stomach problems, the better. 🙂
If you're not dairy-free or vegan, but just dig the idea of a healthier sauce, I recommend topping your gnocchi dish with some freshly shredded parmesan cheese. You know you wanna.
Whole-Wheat Gnocchi with Creamy "No Cream" Spinach Sauce
Whole-wheat gnocchi and a tofu-based spinach sauce means this pasta dish is filled with fiber, protein and nutrients. The only downside to a dairy-free sauce is that it tends to seize up and stick to the pasta once mixed together. So, if you're making more than tonight's dinner, I would keep the extra sauce and gnocchi separate and heat them together just before serving.
Author:
Healthy Recipe Ecstasy
Ingredients
32 ounces whole-wheat gnocchi
2 cups spinach leaves
¼ cup chopped parsley
6 ounces firm tofu, drained
2-3 small garlic cloves, chopped (start with 2 cloves and add more if you want a stronger garlic flavor - because the garlic is mostly raw it's pretty strong to begin with)
2 teaspoons chopped shallots
¼ cup plus 1 tablespoon low-sodium vegetable broth
½ teaspoon salt
⅛ teaspoon red pepper flakes
¼ cup cooking water
Parmesan cheese or nutritional yeast (optional)
Instructions
Cook the gnocchi according to the package. Drain and reserve ¼ cup of the cooking water.
Put the spinach in a food processor along with the next 7 ingredients (through red pepper flakes). Process until smooth.
Add the sauce to a large pot and slowly heat over medium-low heat until warm. Don't boil or the sauce will break. When the sauce is warm, add the gnocchi to the pot along with the ¼ cup of cooking water. Mix until the sauce completely coats the pasta.
Top with parmesan cheese or nutritional yeast, if desired. Serve immediately.