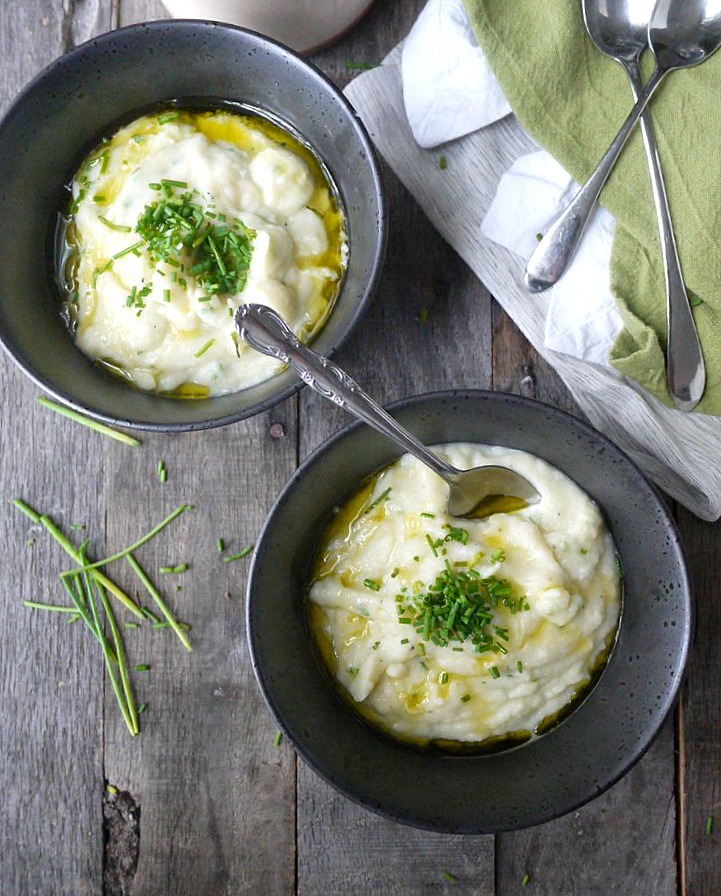 P-A-L-E-O. It's happening. OK, it's not 100 percent "I'm giving up pasta for life" happening. No, that's never happening because pasta = my happy place. But it's like 80 percent "I'm going to focus on lean proteins and veggies and fruit and nuts and seeds and all things caveman for a little while" happening because (a) I'm well into my fourth month postpartum and I'm still wearing maternity pants (not that I'm complaining too much because comfy…so comfy) and (b) I just got a knock down drag out summer stomach flu where I could eat nothing but bagels and butter for a week straight and I need a system reboot.
Cue the cauliflower mash.
My first foray into cauli mash was back in law school when my roommate and I were experimenting with the South Beach Diet (remember that old thang?). She seemed happy to live on salads for two weeks, but I never made it longer than three days on Phase 1. Not eating bread was torture for me. Hashtags weren't a thing back then but my hashtag would have been #thisgirlhasnowillpower.
Anywho, eating Paleo and eating South Beach are kind of similar: produce and lean protein = yeah and sugar and carby carbs = nah.  Except South Beach is sooo 10 years ago. And, by this time tomorrow, I'm sure Paleo will be so five minutes ago but I'm still gonna go there because it makes my body feel mmm mmm good.
I don't encourage jumping from one fad diet to another – you all know I'm all about the moderation – but I'm also all about a plan and following a certain diet for a little while is an easy way for me to stay on target and focus. With that said, I can NOT go for more than 20 minutes a few days without some bread-like substance which is why I'm not going full hog on the Paleo and I'm sticking to the 80/20 route. If 3 out of 4 of my meals for the day are Paleo or Paleo-like than my other meal can be whatever it wants to be, and let's be serious, it probably wants to be some form of carb and dairy and/or a big ass piece of cake.
Back to the cauliflower mash. This I do not regret – ever. It's basically a big fat bowl of vegetable mush and I LOVE IT. I know vegetable mush doesn't sound attractive so let me rephrase – it's creamy, silky, oily, potato-like goodness without the starch factor, the dairy factor or any other forbidden factors. All the flavor comes from roasted garlic, olive oil and veggie stock with some chives mixed in for good times. Even though Paleo is all about the meat, this dish is all about the veg so it's vegan friendly.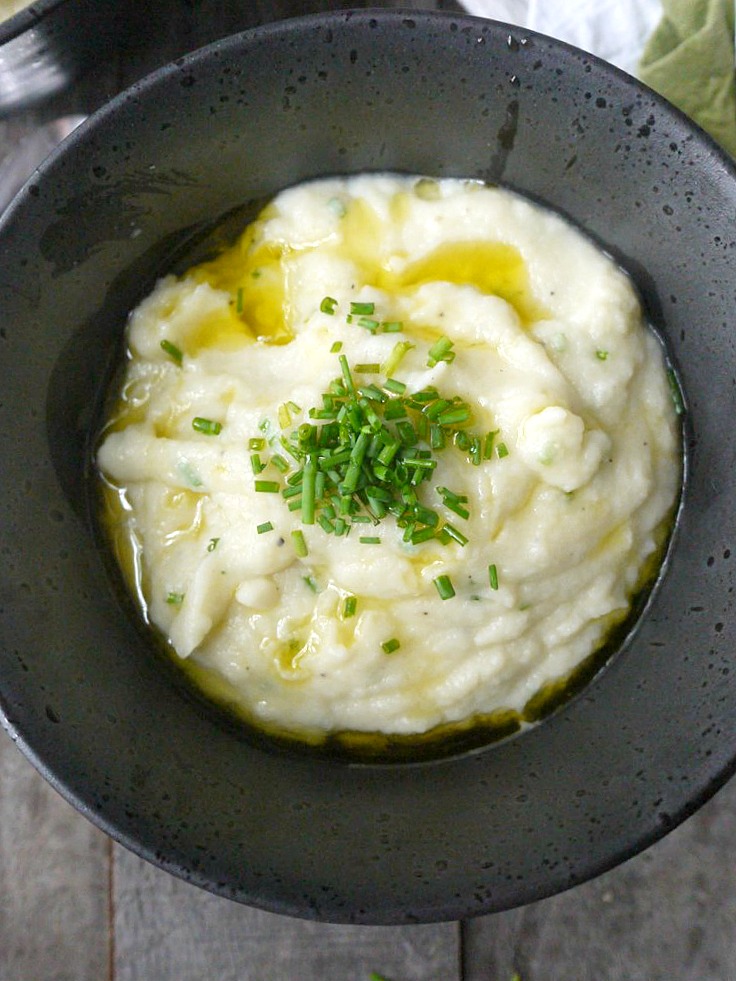 I am so not a cauliflower fan when it's rocking out au natural but when it's all disguised up in a mash or pizza crust, it's AMAZING.
If you don't believe me, ask the potato-loving hubby. He said to me, and I quote: "I can't believe I'm about to say this, but can I finish off the cauliflower mash? It was actually really good."
By all means, sir. By all means.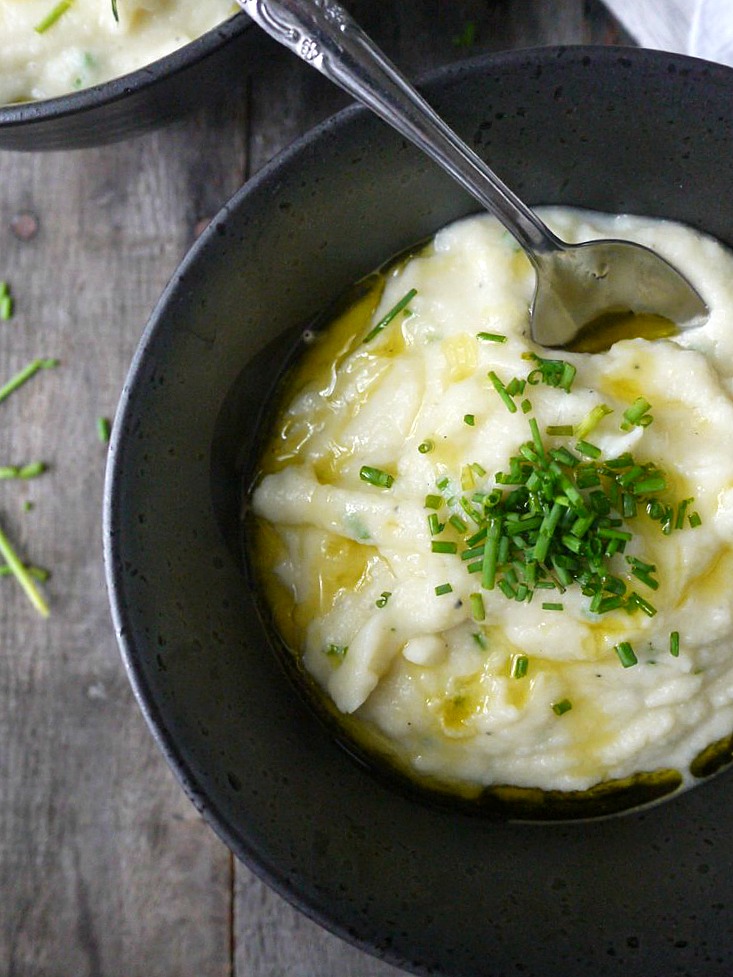 Roasted Garlic and Chive Cauliflower Mash
TO ROAST THE GARLIC: Preheat oven to 400 degrees F. Cut the top off the garlic bulb to expose the cloves. Place the cut bulb on a large piece of aluminum foil and drizzle with olive oil and salt. Gather the edges of the foil and press together to completely encapsulate the garlic. Bake for 30 minutes or until the cloves are completely soft. Unwrap the garlic bulb and squeeze the roasted garlic out of each clove into a bowl.
Author:
Healthy Recipe Ecstasy
Ingredients
1 bulb roasted garlic
1 head cauliflower
2 cups low-sodium vegetable stock (you may need an extra cup if you have a large head of cauliflower)
Coarse salt, to taste
Freshly-ground black pepper, to taste
2 tablespoons diced fresh chives, plus more for garnish
2 tablespoons olive oil, plus more for drizzling
Instructions
Coarsely chop the cauliflower. Add the chopped cauliflower and two cups stock to a medium sauce pan. Bring to a boil. Turn the heat down to low and simmer for 15 minutes or until the cauliflower is tender.
Remove the cauliflower from the pot with a slotted spoon.
Add the cauliflower to a food processor along with 2 tablespoons stock, 2 tablespoons olive oil, roasted garlic, salt and pepper. Process until combined - add more stock if needed for desired consistency.
Stir in the fresh chives. Garnish with additional chives and a heavy drizzle of olive oil. Trust me on the heavy drizzle. It's amaze-balls.