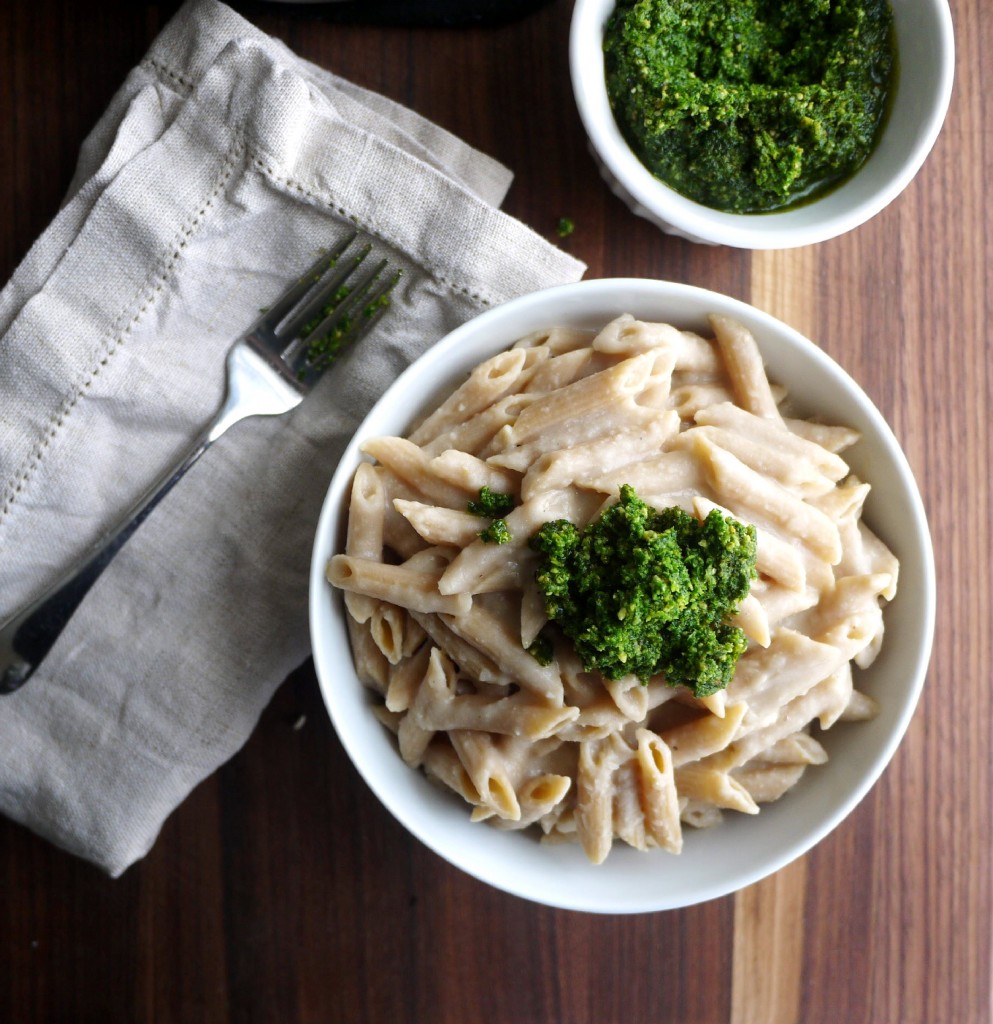 It has been soooooo long since I've had a nice creamy pasta alfredo. You know, the traditional kind made with Parmigiano-Reggiano cheese and butter and maybe a little milk or cream. I salivate at the thought. Pasta alfredo was my all-time time favorite pasta dish as a child, a teen, and a young adult, so it goes without saying (but I'm going to say it anyways) that I've had more than my fair share of alfredo sauce throughout my life. But, sadly, my days of shoveling down heaping bowls of creamy white sauce seems like a lifetime ago. Until now.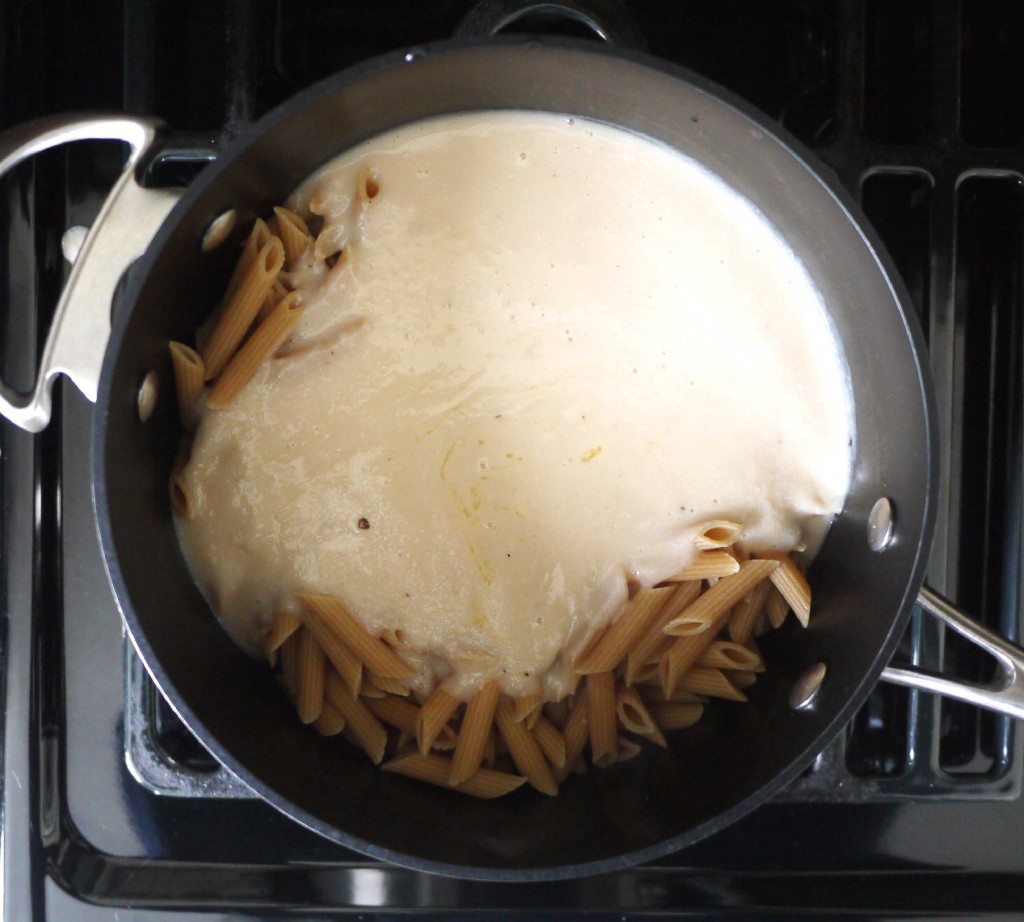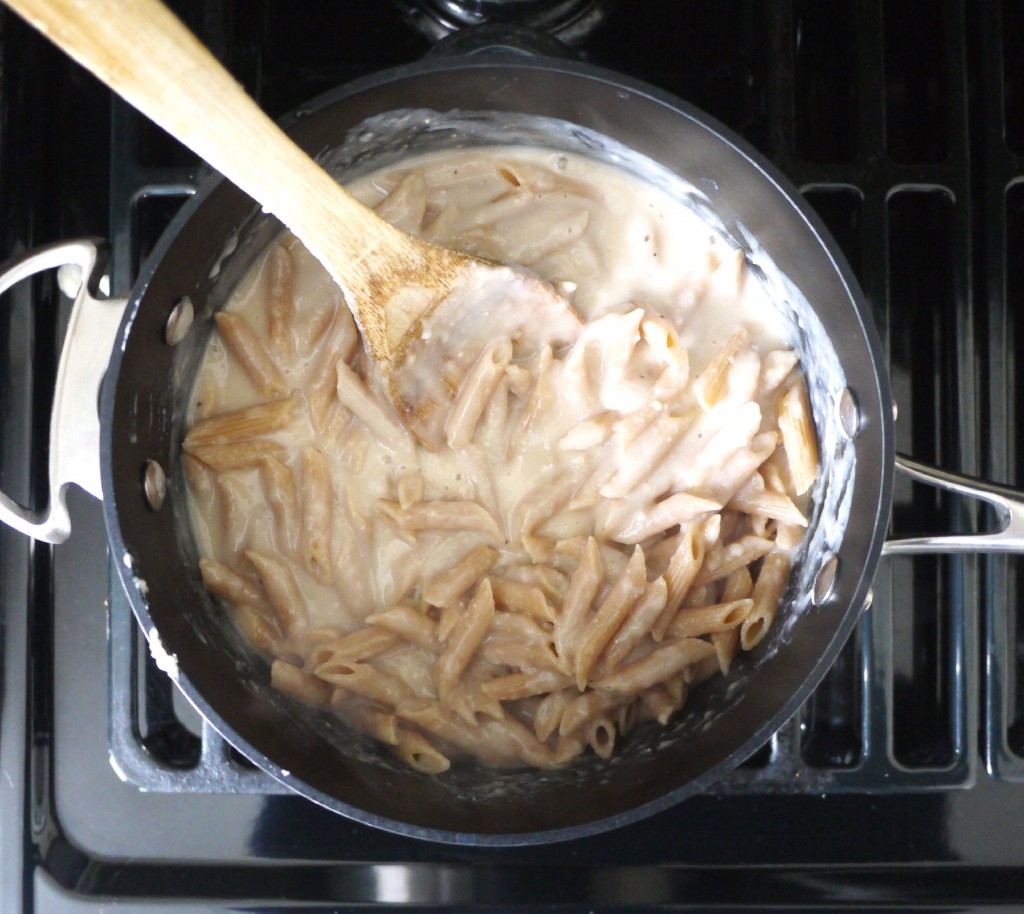 After a few years of harboring a deep desire for pasta alfredo but knowing I can't justify the awful heavy belly feeling that will ultimately strike with a vengeance after I polish off my plate, I decided it was high time I joined the "faux-fredo" club. Of course, over the past few years, I've semi-faked out a creamy pasta dish with a mix of goat cheese and soy milk or cauliflower and cheese, but I've never gone so far as to try to do a real faux-fredo with no dairy at all. It just seemed, to me, gross and unnecessary — like those fake cheese slices at the grocery store. Shudder. If you can't have the real thing or close to the real thing, what's the point in faking it? Plus, in the past, I felt like I was doing enough by at least cutting down on the dairy, but lately my body has been telling me that I need to cut down even more to, like, zero.
At first I was all, thanks a lot body. But, then, I remembered my new bestie – the white bean. And, I was all, heeeyyyy friend. Come on over. Yep, jump into this pan with that pasta and make some alfredo babies. How YOU doing? And, you know what? For a brief moment in time, I was like cheese who? I didn't really miss it. Because I had garlic, I had creamy white beans and I had a bright kale pesto to ramp up the flavor to a place I never knew faux-fredo could go. That would be food heaven.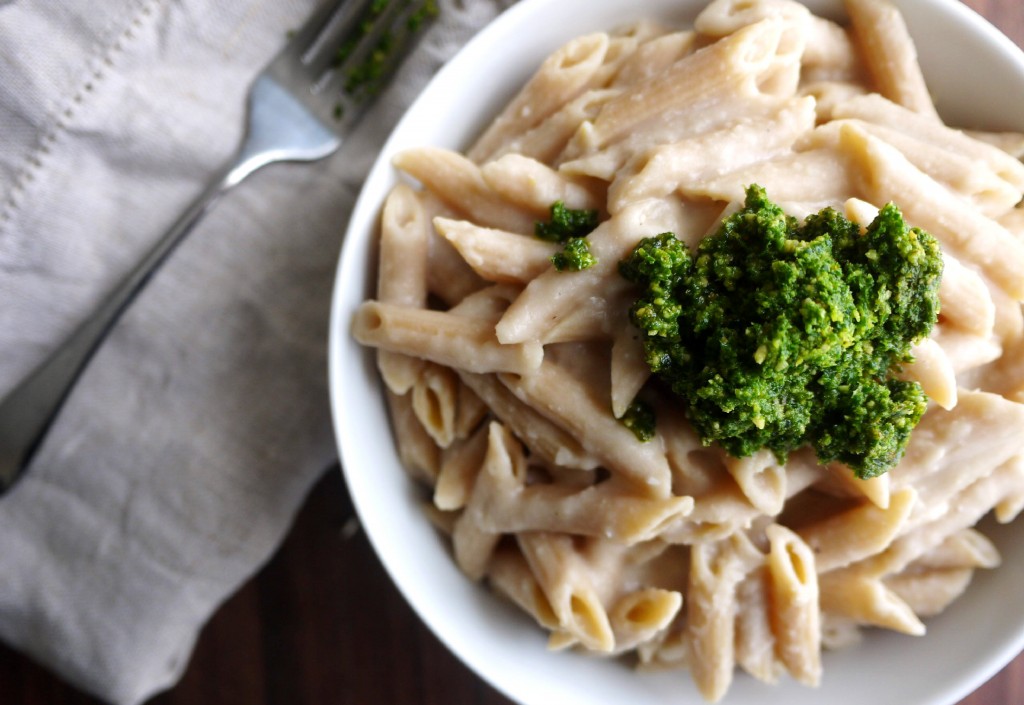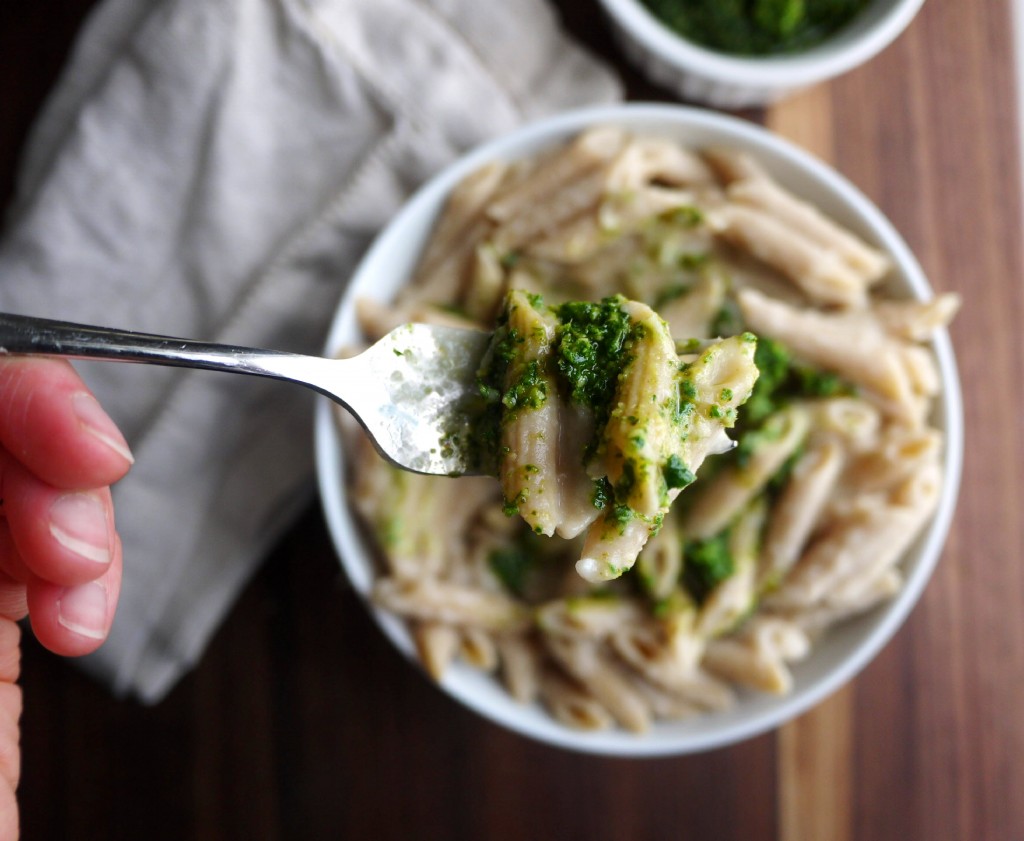 SO GOOD and SO CREAMY. And I can't stress enough just how delicious and fiberlicious this dish is. Yep, with the beans, the whole-wheat pasta, and the kale you are definitely getting your fair share of fiber for the day. If you have gluten issues, feel free to swap the whole-wheat pasta for brown rice or quinoa. You could also use rice or potatoes. Really this sauce would taste awesome dumped on pretty much anything. I'm thinking white bean sauce lasagna, white bean sauce casseroles, the sky is the limit. If only there were more hours in the day, I would spend just about ALL of them eating this sauce, thinking about this sauce, dreaming about this sauce. *Sigh* White beans, will you marry me?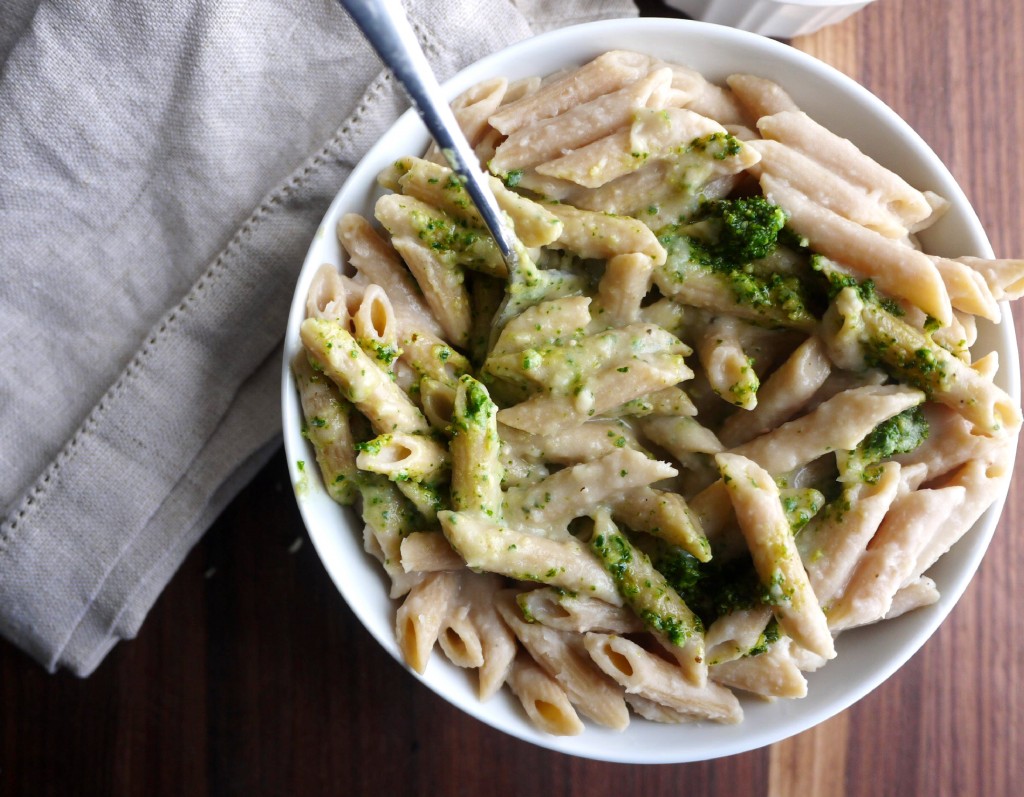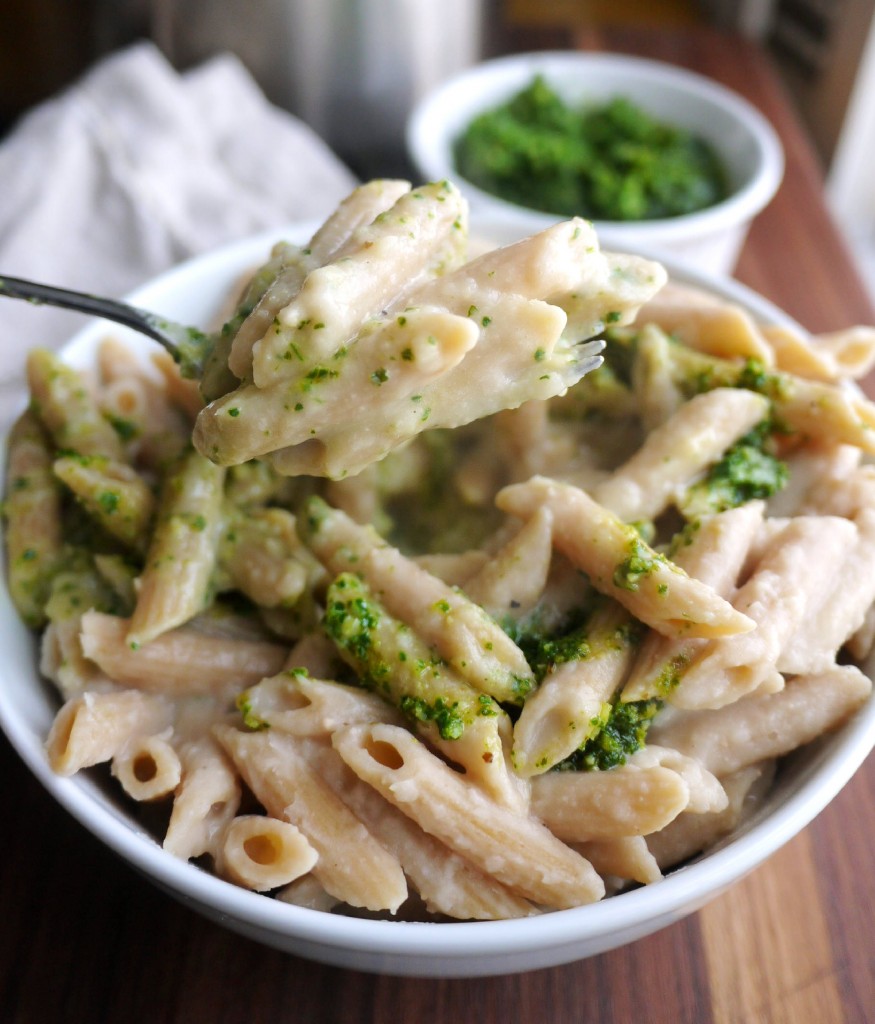 Garlicky White Bean Pasta Faux-Fredo with Kale Pesto
Author:
Healthy Recipe Ecstasy
Ingredients
KALE PESTO:
3 cups kale (fresh with tough stems removed or frozen)
¼ cup raw walnuts
2 cloves of garlic
½ cup extra-virgin olive oil
Coarse salt & black pepper to taste
PASTA ALFREDO:
¼ cup vegan margarine
4 cloves garlic, minced
4 cups canned white beans, rinsed and drained
1 cup low-sodium vegetable broth
1 tablespoon unsweetened soy milk
Coarse salt and black pepper, to taste
1 pound whole wheat penne pasta
Extra-virgin olive oil, for serving
Instructions
KALE PESTO:
Transfer the kale, walnuts and garlic to a food processor and pulse until coarsely chopped. With the motor running, add the olive oil in a steady stream and process to a coarse purée.
PASTA ALFREDO:
Cook pasta according to package. Drain and keep warm, retaining one tablespoon pasta water.
In a large sauté pan over low heat, melt the margarine. Add the garlic and cook for 2 to 3 minutes, stirring frequently.
Transfer the margarine mixture to a blender or food processor, and add the white beans, vegetable broth, soy milk and pasta water. Blend until completely smooth.
Pour the sauce back into the pan over low heat, then season with salt and pepper to taste. Cook until the sauce is warm.
Add the sauce to the pasta, and mix until all the noodles are covered in sauce. Divide pasta among 4 bowls. Top each bowl with 2-3 tablespoons kale pesto and some olive oil.
NOTE: At first, it may seem like you have too much sauce for the pasta, but the noodles quickly soak up all that sauce. To reheat leftovers, I like to slowly warm the pasta on the stove and add ¼ cup broth to help loosen up the sauce.