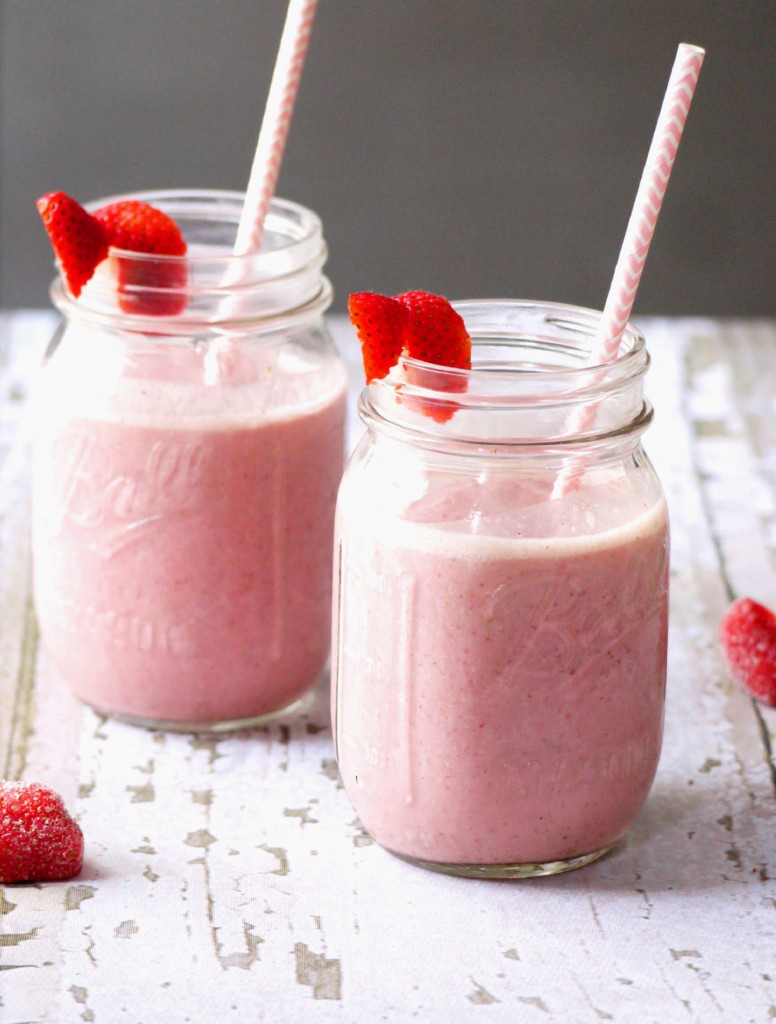 When my neighbor, Lesley, asked me if I had any use for the two gallons of frozen strawberries currently languishing in her freezer, I jumped at the offer. (Have I mentioned how awesome she is?) Not that I had anything particular in mind, but just because I have me a small frozen fruit addiction. Mostly, I just defrost little bits of frozen fruit to top my frozen organic quinoa waffles so a big freezer bag lasts about……six months. But, in my mind, I have visions of smoothies, tarts, pies, basically anything that would involve a frozen berry.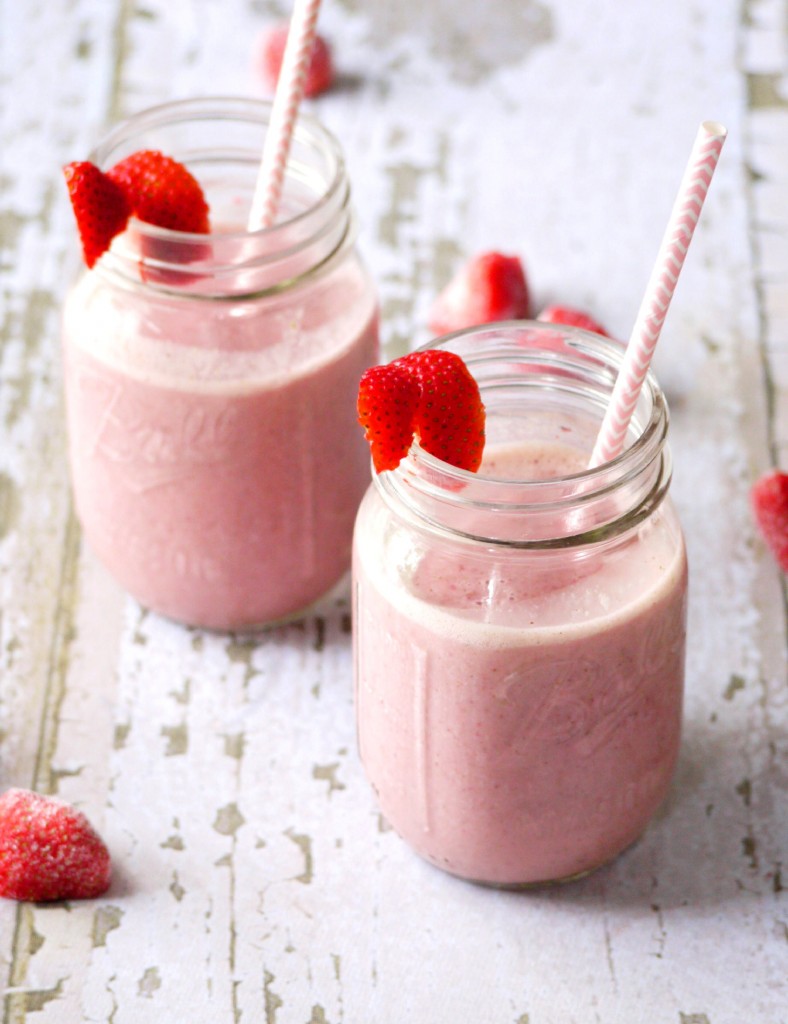 Alasdair is always like, why do you need all these bags of frozen berries that you never use?? And I'm like the point of frozen berries is not to use them but to keep them in your freezer on the off chance you decide to act on one of your frozen berry dessert visions. How am I going to make that frozen berry smoothie someday in the distant future if there are no berries in my freezer?
Let's get something straight. I am not a huge smoothie person. I've made a handful of smoothies in my life but I've only ever posted one smoothie on this blog. Here's my thing about smoothies – I don't have a blender or Vitamix, just a lowly food processor, so unless the ingredients are very process-able, my smoothies always turn out chunky or with bits. I'm looking at you kale smoothie with your little kale bits – yuck.
Also, I don't love overly sweet sludge which is what most smoothies tend to be, IMO. That's why the avocado and pear smoothie was perfect for me – it was all smooth and creamy and not too sweet.
But, as much as I loved that smoothie, it comes nowhere near this new strawberry and almond smoothie. This smoothie is nutty, it's refreshing, it's got just a hint of sweet and it's super smooth and creamy. Usually I'm choking down smoothies with a spoon and telling myself I'm doing something good for my body the entire hour it takes me to finish.
This smoothie? I sucked it down in like 2 minutes flat. And then I finished Alasdair's smoothie. Don't get me wrong – he also loved this smoothie. He just looked away for a minute too long. 🙂 I love when I make something that seems decadent and dessert-like but is actually ridiculously good for me, don't you?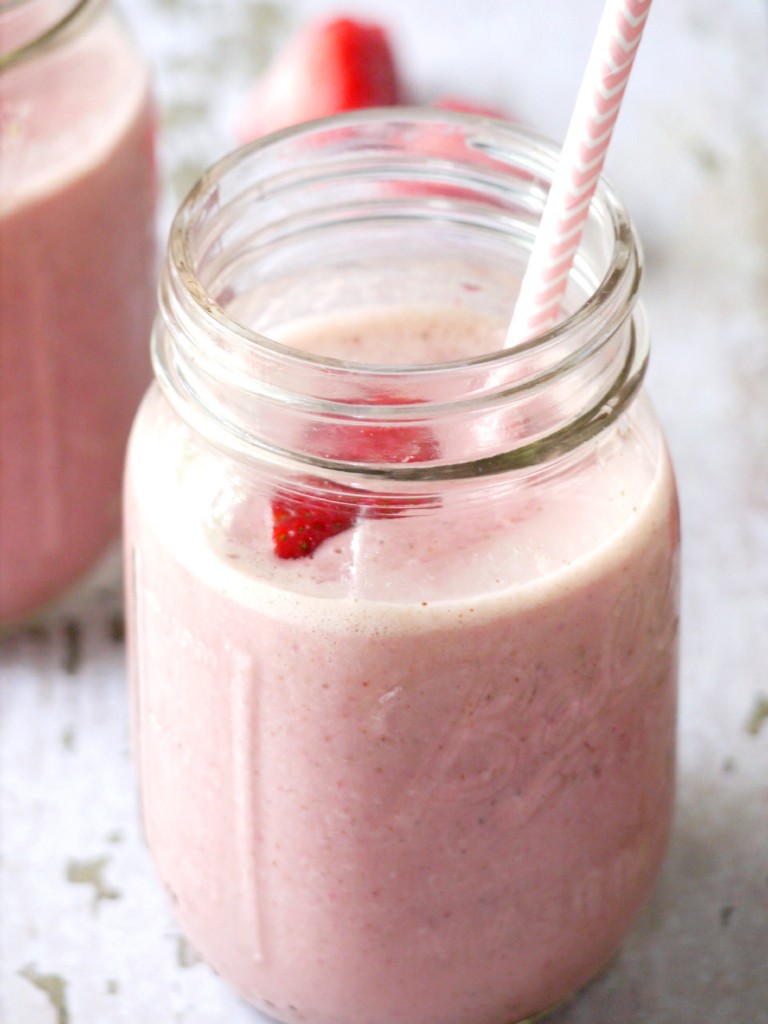 Speaking of sweet things, a few weeks ago another food blogger, Orsi Horváth, contacted me about a new Indiegogo crowdfunding campaign called the Sweet Project. Orsi is trying to build the first fully dedicated global sweet news and lifestyle site to update viewers on the latest sweet confection news and developments from across the world. The best part is, the site would focus on healthy sweets and 20% of all contributions will be donated to the Save the Children Foundation.
Orsi wants to show people that healthy sweets and desserts can be just as good as traditional sweets, and that individuals on a diet or with dietary constraints don't have to say goodbye to dessert.  I love this concept because that's exactly what I'm trying to do here, except with a broader focus – showing people you don't have to give up mac 'n' cheese just because you're gluten-free or pasta alfredo just because you're lactose intolerant.
And this smoothie, well, this smoothie just goes to show that you can have breakfast and dessert all in one sip without an ounce of guilt. 🙂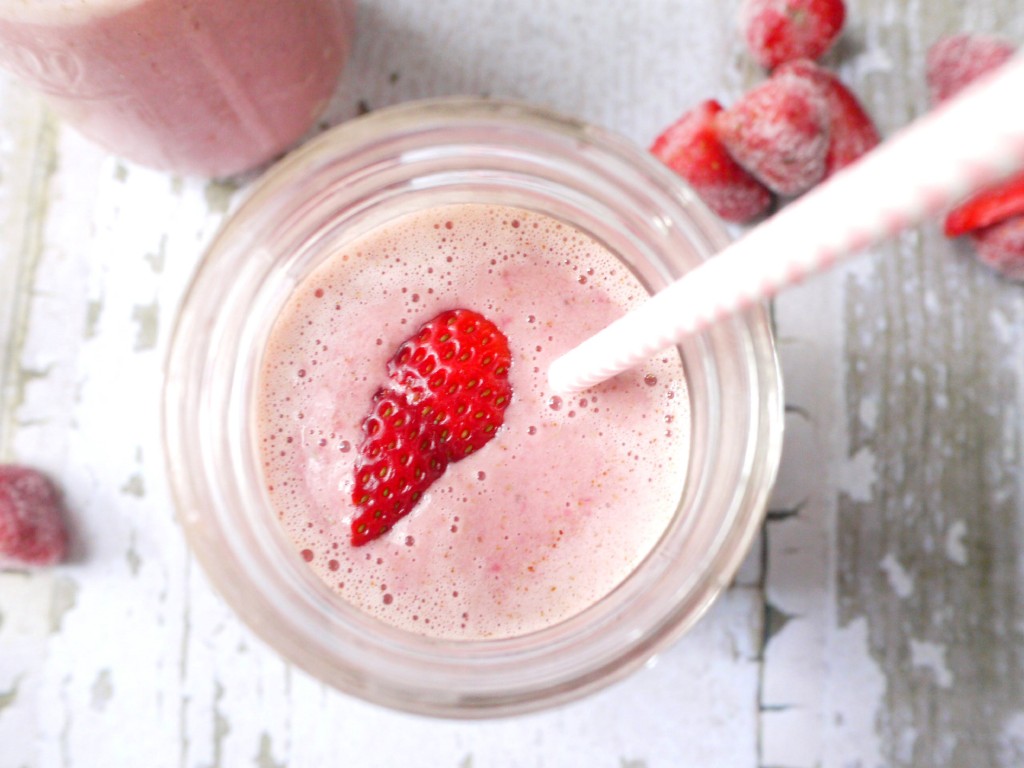 Frozen Strawberry and Almond Smoothie
If you would like your smoothie less nutty and a little more fruity, use only 1 tablespoon almond butter and add a half cup of strawberries. Double the ingredients for 2 smoothies.
Author:
Healthy Recipe Ecstasy
Ingredients
1 cup frozen strawberries
1 cup unsweetened almond milk
2 tablespoons smooth almond butter
1 teaspoon raw honey
1 teaspoon vanilla extract
½ teaspoon flax or chia seeds
Instructions
Add all the ingredients into a blender or food processor and blend until smooth.
Pour the smoothie into a tall glass and garnish with fresh strawberries, if desired. Serve cold.