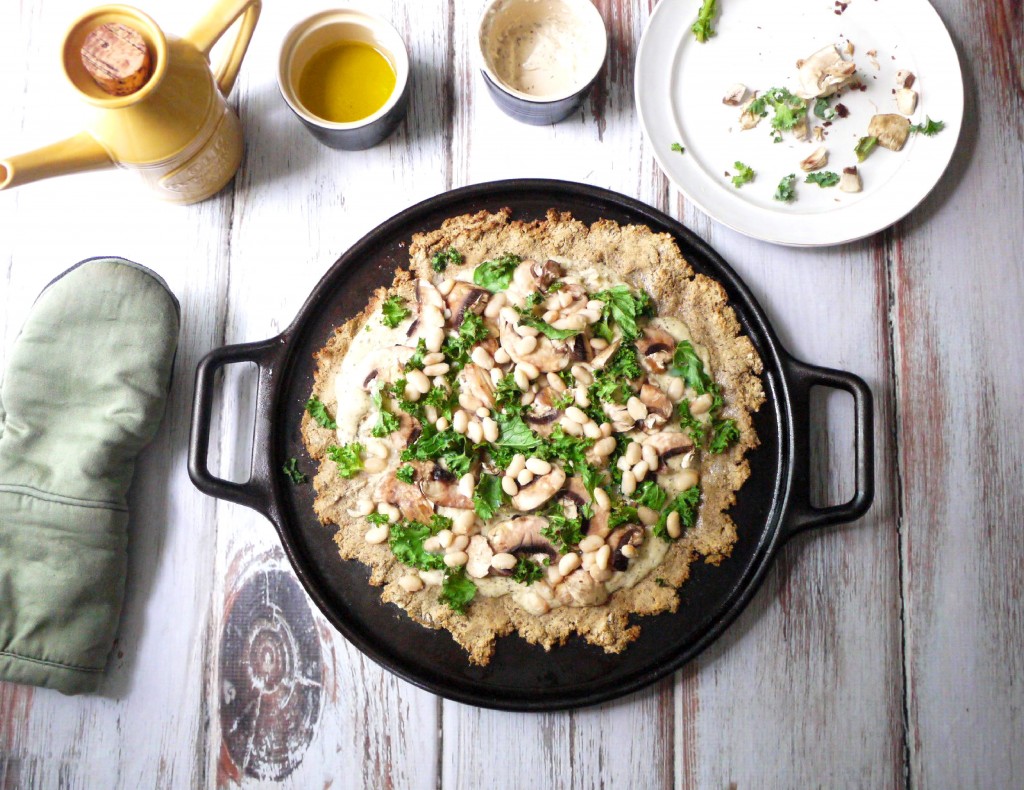 Happy Tuesday! I hope everyone had fun celebrating Cinco de Mayo and eating carnitas and guacamole. Normally, I would have been among the masses, shoving tortillas chips in my face and inviting everyone over to fiesta like I did last year. But, our weekend was more Home Depot and Bed Bath and Beyond than pinatas and tacos. I'm not complaining – it felt really good to be productive and get stuff done. Plus, as much as I love any and all Mexican cuisine, I just didn't feel ready for Cinco de Mayo. I mean, how is it already May?? I feel like last week I was wearing scarves and a heavy jacket and now I'm wearing shorts and a tank and I'm sweating, you guys, sweating. It's like we skipped right over spring and my cute light-weight spring jackets are sad. Sad I tell you!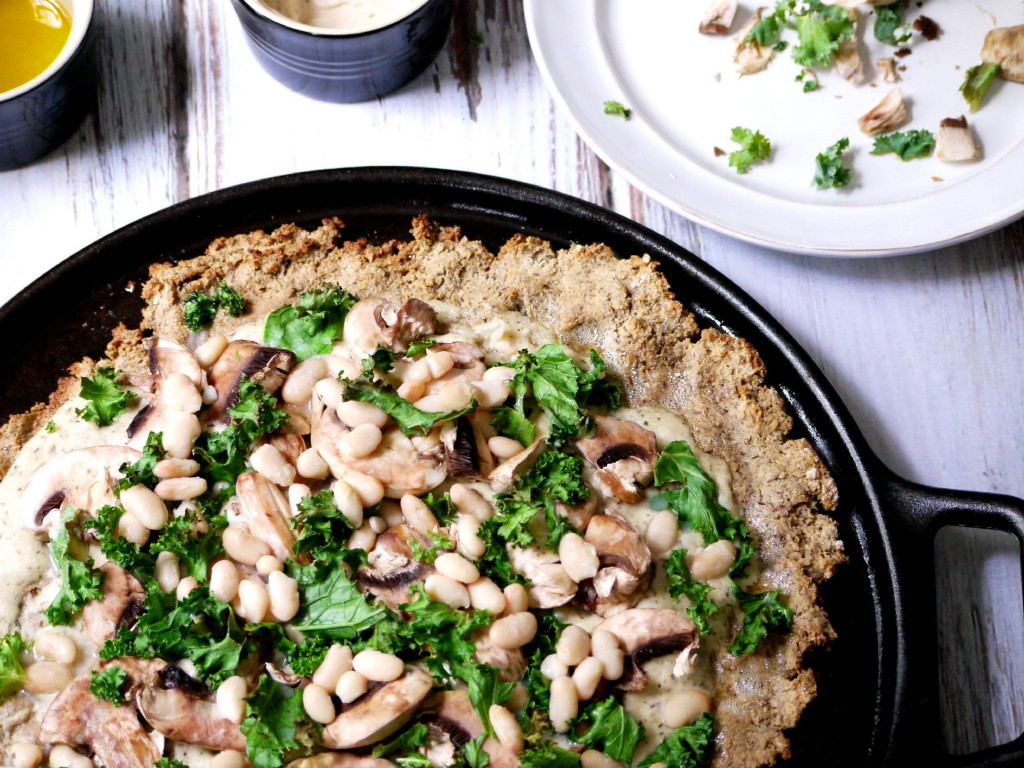 Before we are completely overcome by sun and warm weather and fruity cocktails (again, not complaining), I felt like I needed one last tangle with some winter greens. Seriously, I had a small panic attack thinking that our grocery store might not stock kale anymore because it's summer. I can't help it. I'm a kale fanatic. Remember kale week? Or was that kale month…? There was the kale guacamole, the kale and pancetta salad, the kale and apple salad and that pasta. Wow, I forgot about that pasta and now it's all I can think about.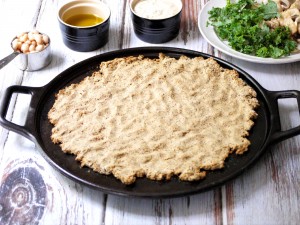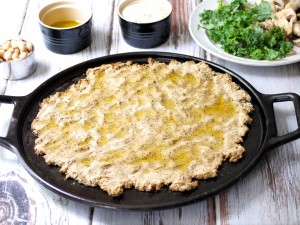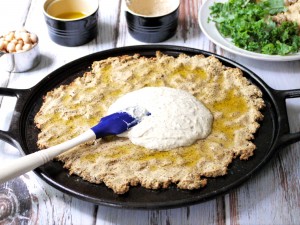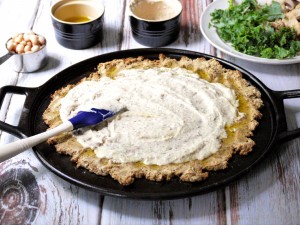 Anyways, back on task. We're here to talk about a new kale recipe. It involves one of my other favorites, white beans. Hiya buddy…. 🙂
This pizza is like all my healthy favorites decided to jump in a carpool on the ride to my tummy. Oh, and their vehicle of choice? The hybrid of pizza crusts – a gluten-free oat and almond crust. That's right, this pizza is gluten-free, dairy-free, and vegan. It's a veritable health bonanza.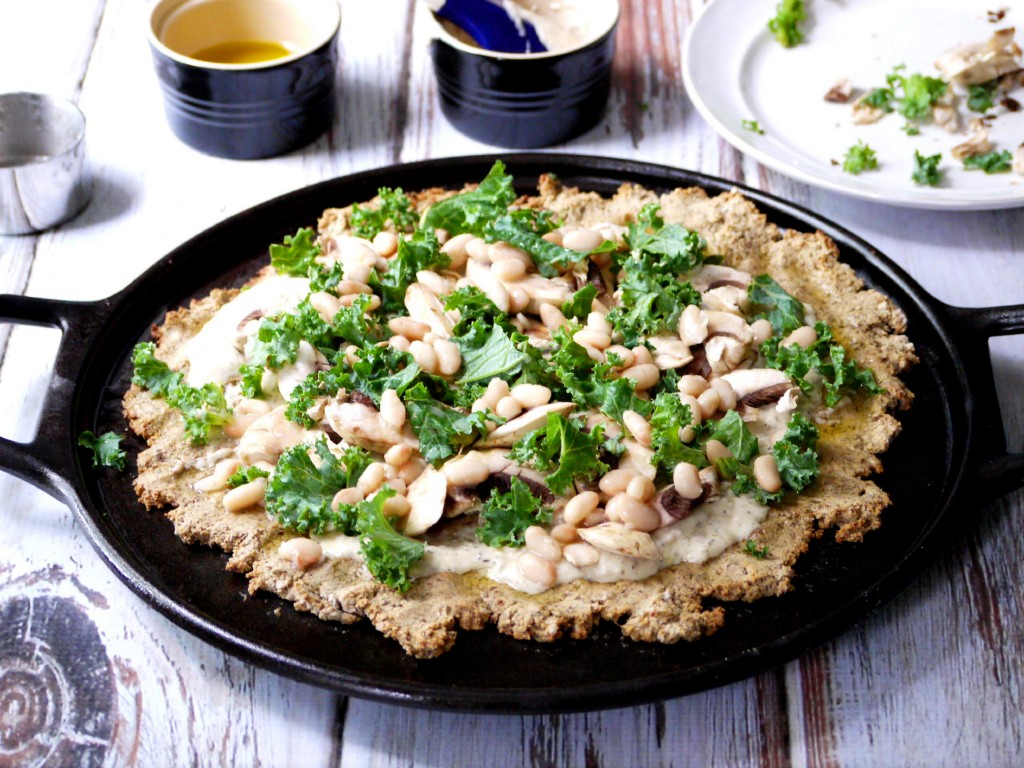 Before I go any further, I am the first to acknowledge that pizza is barely pizza without cheese. Yes, I get this is not pizza in the traditional sense, but it has a crust, sauce and toppings, and I made it with my pizza stone, so, there ya go. It's pizza.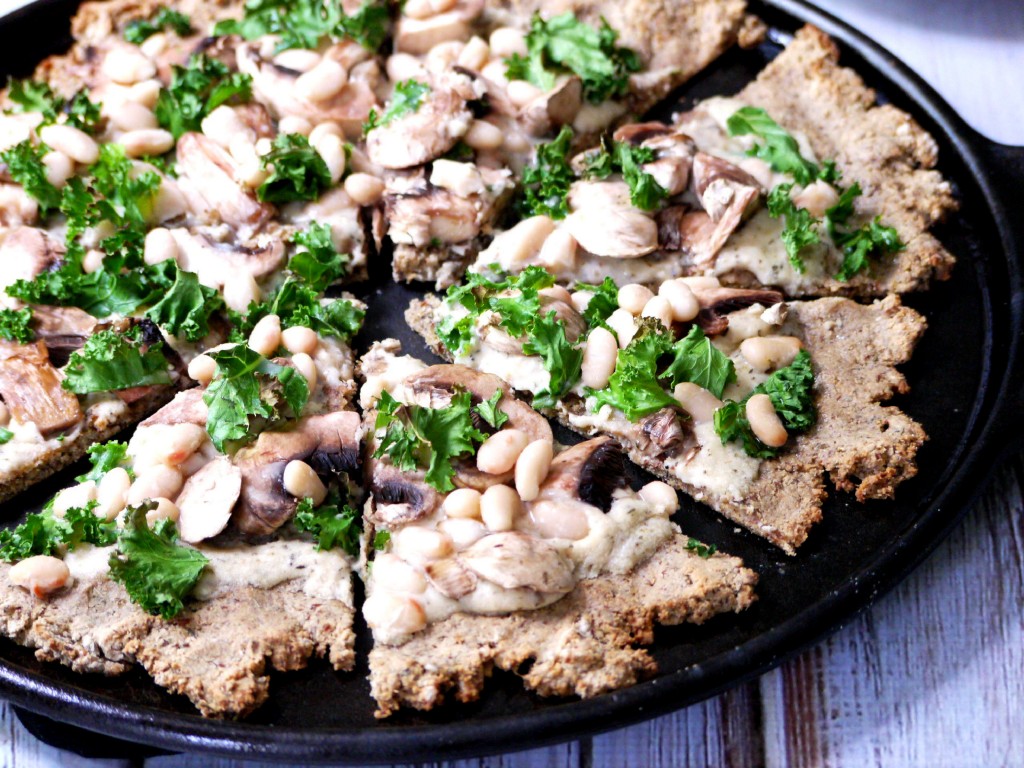 I thought I would miss the cheese but the pureed white beans are really enough to satiate any creamy cravings. I swear. If you're not convinced, try this on for size. I was not even going to feed this pizza to Alasdair as it's vegan and cheeseless, and I didn't want to have to listen to him complain that it needed cheese and meat. But, his curiosity was peaked and he took a bite unprovoked. And then another and another. I was all, "you like this…???" And he was all, "yeah it's actually pretty decent. The crust has a good flavor and I like the combination of the white beans and the crispy kale." And I was all, "well, then." Cue the flattered giggles.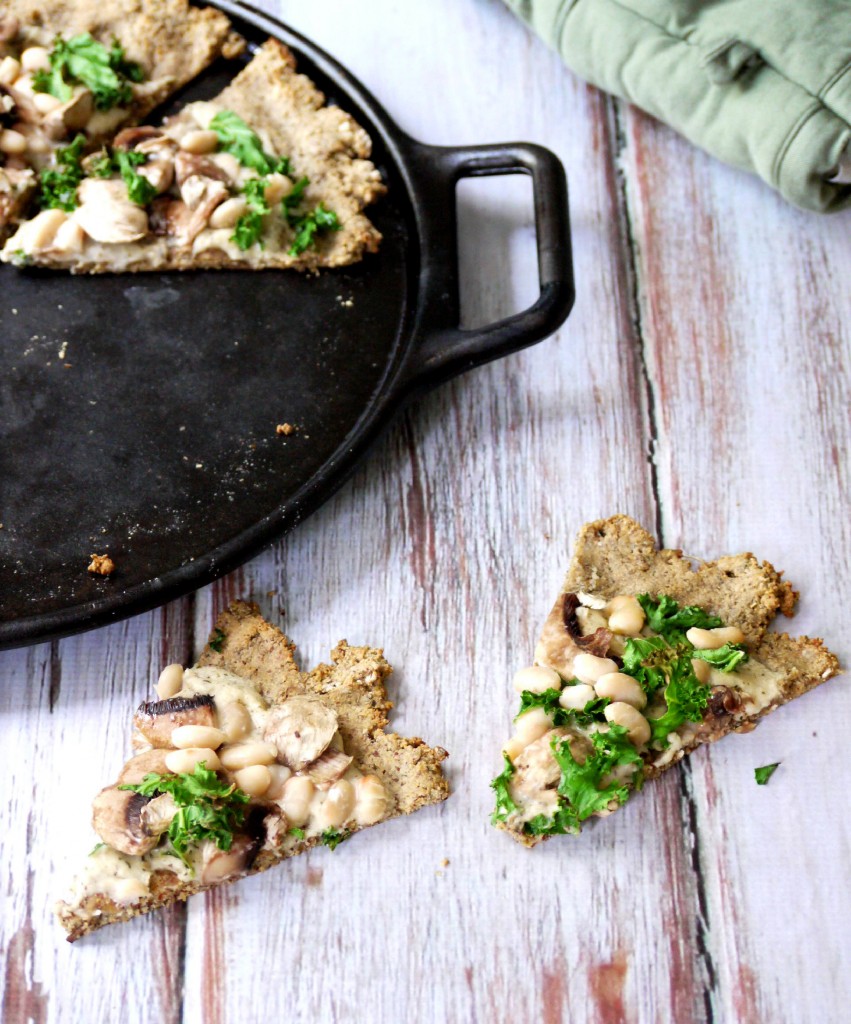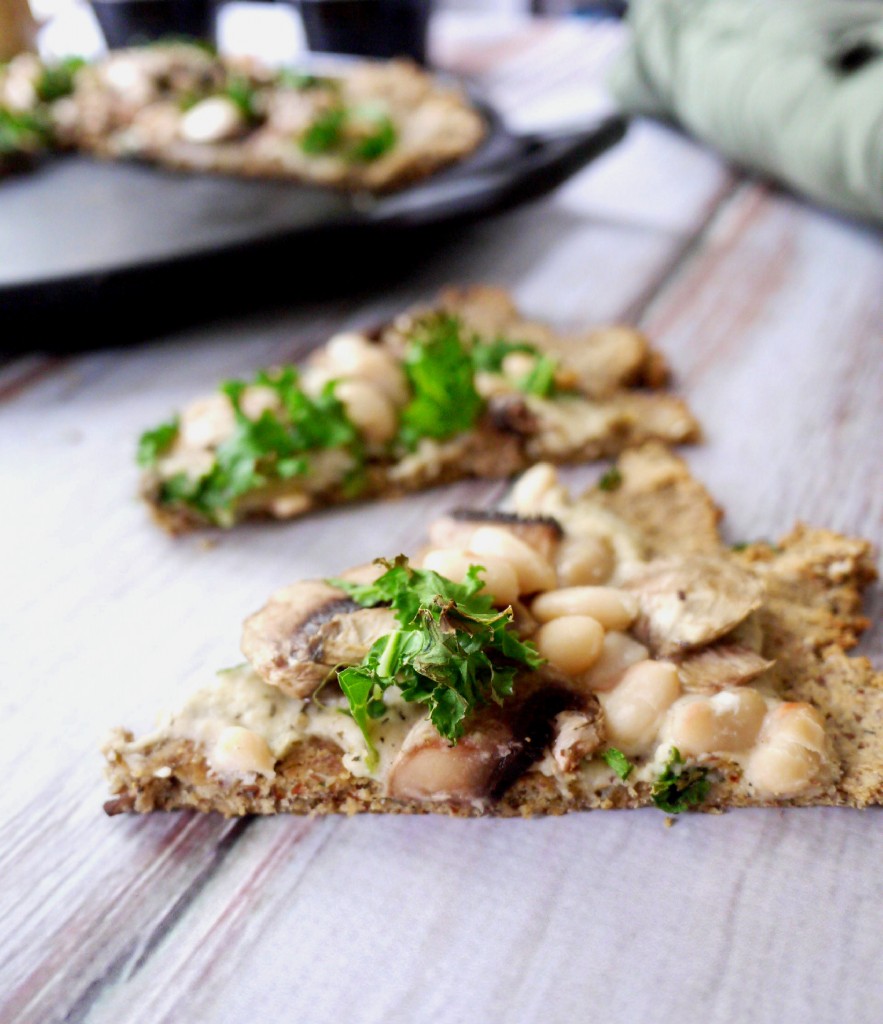 So, jump on the bandwagon. Eat some pizza. It's good for you – I promise! 🙂

Kale, Mushroom & White Bean Pizza on Oat & Almond Flour Crust (GF, DF, V)
Don't be scared about the lengthy list of ingredients. It's a lot easier and quicker than it looks from first glance. Assemble the dough first, and make the garlic oil and white bean puree while the dough is cooking to save time.
Author:
Healthy Recipe Ecstasy
Ingredients
Gluten-Free Dough:
1 tablespoon yeast
¾ warm water
2 and ¼ cups oat flour (preferably ground in your food processor from old-fashioned oats)
¾ cup almond flour
½ cup flaxmeal
1 teaspoon baking powder
½ teaspoon salt
½ teaspoon xanthan gum
3 tablespoons chopped oregano
2 tablespoons thyme
1 teaspoon red pepper flakes
2 tablespoons extra virgin olive oil
3 tablespoons honey
½ cup warm water
Garlic Oil:
2 large pieces garlic
½ cup extra-virgin olive oil
White Bean Sauce:
1 and ½ cups white beans
¾ cup extra-virgin olive oil
2 teaspoons oregano
1 teaspoon thyme
1 teaspoon garlic powder
¼ teaspoon salt
⅛ black pepper
Pizza Toppings:
2 cups button mushrooms, sliced
1 and ½ cups kale, chopped with hard stems removed
½ cup white beans, rinsed and drained
Extra-virgin olive oil, for drizzling
Freshly ground black pepper, to taste
Instructions
Gluten-Free Dough:
Preheat oven to 400 degrees.
In a small bowl, combine yeast and ¾ cup warm water - about 110 degrees. Let the yeast sit for 5 minutes to activate.
In a separate bowl, combine oat flour, almond flour, flaxmeal, salt, baking powder, xanthan gum, oregano, thyme and red pepper flakes. Whisk until well combined.
Make a well in the middle of the dry mixture and add the yeast mixture, the olive oil and the additional ½ cup warm water. Then, stir it all together until well combined, using a wooden spoon.
Lightly coat a baking sheet or pizza stone with non-stick cooking spray and plop your dough down. Coat your hands with non-stick cooking spray and/or oat flour and, working from the middle, push to spread/flatten the dough into a circle. Don't worry about making it look pretty. Healthy pizza is better with rustic jagged edges. :)
Put the pizza in the oven to pre-bake for roughly 20-25 minutes. It should be dry and crispy before removing from the oven.
Garlic Oil:
In a small saucepan, bring the garlic and oil to a boil, then turn the heat to low, and cook for 5 minutes, until the garlic is lightly browned. Turn off the heat and set aside. The garlic will continue to cook. Remove the garlic cloves from the oil before using.
White Bean Sauce:
Put all the ingredients for the white bean sauce (white beans through black pepper) in a food processor and process on high until smooth.
Pizza Toppings:
Brush the pre-baked pizza crust with the garlic oil. You won't need all the garlic oil. Spread the white bean sauce with a spatula over the crust. Top with the chopped kale, mushrooms and white beans. Drizzle with olive oil.
Pop the pizza back into oven for another 5-7 minutes, or until the kale begins to brown and crisp. Drizzle with more olive oil and sprinkle with black pepper, if desired.
NOTE 1: You can buy oat flour at the store or you can grind oats in the food processor. I found that, for some unknown reason, grinding the oats in the food processor produced a nuttier, more flavorful crust. While the store-bought oat flour yielded a blander crust regardless of the amount of spices I used.
NOTE 2: Let the pizza rest for a few minutes before cutting. The crust should hold together well as long as you pre-baked it long enough. Also, you will have leftover garlic oil. I suggest using it for bread or salad dressing. Imagine a crusty baguette dipped in garlic oil and topped with some parmesan cheese. AMAZING.