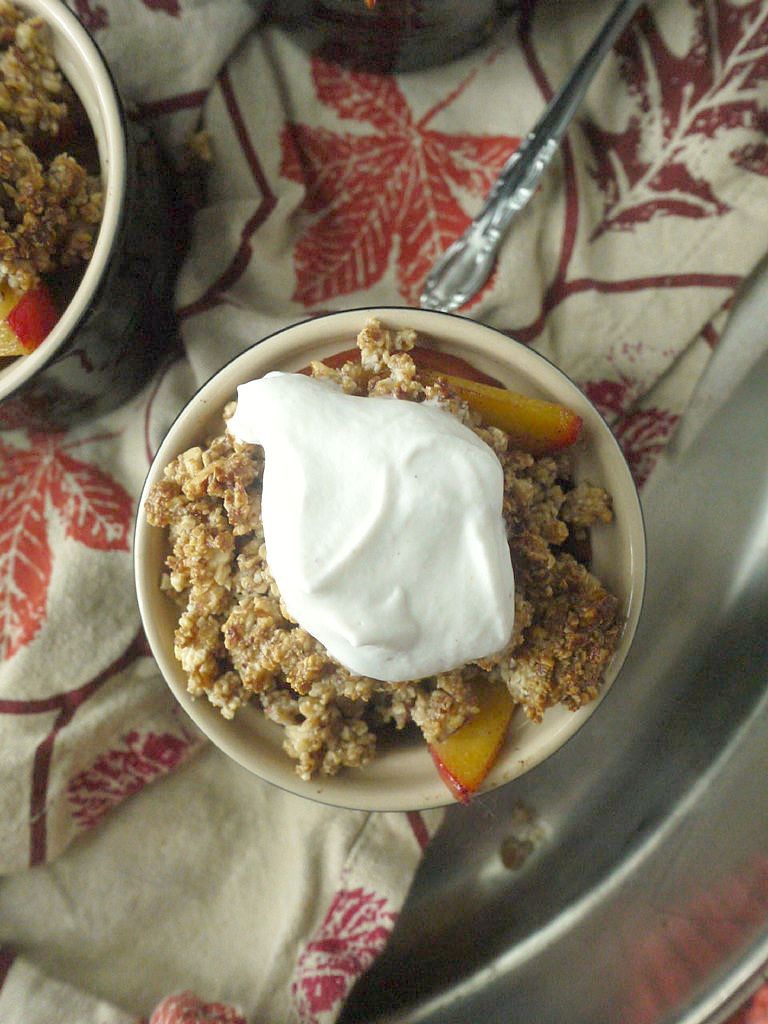 Ever notice how food bloggers have their own poetic license? A pizza is no longer dough covered in sauce and cheese, it's basically any kind of base you can put on a pizza stone (or a baking dish or a skillet or a fill in the blank…) topped with anything. Cheese? Not necessary. Sauce? Only if you want it. Dough? Could be made from oats and almonds, cauliflower, even broccoli.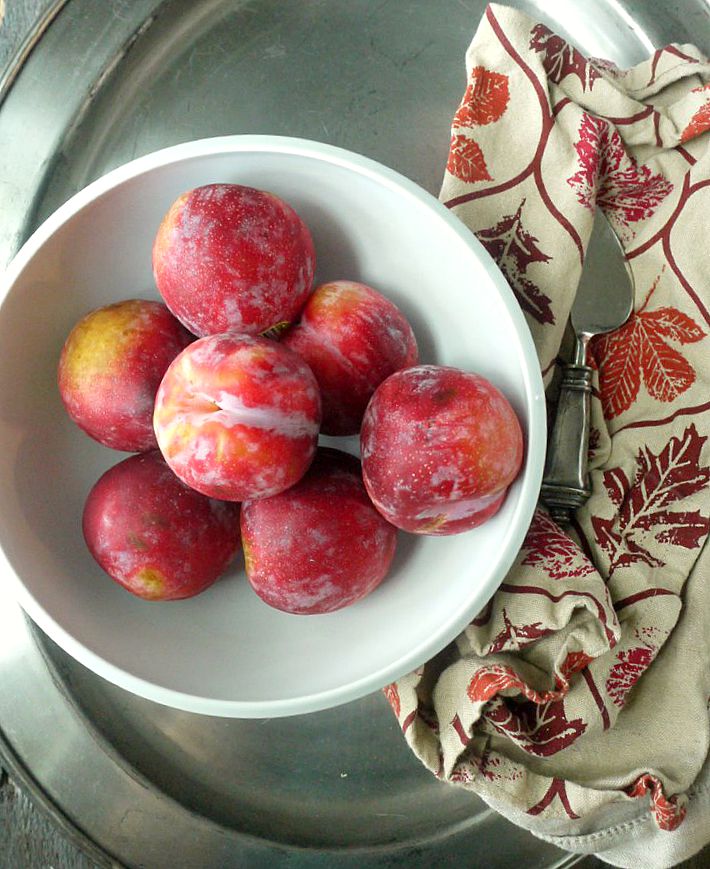 Well, I was about to break out said poetic license today and throw around the word "cobbler" when I had no intentions of making a true cobbler. There were gonna be no biscuits of any kind, just a crispy, crumbly topping suitable for my Paleo and gluten-free friends. And, you know what? It felt wrong. How could I call something a cobbler when it was actually a crisp…or a crumble…or a crisp. (We'll get to that). Does adding the word "Paleo" or "gluten-free" or "healthy" give us food bloggers license to rename and redefine a whole genre of food?
Are we renegades or visionaries?
On that issue, I'm torn. My lawyer-side which believes that a society needs rules not to collapse into chaos wants a pizza to be a pizza and a cobbler to be a cobbler (unless I'm craving this). But my creative food blogger side wants to explore any and every combination of tasty deliciousness that springs to the minds of myself and my food-loving friends without regard for names or definitions. Who needs words when you're busy chewing?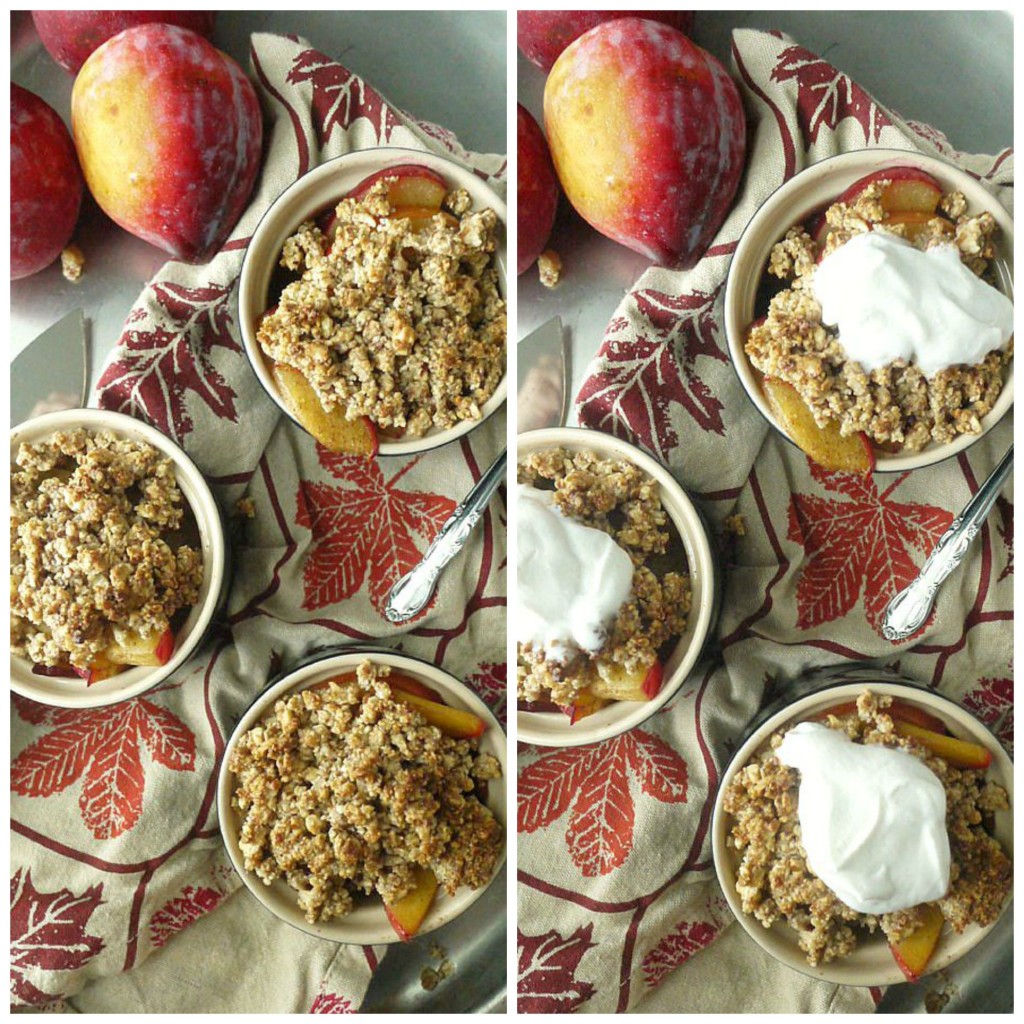 Today, my lawyer side won. I couldn't justify calling a crispy crumble-topped dessert a cobbler just because I added the word Paleo. Tomorrow, though, tomorrow's another story….
Speaking of crispy crumbles, I could not get a straight answer out of the interwebs confirming the definition of crisps and crumbles. One site said a crisp has oats in it, another said a crumble has oats. Still another said they are interchangeable and a fourth site said a crisp is American and a crumble is British. And there's this smorgasbord of goodness.
So, it is here that I invoked my decision-making powers and deemed this dessert a crumble because it is oat-free and more crumbly than crisp.
But, in the end, we all know that cobbler versus crumble versus crisp doesn't matter when you have the sweet flavors of plum and maple commingling beneath a nutty topping.
All that matters is that next bite…and the one after that…and the one after.
Paleo Plum Crumble with Maple-Ginger Coconut Cream
This recipe is Paleo, dairy-free, gluten-free, soy-free, vegan and made without refined sugar. This is not, however, a low-calorie or low-fat recipe. NOTE: I didn't think of this until after I made and photographed the recipe but orange zest added into the crumble topping and the coconut cream would have been a great complement. You could even add some zest as a topping. Next time...
Author:
Healthy Recipe Ecstasy
Ingredients
Filling:
4 fresh plums, sliced
¼ cup pure maple syrup
1 teaspoon almond extract
1 teaspoon ground cinnamon
1 teaspoon ground ginger
½ teaspoon coarse salt
Crumble Topping:
¾ cup almonds
¼ cup shredded unsweetened coconut
2 tablespoons pure maple syrup
2 tablespoons coconut oil
¼ teaspoon coarse salt
¼ teaspoon almond extract
Coconut Cream:
1 can chilled, full-fat coconut milk
2 tablespoons pure maple syrup
1-2 teaspoons ground ginger (add a second teaspoon if you want an extra kick of ginger)
Instructions
Filling:
Add all the filling ingredients to a medium pot set over medium-high heat. Bring to a boil and then lower the heat to medium low and allow the ingredients to simmer, stirring occasionally, for 10 minutes or until the plums are tender.
Crumble Topping:
Add the almonds and coconut to the food process and pulse 10 times or until the almonds are broken up into little pieces. Add the maple syrup, salt and almond extract and pulse another 5 times until a sticky, crumbly mixture is formed.
Coconut Cream:
Add the coconut cream ingredients to a medium bowl. Use an electric mixer to whip the coconut cream and other ingredients for 5-7 minutes or until stiff peaks form. Keep cold until ready to use.
To Assemble:
Heat the oven to 350 degrees F. Divide the cooked plums among four ramekins. Top each ramekin with the almond and coconut mixture. Cook for 15-18 minutes or until the almond mixture is toasty and brown. Serve the crumbles with coconut cream.