Do you ever feel like the universe is laughing at you? Just last week, I made the decision to spend the next few weeks before our wedding embracing simplicity. No crazy social plans, no crazy recipes, and no crazy bride moments. I was actually looking forward to my planned routine – work, gym, dinner, ticking things off the wedding to do list, sleep, and repeat. But then, just as I made that decision, the universe threw a wrench in my plans. The wrench being my boss asking me to go on work travel to Puerto Rico next week. Ordinarily, my reaction to such a request would be: "Whoopppeee! Sunshine, resorts, beaches, after-work daiquiris, when do I leave??" Within 30 seconds, I would have been researching the best restaurants and must eat foods and thinking about whether I could squeeze in an in-room massage after work meetings. But, as three weeks before our wedding is anything but an ordinary time, my reaction has been more along the lines of "ughh, am I going to be able to reschedule my dentist appointment? when am I going to get to the gym? when will I finish the seating chart? how can I finish all the work I need to do before I leave for the wedding?"
Yep, I am the quintessential Negative Nelly. So what did I do when life was throwing me lemonade but all I could see were lemons (or limes in this case)? I made kale guacamole. Seriously, I came home from work one night last week, frazzled yet again, and despite the impending travel and long list of wedding to dos, I just couldn't stop thinking about two things: Cooking Light's tostadas and the overabundance of kale in my fridge. My first thought was to just throw some kale into the tostada mix, but then I decided that wouldn't rid us of enough kale. So I threw the avocados and the kale into the food processor — much to Alasdair's disgust as he was sure I was just "wasting good avocados." Fortunately, the result was surprisingly delicious to us both.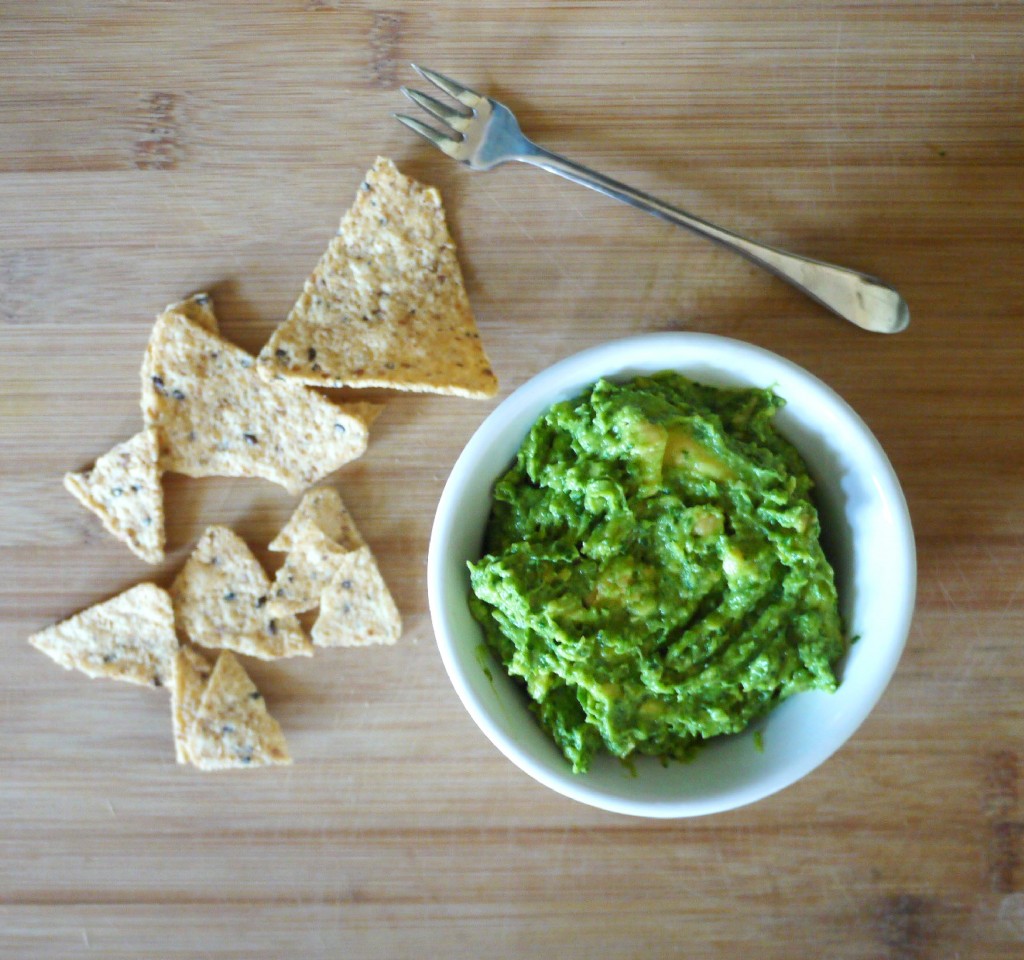 That got me to thinking…. Whether life is throwing you lemonade, limeade, lemons or limes, things can always be turned around. And last week, it was my attitude that needed adjusting. So, after a few days of complaining and eating kale guacamole, I've decided to see that "wrench" as an "opportunity." Maybe getting away for a few days is exactly what I need before the wedding. Sure, I'm going for work which means meetings all day and business suits, but maybe I can squeeze in at least one after-work daiquiri. If not, I have kale guacamole waiting for me upon my return. 🙂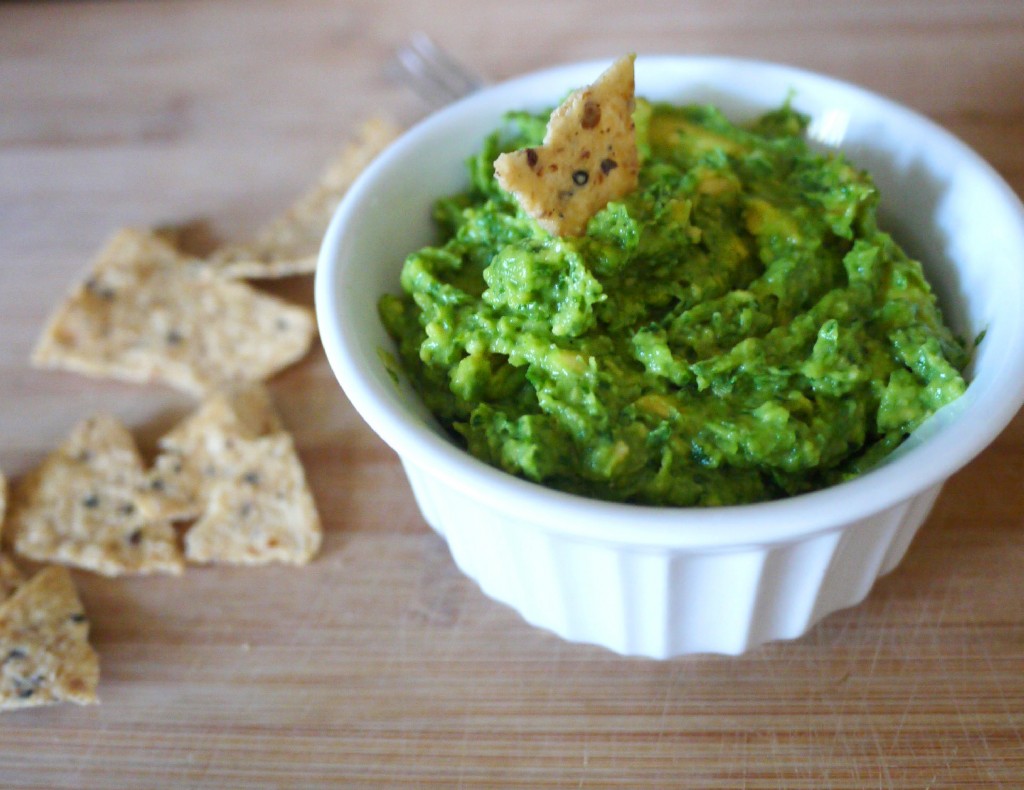 Healthy Recipe Ecstasy? We all know that avocados are full of "good-for-you fat" so, in moderation, guacamole is a great, gluten-free, dairy-free, vegetarian, and even Paleo-friendly snack. Adding superfood kale just ups the ante. Kale guacamole is a great way to sneak in some extra veggies for your family without them even realizing it. Plus, there is research out there that eating kale on a regular basis may provide significant health benefits, including cancer protection and lowered cholesterol.
I also like using guacamole as a creamy substitute in dishes. For example, instead of mayonnaise, I mixed my chicken salad (see below) this week with kale guacamole. A little dollop goes a long way in terms of taste and health benefits. And, this recipe will yield many little dollops so you can add kale guacamole to your meals all week long.  This morning we ate kale guacamole with our eggs and, tonight, we're going to use it to top off some crockpot chili!
Kale Guacamole
Author:
Healthy Recipe Ecstasy
Recipe type:
Appetizer/Snack
Ingredients
1 large garlic clove
½ of a medium shallot (yields approx. two tablespoons chopped)
2 cups loosely packed kale
3 tablespoons olive oil, divided
3 tablespoons roughly chopped cilantro
3 tablespoons roughly chopped parsley
1 small jalapeno, chopped and seeded (I wanted a mild guacamole, but if you want more heat, keep the seeds and/or use a larger jalapeno)
3 medium avocados
Half of a lime
Salt and pepper to taste
Instructions
Chop the garlic and shallots. Chop the kale and remove the hard stems. Massage kale to help it break down. NOTE: The hard stems are hard to puree unless you have a super-powered food processor which is why it's important to remove them.
Add garlic, shallots and kale to the food processor along with one tablespoon olive oil. Process until smooth. Add cilantro, parsley, and jalapeno to the food processor and process until all the ingredients are combined.
Put the kale mixture in a medium bowl. Roughly chop the avocados so they're easier to mash. Add the avocados to the bowl. Add two tablespoons olive oil and mash the avocados and kale mixture until creamy and combined. Add lime juice from the lime half and salt and pepper to taste. Give the guacamole a final mix.
VARIATION: When I first made this recipe, I threw all the ingredients into the food processor together and ended up with a thick dressing rather than a chunky guacamole. Because the kale takes longer to break down than the avocado, I had to process the avocado until it was beyond creamy and, in addition, I had to add more olive oil to help the ingredients process. There was absolutely nothing wrong with this kale-avocado dressing - it too was delicious. I was just craving a chunky guac. But, if you desire a yummy kale-avocado dressing, then follow the directions above. But, at the end, throw the kale-avocado mixture back into the food processor along with ¼ cup olive oil and process until you reach your desired dressing consistency. You may have to add a few additional tablespoons of olive oil if you want a thinner dressing. Whatever the consistency, it's great on tostadas, salads, chicken, you name it!