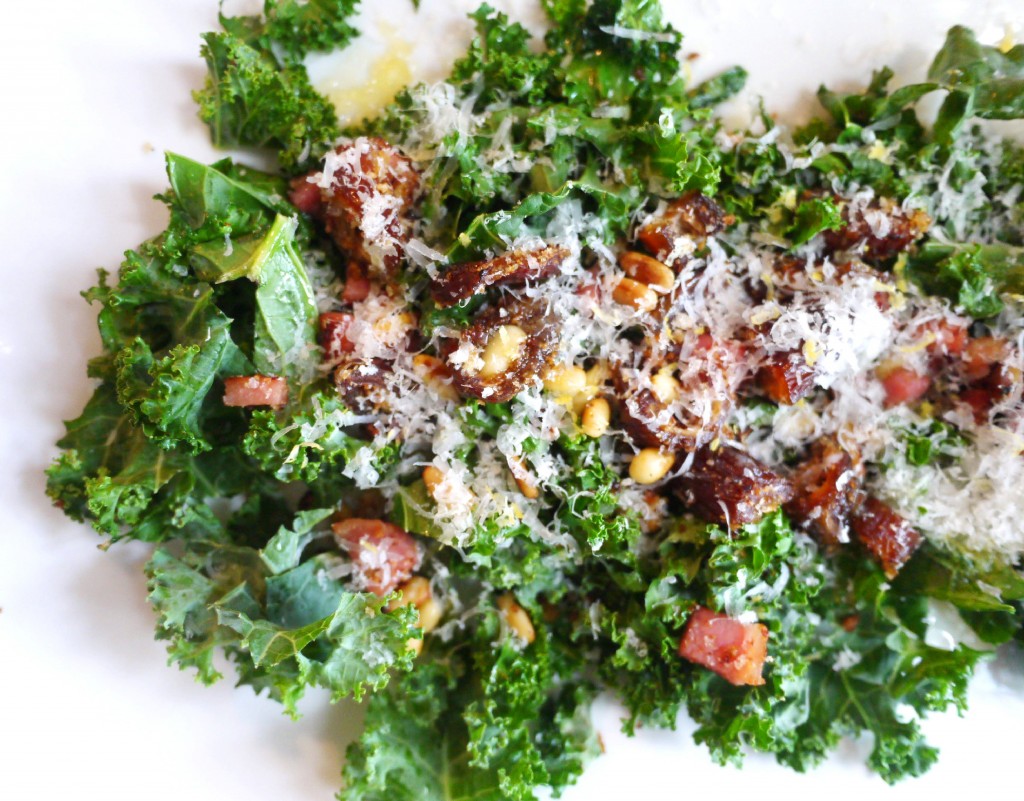 Welcome to installment number two of "kale – three ways!" Ideally, this recipe would have been number one in the series (if you can you call three blog posts a series…) because it's number one in my heart and in my stomach. I mean, it has pancetta, are you surprised? It's also the first real kale recipe that I ever made. Some of you (or none of you, but I'm going to pretend at least some of you hang on my every word) may remember that I mentioned this salad back when I was toasting pine nuts for a yummy snack. I actually made this recipe week after week for the past month intending to share it with you guys but then falling short because, let's face it, I'm getting married in eight short days and my life is no longer my own. My life is now dedicated to ticking pesky items off the all-consuming wedding "to do" list.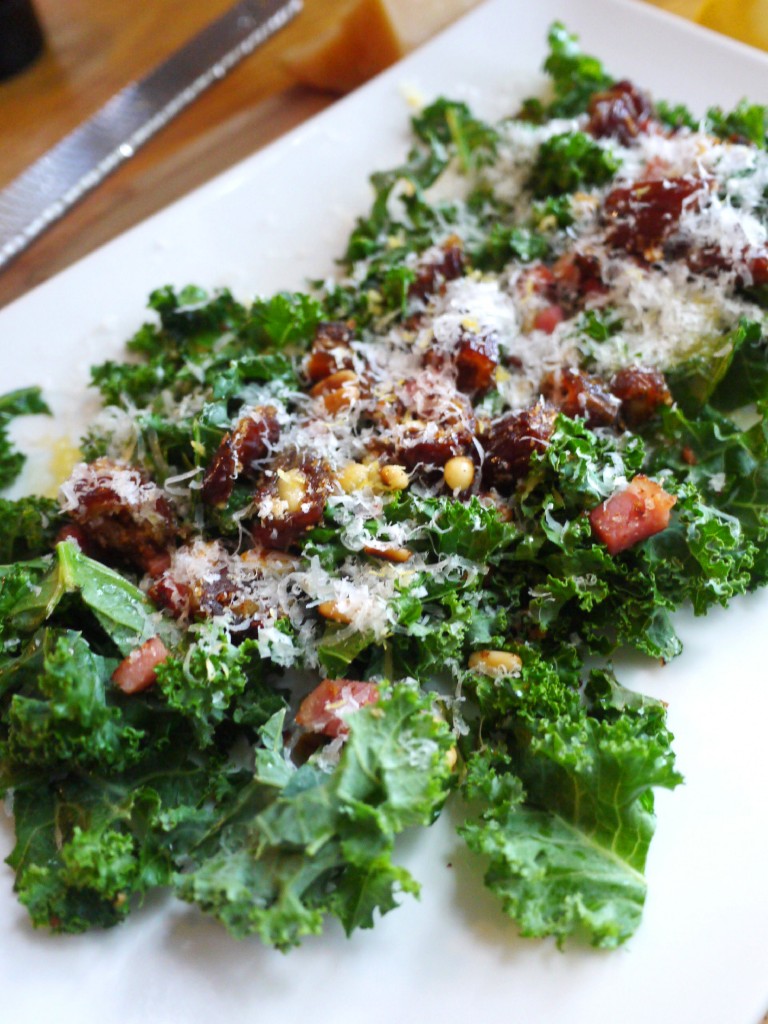 Despite being a week out from my wedding, I obviously still need to eat, and I need to eat well (hello pre-wedding diet…). But, if I were to stick to salmon and broccoli all week long, I would feel deprived and bored and end up binging on something delicious but oh so naughty. Then I would feel guilty for ruining my diet when I've worked so hard. It's a vicious cycle. Fortunately, salmon and broccoli have been nowhere near my kitchen. Instead, I've been feasting on cherry-vanilla smoothies, veggie omelets, roast chicken, and lots and lots of kale. I've been filling my belly with recipes that are easy to throw together, healthy and light, but flavorful and filling enough that I have not felt deprived for one minute. This particular kale salad has been a major player in the mix, making me happy every single time I eat it. The best part is, the recipe is simple enough to throw together at the last minute, even when my mind is otherwise occupied with reception playlists, seating cards, and the myriad of accessories that come with bridal attire. Like the kale and apple salad, it's got a great mix of salty and sweet flavors. Though this version swings way more toward the salty, savory side than the sweet side, which is obviously why it's my favorite. 🙂
Healthy Recipe Ecstasy? Absolutely! I won't go on and on about how delicious this salad is — I'll just let you figure that out yourself. The second you smell all the ingredients toasting in the skillet, you'll get it. Regarding health benefits, again, we have superfood kale. This time, however, we have a bit more fat thanks to the delectable pine nuts and the pancetta. Remember, to stay healthy and light you don't have to completely deprive yourself of your favorite flavors. Just learn to incorporate those ingredients in a different manner – as toppings rather than the main event.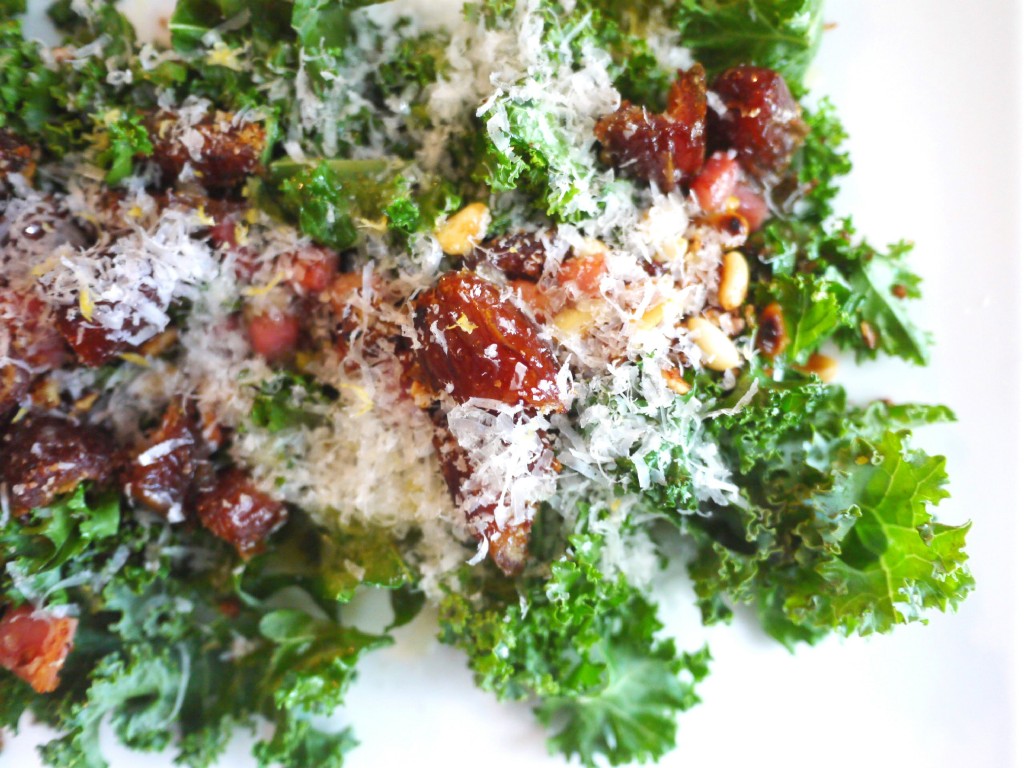 If you have gluten issues, feel free to leave out the bread crumbs. You won't miss them. You will, however, miss the pancetta. So, if you're vegetarian, you might want to check out the kale and apple salad instead. If you have dairy issues, this salad will still work without cheese. It will also work with a different kind of cheese if you prefer a goat cheese or sheep's milk cheese for easier digestion. Similar to the kale and apple salad, this is not the type of recipe that you need to follow down to the exact teaspoon or ingredient. Alasdair, in fact, happily mixed the two salads together. I, on the other hand, prefer to eat the salads separately so I don't lose any of the flavors. Since I'm eating in moderation, I want to taste every little morsel of salty pancetta. 🙂

Kale Salad with Pancetta, Dates and Pine Nuts
Author:
Healthy Recipe Ecstasy
Ingredients
⅔ cup diced pancetta
1 cup coarsely chopped pitted dates
¼ cup panko bread crumbs
⅓ cup pine nuts
1 clove garlic, minced
2 teaspoons extra-virgin olive oil
4 cups kale, stems removed and leaves massaged and torn into smaller pieces
2 teaspoons extra-virgin olive oil
⅓ cup grated Parmigiano-Reggiano cheese
Juice and zest of half a lemon
Extra-virgin olive oil for drizzling, to taste
Freshly ground black pepper, to taste
Instructions
Heat two teaspoons olive oil in a large skillet over medium-high heat. Add pancetta to the skillet and cook for two minutes, stirring occasionally, or until pancetta begins to brown and crisp.
Add the bread crumbs, garlic clove, dates, and pine nuts to the skillet and cook 3-4 minutes. Put the pancetta-date mixture in a medium bowl.
Turn heat down to medium low and add two more teaspoons oil to the skillet. Add kale and cook for two minutes or until it begins to wilt.
Add kale to a platter or bowl. Top with ½ cup pancetta-date mixture. Reserve the rest of the mixture for another recipe such as the quinoa pasta which I will be posting in just a few days...!
Top the kale salad with ⅓ cup grated cheese and juice and zest of half a lemon. Finally, drizzle olive oil over the salad and add freshly-ground black pepper to taste.