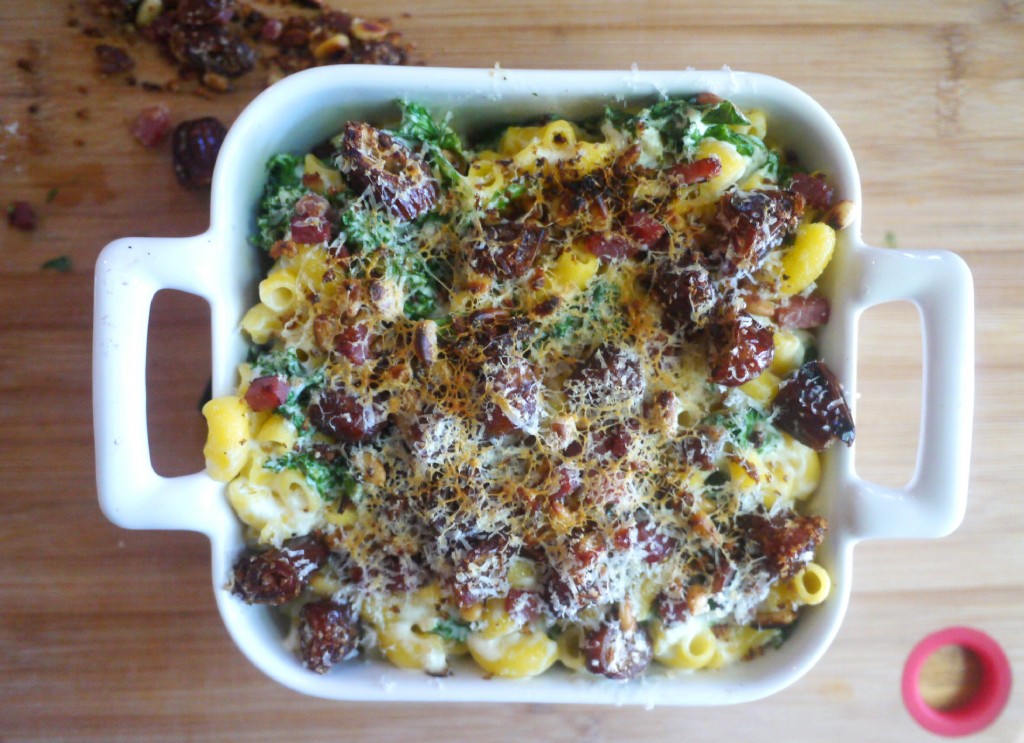 This is it. My third and final installment in the "kale-three ways" series, my final blog as a single lady, and the last blog I will post before my two-week wedding hiatus. Wow, now that I think about it, this blog is feeling some pressure to be pretty good. Unfortunately, my time is running short, nerves and excitement are running high, and I can make no promises regarding the quality of this blog post. What I can promise you is that I thoroughly enjoyed this pasta dish that I threw together on a whim last week when I was confronted by my fourth night of leftover kale and pancetta salad and Alasdair's growing disdain towards kale. At first, he was all like "wow, kale is actually good. can you make the kale salad again? what else can we do with kale?" But now, after a full month of kale, kale, kale, he's all like "umm, sweetie, I'm kind of over kale. anything but kale. please, whatever you do, do not buy anymore kale."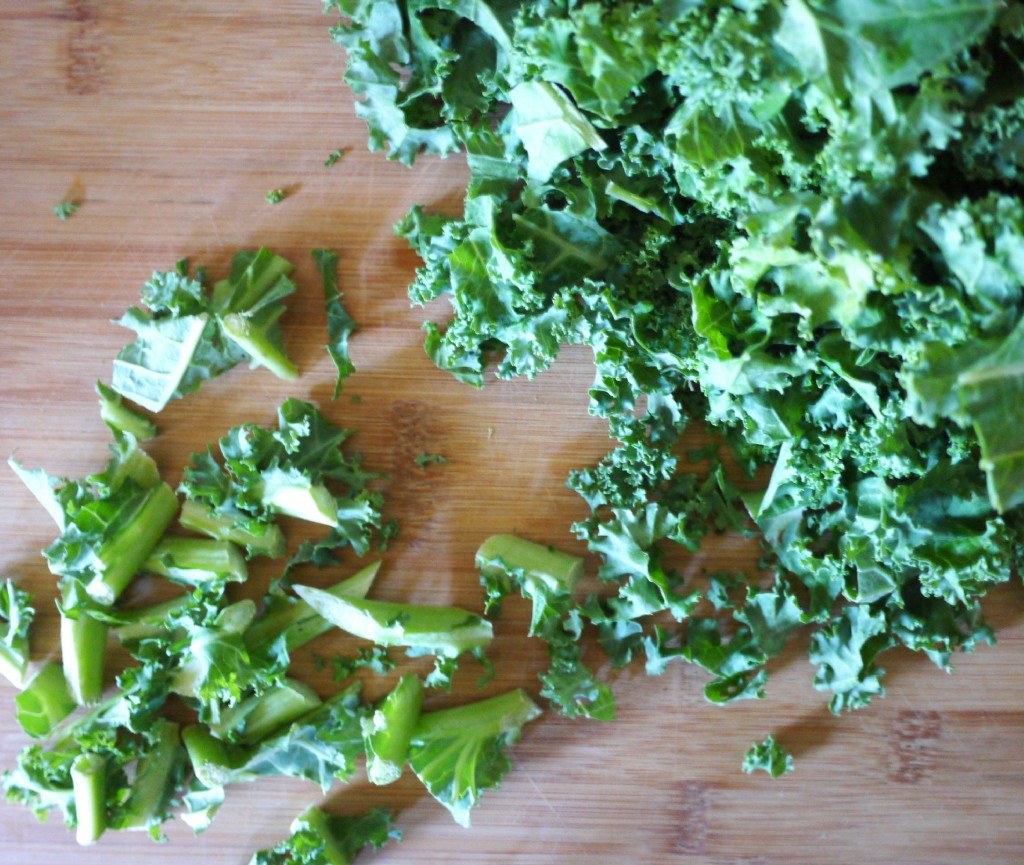 I get it. No matter how much joy a certain dish brings me, at some point, I just can't eat it anymore. My greedy palate, which delights in any recipe or flavor that's new, needs a change after a while (and by a while I mean after 2-3 days). In this case, I was still enjoying the salty, sweet flavors of the kale salad, but I was over the act of eating "salad." Plus, I was in dire need of some creamy pasta – my comfort food of choice. Between Alasdair's understandable weariness towards kale and salad in general and my pasta craving, I knew I would need to give the kale salad a heavy-duty disguise in order for it to make it out of the fridge and into our tummies that night.
Unfortunately for my pasta craving, a week out from my wedding, a hearty mac 'n' cheese or a  creamy Alfredo was out of the question. Not only did I want to discourage any last-minute weight gain related to stress eating, but I didn't want any additional bloating or stomach issues caused by a combination of simple carbs and an overdose of creamy cheese. So, I combined the salad remains with some quinoa pasta, a moderate amount of goat cheese, and an even smaller amount of Parmigiano-Reggiano cheese and called it a very tasty night.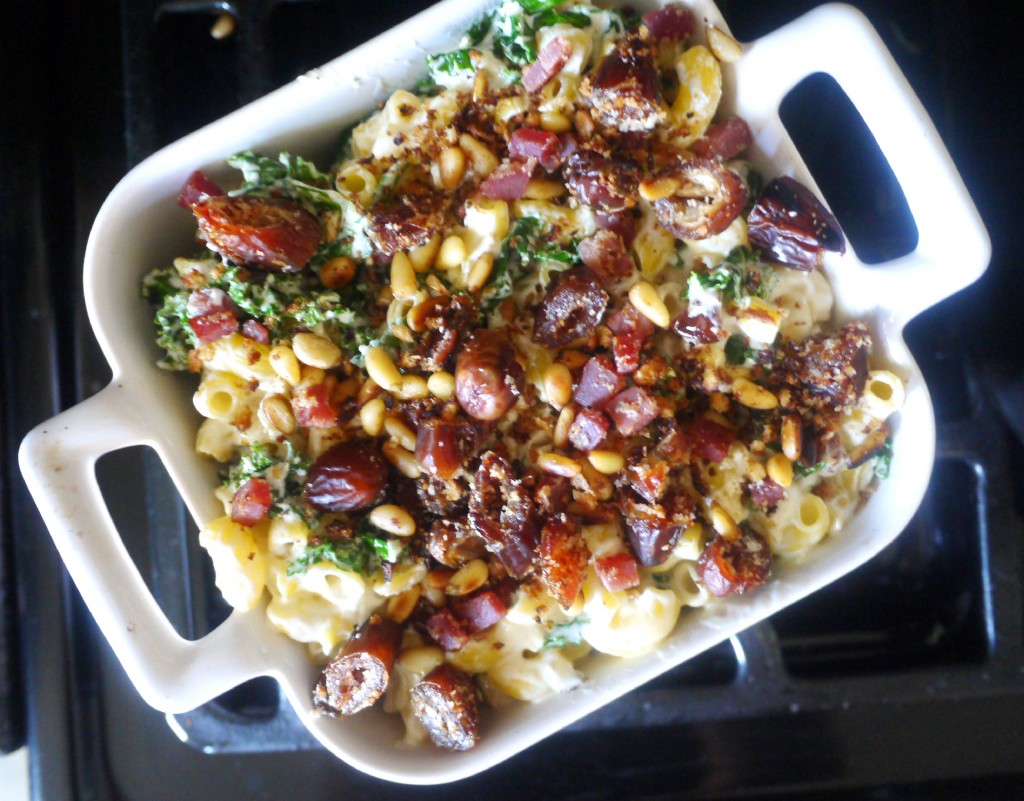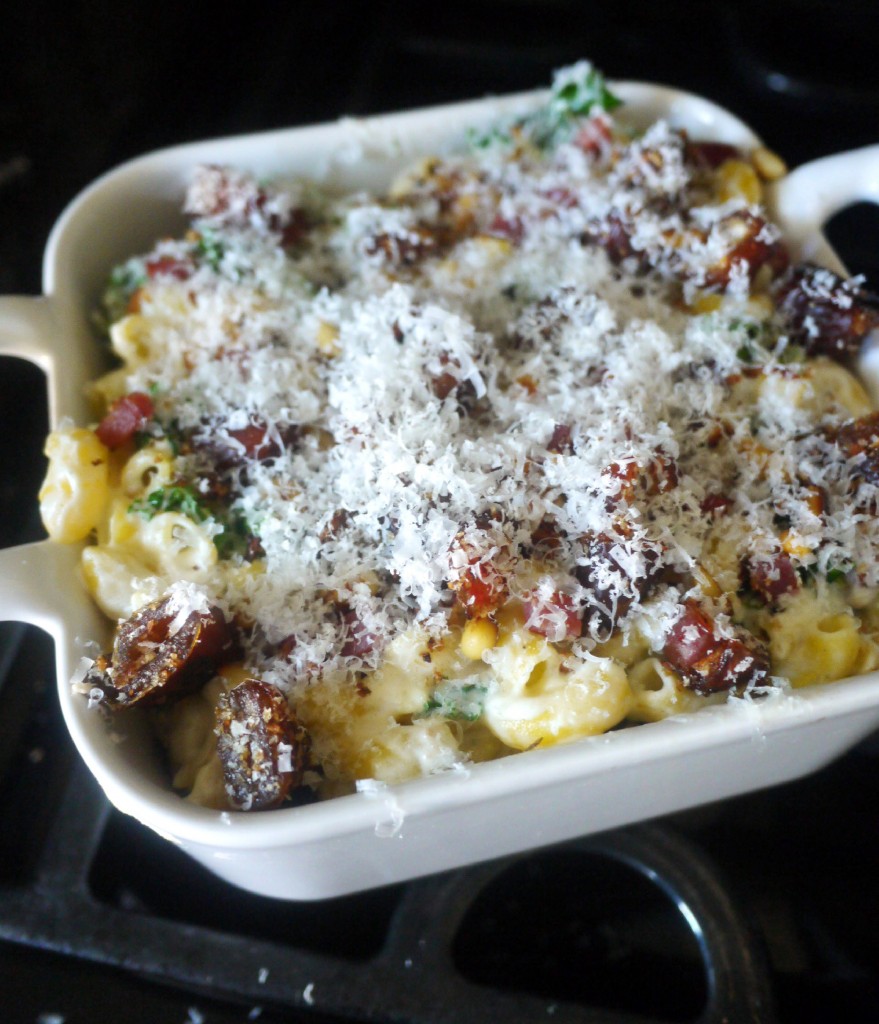 The combination of hearty, healthy kale, filling but gluten-free quinoa pasta, and easily digestible (for some) goat cheese was the perfect compromise. This dish was just comforting enough without totally throwing me off my diet. Additionally, Alasdair, who was "over kale" and who is usually unimpressed with my pasta "throw-togethers," took one taste and deemed it worthy of eating. I took one taste and deemed it worthy of eating again and again and again.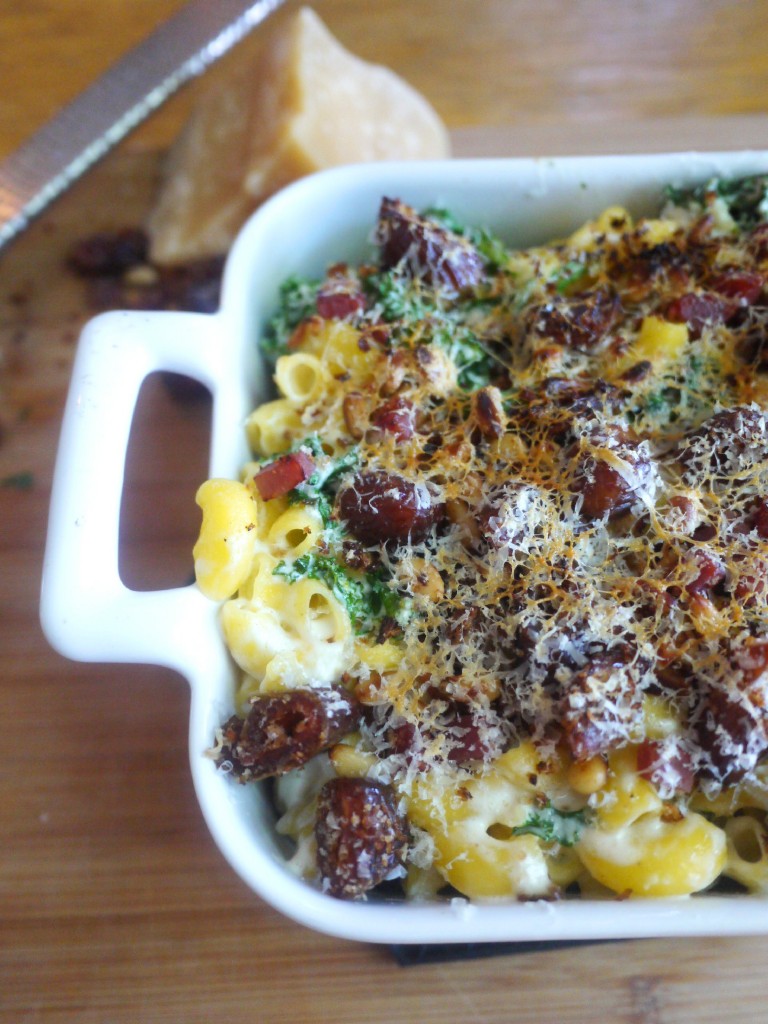 Healthy Recipe Ecstasy? If you liked the kale and pancetta salad and you like pasta then how could you not appreciate their love child? Remember that amazing pancetta-date mixture we made for the salad? Remember when I told you to make extra for a future quinoa pasta dish? Well, this is the dish and the pancetta-date mixture comes into play here twofold. Not only is it mixed into the pasta, but it's spread out on top and baked so that you get a little crispy, crunchy business. Who can argue with double pancetta? Not this girl.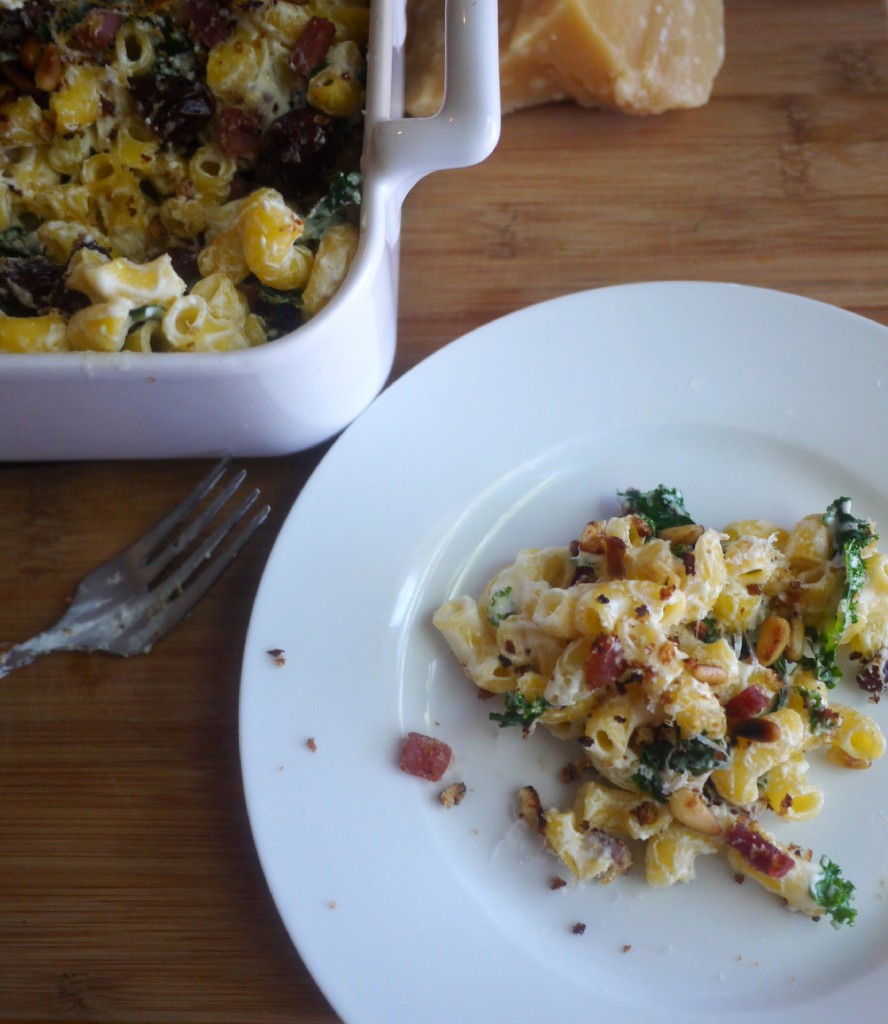 If you don't feel the need for the crispy crunchy business (I get that, sometimes I just want to focus on the creamy, dreamy pasta) or if you just can't take the two minutes to put the pasta dish under the broiler, it's great right out of the pot. I should know because I took quit a few forkfuls right out of the pot, myself. Health Note: While the pasta I used is gluten-free quinoa pasta, the recipe contains bread crumbs from the kale and pancetta salad. So, if you have a gluten sensitivity, nix the bread crumbs. As I said in the kale and pancetta salad post, you won't miss them tooooo much. 🙂

Kale and Goat Cheese Quinoa Pasta Bake
Author:
Healthy Recipe Ecstasy
Ingredients
2 cups quinoa pasta
3 cups kale, stems removed and leaves massaged and torn into smaller pieces
4 ounces soft goat cheese
1 cup pancetta-date mixture, divided (find the recipe on the kale and pancetta salad post)
¼ cup reserved pasta water
1 tablespoon olive oil
¼ cup grated Parmigiano-Reggiano cheese
Instructions
Heat the oven broiler.
Cook the quinoa pasta in a medium pot according to the package. Once cooked, drain the pasta and reserve ¼ cup pasta water.
Add the kale and goat cheese to the pasta in the pot. Mix in ½ cup pancetta-date mixture in addition to reserved pasta water and olive oil. Feel free to stop here if you're not feeling a pasta bake and you'd rather eat the creamy pasta right out of the pot. However, if you like the idea of a pasta bake, continue on.
Once all the ingredients are combined, add them to a small baking dish. Top the pasta evenly with a ½ cup of the pancetta-date mixture. Finally, top with Parmigiano-Reggiano cheese and broil the dish for two minutes or until the cheese is melted and golden.