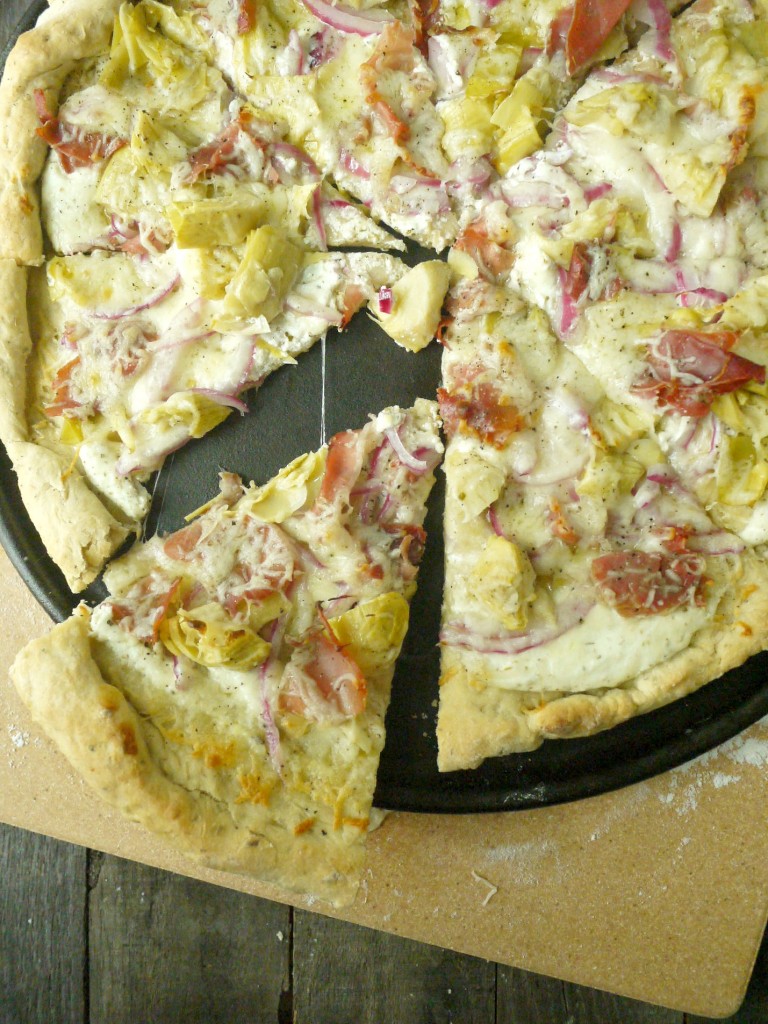 I'm not one to shy away from making things from scratch, but I always feel a teensy-tiny bit of trepidation when I have to make pizza dough. Really, dough of any kind. The kneading, the rolling, the rising, the waiting – it's all a little much, don't ya think? Of course, the guys at the pizza place who nonchalantly toss the pizza dough in the air while singing Mama Mia make it look oh-so-easy. It's like when a basketball player spins the ball on one finger. You think you can do it. Ball in the air, finger pointed, spin. But you can't. Well, I can't. And I can't toss the dough either.
So what's a girl to do when she wants to make-a some-a pizz-a pie-a? (That sounded better in my head.) Well, unless I'm feeling like getting down and dirty with the all-purpose flour, this girl usually just picks up some ready-made whole-wheat dough from the deli section of the grocery store. It's already formed into a nice smooth ball, and all I've gotta do is roll it out, throw on some toppings and toss it in the oven (not the air). No kneading, rising or waiting. But, whadyaknow, the deli section decided that the same week I have to leave my precious little baby and return back to work (i.e., the same week I want, neh, NEED comforting pizza) would be the same week they run out of dough.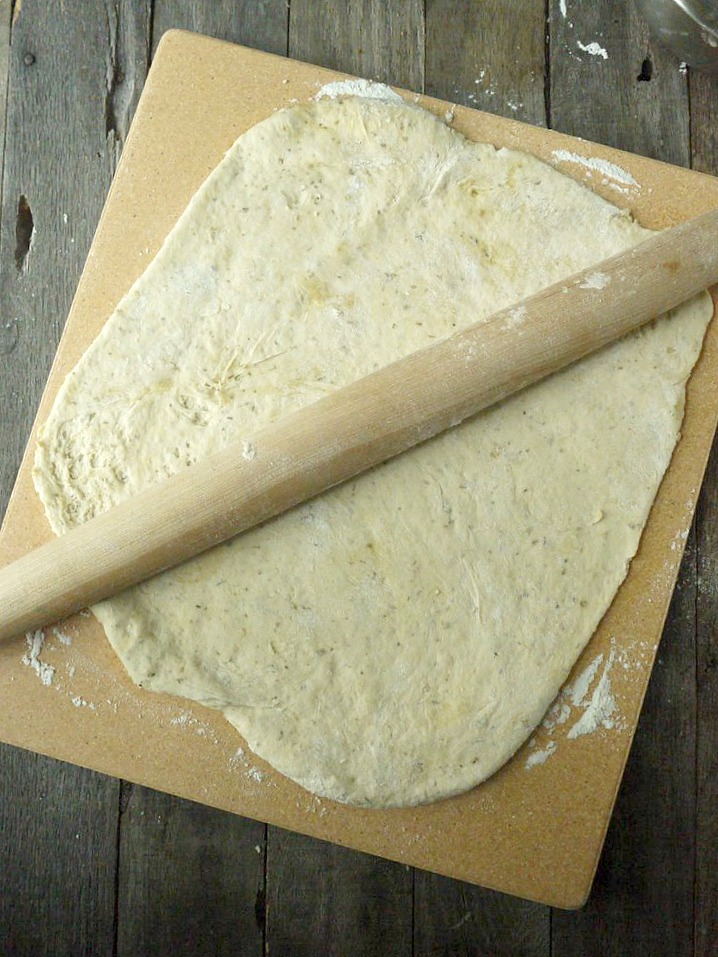 Sure, I could have thrown together my cauliflower crust pizza dough or busted out my super healthy oat flour crust, but it was the first time I had to leave my little guy for a full 9 hours. I needed some good old-fashioned crusty pizza dough – and I needed it fast. So, I took to the Google in hopes of finding the fastest and easiest pizza dough recipe of all time. Give me all your shortcuts I screamed and give them to my now. This girl needs carbs.
Sadly, the quick and easy pizza dough recipe I found didn't quite work for me. The dough was waayyyyy too dry and I was basically left with some mildly damp flour. So I threw in some extra liquid and some seasoning for good luck, and, before I knew it, I had my own quick and easy pizza dough recipe minus the trepidation. Seriously, it's ready in under 20 minutes with minimal effort. If you need more convincing, I made this pizza crust while the baby watched. And, if you have a baby, you know their attention span is, ughhh, about 20 minutes long. If this recipe had taken any longer, there would have been no pizza for mama that night.
In fact, this recipe may be too easy. The trepidation was all that kept me from making homemade pizza just about every night of the week. Now, there's a possibility I'll be carbing it up on a nightly basis. Make that a probability. Ok, let's just be honest. This kid's going to be eating pizza every night till his 18th birthday.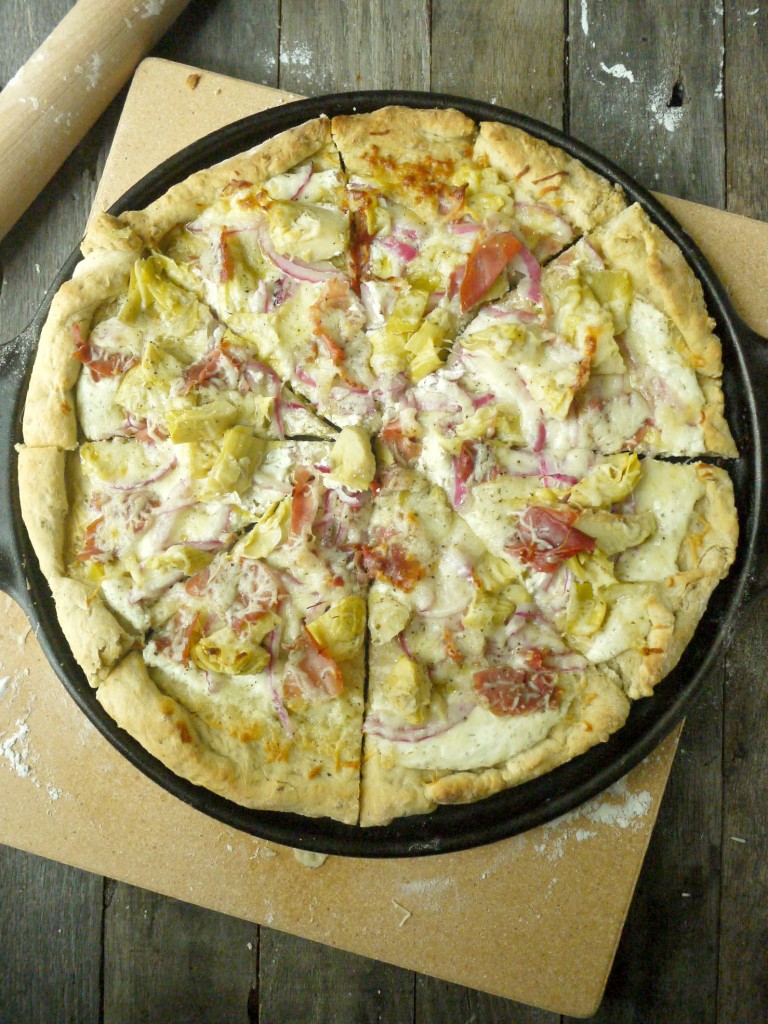 Lucky kid.
P.S. I see you eyeing those toppings. Check in next week for the full pizza recipe.

Quick & Easy Garlic-Oregano Pizza Dough
Some of the other pizza dough recipes specify the exact temperature of the warm water. That stresses me out. I do not have time to measure water temperature. So I don't and it's FINE. Just use your best judgment. Regarding the flour, some pizza dough recipes espouse the lovely qualities of bread flour. I'm sure it makes for an awesome crust but bread flour is not something I usually have laying around the house. All-purpose flour, on the other hand, is a staple in most kitchens so that's what we're using for a delicious, chewy crust. No trepidation!
Author:
Healthy Recipe Ecstasy
Ingredients
1 package active dry yeast
1 teaspoon sugar (I used coconut sugar but feel free to use regular white sugar)
1 and ¼ cup warm water, divided
2 and ½ cups all-purpose flour
1 teaspoon coarse salt
1 tablespoon dried oregano
1 tablespoon garlic powder
¼ cup olive oil
Instructions
Preheat oven to 450 degrees F. Add the yeast, sugar and 1 cup warm water to a medium bowl. Let stand until creamy, about 10 minutes. You don't even have to mix, everything will dissolve on its own.
With a wooden spoon, gently mix in the flour, salt, oregano, garlic powder, olive oil and ¼ cup water. Stir just until the dough comes together. If it's too dry, add another tablespoon of water. Shape the dough into a ball - it will still be sticky and craggy at this point - and cover with a paper towel. Let the dough rest for 5 minutes.
Turn the dough out onto a lightly floured surface and do a quick knead (a no trepidation knead - promise!). To knead, fold the far edge of the dough upwards, towards you, and press it into the middle of the ball. Rotate the ball a quarter turn. Repeat this fold-press-turn sequence three times. The dough should be formed into a smaller, smoother ball now. Flour your hands or a rolling pin and pat or roll the dough out into a circle.
Transfer the dough to a lightly greased pizza pan or baker's peel dusted with cornmeal. Depending on your pizza recipe, you can top the dough with desired toppings (I've got some real good ones coming your way next week) and bake for approximately 20 minutes or you can pre-bake the dough for 10 -12 min, until it's dry and golden brown, and, then, add your toppings and put the pizza back into the oven to bake for an additional 10 minutes or until the cheese melts. It really depends on your toppings. If you have a very saucy pizza and/or delicate toppings, you might want to go with option two to get the dough cooked a bit first so it doesn't get soggy and the toppings don't overcook.