I know, I know. Cinco de Mayo was last weekend, and, once again, I am behind the times in posting my festive recipes and ideas. But, in my defense, I was sick all last week and then I had 24 hours to cook and clean for the Cinco de Mayo party we threw this past Saturday. It was our first party in the new house, and I was so caught up in making carnitas and taco shell garlands (see below) that I forgot to finish taking pictures of the food and post the recipes.
So, here is my attempt to show you our party eats with a few haphazardly taken pictures and a lot of descriptive vocabulary. 🙂
First, let's be clear. I would love every day to be Cinco de Mayo. I have loved Mexican food ever since I was a kid. Whenever I was sick, all I wanted to eat were tacos and chips at Anita's – a Mexican restaurant in Northern VA. Mexican food, to me, is comfort food. But now, as an adult, I see that Mexican food can also be health food. I'm not talking about fried chimichangas smothered in cheese. I'm talking about the simple and fresh Mexican cuisine like guacamole or soft corn tortillas filled with veggies and black beans. Of course, I still love a good fatty (and labor intensive) carnitas but I'm just as happy with some fresh salsa and baked tortilla chips. Either way, there is something unexplainable about Mexican food that just makes you want to smile and shake some maracas.
For the party, I tended toward the naughty side, but I did make sure to include some lighter treats. I also made sure to include a little something for everyone. There were vegetarian options, gluten-free options, dairy-free options, and, of course, plenty of meat and cheese for those looking to indulge. Everything was so delicious that I feel like I have to share the entire menu rather than just one dish. If you can't wait for next year's Cinco de Mayo holiday, this menu would be perfect for any summer fiesta:
Seven-Layer Dip: One layer of refried pinto beans, one layer of refried black beans, one layer of low-fat Greek yogurt mixed with a packet of ranch dip mix, one layer of chopped tomatoes, one layer of guacamole, one light layer of Monterey Jack cheese and one layer of chopped scallions. Seven-Layer Dip is usually made with sour cream or cream cheese but I substituted the Greek yogurt and went light on the top layer of cheese to cut some of the calories and fat. My plan was to make these adorable individual dip cups but time was not on my side….
Baked Black Beans with Chorizo: I found this recipe on the Cooking Light website. It's described as a versatile dish that can be served as a dip, with tacos, or even as a side dish. It was highly rated and sounded like a unique recipe to spice up the menu so I had to try it. Verdict? It was AMAZING. Everyone at the party raved about these black beans. Our guests were putting them on everything – chips, tacos, rice. Some people were just eating them plain out of a bowl. I must warn you – they are very spicy. I actually took the jalapeno slices out of the dish before I stuck the beans in the oven because I was worried the spice would be overwhelming for some of my guests. If it was just me and my spice-loving fiance, I probably would have kept the jalapeno slices in the dish.
Salsa Cruda: I found this Salsa Cruda recipe on Martha Stewart's website. I didn't realize that Salsa Cruda was basically Pico de Gallo. I'm not usually a huge fan of pico de gallo because I hate cilantro but, I found that when I spent the time and energy chopping the tomatoes, jalapeno, onions and cilantro myself, I didn't mind the herb. In fact, I actually loved the salsa. So did my guests. Good thing I made a ton!
Guacamole: My friend, Michelle, who has Mexican heritage took charge of the guacamole, which, of course, stole the food show. She has promised me the recipe one day. Fingers crossed…
Mexican Flag Veggie Platter: This party platter was simple and cute. Green and red bell peppers, plus white cheddar cheese, laid out on a platter to look like the Mexican Flag. The bell peppers served a dual purpose – they offered the appropriate color for the flag AND they were a great alternative to chips for those wanting to cut carbs but still needing a vehicle to taste all the yummy dips.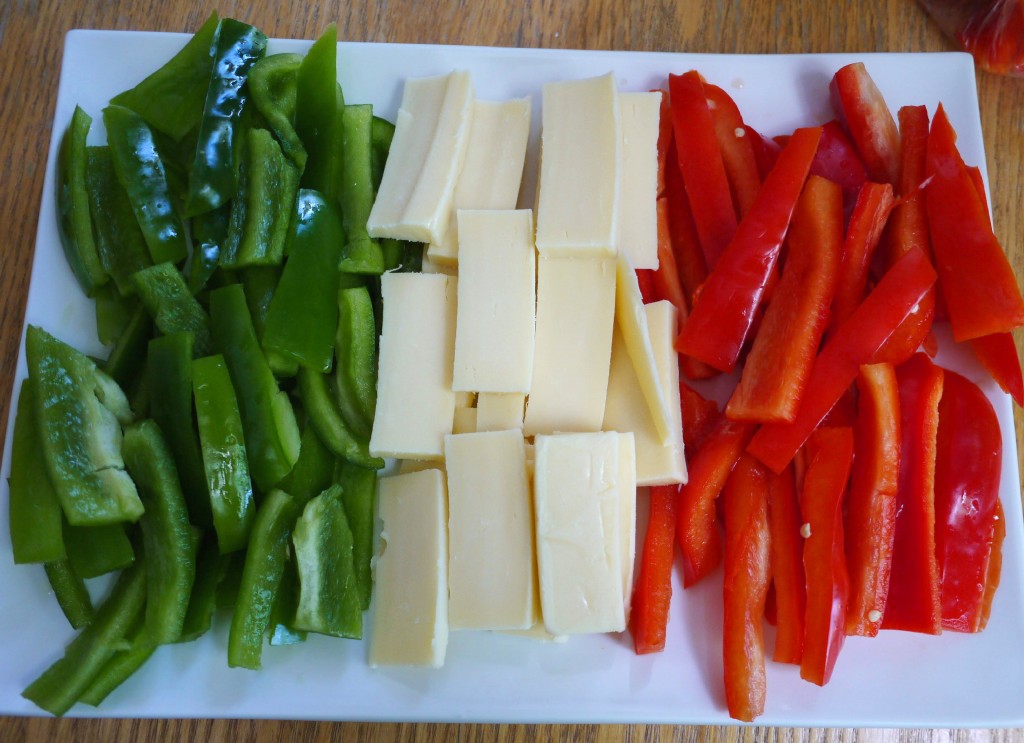 Carnitas Taco Bar: The carnitas are my piece de resistance and also my Achilles heel of this menu. I cooked 10 pounds of pork shoulder in a crock pot for 10 hours, then I fried the pork until it was beautifully crisp. My plan was to let the carnitas cool on the counter for a little while and then put them in the fridge before bed. Well, unfortunately for the 10 pounds of pork, I had a small memory lapse…. You probably know what's coming next. I woke up panicked at 730 a.m. and ran down to the kitchen to confirm my fear. I had left the carnitas out on the counter overnight. Not wanting to risk any sort of food poisoning incident at the party, I sadly threw the meat into the garbage (yes, there were tears). Fortunately, Alasdair was kind enough to run out to the grocery store at 8 a.m. to secure another, albeit, smaller, pork shoulder which I frantically slow cooked and fried by the time most of our guests arrived at 5 p.m. See my carnitas recipe. I accompanied the carnitas with rice, soft corn tortillas, refried beans, Monterey jack and feta cheeses, scallions, shredded cabbage, tomatoes, and diced jalapeno. Guests could pick and choose whether they wanted to make tacos or a rice bowl and which toppings they wanted.
Cilantro-Lime Rice: This is another Martha recipe. Reminiscent of Chipotle's famous rice, it's very flavorful and fresh, and we've been eating the leftovers all week!
Sombrero Cookies: Finally, I couldn't stop myself from making these cookies made to look like sombreros. I used slice and bake sugar cookies to cut down on the labor, but I would have been fine making cookies from scratch because these treats are so easy to assemble. Tasty and adorable – a great way to cap off the night!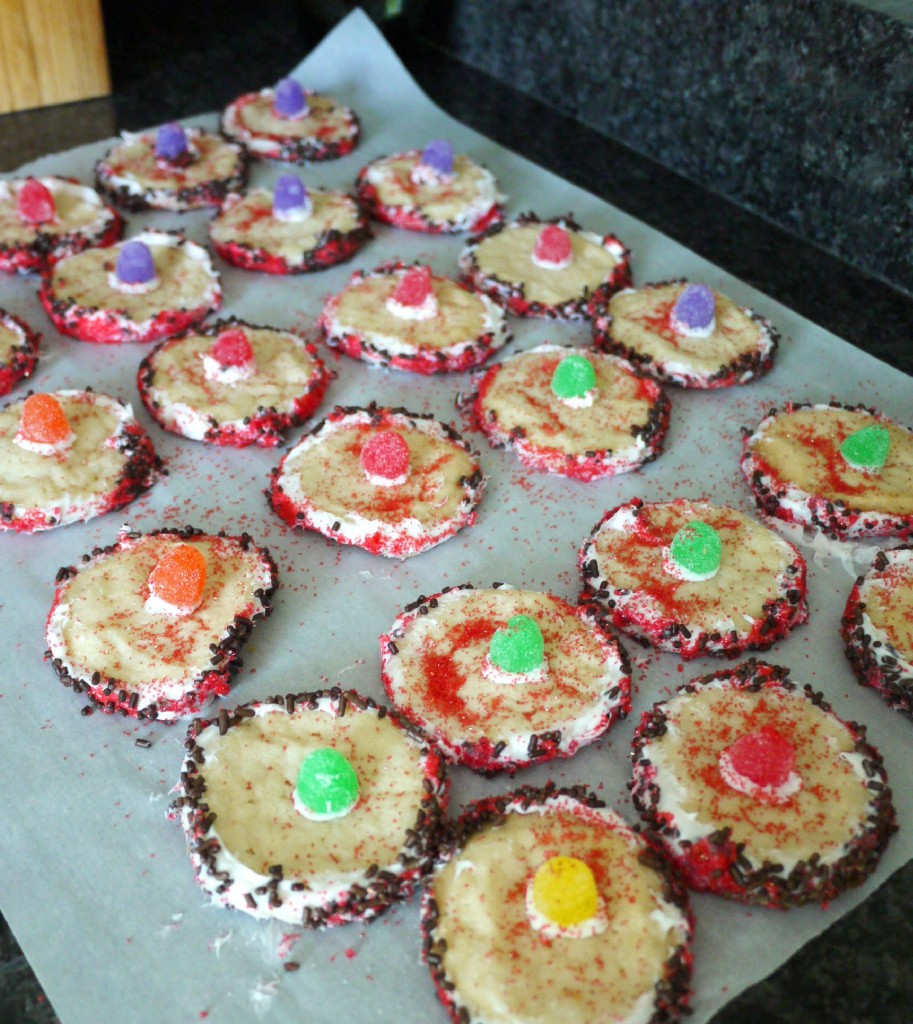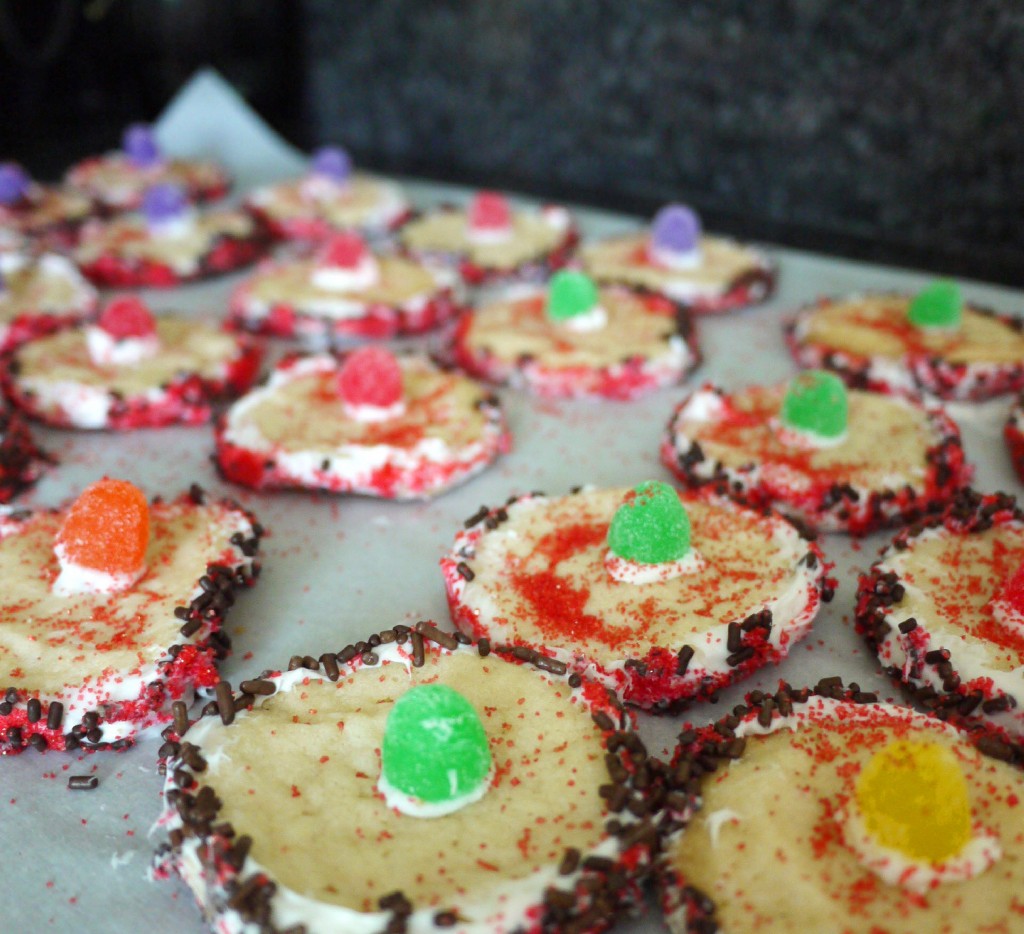 Crock Pot Pork Carnitas
Author:
Healthy Recipe Ecstasy
Ingredients
7-8 pound bone-in pork butt or pork shoulder
Kosher Salt
Freshly-ground black pepper
1 tablespoon canola oil
1 teaspoon ground cumin
1 teaspoon chili powder
1 teaspoon thyme
½ teaspoon cayenne pepper
1 onion, coarsely chopped
8 cloves garlic, minced
1 jalapeno, chopped
Juice of one orange
Juice of one lemon
12 ounces Mexican beer (I used Modelo Especial)
3 tablespoons canola oil
Instructions
Rinse and dry the pork. Generously salt and pepper all sides of the pork.
Heat one tablespoon canola oil in a Dutch oven or large cast iron skillet and brown pork for 2-3 minutes on each side over high heat.
Take the pork out of the Dutch oven or skillet, and let it cool for a few minutes.
While the pork is cooling, mix all the spices from cumin through cayenne pepper together in a small bowl. Rub the spice mixture evenly over the pork.
Place the pork in a slow cooker and top with the onion, garlic, jalapeno, citrus juice and beer. Cover and cook on low for 8 to 10 hours.
Once the meat is tender, remove from slow cooker and let cool slightly before pulling apart with a fork.
In a large saute pan, heat the three tablespoons canola oil over high heat.
Press the carnitas into the oil and fry until crusty on one side - about 10 minutes. I like to stir the pork at this point and fry for another five minutes so more of the meat gets crisp.
Serve warm with taco shells or over rice.