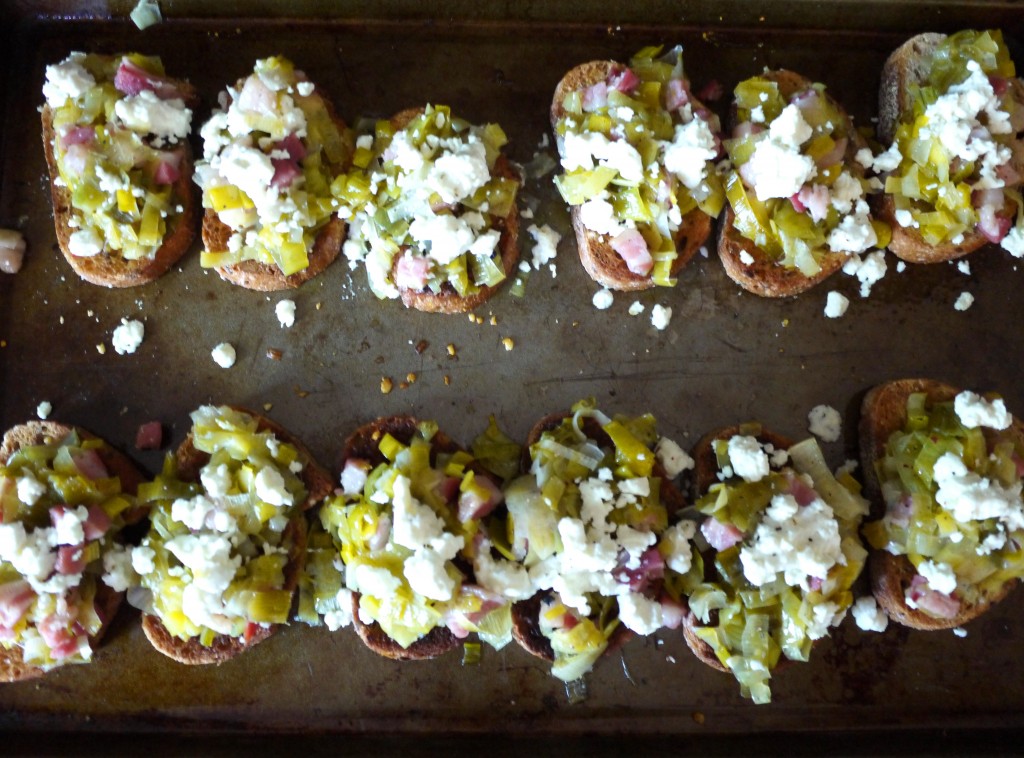 Leeks are a problem in my kitchen. If you've ever purchased a hefty bunch of leeks at the grocery store, you probably know what I'm talking about. I find that most recipes which include leeks as an ingredient only call for one, two, MAYBE, three cups of leeks. But that huge bunch of leeks you just purchased can yield much more than that. So, once you've used the two cups you may need for your tart, soup or roast, you're left with the remaining hulking stalks of leeks taking up residence in your fridge.
I never know what to do with those leeks. Leeks, in my mind, aren't the kind of vegetable that you just chop up and casually toss into pasta. No, leeks are serious. They need to be coddled. By coddled, I mean sautéed in butter and then utilized as the base of a soup or a braised meat or a labor-intensive risotto. All things that need to be planned in advance and none of which I want to make when I come home from a long day at work. So, I'm ashamed to say, the leftover leeks usually end up neglected, withering away in silence on the bottom shelf of my fridge. Let's take a minute and shed a tear for leeks gone bad.
But I realized something today. It's not the leeks that are serious. It's my attitude towards the leeks. Who says they have to hide at the bottom of a complicated dish? Who says that leeks must be relegated to leek and potato soups? No sir. Like us girls, leeks just want to have fun. All I have to do is let them.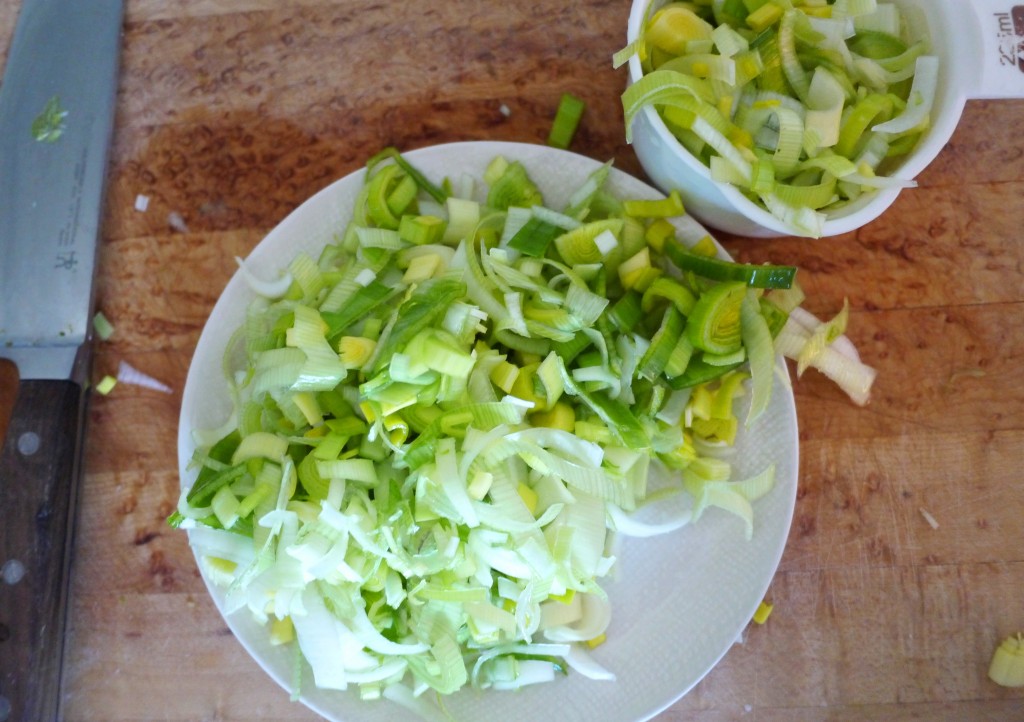 This realization happened after reading Smitten Kitchen's blog post on leek toast with blue cheese. Why not have leeks be the star of the show? We let stinky old onions do it. So I let my leeks out of their fridge captivity and let them party with their friends: feta and pancetta.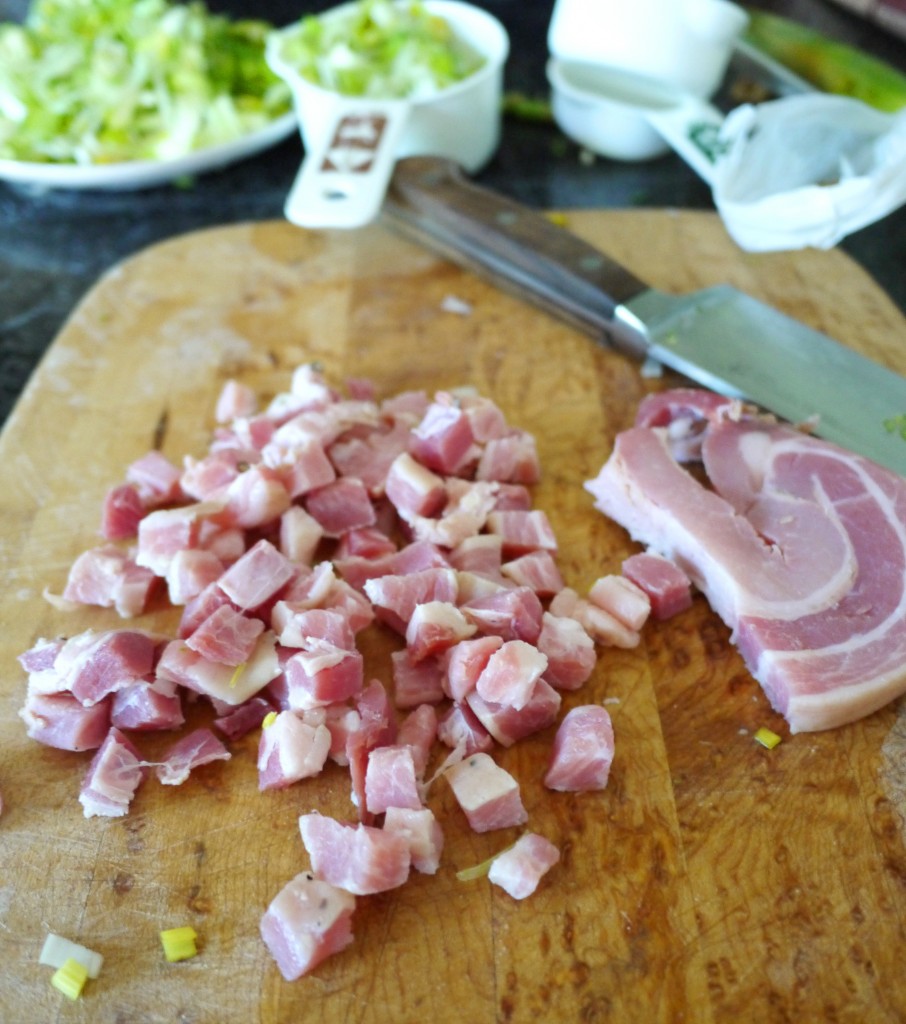 And what a party it was. Is it clichéd to say it was a party in my mouth? Well I don't care. I'm going to say it. This dish, with its soft caramelized leeks, salty pancetta, and creamy feta, was a party in my mouth.
Healthy Recipe Ecstasy? These leek tartines are addicting. I could have eaten an entire tray. But I didn't … and that's only because I had people to share them with. What I love about this recipe is that it's so versatile. The tartines can be made as appetizers for your next party. They can be used a side dish (they go really well with soup!). Or you can eat them for lunch with a small side salad. If you want to make this dish gluten-free, you can use gluten-free bread or spread the leek mixture on rice crackers. If you want to go dairy-free, you can forgo the feta and swap the butter for olive oil. It will still be good, I promise!
Tartines with Caramelized Leeks, Pancetta and Feta Cheese
Author:
Healthy Recipe Ecstasy (Adapted from Smitten Kitchen)
Recipe type:
Appetizer/Snack
Ingredients
2 big leek stalks, sliced lengthwise and white and pale green parts sliced ¼-inch thick (about 3 generous cups of slices)
1 tablespoon unsalted butter
⅔ cup pancetta, diced
Freshly ground black pepper
⅔ cup crumbled feta cheese
1 tablespoon olive oil for brushing bread
12 baguette-sized ½-inch slices of bread of your choice (I used a flax and bran filone to up the health factor)
Instructions
Fill a large bowl with cold water. Add the leek slices and use your hands to pump them up and down in the water a bit, separating the rings and letting the dirt fall to the bottom. Transfer to a dish or plate for a minute; no need to dry them.
Meanwhile, heat a heavy skillet or pot over medium heat. Once hot, add butter. Once the butter is fully melted, add the diced pancetta.
Cook the pancetta for about 3-4 min or just until it starts to brown and crisp. Add the leek slices, still wet. Sprinkle a few grinds of black pepper, give the mixture a good stir, and reduce heat to low. Cover with a lid and cook leeks for 25 minutes, stirring them occasionally. *You do not need to add salt because the pancetta gives the dish enough salty flavor.*
While the leeks cook, brush bread slices with olive oil. Run under broiler until lightly toasted, about two minutes. Divide leeks among tartines. Sprinkle with cheese and more freshly ground black pepper. Eat at once or add the tartines back to the broiler for another two minutes to melt the cheese a bit.
NOTE: If you're going to use the leek mixture as a spread for crackers rather than a baked tartine, mix the feta cheese in with the leeks and pancetta once they are finished cooking. Take off the heat as soon as everything is mixed together so the feta doesn't melt too much.
SERVING SIZE: This recipe makes 12 tartines. I consider two tartines as one serving, so the yield is six servings.