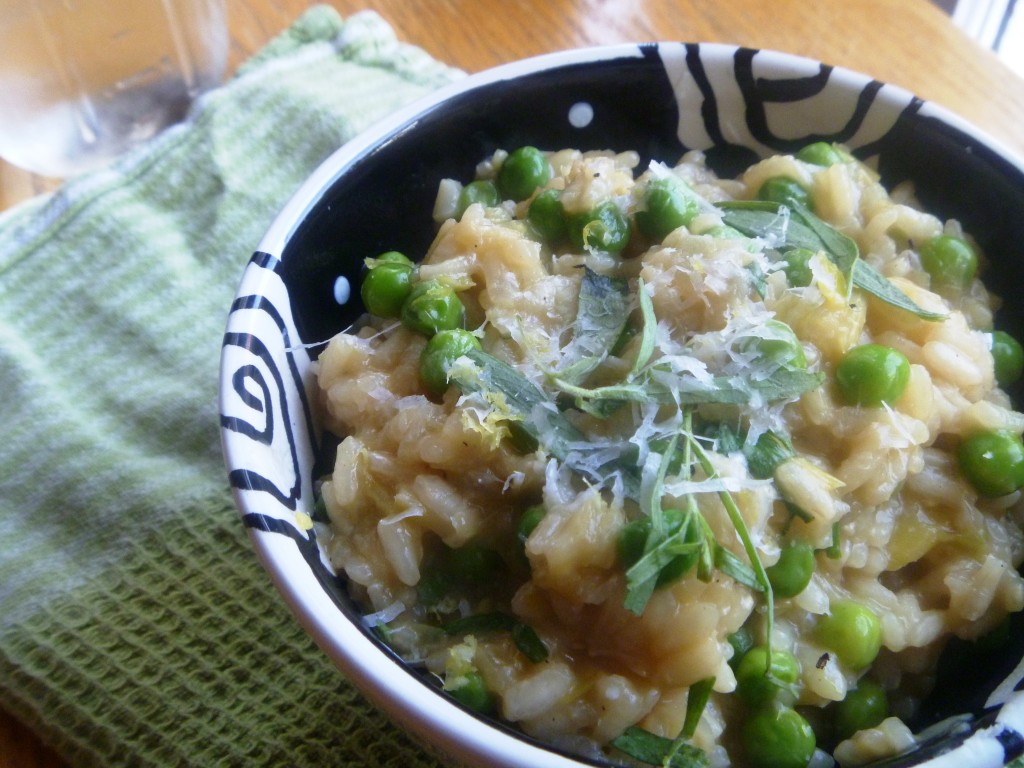 Not to brag, but I'm really good at making risotto which is not an easy dish to make. Stir fry, on the other hand, which is supposed to be easy, I have problems with (I'm still bitter…). I've made a few risotto recipes from Cooking Light, and this recent one is absolutely fantastic. I made a few minor adjustments, but for the most part followed the Cooking Light recipe verbatim. One of the adjustments I made was by accident. When I was reading the recipe, I didn't see the last ingredient (butter) which was supposed to be stirred in at the end. Not sure how I missed one of my favorite ingredients, but I did, and it was fine. The flavors were perfect – it was tart and sweet and creamy and delicious. Did I mention it was delicious? I didn't miss the butter at all so, inadvertently, I made the recipe even healthier!
Cooking Light suggested this would be a good side to accompany roasted fish so I made it with my Easy Herbed Salmon with Florida Sunshine. It was just an all-around awesome summer meal.
Healthy Recipe Ecstasy? YES! This risotto is vegetarian, gluten-free (check your chicken broth), and it has only a small amount of dairy so it works for many different dietary needs. If you're not vegetarian, I bet this dish would taste amazing with some diced pancetta tossed in. Hmm…what a good idea. Maybe I'll try that with my leftovers…!

Lemon Risotto with Peas, Tarragon, and Leeks
Author:
Healthy Recipe Ecstasy (Adapted from Cooking Light)
Ingredients
1 cup fresh or frozen sweet green peas (I used frozen because I couldnt find fresh)
4 cups Chicken Stock (the Cooking Light recipe calls for homemade but I used store bought and it worked just fine)
2 tablespoons extra-virgin olive oil
1½ cups finely chopped leek (about 2)
½ cup chopped shallots
1 cup uncooked Carnaroli or Arborio rice or other medium-grain rice
3 tablespoons dry white wine
½ cup grated fresh Parmigiano or Pecorino cheese (I used Pecorino)
1 teaspoon grated lemon rind
2 tablespoons fresh lemon juice
½ teaspoon salt
⅛ teaspoon freshly ground black pepper
2 tablespoons chopped fresh tarragon
Instructions
Bring a small saucepan of water to a boil. Add peas; boil 1 minute. Add a minute for frozen peas. Drain and rinse with cold water; drain well. Bring Chicken Stock to a simmer in a small saucepan (do not boil). Keep warm over low heat.
Heat oil in a large saucepan over medium heat. Add leek and shallots to pan; cook 7 minutes or until tender, stirring frequently.
Add rice; cook 1 minute, stirring constantly. Add wine; cook 30 seconds or until the liquid is nearly absorbed, stirring constantly.
Stir in 1 cup stock; cook 4 minutes or until the liquid is nearly absorbed, stirring constantly. Add remaining stock, ½ cup at a time, stirring constantly until each portion of stock is absorbed before adding the next (about 25 minutes total). Stir in peas; cook 1 minute.
Stir in ½ cup cheese, rind, juice, salt, and pepper. Remove from heat; stir in tarragon. Add more tarragon, grated cheese and lemon rind as garnish if desired.