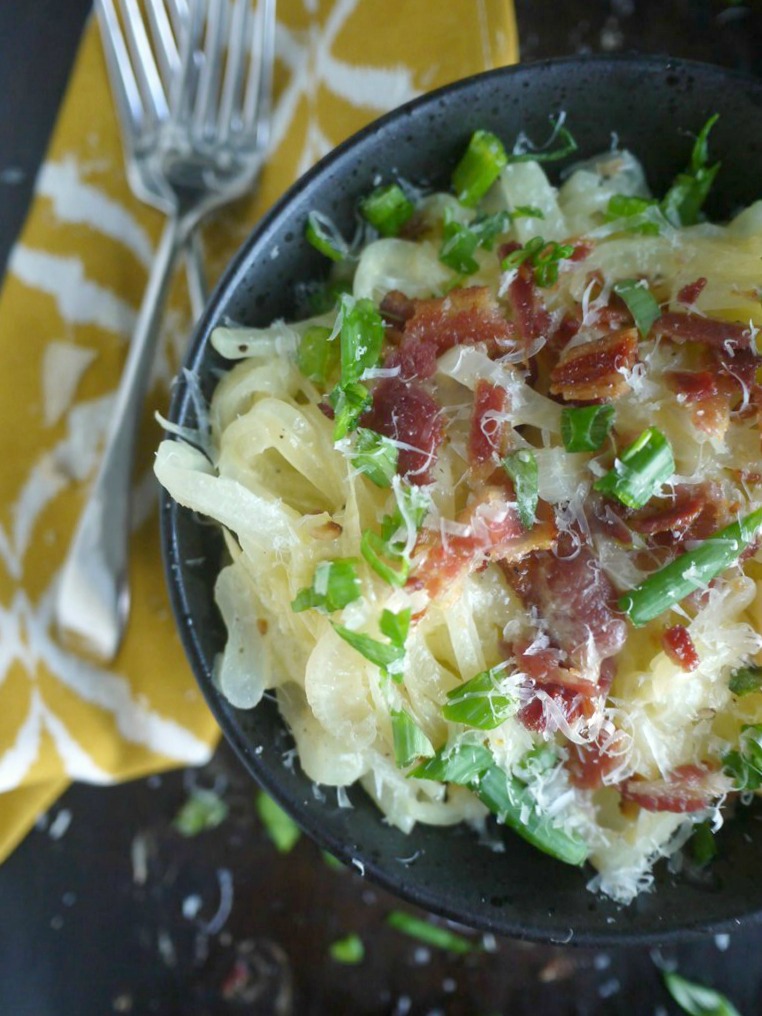 A long time ago, in a life far far away, back when hubby and I thought nothing of making Friday night dinner reservations at some of the best restaurants in town (pre-baby, obvi), we ate a dish that was, for lack of a less dramatic word, life-changing. Yes, I said it. I went there.  We're talking about Chef Michel Richard here so you know I'm not exaggerating (too much).
ONION. CARBONARA. No, not pasta carbonara with a lot of onions. Onion carbonara where the onions ARE the pasta. I know, right? Everyone and their mom is inspiralizing and zoodle-ing and sweet potato noodle-ing but who ever thinks about letting that stinky old onion in your fridge become the star of the show? Don't get me wrong, I'll dive headfirst into a bowl of caramelized onions but I never thought of onions as a main dish or even a side dish.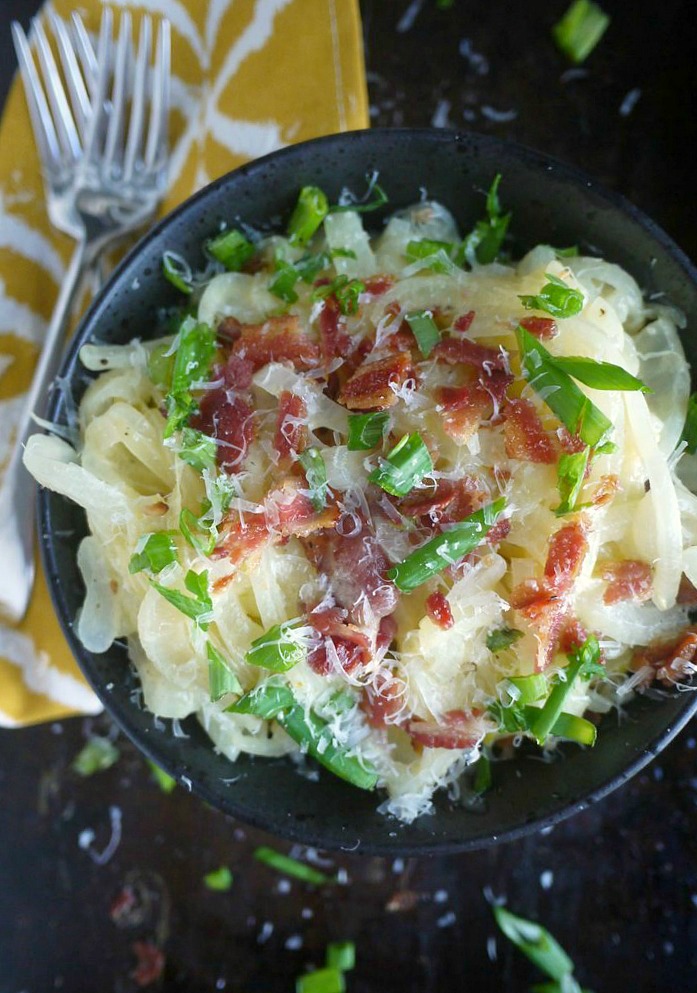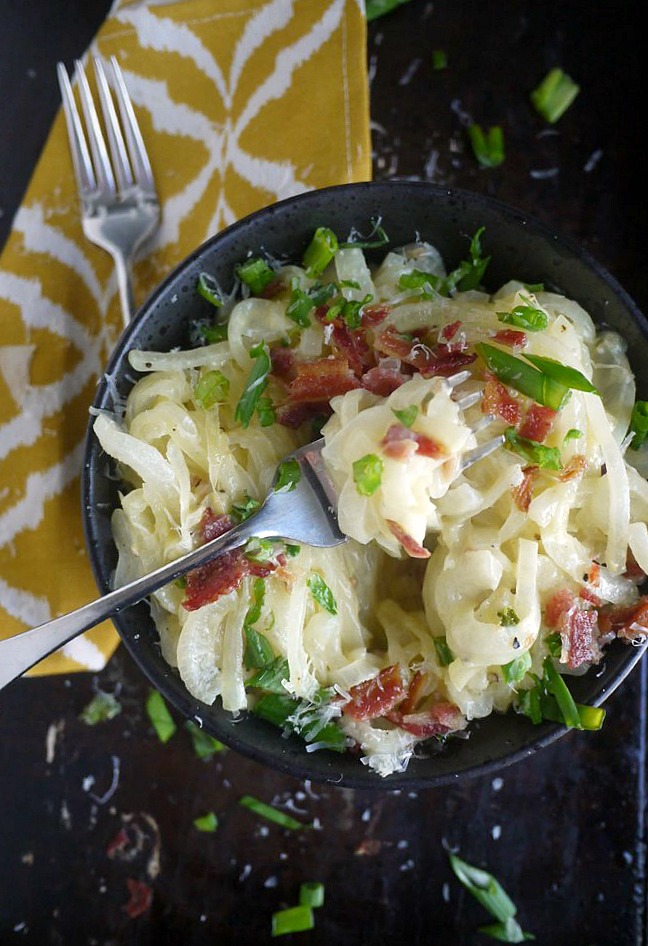 I know, I know. You're sitting there going, "you're really going to replace my yummy pasta with a stinky, eye-watering onion?" Yes I am, and you're going to love it.  Think steamed onions that are soft but still slightly crunchy mixed with a cheesy, butter sauce thickened just right with egg yolk. It's enough to go weak in the knees.
I made a few changes to the original recipe – not so much for health purposes (because hello butter and cheese) but for personal preference. I left out the heavy cream in favor of using yogurt butter and I added an extra egg yolk to make up for the lack of cream. My version is just a touch lighter than the restaurant version but it's not missing a thing in terms of flavor. I also added some chopped scallions for extra crunch and because I thought it was funny to garnish onions with onions. Yes, I know, I have a weird sense of humor.
Serve this dish up with some nice toasty garlic bread topped with roasted tomatoes and you will regret NOTHING.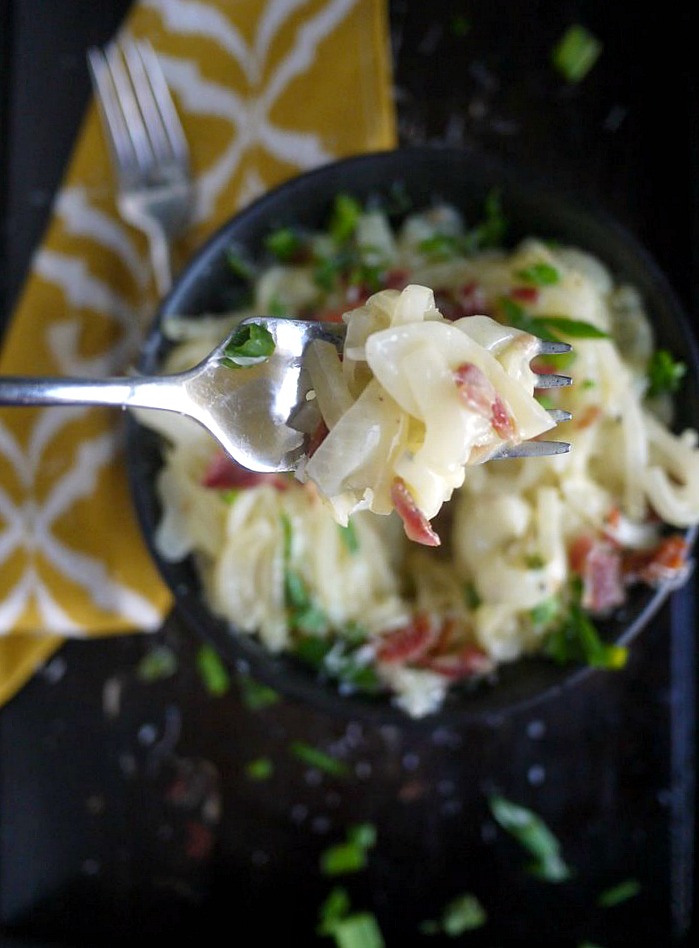 Who needs to deal with the Friday night restaurant scene when you can sit at home watching your one-year-old stuff his face with cheesy onions?
Dinner at Central = very expensive. Dinner at home with the fam = priceless.

Onion Carbonara (Gluten Free)
This recipe serves two people as a main dish and can feed four people as a side dish.
Author:
Healthy Recipe Ecstasy (Adapted from Chef Michel Richard's recipe)
Ingredients
2 medium or 3 small yellow onions
¾ cup yogurt butter (I used Brummel and Brown's yogurt butter)
¼ cup Parmesan cheese, plus more for sprinkling
3 slices bacon, cooked and crumbled
2 large egg yolks
Juice from half of one lemon
Pinch of kosher salt
Freshly-ground pepper, to taste
Chopped green onions, for garnish
Instructions
Peel the onions and cut them in half. Make a cut from root to end of each half so that when onions are sliced they slice into strands rather than rings. Or you can slice into rings and then cut each ring open, but the first way is easier! Steam onions for five minutes until they are softened yet still crunchy. To steam, boil two cups of water in a pot and place the onions in a steam basket over the pot. I didn't have a steam basket so I used a mesh strainer. You can also steam them in the microwave in a microwave-safe dish for about 6-7 minutes.
Heat the butter in a pan over medium heat until it's melted, about 2-3 minutes. Once the butter starts to froth, add the onions. Add a pinch of kosher salt and freshly-ground pepper to taste and stir the onion mixture. Let it cook for another 1-2 minutes.
Take the pan off the heat. Whisk in the two egg yolks to thicken the sauce. Next, add about ¼ cup Parmesan cheese. You can add more or less depending on your cheese preference.
Finally, add the juice of one lemon and the bacon crumbles.
Plate and top with more Parmesan cheese and the chopped green onions.