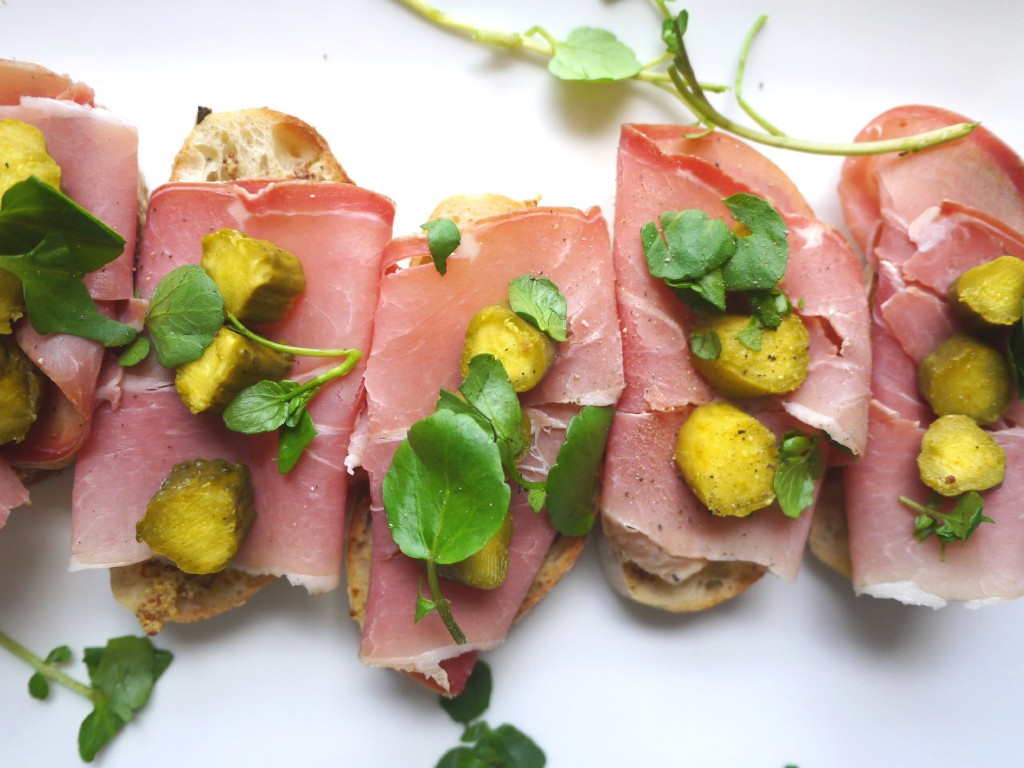 Somebody call TA (Tartines Anonymous – because that obviously exists somewhere). I am obsessed with tartines. I don't know when it happened. Maybe it was after these creamy salty leek tartines. Or maybe it was the goat cheese and fig. Or these babies that I'm currently cruising. We'll never know, but I just can't seem to stop dreaming, making, eating, craving tartines. I can't help it. They're so gosh darn adorable. They remind me of the pintxos we ate during our honeymoon in Spain. And the toppings – I mean, the possibilities are just endless. ENDLESS I TELL YOU. Sorry, got overexcited.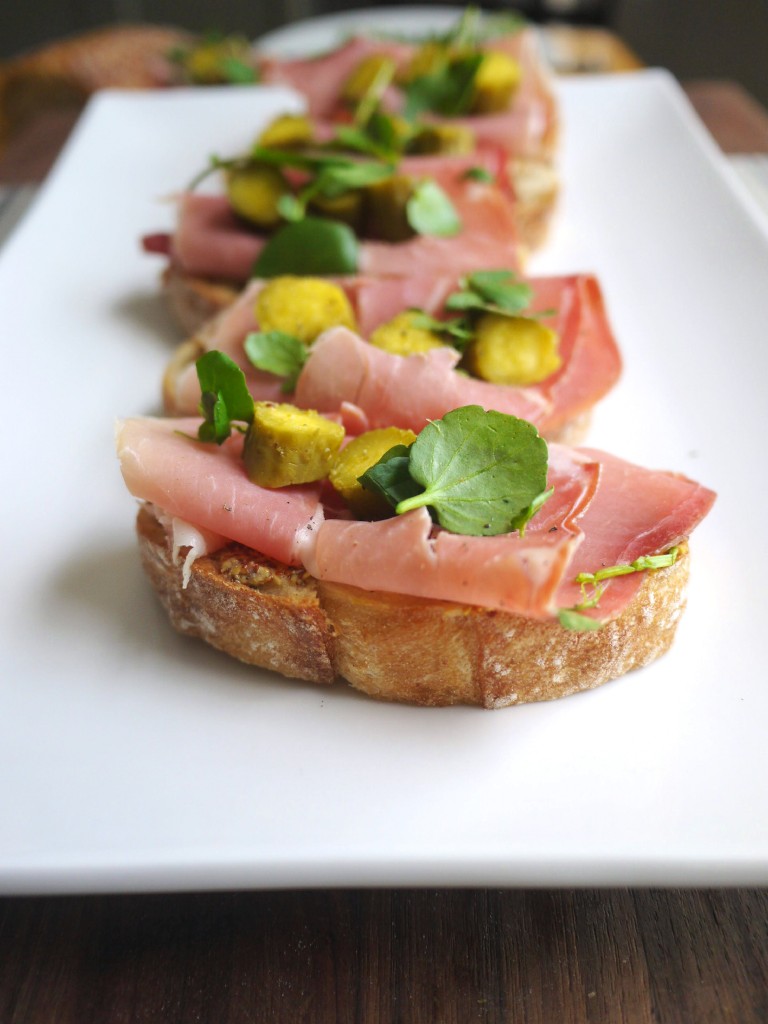 So, when we got back from Paris, and Alasdair told me all he wanted, after a week of eating heavy, rich French food, was a simple ham and mustard sandwich, my brain heard tartine. What's that? You want a ham and mustard tartine? No, ham and mustard sandwich. Tartine? Sandwich. Tartine it is.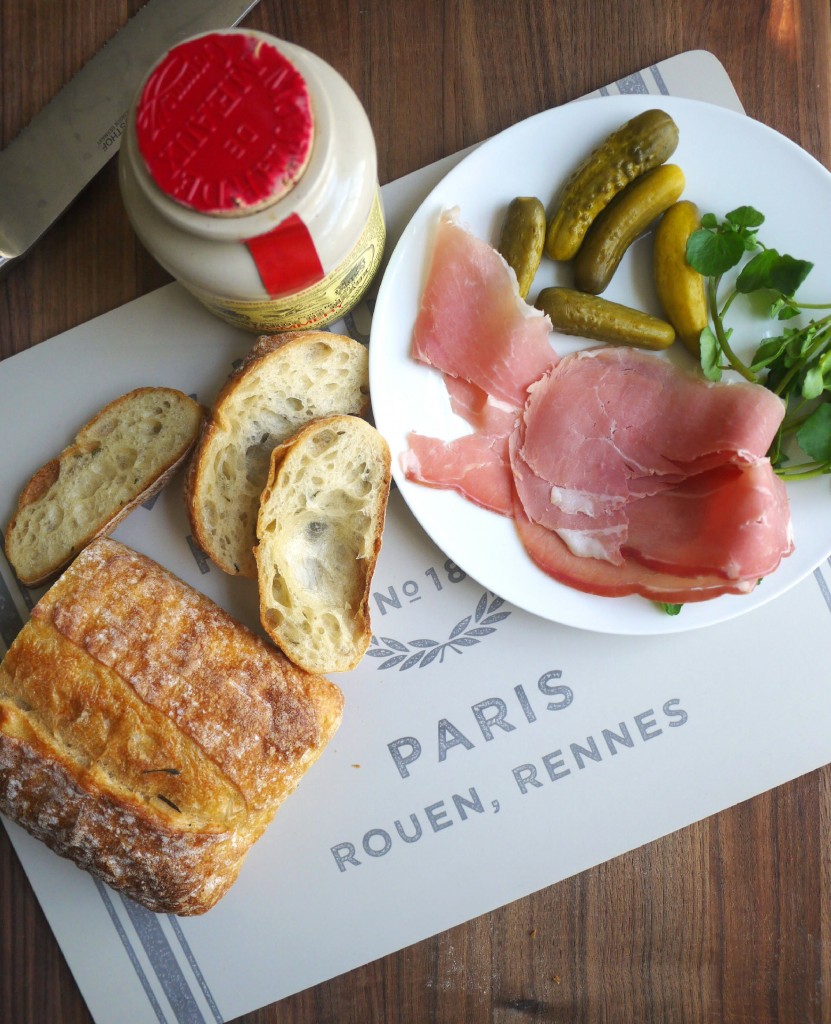 And, of course, being me, I couldn't just slap some deli ham and French's on white bread (not that there's anything wrong with that – my childhood consisted of bologna and yellow mustard on rye bread). Who wants regular ham when you can have salty prosciutto? And how could we use any of the sub-par Dijon mustard varieties in our fridge when we had moutarde de meaux?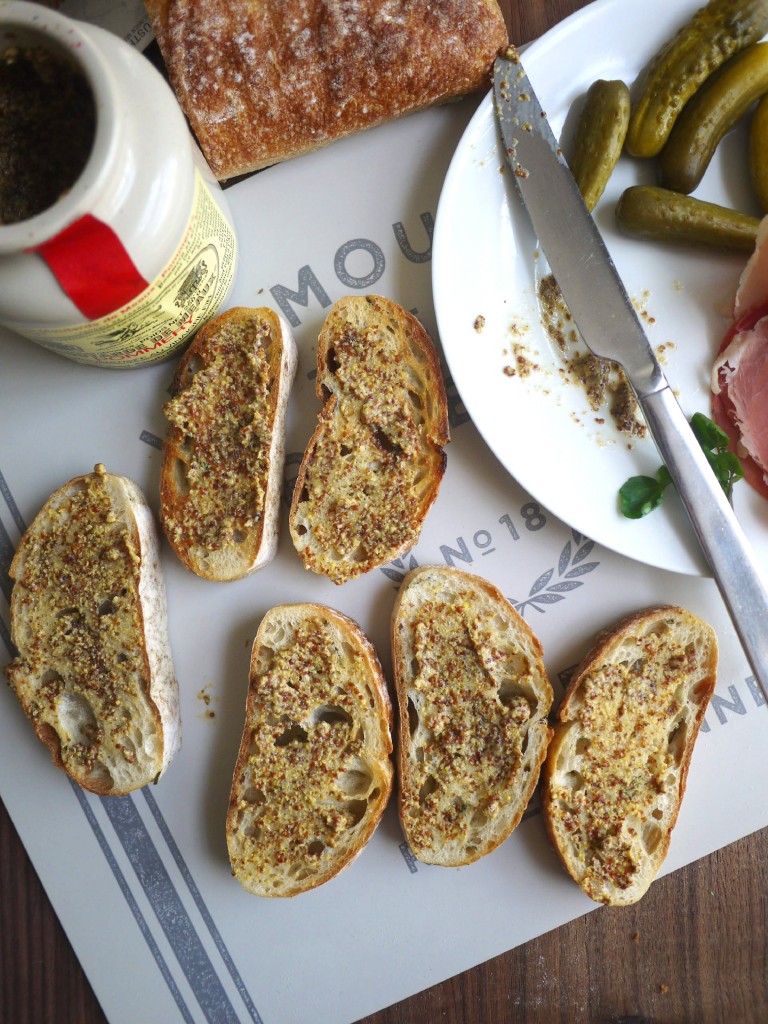 And the bread – well, the lemon and rosemary bread was practically shouting my name from the bakery. It was borderline embarrassing. Meecheelllle, please make a tartine out of me.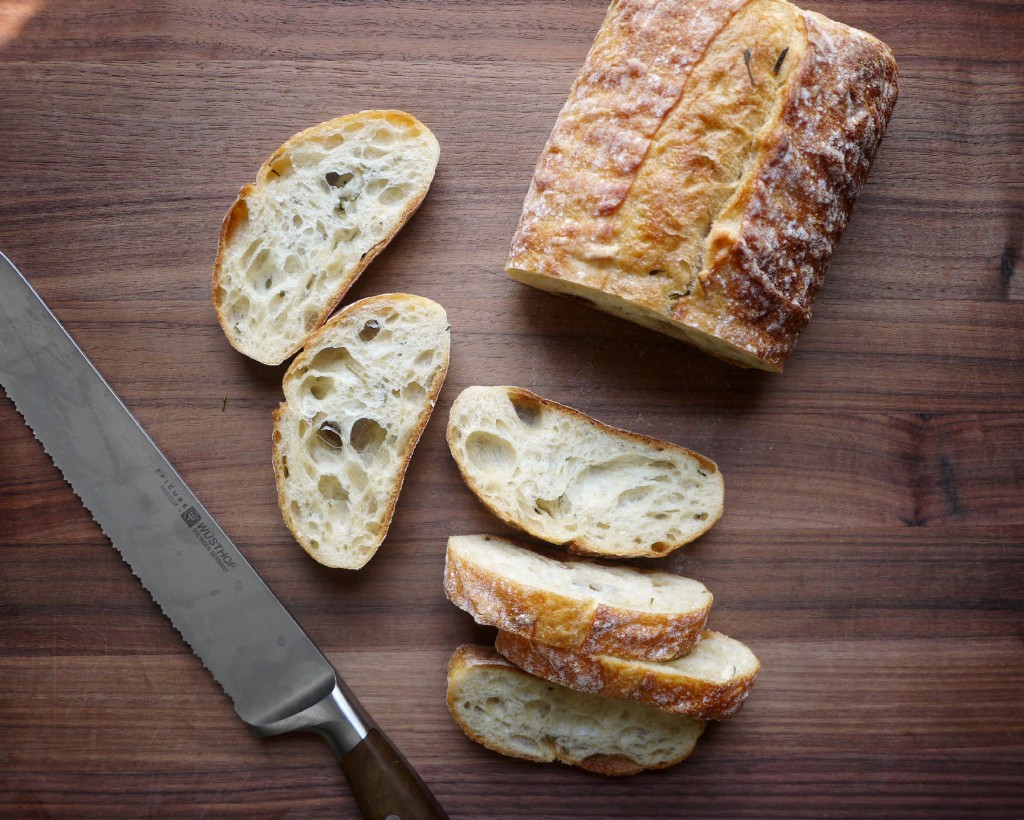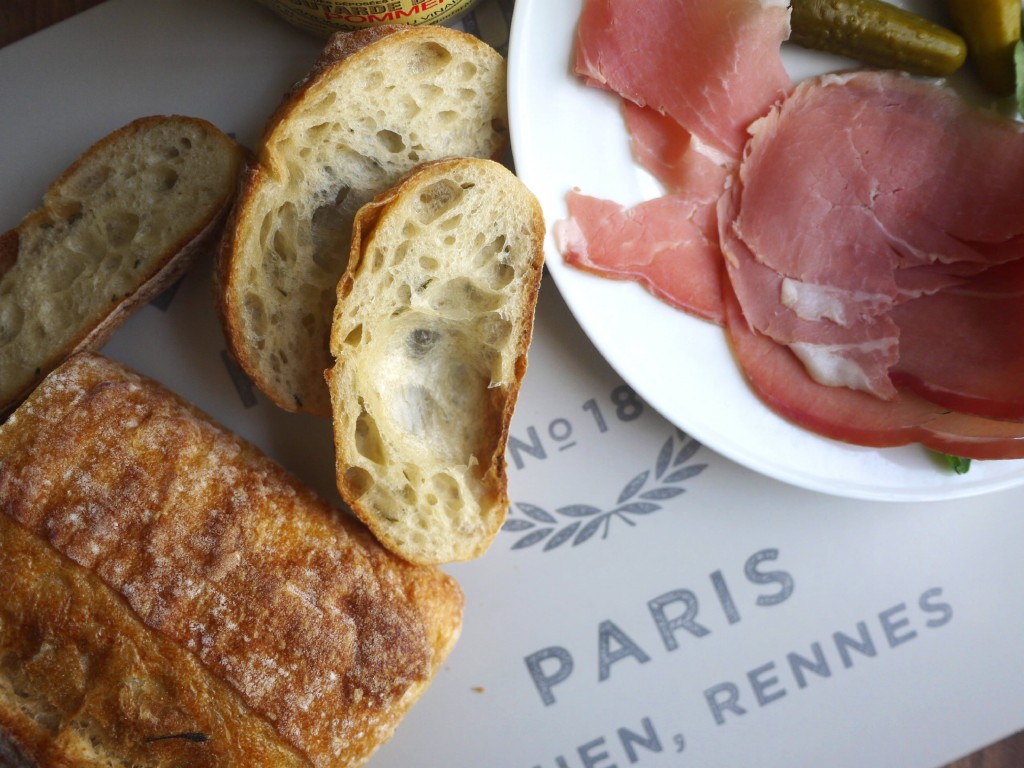 The pickles were an obvious addition after I saw how well moutarde de meaux went with cornichons when we were making our pork rib sauce at cooking class. *Sigh* Those were the days. The watercress, I get, is an unlikely addition, but it was in my fridge just days away from languishing and it gives the tartines that bright green hint of spring.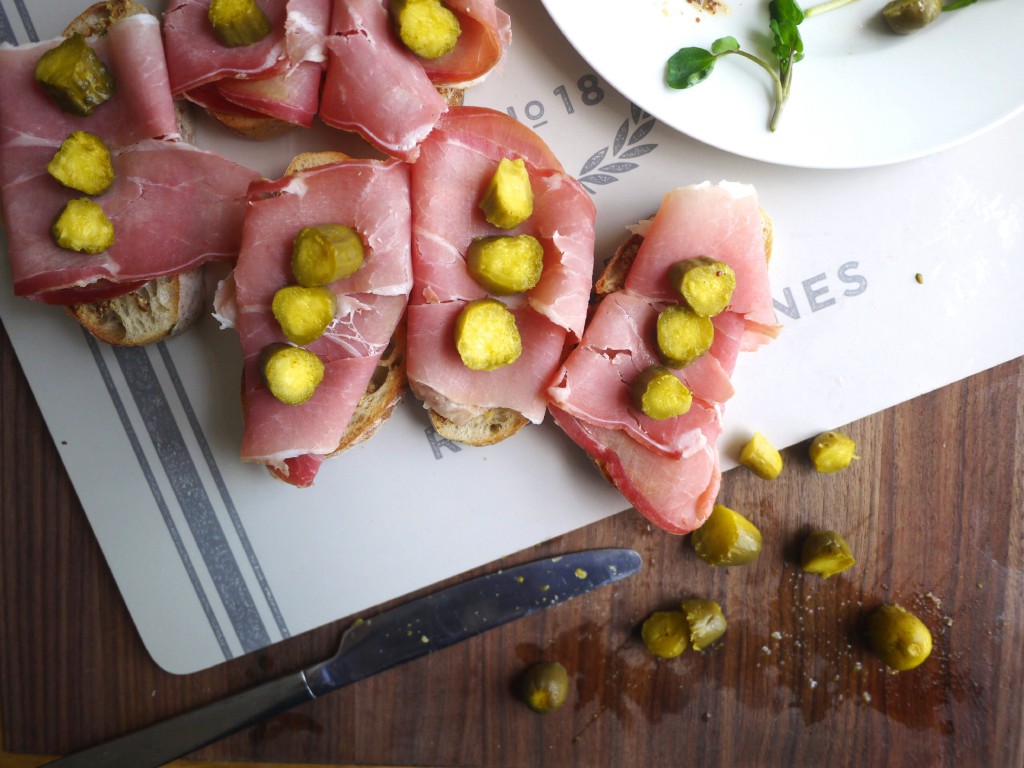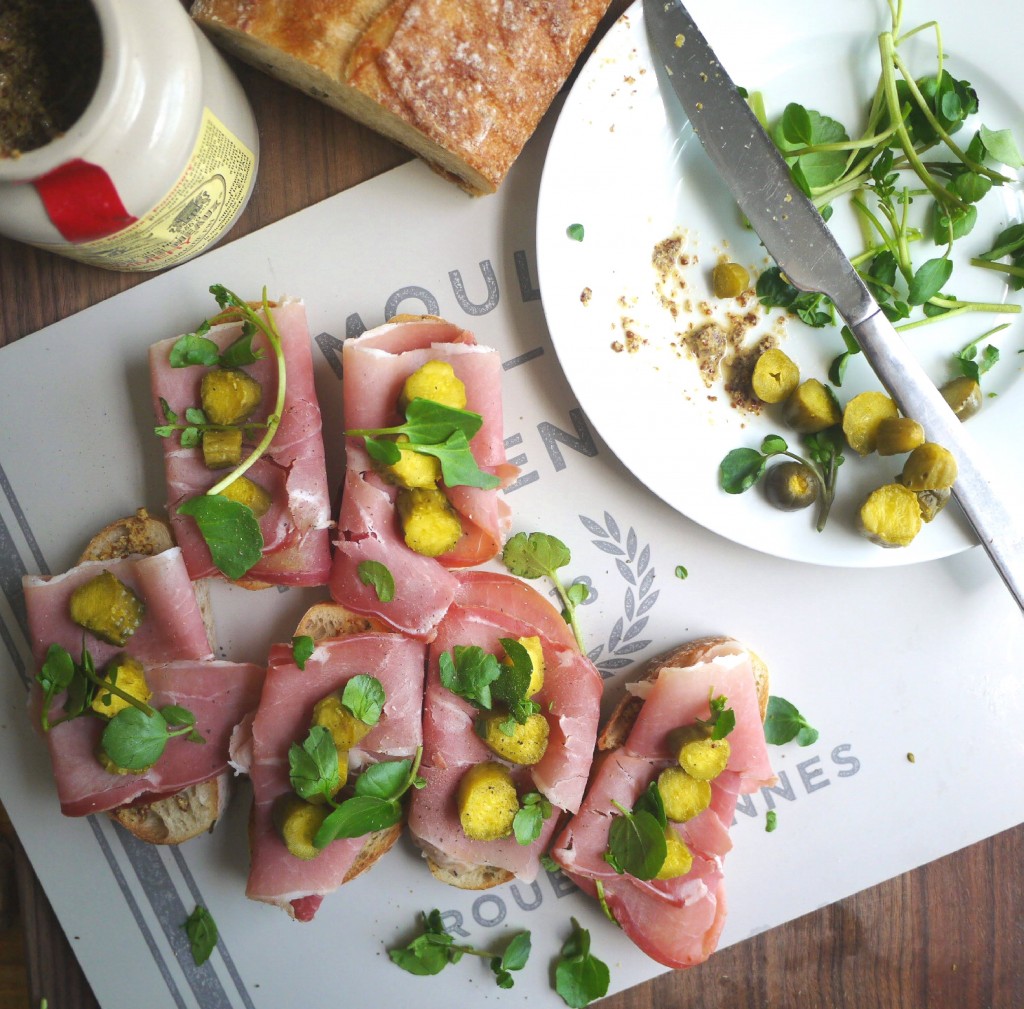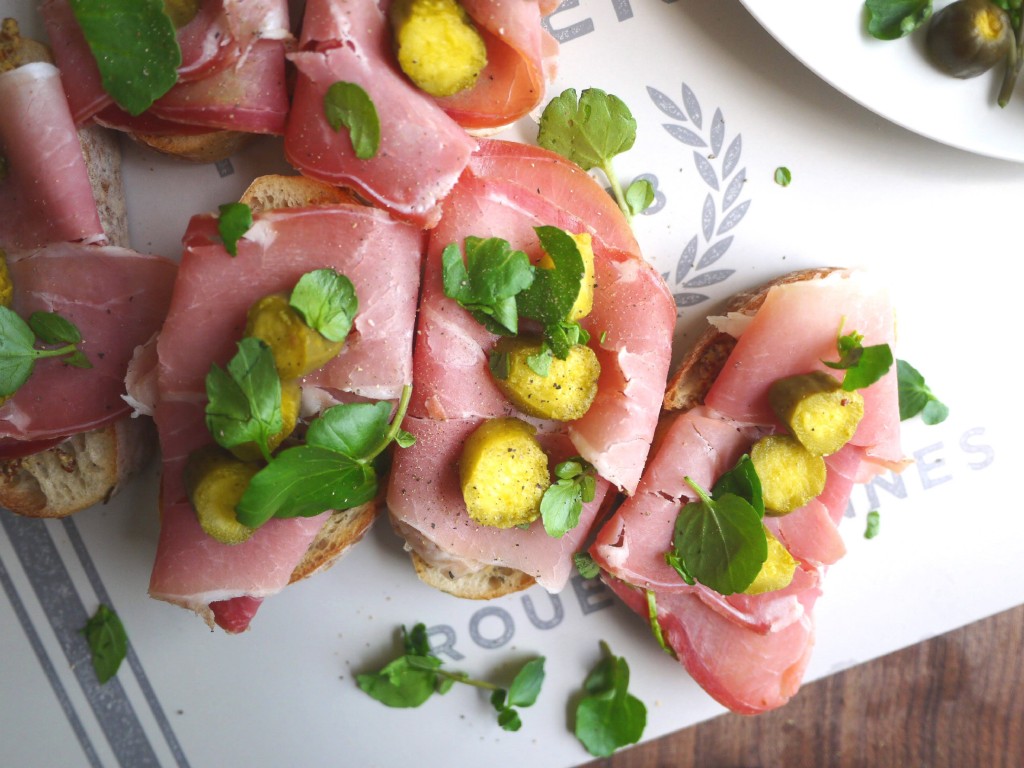 This is not your average ham sandwich. It's a tartine. It's grownup and fancy. It requires only the best ingredients and likes to be served on a cute little tray with linen napkins for afternoon tea. #hairflip It's inspired by the French, the Italians (give me some-a that-a prosciutto) and the Spanish (nothing is more amazing than a bar lined with little pieces of bread stacked miles high with yummy ingredients). If your average ham sandwich is the girl next door, this tartine is the exotic Mediterranean exchange student who visits your junior year of high school. All the girls want to be her and all the boys want to eat her date her. Get your minds out of the gutter.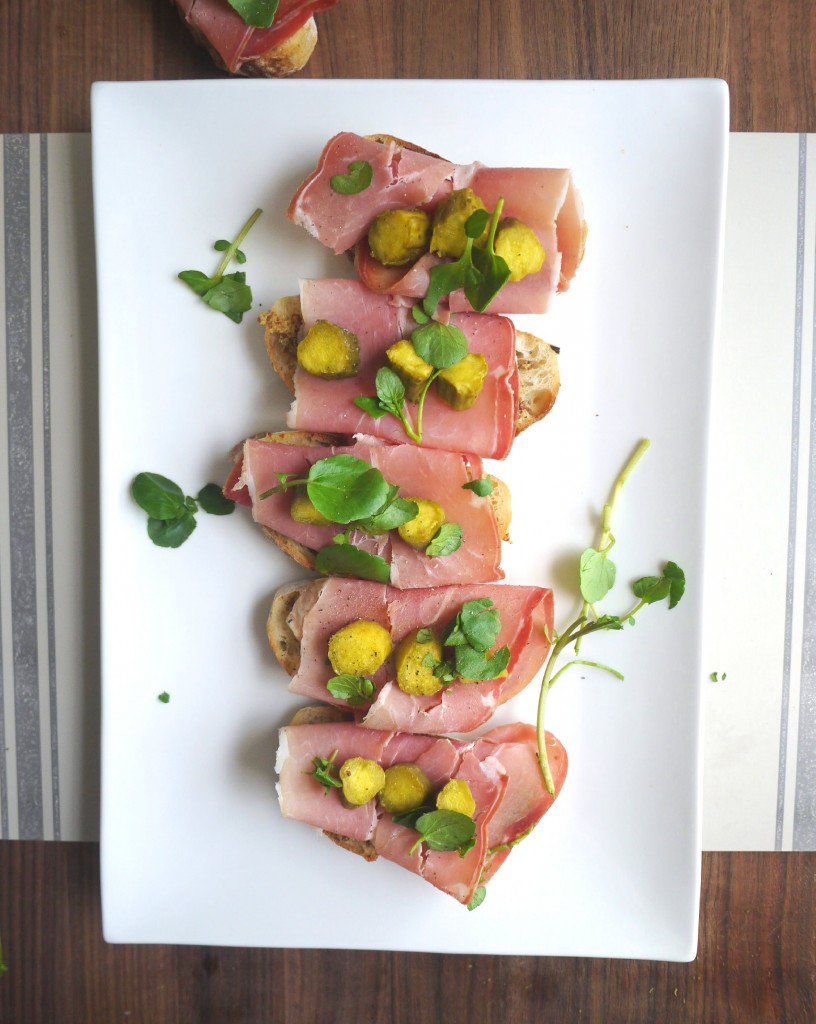 Now, let's talk logistics. If your grocery store has lemon rosemary bread like mine surprisingly did, grab it up STAT. It's delish. If not, I would suggest a hearty multigrain bread that will stand up to the strong mustard (use a strong mustard). To mimic the flavor of the lemon rosemary bread, add a sprinkling of lemon zest and finely chopped fresh rosemary to the mustard after spreading it on the bread. If you're looking for something a touch creamier, add just a little bit of light mayonnaise or butter to the bread before spreading the mustard. Alasdair is a big fan of multiple condiments on his "sandwiches." And, finally, if you can't eat bread because of a wheat or gluten issue, use a hearty gluten-free cracker as the base. The Crunchmaster crackers
are my absolute favorite, and I'm receiving no money or tasty samples to say that. 🙂

Prosciutto, Mustard and Pickle Tartine
Author:
Healthy Recipe Ecstasy
Recipe type:
Appetizer/Snack/Lunch
Ingredients
Six slices of lemon rosemary bread, ½-inch thick (if you can't find lemon rosemary bread use your favorite multigrain or artisan bread and add a sprinkle of lemon zest and finely chopped rosemary to the mustard)
2 tablespoons strong whole-grain mustard
6 slices of thinly-sliced prosciutto
6 baby dill pickles or cornichons, cut into thick circles
Handful of watercress leaves, for garnish
Freshly-ground black pepper, to taste
OPTIONAL: Light mayonnaise or butter, lemon zest, finely chopped rosemary
Instructions
Lightly toast the bread slices. Spread mayo or butter on bread, if using.
Spread the mustard evenly on the six slices of bread. Top with lemon zest and rosemary, if using.
Roll each prosciutto slice and place one piece of prosciutto on each bread slice. Top with 3-4 pickle slices.
Garnish with watercress leaves and black pepper. Bon Appetit!
NOTE: Serving size is 2 tartines per person.