I love when I have an idea, and that idea involves food, and that idea involving food transforms itself into something finger-lickin' good. Well, this is more like bowl-lickin' good because you don't eat soup with your fingers (or, at least, I don't) but you know what I mean.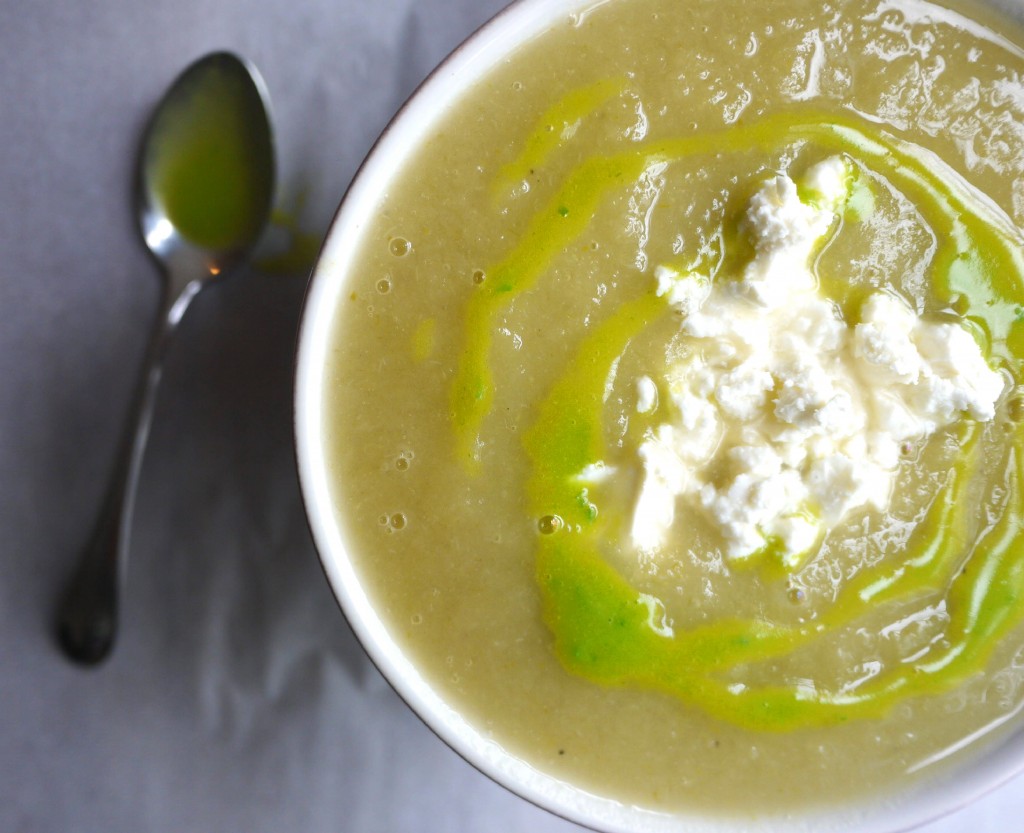 As you fellow food bloggers know, food ideas don't always equal food successes. Especially not the first time around. This idea, though, went straight from my brain to my mouth, and, then, to a very happy corner of my tummy where it kept me warm on a cold, rainy day. Hence the rainy day, bad lighting pictures… Speaking of, what's up with all this rain??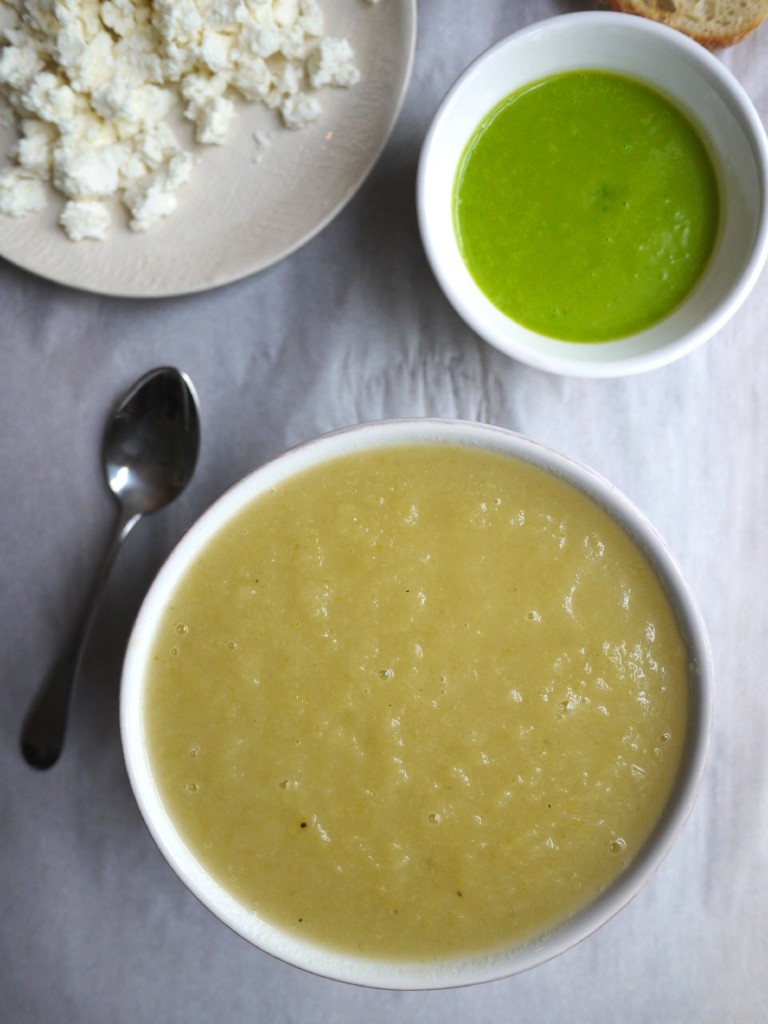 I was seriously worried that, with all the April travels, I missed a huge chunk of spring and we were headed straight to 90-degree humidity. For the past two months, I've seen blog after blog about spring pastas, spring soups, and spring veggies, but I've been too busy eating lava cake and making tartines to revel in the warmer temps and the fact that the snow finally turned to rain (at least for some of us). Not complaining, because who chooses peas over lava cake, but, seriously, you guys, I've been dying for some spring veggies!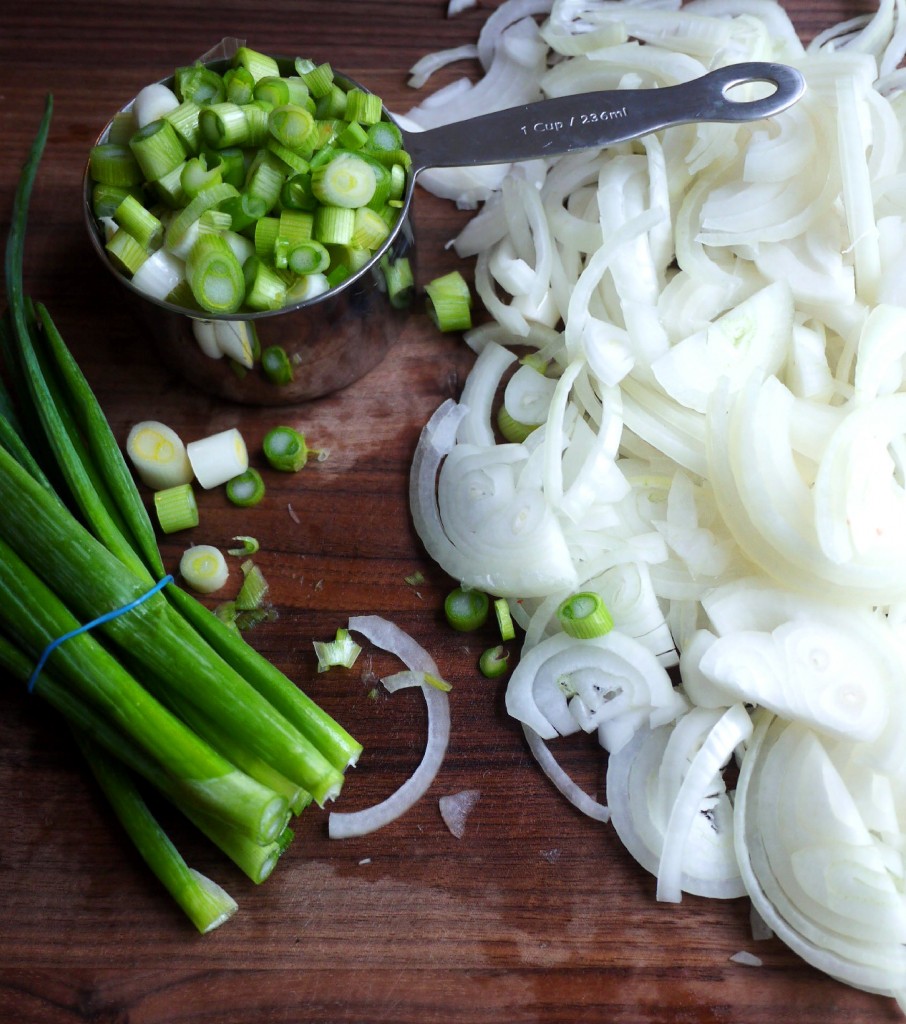 Fortunately, I finally had a calm week to indulge in my craving. Unfortunately, the grocery store seemed to be chock out of spring onions, my desired ingredient. And, my favorite market didn't seem to understand that scallions are not actually spring onions unless you live in the UK. That's right, scallions = green onions = spring onions (only in the UK). In the U.S., spring onions are a different onion. See the difference? Spring onions have larger bulbs.
But, instead of throwing up my hands in defeat, I decided to forge ahead. After a little digging (not literally), I discovered that spring onions are more of a late spring (May/June) vegetable. So, perhaps I didn't miss the boat at all. Though, I was left with the problem of what to use in my soup. After more digging (again, not literally, I don't have an onion patch in my backyard), I discovered that both scallions and yellow onions (along with leeks and ramps) can be used as a substitute for spring onions. The yellow onions provide a sweetness similar to that of spring onions. And the scallions, well, in the interest of going head-to-tail (that applies to veggies too!), I used the white and light green parts for the soup and the dark green parts for the scallion oil.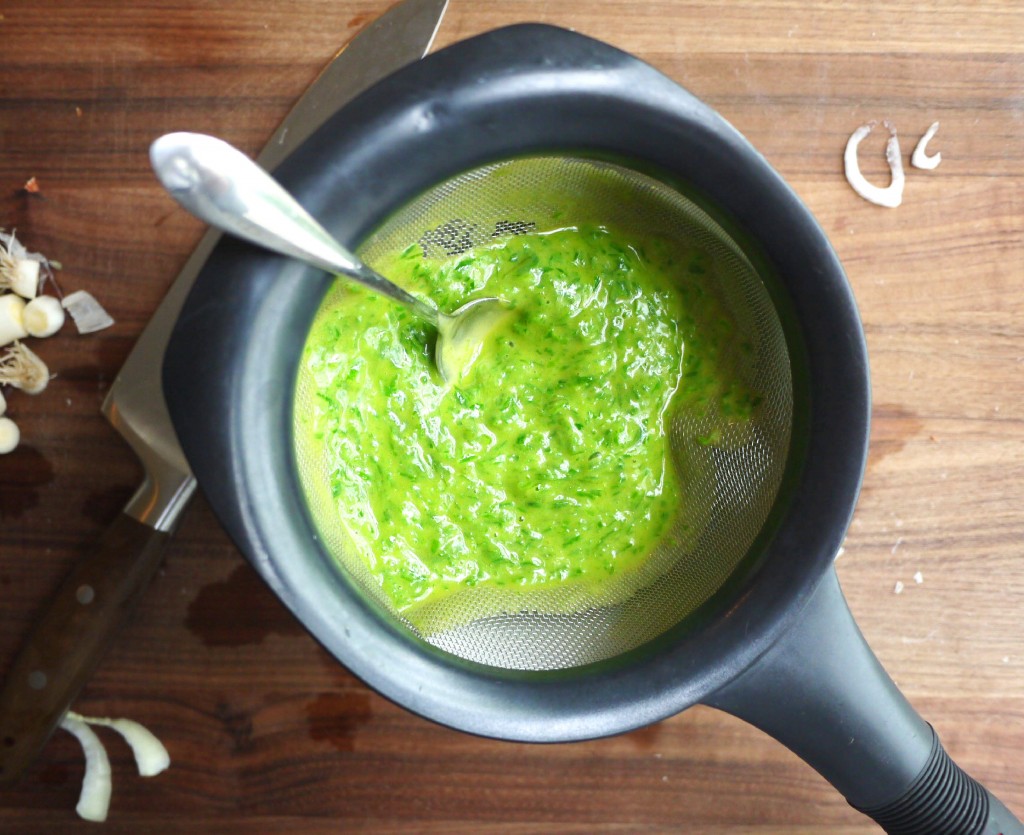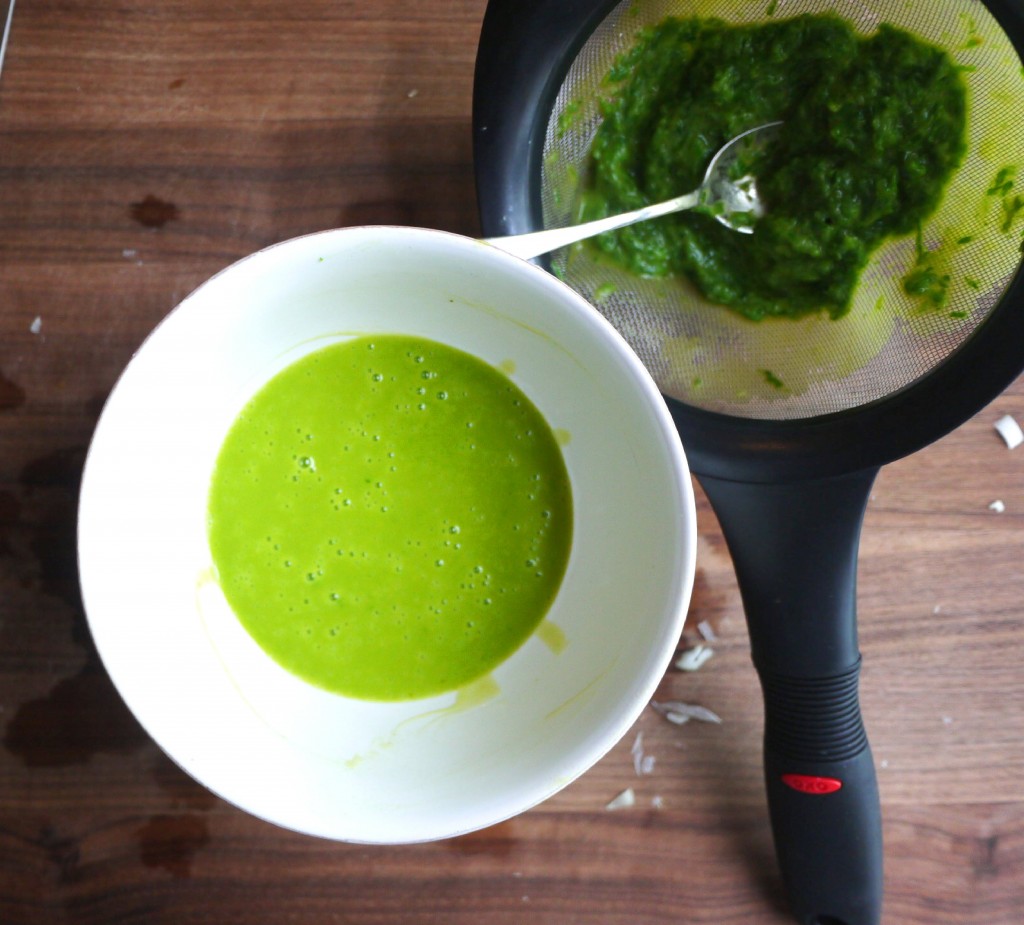 Why scallion oil? Why not? It makes me feel like I'm at a fancy restaurant. Plus a plain bowl of onion soup looks and tastes a bit plain. The scallion oil gives it a bright look and a bright flavor. And the salty feta cheese just takes it over the top. Like one of the best soups I've ever made over the top.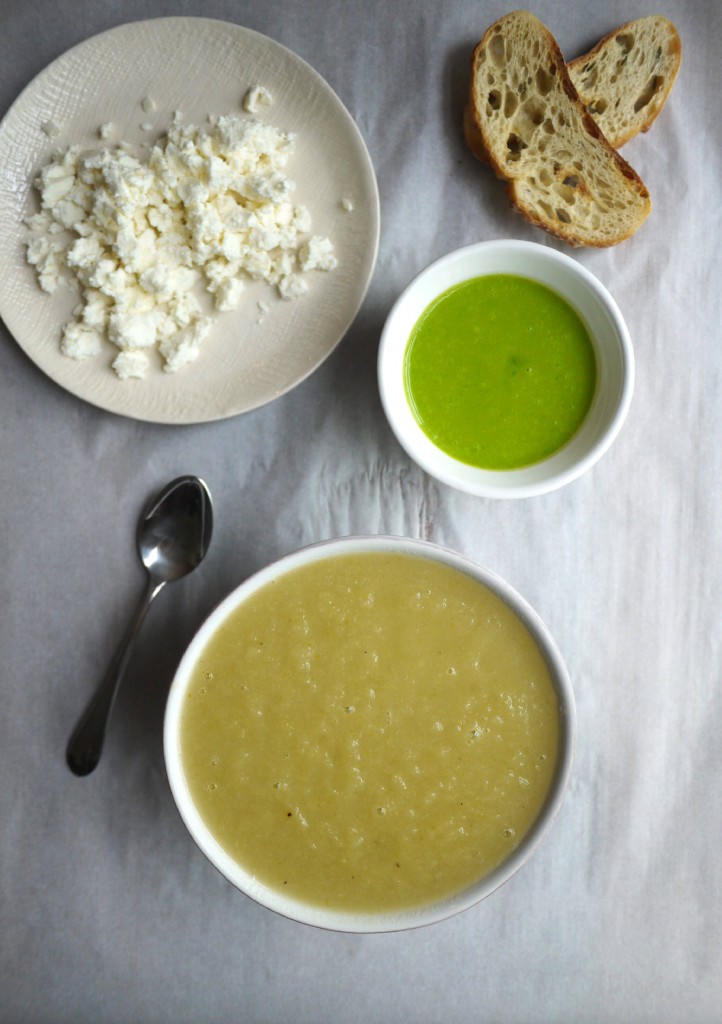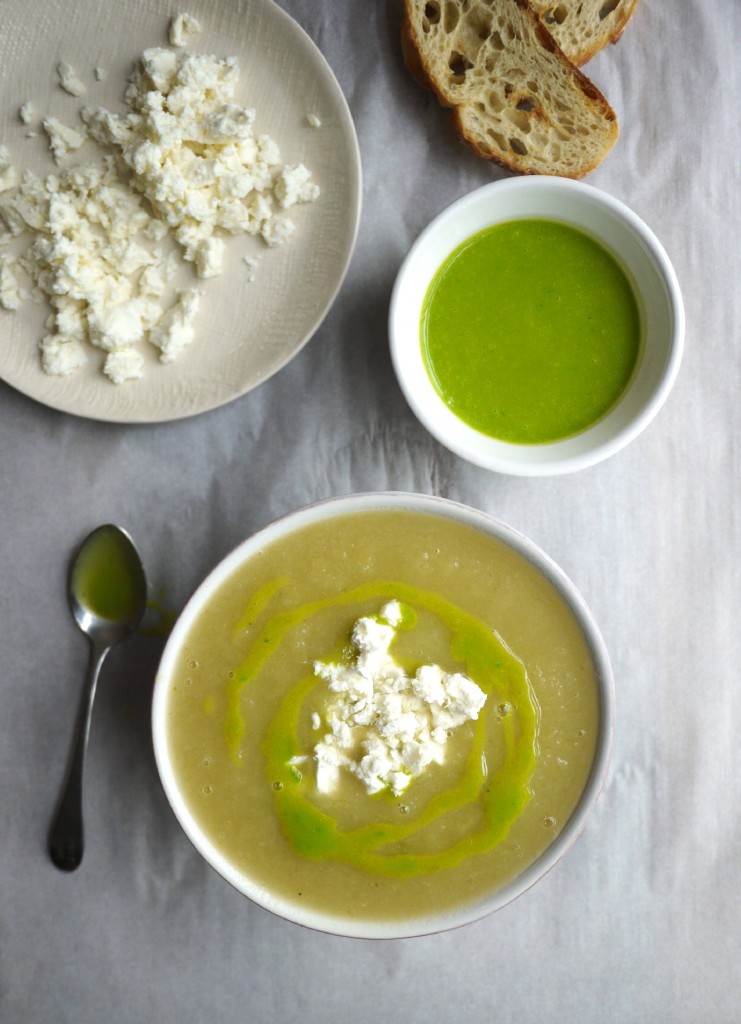 The best thing about the soup is that it's super sweet and creamy and thick on its own so there's no need to add cream or milk. The feta cheese garnish is the only dairy in the recipe and it's minimal. This may become my "easy Meatless Monday" dinner, my "comforting bring to work on a rainy day" lunch, and my "impress my guests" starter course. It's basically my everything. Can soup be your everything? This soup can.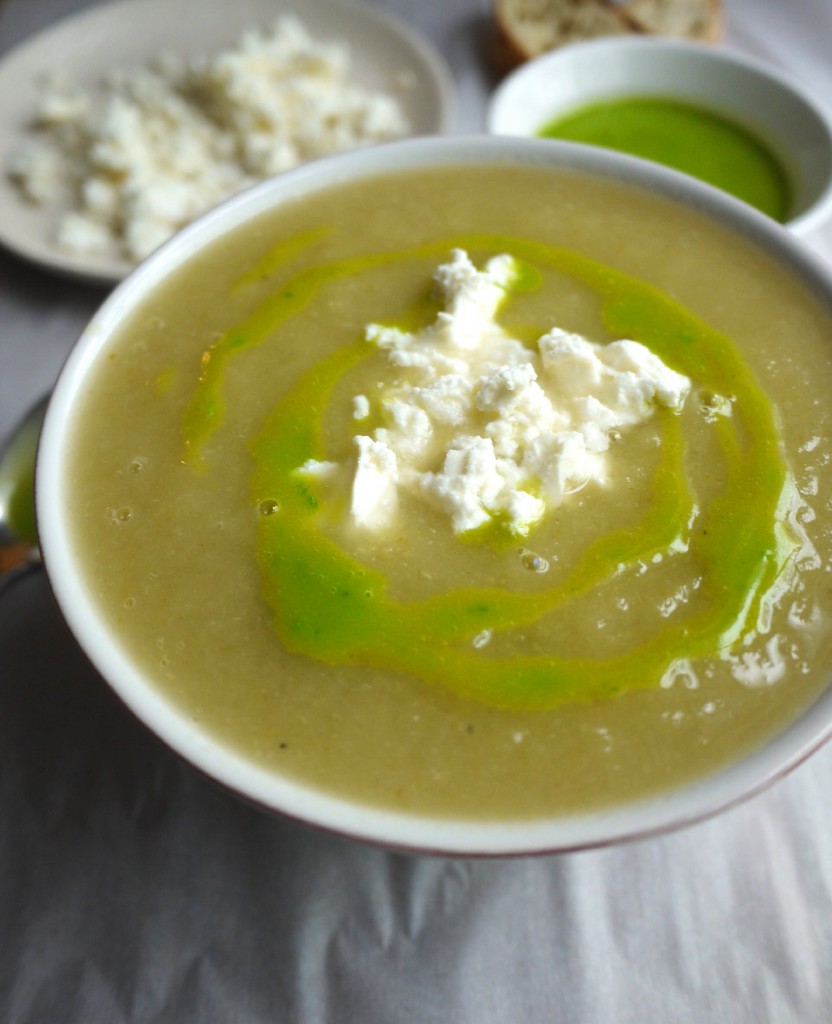 "Spring" Onion Soup with Scallion Oil & Feta
Author:
Healthy Recipe Ecstasy
Ingredients
Scallion Oil:
2 bunches scallions, dark green part only
1 cup extra-virgin olive oil
Soup:
2 tablespoons extra-virgin olive oil
2 pounds spring onions or yellow onions, thinly sliced (yields about 4 cups sliced)
2 bunches scallions, white and light green part only, chopped (yields about 1.5 cups)
1 teaspoon kosher salt, plus more to taste
2 cups low-sodium, organic vegetable stock
2 cups water
Freshly ground black pepper to taste
½ cup feta cheese
Instructions
Scallion Oil:
Bring large pot of water to a boil. Have a large bowl of ice water nearby. When water boils, drop in scallions and blanch for 30 seconds. Remove scallions from water with tongs and drop in ice bath.
When scallions are thoroughly chilled, drain them and squeeze dry. Roughly chop the blanched scallions. Place scallions in blender, puree for 20 seconds. With the motor running, slowly add the olive oil. Scrape down sides of blender as needed and puree until well blended.
Pour mixture through a fine mesh sieve into a bowl. Set aside.
Soup:
Heat oil in a large pot over medium heat. Add onions, and cook, stirring occasionally, until translucent but not brown, about 15 minutes.
Stir in salt, stock, and water. Bring to a simmer and cook for 15 minutes.
Remove from heat and let cool for 20 minutes. Working in batches, puree in a blender, starting on

low speed

and gradually increasing to high, blending until soup is smooth.
Divide soup among 4 bowls, drizzle with the scallion oil, and top with feta cheese. Serve with toast or gluten-free crackers, if desired.
NOTE: The scallion oil will have a strong olive oil flavor which I think goes nicely with the soup. If you'd prefer a more neutral flavor, use a neutral-tasting oil like canola or safflower oil.