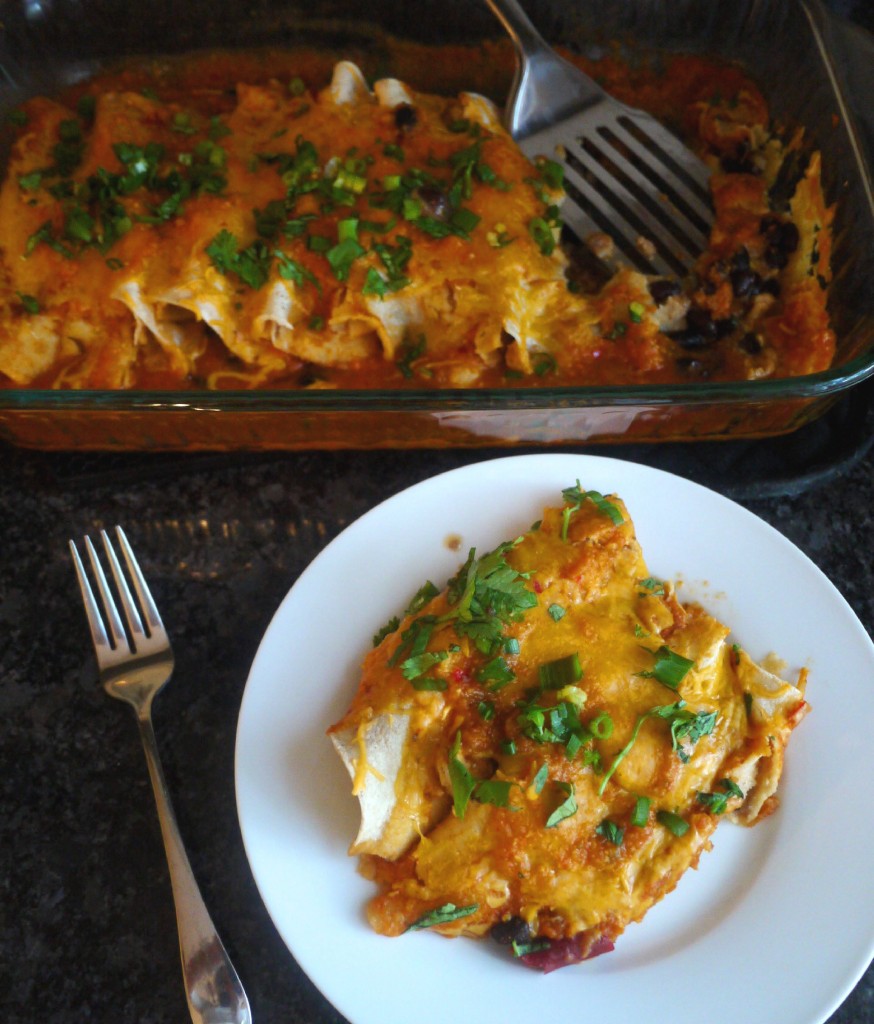 It's been awhile — three weeks to be exact. And, in those three weeks, here are the things that occurred, in no particular order:
– I got married in Paris.
– I ate crepes daily.
– I went on my honeymoon in Spain.
– The government shut down, leaving my new hubby and I briefly concerned for our bank accounts.
– I ate a ton of tapas and pinchos.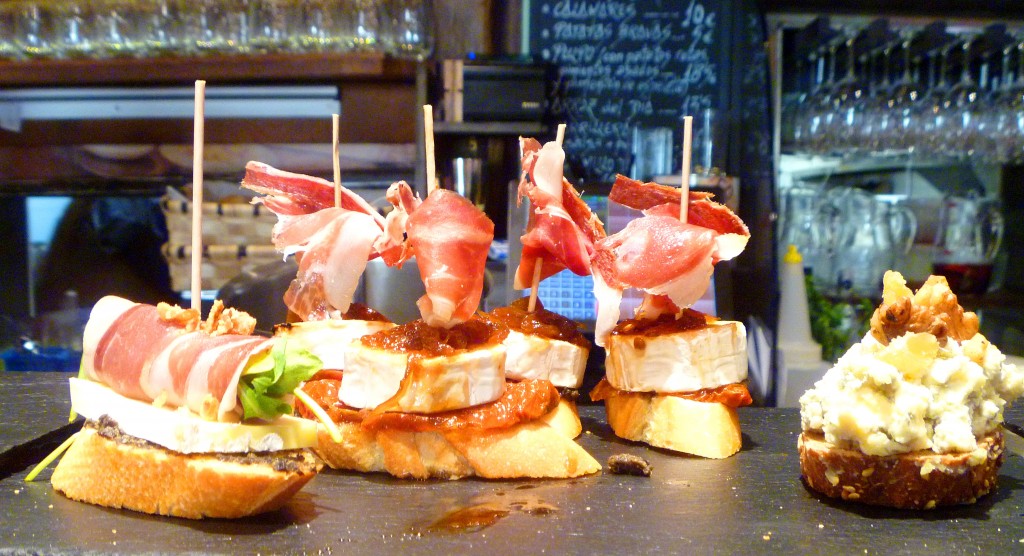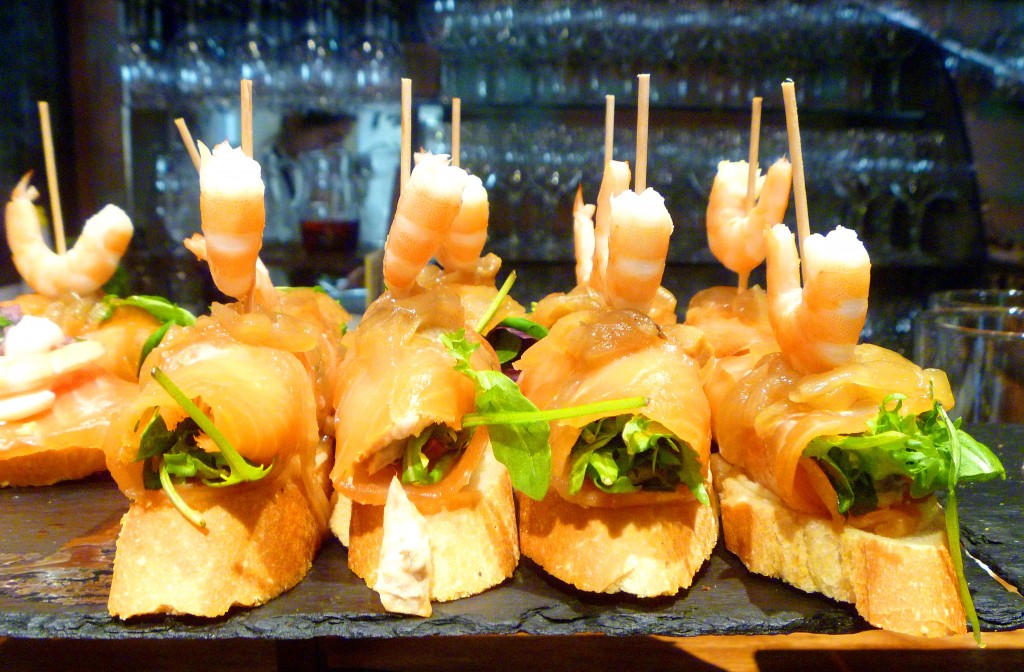 Needless to say, it's been an eventful three weeks. Not just with regards to my personal life, but for my blog as well. Whenever I go away, I always worry that my absence and lack of new material will result in blog defectors who become bored by my radio silence. However, this time, I had no reason to worry. While I was away:
– My kale guacamole was featured on the dailyburn.com's 10 Creative Kale Recipes
– My buckwheat crepes were featured on 20 Ways To Be Awesome's Cook Six New Recipes blog post.
– My blog was named Blog of the Day by erecipes.com.
It's like the blogosphere decided to give me a little wedding present in the form of recognition. 🙂 Thanks blogosphere! That's not the only surprise I received when I returned home. On the doorstep when we returned from the airport was Cooking Light's newest cookbook, Lighten Up, America! Favorite American Foods Made Guilt-Free. This book is exactly what I needed before delving into a few weeks of "inspiration from abroad" recipes. That's right. I've got crepes, Spanish tortillas and other amazing dishes coming your way. But, despite the culinary adventures I had over in Europe, I needed a quick break from baguette and brie and anchovies and peppers. After a few weeks of European indulgence, I couldn't stop thinking about two things: down-home American cooking (burgers, casseroles, mashed potatoes) and Mexican food. Yes, Mexican food.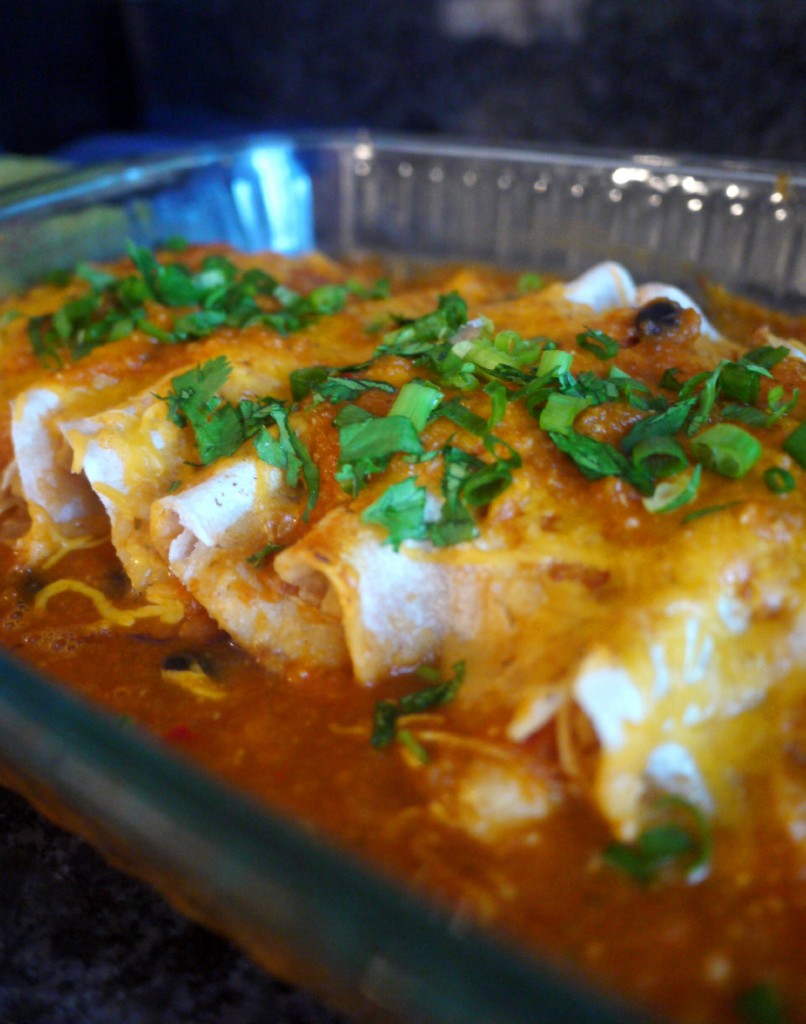 As much as I love Paris, the city's (and probably the country's) biggest deficiency in my book is the lack of quality Mexican food. When I lived there, I was dying for tacos, burritos, enchiladas and guacamole. My one Mexican food experience in Paris was so dreadful that I now refuse to eat Mexican food anywhere outside the Americas. That's why, while flipping through Lighten Up America!, the recipe to catch my eye was not the all-American meatloaf or the pigs in a blanket, but the Tex-Mex flavored Vegetarian Enchiladas. It was love at first sight. Not only did it have the spice I was craving after weeks of rich food, but it had the added bonus of being a vegetarian recipe which I was in dire need of after multiple meals featuring sausage, veal cheek, pork, and chuleton de buey (only the largest piece of steak I've ever seen).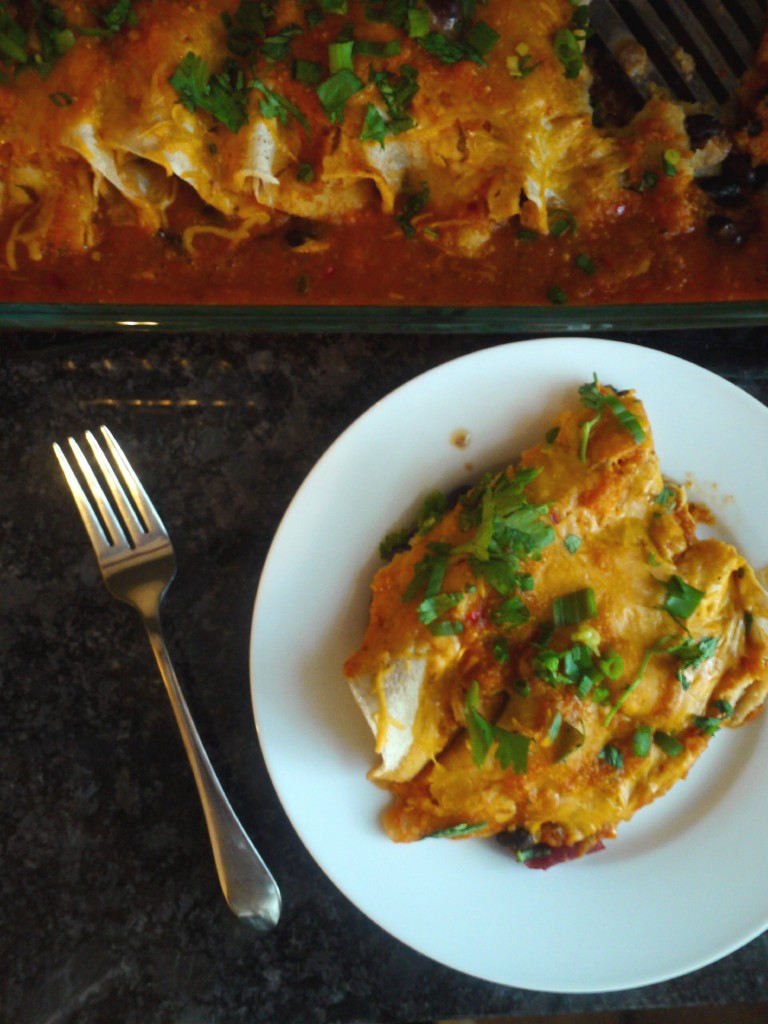 Healthy Recipe Ecstasy? Though Spaniards would say the best medicine is jamon and chorizo, this recipe was just what the doctor ordered for me this week. The dish was hearty and filling enough that I didn't go into post-vacay food withdrawal. But, the gluten-free corn tortillas, fiber-filled black beans, and moderate amount of low-fat cheese left me feeling guilt free and ready to get back into the HRx lifestyle. Speaking of cheese, the original recipe calls for 2 cups of Mexican-blend cheese. I brought that amount down to 1.5 cups and swapped out the Mexican-blend for an aged sharp cheddar with less lactose. A lot of hard cheeses are actually lactose-free because, as cheese ages, the natural bacteria and added enzymes digest the lactose until there is little to none left. Also, I nixed the sour cream and added some cilantro for extra flavor. The end result is a creamy, spicy enchilada dish that will satisfy even the biggest meat lovers.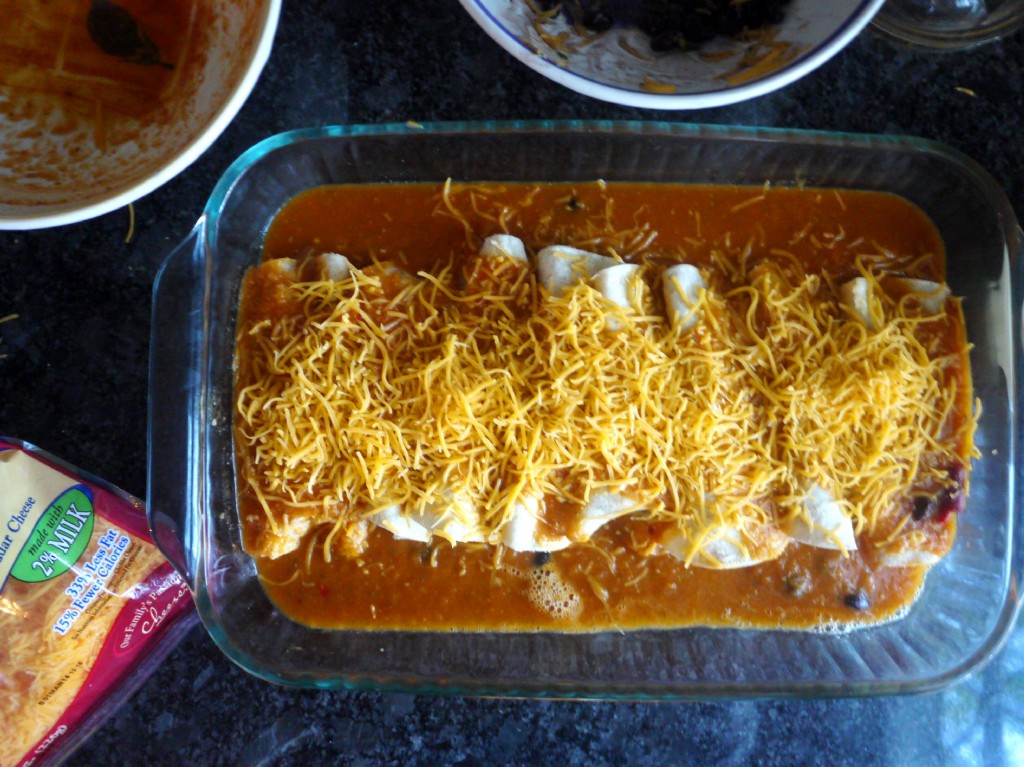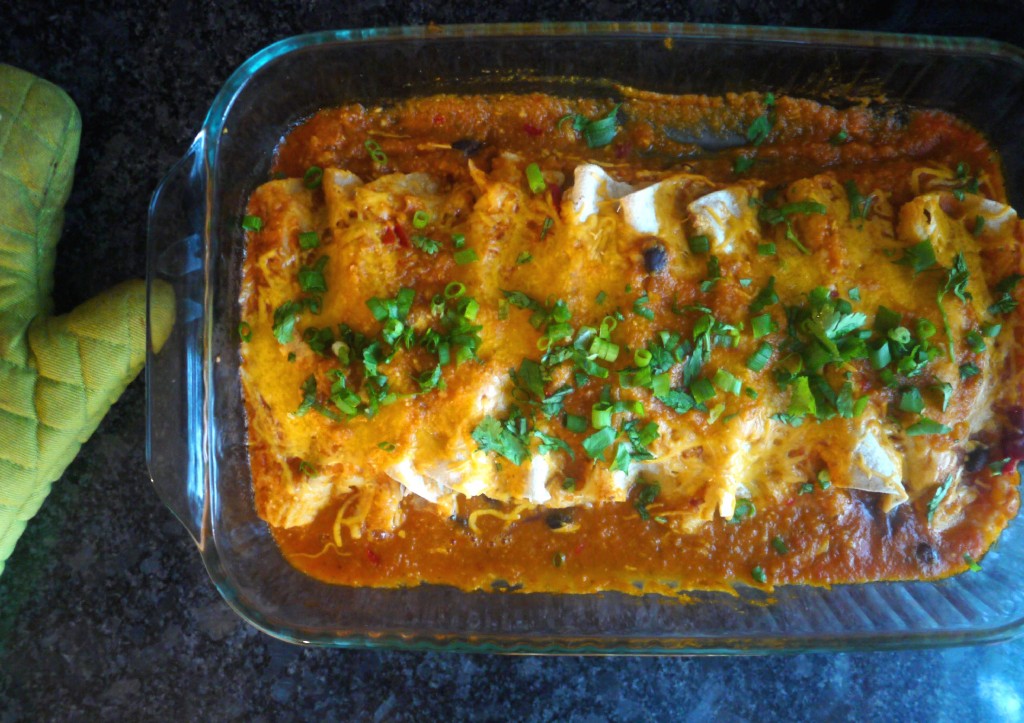 Vegetarian Black Bean Enchiladas
Author:
Healthy Recipe Ecstasy (Adapted from Cooking Light's Lighten Up America!)
Ingredients
2 dried ancho or guajillo chiles, stemmed and seeded
2 cups water
2 teaspoons olive oil
1 cup chopped yellow onion
5 garlic cloves, sliced
¼ teaspoon kosher salt
2 cups organic, low-sodium vegetable broth
2 tablespoons chopped fresh oregano
2 tablespoons unsalted tomato paste
½ teaspoon ground cumin
1 tablespoon fresh lime juice
⅛ teaspoon ground red pepper
1 (15-ounce) can black beans, rinsed and drained
6 ounces preshredded reduced fat cheddar cheese (about 1 and ½ cups), divided
3 thinly sliced green onions, divided
2 tablespoons chopped fresh cilantro
Cooking spray
8 (6-inch) corn tortillas
Instructions
Combine chilies and 2 cups water in a saucepan; bring to a boil, reduce heat, and simmer for 5 minutes. Remove from heat; let stand 5 minutes. Drain chilies in a colander over a bowl, reserving 1 cup cooking liquid.
Heat a medium saucepan over high heat. Add oil to pan; swirl to coat. Add onion, sauté 1 minute. Reduce heat to medium; add garlic and salt. Cook 5 minutes or until golden, stirring occasionally. Add broth and next 3 ingredients (through cumin); cook 8 minutes or until thick, stirring occasionally.
Heat oven to 400 degrees F.
Pour onion mixture into blender; add chilies and reserved liquid. Remove center piece of blender lid (to allow steam to escape); secure lid on blender. Place a clean towel over opening in lid (to avoid splatters). Blend until smooth; stir in lime juice and red pepper.
Combine beans, ½ cup cheese, and half the green onions in a bowl.
Spread ½ cup ranchero sauce in bottom of a 13 x 9-inch glass or ceramic baking dish coated with cooking spray. Warm tortillas according to package directions. Spoon 3 tablespoons bean mixture down center of each tortilla and roll up. Place, seam sides down, in prepared dish. Pour remaining ranchero sauce over filled tortillas.
Top with 1 cup cheese. Bake at 400 degrees for 15 minutes or until lightly browned. Sprinkle with green onions and cilantro.
NOTE: The original recipe calls for 12 tortillas, but I only had enough filling for 8 tortillas so I changed the serving size from 6 servings to 4 servings.