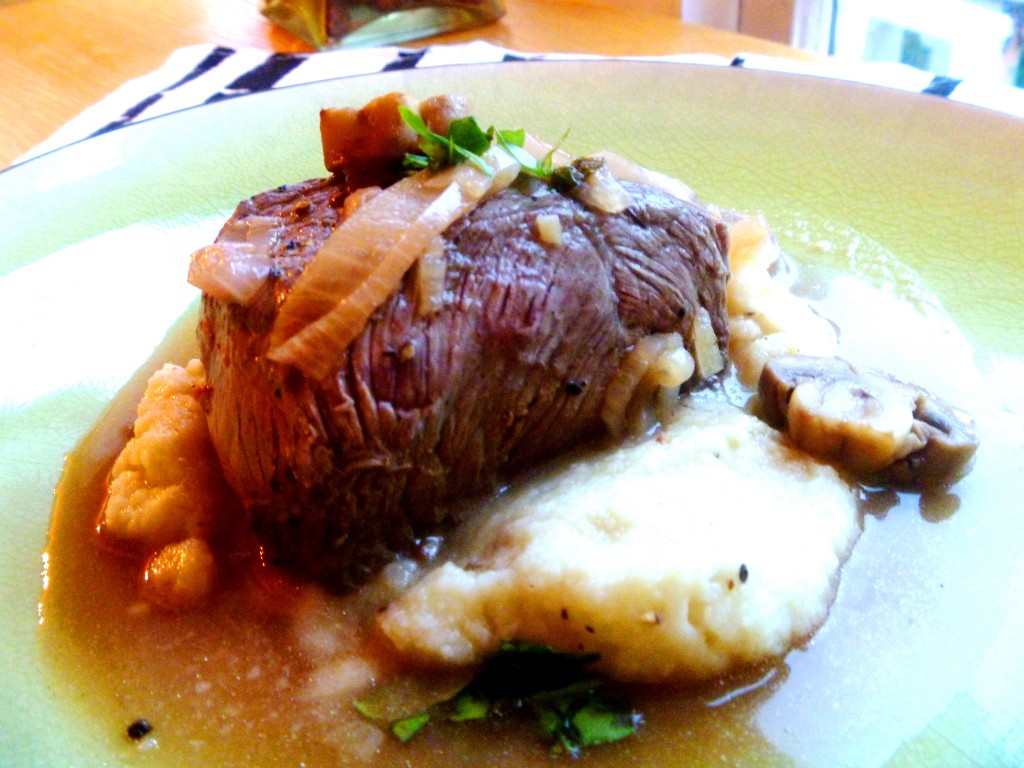 I don't make steak and potatoes very often (much to Alasdair's disappointment). It's not that I don't like steak – I used to work at Outback so I've ingested my fair share of steak.  BUT, we all know that red meat is something to be enjoyed on ocassion rather than nightly unless you want to clog your arteries beyond repair. Plus, it can be expensive and I'm always worried about cooking it wrong. And I adore potatoes in any form but they make for a very heavy meal when combined with a big slab of meat. Not very heart or waist friendly. So I decided to compromise and surprise Alasdair with a filet and mash. Cauliflower Mash that is. Click here for my cauliflower recipe.
Usually Marsala sauce is used for chicken dishes but I thought it would be absolutely delicious over steak and mushrooms. I was right!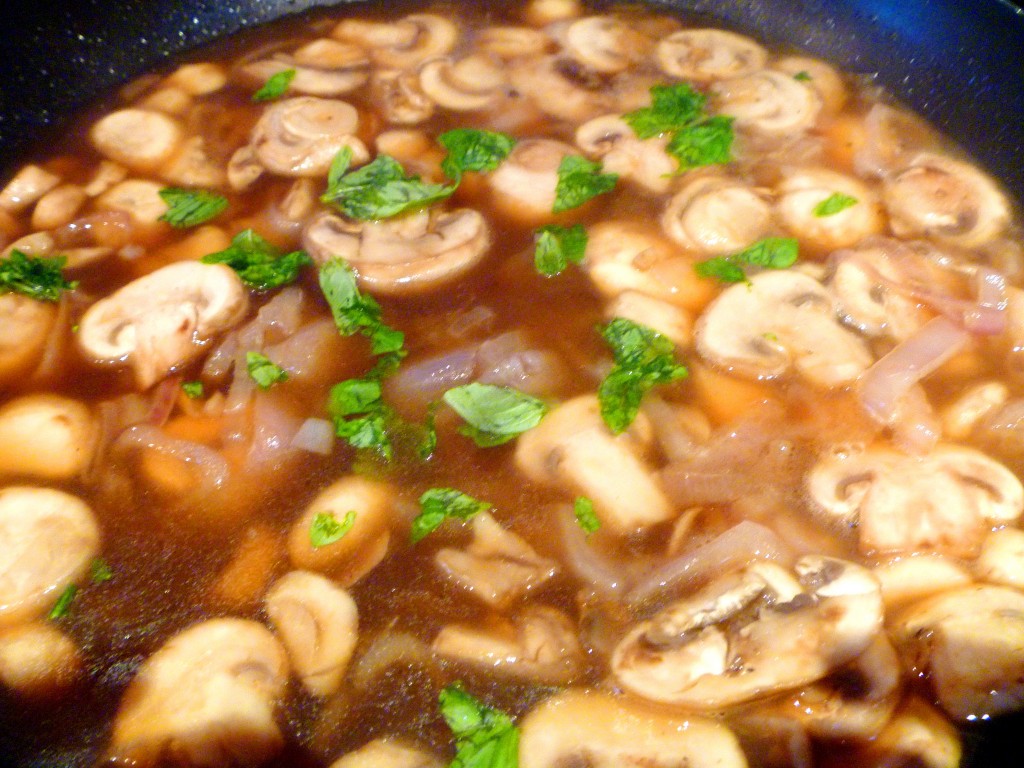 Healthy Recipe Ecstasy? This dish got a tasty thumbs up from us both. Alasdair said that he could definitely get on board with low-carb eating if this was the type of dinner he'd get to eat. Best part about this meal is that it's chock full of veggies (mushrooms, shallots, cauliflower) but it's one of those dishes where you barely notice you're getting your full serving! If you check your stock and Marsala and switch butter for oil then this is a great Paleo dish and definitely fits the gluten-free, dairy-free category.

Steak and Mushrooms with Basil Marsala Sauce
Author:
Healthy Recipe Ecstasy
Ingredients
2 shallots, sliced
1 cup mushrooms, sliced
1 tablespoon butter, divided
2 pounds steak filets
2 cups Marsala wine
½ cup beef stock
1 tablespoon chopped fresh basil
Salt
Pepper
Instructions
Season steaks liberally with salt and pepper.
Add half a tablespoon butter to a large saute pan over medium-high heat. When butter melts and begins to foam (1-2 minutes), add the steaks to the pan. Brown two minutes on each side.
Remove the steaks from the pan and keep them warm.
Add the other half tablespoon butter to the pan. Once it melts, add the mushrooms and shallots to the pan.
Cook for 6 minutes or until the mushrooms are tender. Add the Marsala wine and the stock to the pan and scrape the bottom of the pan so that all the brown bits become part of the sauce. Add the basil.
Let the mushroom/wine mixture cook down to about ⅔ of its size or 4-5 minutes. Add steaks back to pan and spoon sauce over them. If you like your steaks medium rare, then take then off immediately. If not, cook for another minute or two, depending on your desired doneness.
Put one serving Cauliflower Mash on each plate. Top with one steak filet and spoon mushroom Marsala sauce over steak and mash. Top with more basil for garnish.