That's right. We're still rockin' the Paleo train over at casa HRx.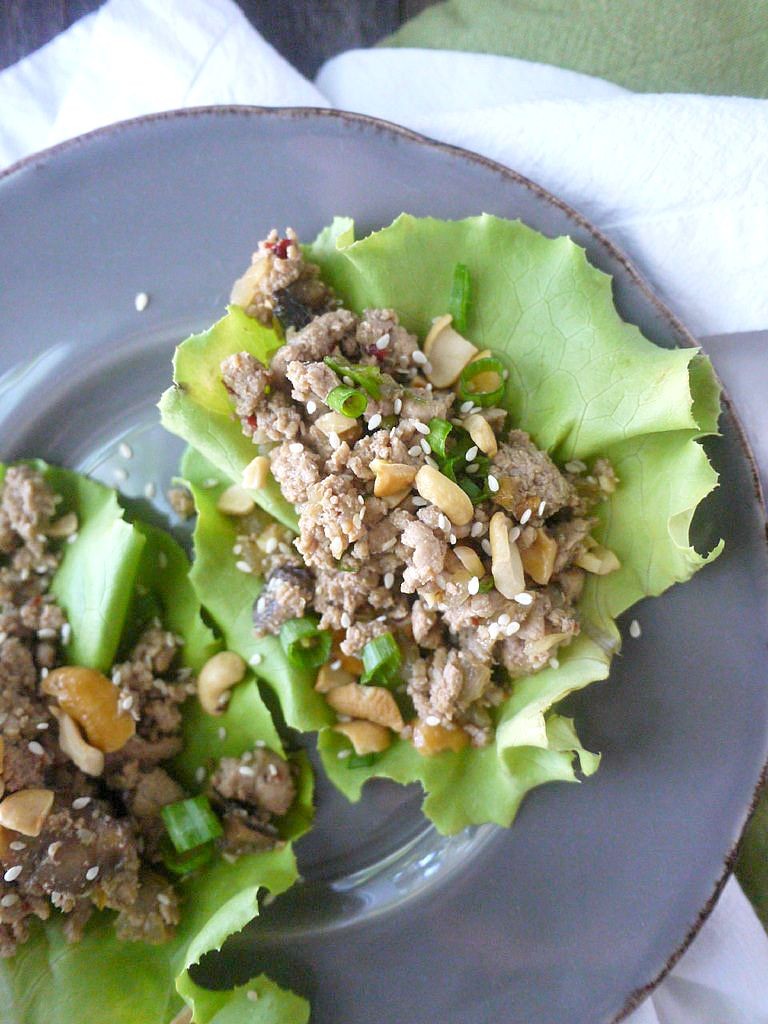 And, you know what? I don't hate it. I mean, I REALLY don't hate it. In fact, I kind of love it. Ok, love is a strong word but I have pretty deep lustful feelings about it right now. This coming from the girl whose favorite meal is carbs and cheese.
Seriously, though, going Paleo takes a little bit of extra work (which is a total downer right about now when I have my hands full feeding this guy) but, on the positive, I'm surprisingly full all the time, I feel lighter, my skin is clearing up and my taste buds have been doing nothing but happy dances. Even Alasdair is on board – although he's always on board for more meat. He's even on board with the veggie part, especially when those veggies are drowning in olive oil and roasted garlic. And Paleo, for me, is really about upping the veggies. We're not eating that much more meat than usual but we are substituting veggies in creative ways for starchy, carby, grainy things (can you say zucchini noodles)?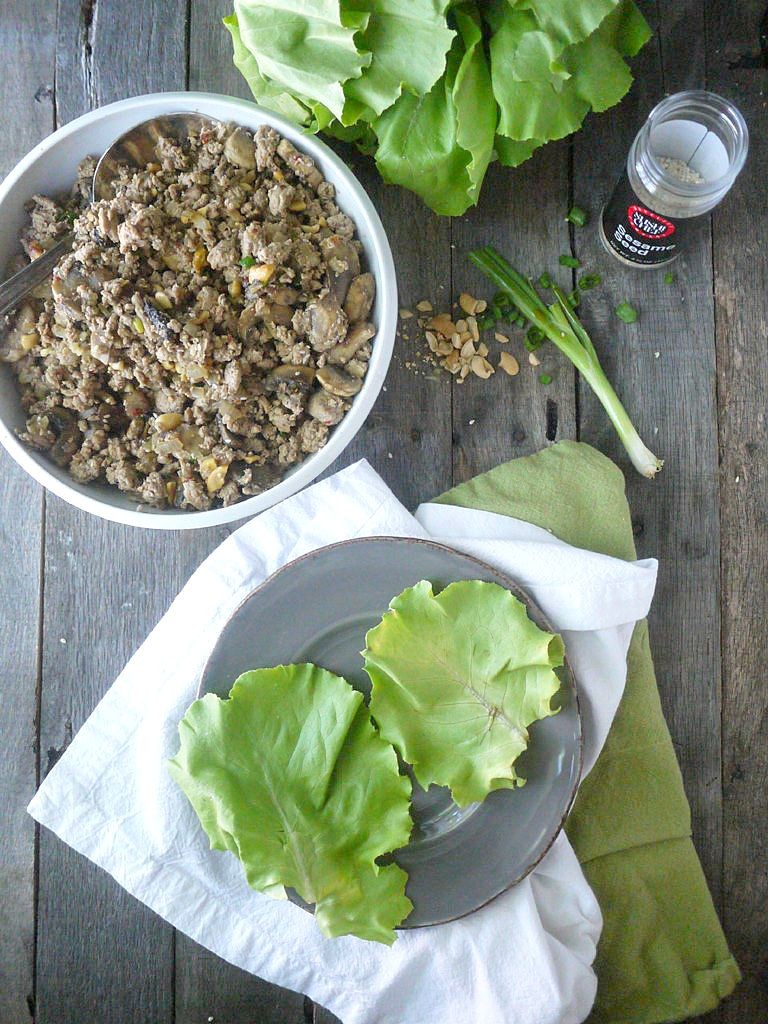 Let's talk about the lettuce wraps. I'll be honest – I've never been a huge fan of using soggy lettuce to wrap a drippingly moist meat and veggie filling when I could just sop up that sauce with a crusty bread product.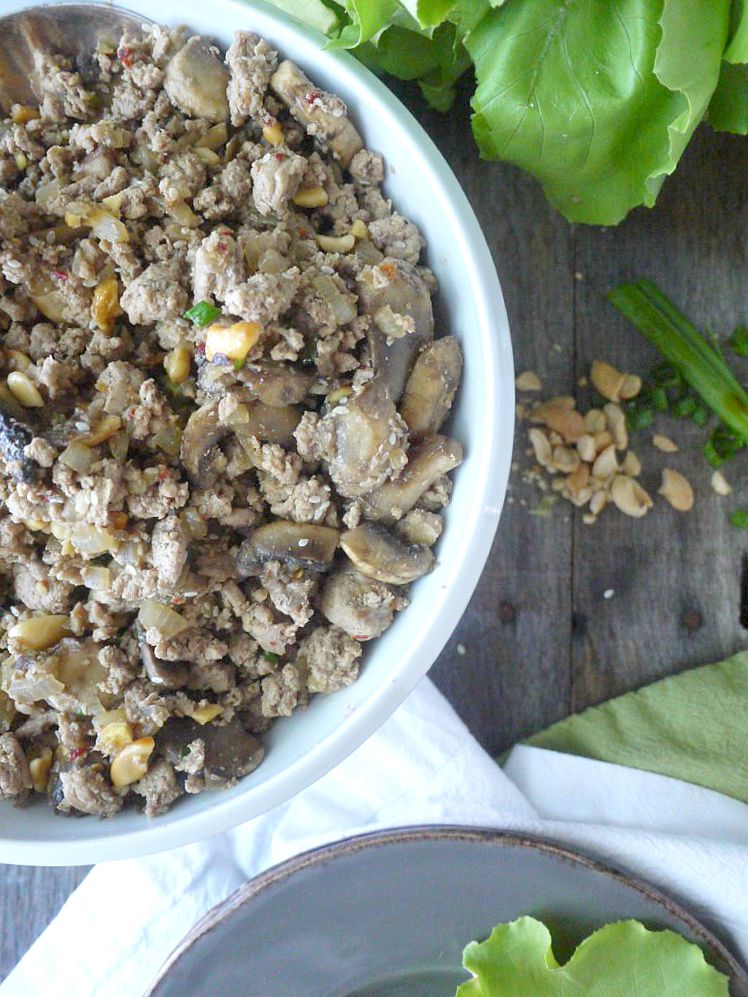 But, every once in a while, I'll meet a lettuce wrap (or a cabbage wrap) that makes me forget all about my bread obsession. About 7-8 years ago, when I still frequented restaurants in the 'burbs, that lettuce wrap was P.F. Changs. That sh*t is GOOD. So, over the years, when I could tear myself away from the crusty goodness, I would make a copycat version of the lettuce wraps – but healthier. Because, let's be honest, just because it's wrapped in lettuce does not remove it from the naughty list. The P.F. Changs version is smothered in oils and sodium and hidden sugars. No wonder it's delish, right?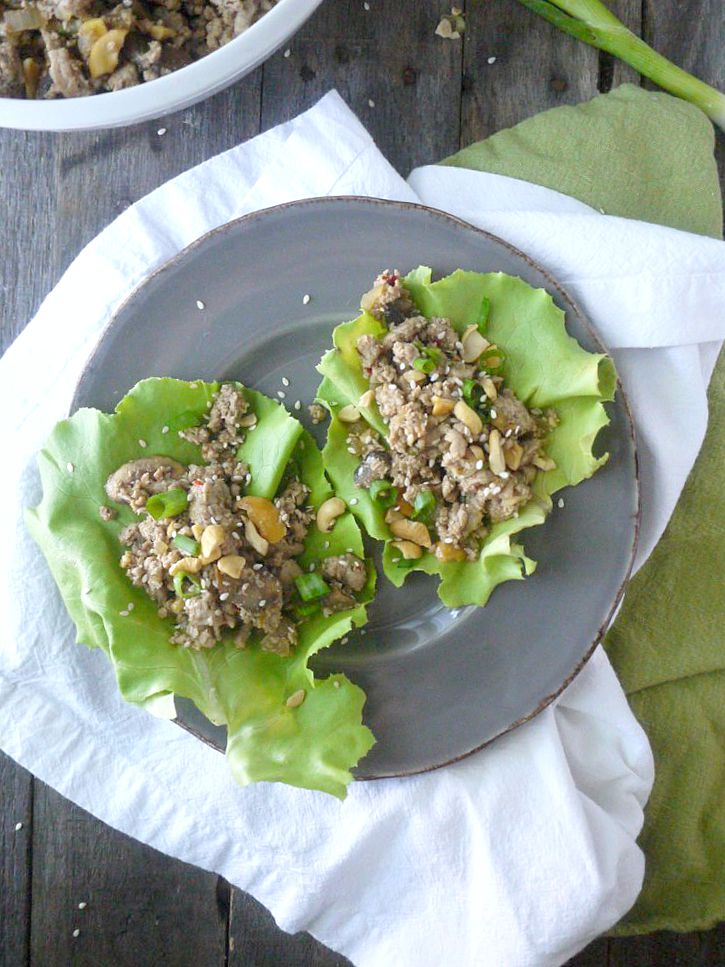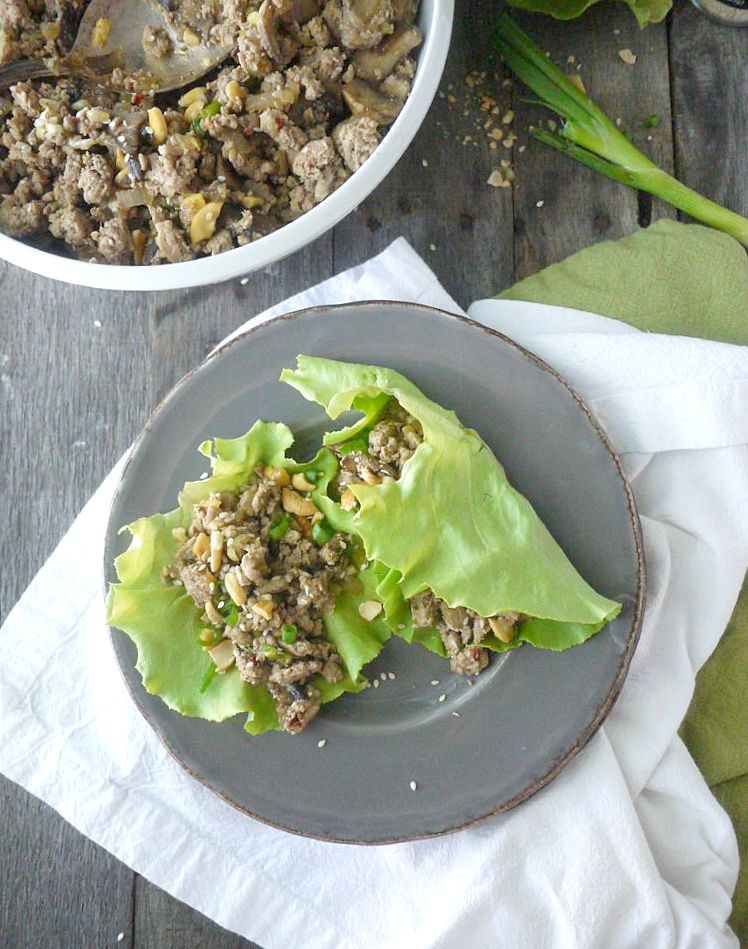 It might be delish but it's certainly not Paleo with all that sugar and soy sauce. Did you know that soy sauce is so not Paleo? Who knew? I guess all you true Paleos…. My latest version of the lettuce wraps cuts out the refined sugar and soy sauce in favor of Paleo-approved molasses and sometimes-approved balsamic vinegar. I used ground turkey instead of chicken but they're pretty interchangeable in this recipe. And cashews instead of peanuts because peanuts? Not Paleo. Oh, and no soggy lettuce here. The bibb lettuce I got was so green and crisp that I was eating it by the handful like a rabbit.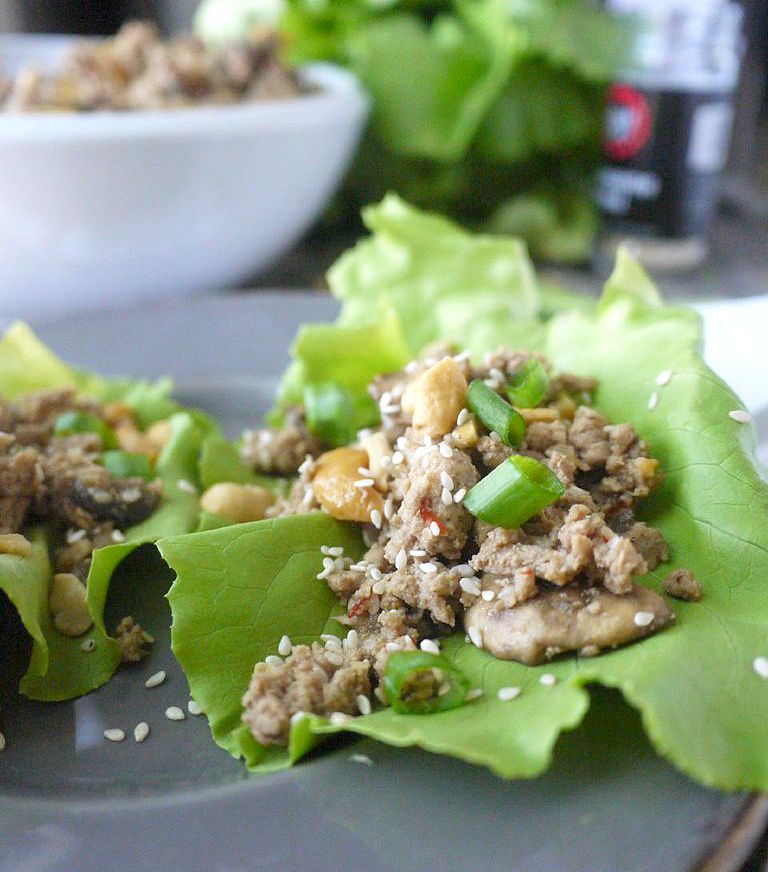 Speaking of vinegar, it's kind of a gray area ingredient in the Paleo world from what I've read but it's not a total no-no. If you're hardcore Paleo and don't do vinegar, I'm not sure what to tell you because it definitely adds a little something something to this recipe.  So, just do it. You know you wanna.
You know what's not a gray area? My love for these lettuce wraps. And my deep lustfulness for all the good eating we're doing lately.
Mmm mmm Paleo.
P.S. Don't worry bread and cheese – I'll be back soon.

Paleo Asian-Style Turkey and Mushroom Lettuce Wraps
By virtue of being Paleo, these lettuce wraps are also gluten-free, dairy-free and soy-free.
Author:
Healthy Recipe Ecstasy
Ingredients
1 head bibb lettuce
2 pounds ground turkey
2 teaspoons olive oil, divided
1 large white onion, diced
1 pound sliced white mushrooms
2 teaspoons minced ginger
4 cloves garlic, minced
¼ cup plus 2 tablespoons fish sauce
¼ cup plus 2 tablespoons cup rice vinegar
¼ cup dark molasses
2 tablespoons balsamic vinegar
1 tablespoon garlic chili sauce
1 teaspoon coarse salt
¼ teaspoon ground black pepper
1 cup chopped cashews, plus more for garnish
½ cup chopped scallions (white, light and dark green parts), plus more for garnish
2 tablespoons toasted sesame seeds, plus more for garnish
Instructions
Mix all the sauce ingredients (fish sauce through black pepper) in a small bowl. Set aside.
Heat 1 teaspoon olive oil in a large sauté pan over high heat and cook ground turkey until it's browned, 7-8 minutes. Remove turkey with a slotted spoon and pour any fat/liquid out of the pan. Heat the remaining teaspoon olive oil in the saute pan over medium-high heat and cook garlic, ginger, mushrooms and onions for 6-7 minutes or until the veggies are soft.
Add the turkey back to the sauté pan along with the sauce and vegetables and saute for 2-3 minutes, until all the ingredients are combined. Mix in sesame seeds, cashews and green onions. Remove from heat.
Serve the turkey mixture along with the separated leaves of the bibb lettuce and additional sesame seeds, cashews and green onions for garnish.