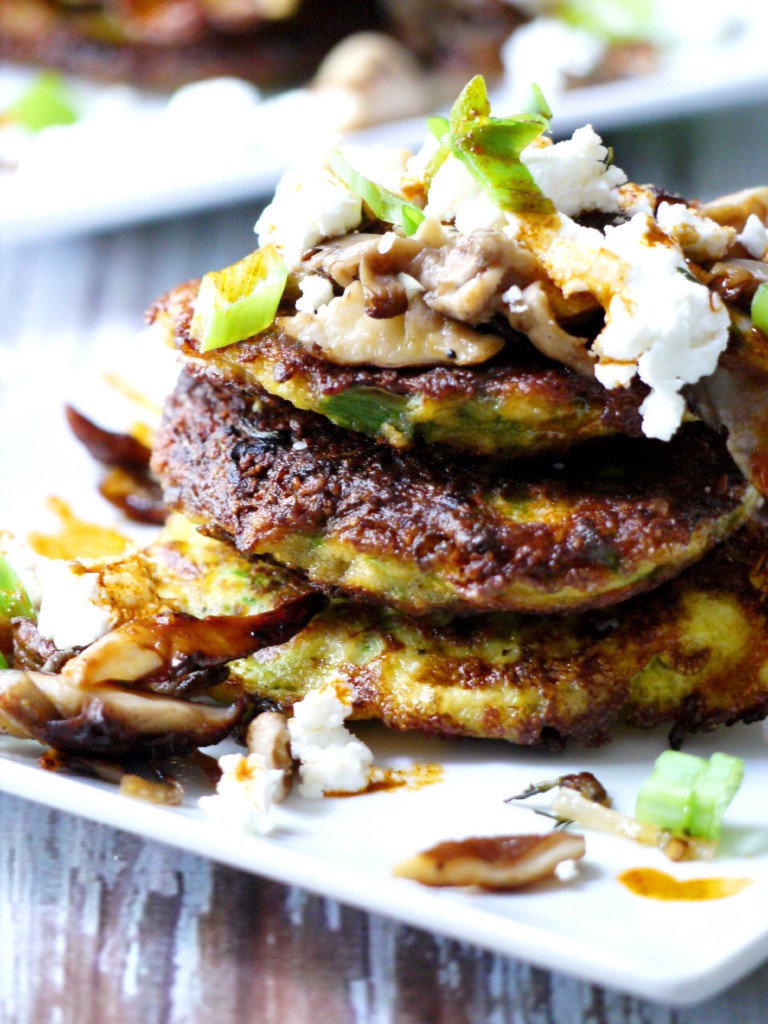 Something awesome happened to me when I was in Paris that I've been dying to share with you guys. While I was eating cheese and posting blogs about cheese-topped tartines, it seems that I peaked the interest of a marketing agency promoting French goat cheese as part of the Original Chèvre campaign. They loved my goat cheese and fig tartines and wanted to know if they could send me samples of French goat cheese to taste and possibly use for a blog recipe. Umm…you want to send me goat cheese….for free….from France?? Let me think about that…. HELL YEAH! Bring on the cheese.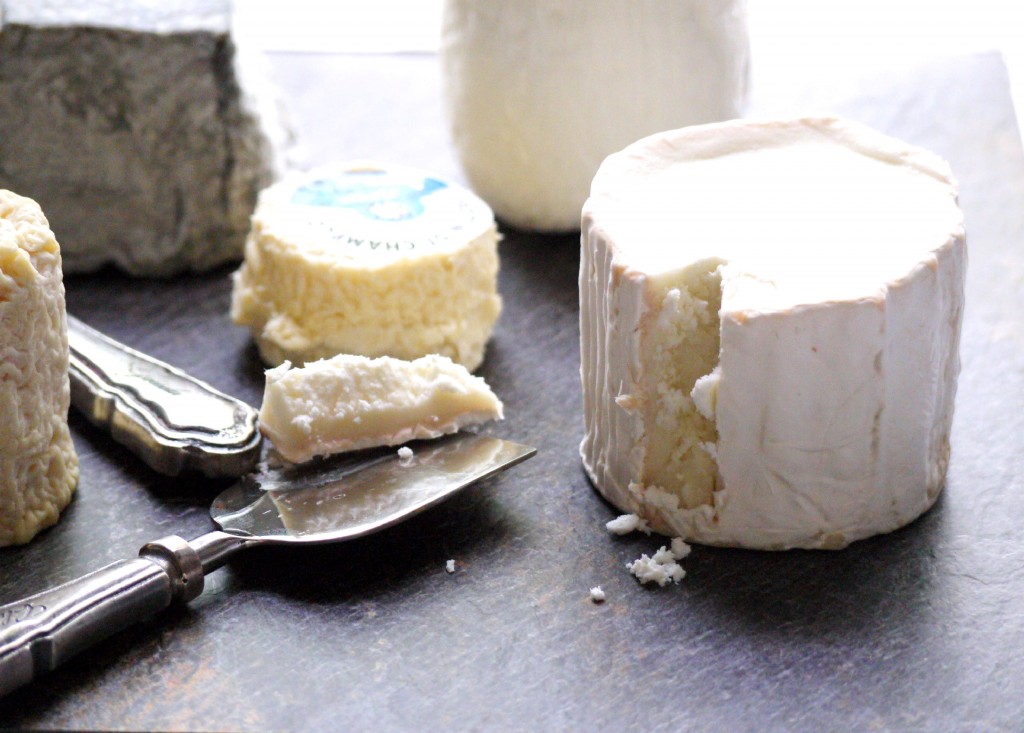 I think I've made my love for goat cheese pretty clear by now. Aside from it being a whole bunch of creamy deliciousness, it's easier on my tummy than some other cheeses and it's more versatile than a lot of people give it credit for. Ever had goat mozzarella or goat cheddar? How about goat gouda? Basically, it's just my all-around favorite. So, to have someone send me five, I repeat, FIVE, different kinds of goat cheese from France to sample is pretty much my dream. Cue the spotlight, I have arrived. 🙂 Sorry, I'm getting a little carried away. Free cheese will do that to a girl.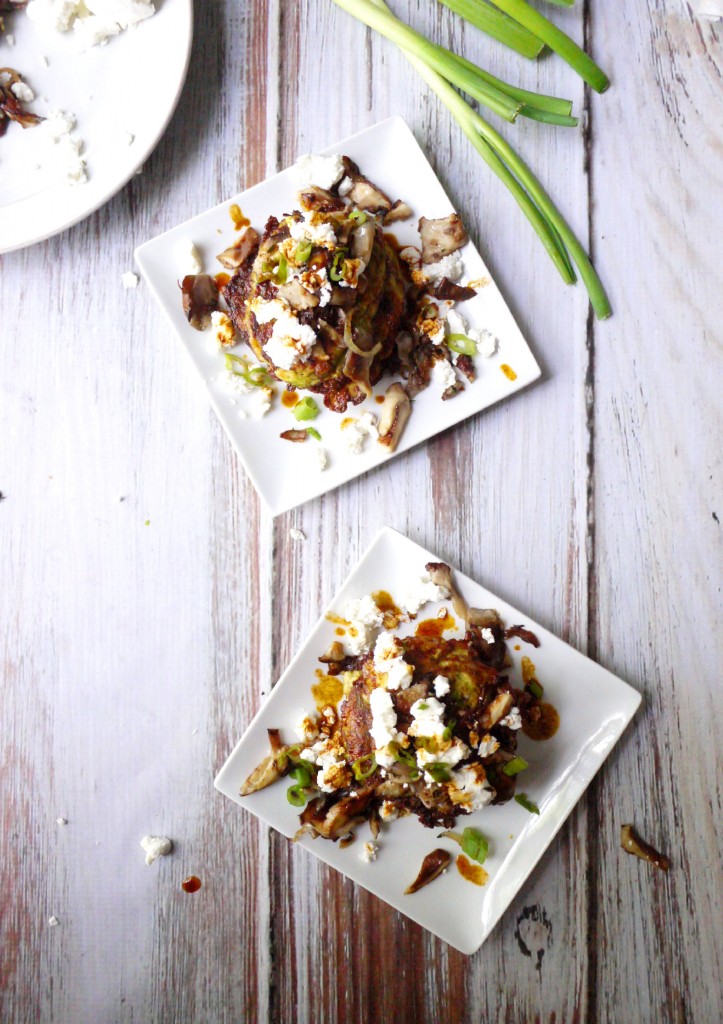 So let's get down to the important part. What I did with all that cheese. Well, first I ate it. Then, I served some of it at a party – let's just say that the ash rind and the bucheron were a big hit. Shocker because bucheron is one of the most amazing goat cheeses ever. Then, I crumbled some of the cheese on a mushroom and caramelized shallot pizza. Yeah, that wasn't bad.
Then, I made this.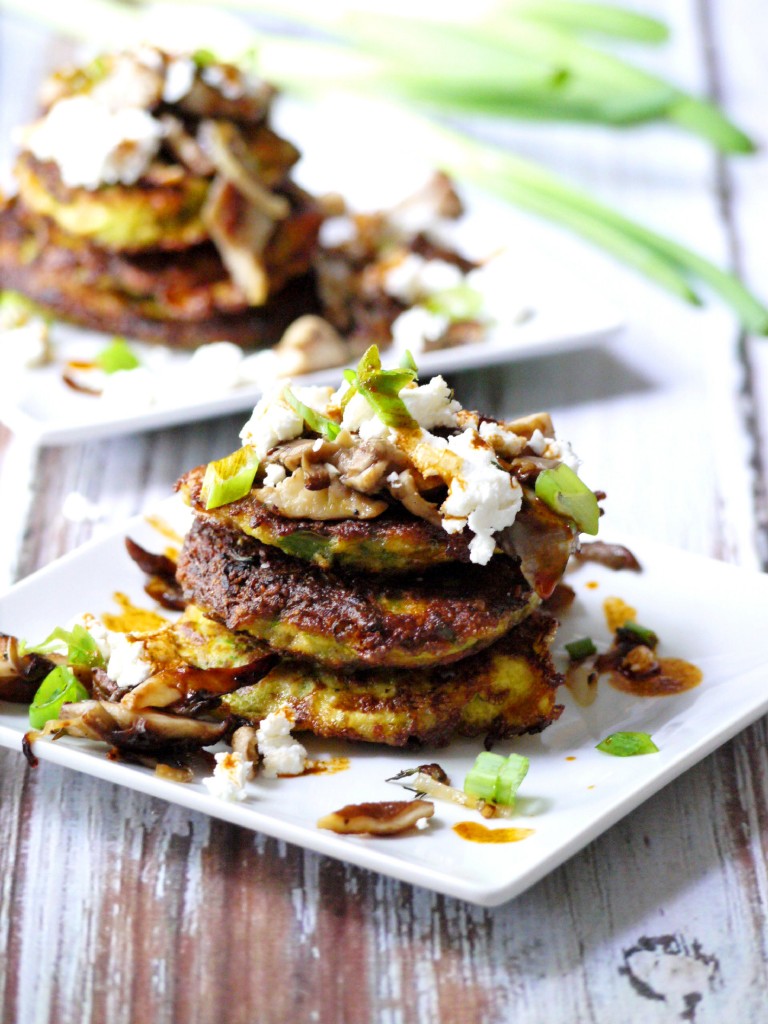 Zucchini Pancakes with Wild Mushrooms, Goat Cheese and Garlic Chili Oil. It's a mouthful – to say and to eat. But, in a good way. The idea came to me awhile back but it has been languishing in my blog-recipes-to-share list while I obsessed over things like pop tarts and baby showers. Until the goat cheese that is. The Le Cornilly goat cheese to be exact.
As obsessed as I am with the cheese, I am even more obsessed with this new dish. I mean, zucchini pancakes in their crispy, latke-like form are perfection on their own, but when you add sautéed wild mushrooms, crumbled goat cheese and spicy garlic chili oil, it's like a whole new level of eating. Not just blog-worthy, but restaurant-worthy, according to my hubby. And, if you've been a long-time blog follower, you know there are only a few dishes that I've created that the hubby has deemed restaurant worthy. So, yeah, I'm pretty jazzed. He even followed up with me to make sure that I was posting this recipe on the blog. Like I would forget.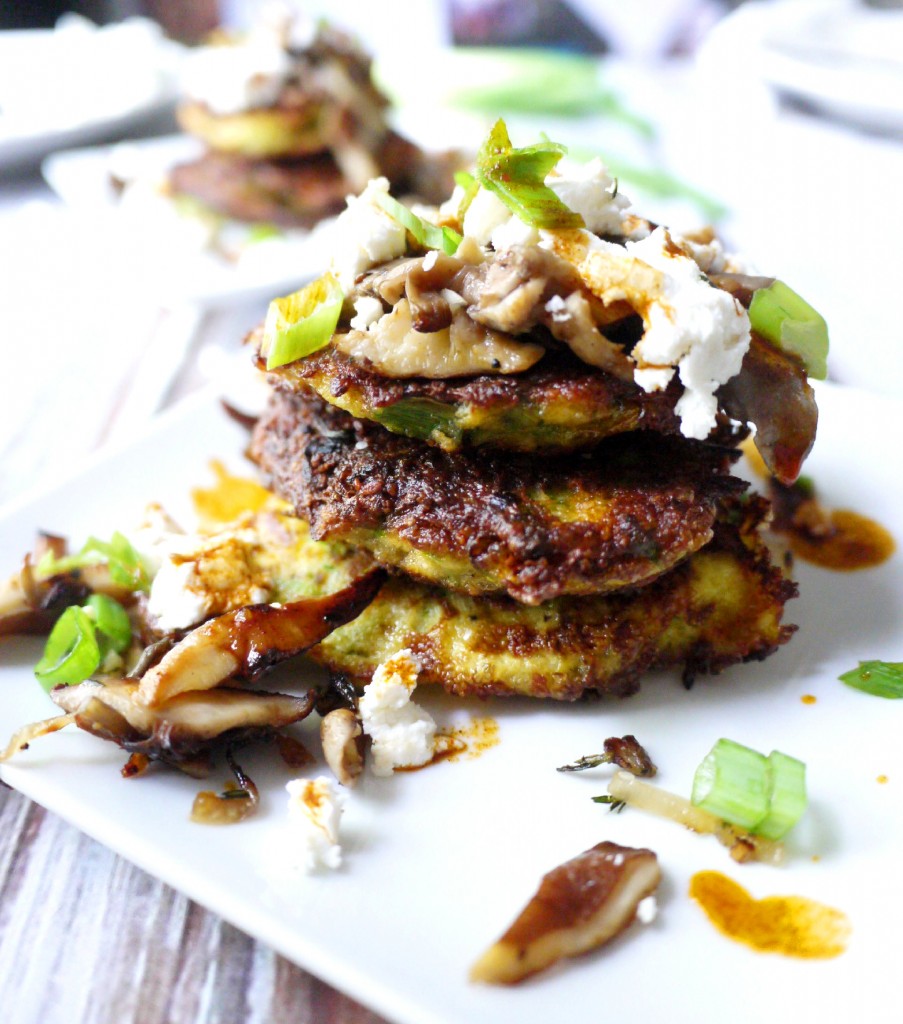 Oh, and I must stress that there is no meat in this dish and the pancakes are gluten-free and he didn't even notice. Seriously, there was no, how about we crumble some bacon on top or I'm going to make some chicken to eat with this. He just straight up inhaled and then asked why I didn't make more. Good question, Alasdair. Good question.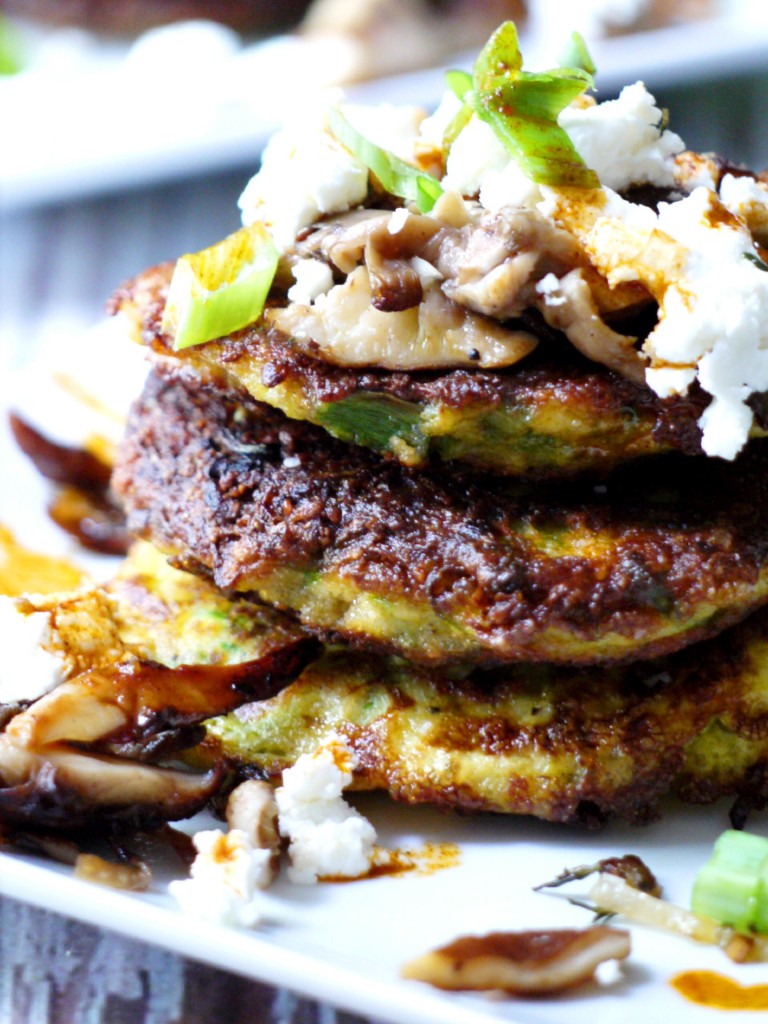 Zucchini Pancakes with Wild Mushrooms, Crumbled Goat Cheese & Garlic Chili Oil
This recipe has a few different parts that all come together to make magic. The garlic chili oil is adapted from a
Bobby Flay recipe
and really gives the dish a spicy zing. The zucchini pancakes are adapted from a
Simple Recipe zucchini fritter recipe
to be gluten-free. You can serve one pancake with toppings for a classy appetizer or serve three pancakes stacked with toppings for an entree.
Author:
Healthy Recipe Ecstasy
Recipe type:
Appetizer/Entree
Ingredients
Zucchini Fritters:
2 medium zucchinis, coarsely grated
1 teaspoon kosher salt, plus more for garnish
½ cup almond flour
2 scallions, finely chopped, plus more for garnish
2 medium eggs
¼ teaspoon freshly-ground black pepper
3 tablespoons olive oil
Mushroom & Goat Cheese Topping:
4 cups mushrooms (combination of portobello or crimini, shiitake and oyster mushrooms), roughly chopped
2 cloves garlic, minced
⅛ cup thinly sliced shallots
1 tablespoon fresh thyme leaves
Kosher salt, to taste
Freshly ground black pepper, to taste
2 tablespoons olive oil
4 ounces Le Cornilly goat cheese, crumbled (or another soft goat cheese if you can't find Le Cornilly)
Garlic Chile Oil:
½ cup pure olive oil
3 dried New Mexico peppers
2 tablespoons chile powder
1 large garlic clove, minced
Instructions
Zucchini Fritters:
Salt the zucchini with about 1 teaspoon of salt. Try to remove the excess moisture from the zucchini by squeezing the liquid out with paper towels.
Whisk eggs in a large bowl; add the zucchini, almond flour, scallions, and black pepper. Mix to combine well.
Heat olive oil in a large skillet over medium heat. Drop six mounds of batter (approx. 2 tablespoons each) into the skillet. Flatten slightly. Cook, turning once, until browned, 4-5 minutes on each side. Transfer to a paper towel-lined plate. Sprinkle with salt.
Mushroom & Goat Cheese Topping:
In a large mixing bowl, combine the mushrooms with the shallots and thyme, and then season to taste with salt and black pepper.
Heat olive oil in a large skillet over medium high heat. Add mushroom mixture and cook for 8-10 minutes or until mushrooms have released all their moisture and started to brown.
Garlic Chili Oil:
Place all ingredients in a blender and puree. Strain mixture through a fine strainer. Set aside. This may be done up to one day in advance.
To Assemble:
Put one pancake on a small plate. Top with the mushroom mixture and crumbled goat cheese. Drizzle with garlic chili oil and scallions for garnish. Repeat with the remaining pancakes and toppings.
NOTE: The serving size is based on appetizer portions (1 pancake per person).