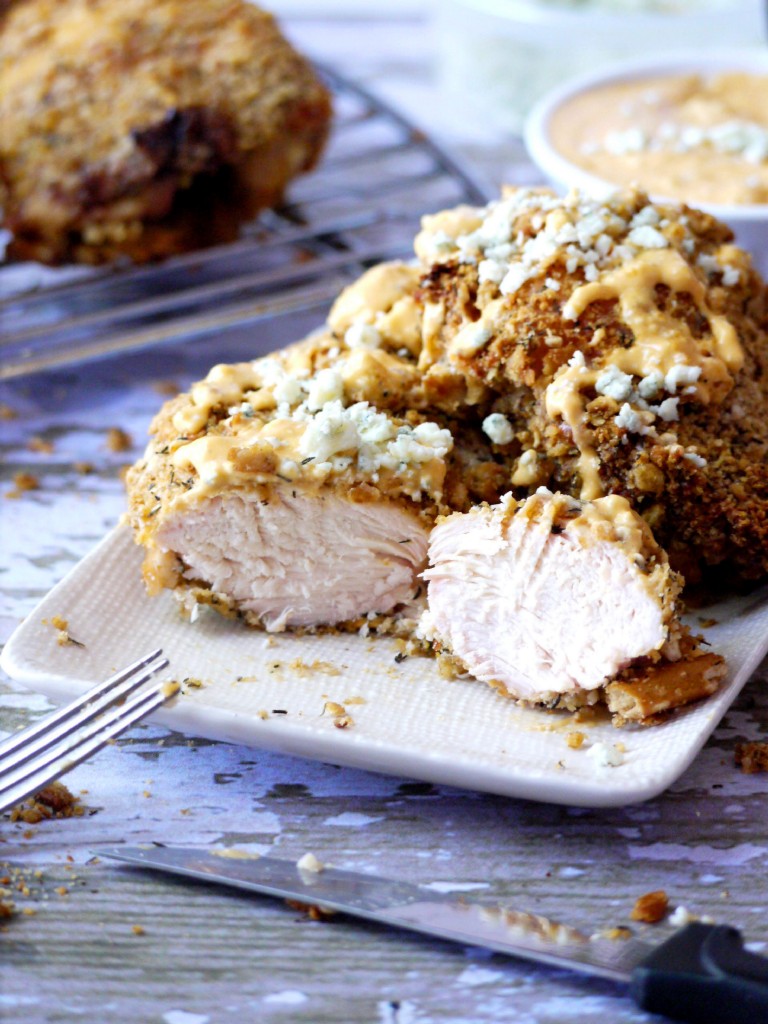 So, this Sunday is Father's Day, and, according to the internet, it's a day for golfing, grilling and eating meat. Ever notice how we generally envision men, father's especially, as carnivores? I know that's absolutely not true as I meet more and more male vegetarians every day; however, in my life, it's definitely the case. My husband and father of our cats is a true carnivore. Every once in a while he will surprise me by saying he wants to eat less meat, but usually it pains him to go through a dinner without something carnivorous on his plate like these crock pot ribs. Unless I'm serving these awesome zucchini pancakes. He makes an exception for those.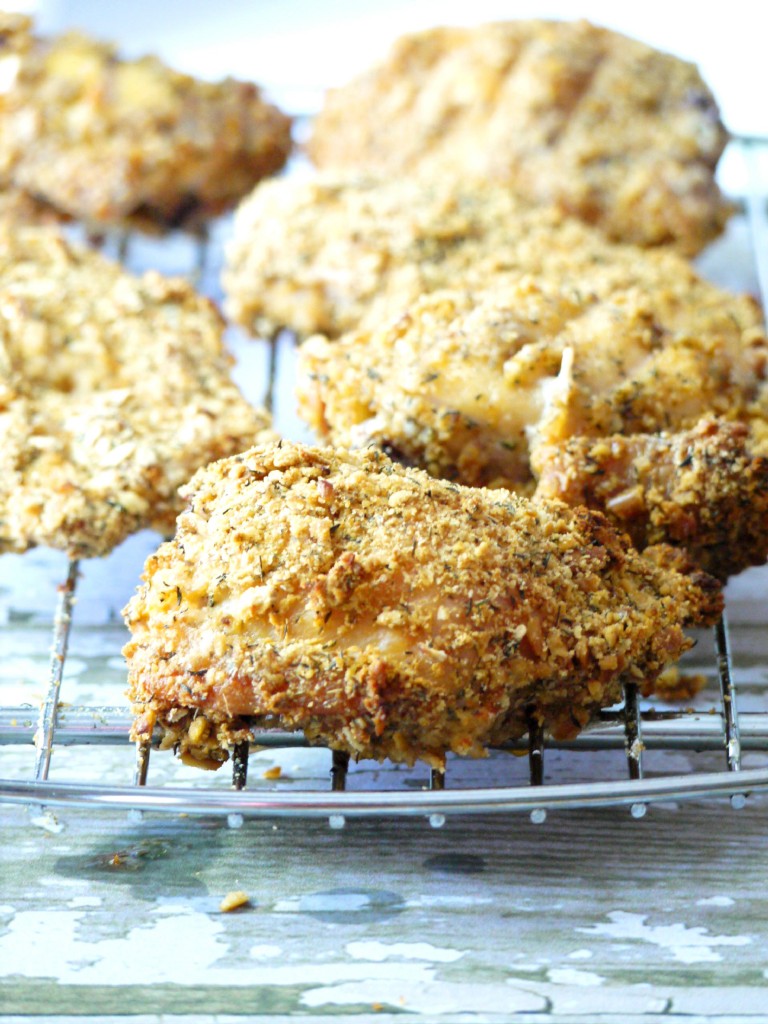 Similarly, my dad, though he tries to be healthy, has a big appetite for steaks, wings, BBQ and fried chicken. In fact, when I recently asked him what his all-time favorite food was he sent me back a detailed list categorized into breakfast, lunch, dinner, dessert and munchies with a first place and second place option, most of which involved meat. P.S. I wonder where I get my love of food and my penchant for list-making??
So, in honor of Father's Day, I thought I would take some of my dad's favorites and combine them together into one granddaddy of a dish with a little side of HRx. Fried chicken + wings + blue cheese + pretzels = pretzel-crusted fried chicken with a buffalo-blue cheese dipping sauce. Drooling, yet? Then, I added my HRx touch by oven-frying the chicken and using a low-fat mayo for the dipping sauce. You would never know that the chicken isn't fried because it comes out of the oven so super crispy and the insides are perfectly moist. Yeah, now you're drooling.
What I love about the dipping sauce is that you can use as much or as little as you want. Maybe, if you're not counting calories, you just want to slather your chicken in sauce.
Helloooo drowning chicken.
Or, like me, you can just drizzle a moderate amount over the chicken for a little bit of spice and blue cheese tang. On that note, I'm not a huge blue cheese fan but it so works in this recipe that I found myself adding even more blue cheese crumbles to my chicken.
Excuse me while I go eat some more chicken. Sorry Dad, I might eat it all before Father's Day… Don't worry though, I'll make another batch. 🙂

Pretzel-Crusted, Oven-Fried Chicken with Buffalo-Blue Cheese Dipping Sauce
This is the perfect dish to please anyone who loves fried chicken and buffalo wings.
Author:
Healthy Recipe Ecstasy
Ingredients
CHICKEN:
3 pounds chicken parts (I used breasts and thighs because that's what I had on hand)
3 eggs, beaten
3 tablespoons buffalo wing sauce
1 and ½ cups pretzels
½ cup flour
2 tablespoon dried thyme leaves
1 teaspoon garlic powder
2 tablespoons olive oil
Freshly ground black pepper, to taste
BUFFALO SAUCE:
½ cup crumbled blue cheese, plus two tablespoons
½ cup low-fat mayonnaise
¼ cup buffalo wing sauce
Juice from ½ of a lemon
Kosher salt and freshly ground pepper, to taste
Instructions
CHICKEN:
Mix together the eggs and wing sauce marinade. Put the chicken large plastic baggie and pour the marinade over the chicken. Put the chicken in the fridge and let it marinate for an hour.
While the chicken is marinating, put the pretzels in the food processor and pulse until they're ground into crumbs. Don't puree so that the pretzels are completely ground - you want a few chunks for texture. Mix in the flour, dried thyme, garlic powder, olive oil and black pepper until combined. Add the mixture to a shallow dish.
After the chicken is done marinating, preheat the oven to 450 degrees F. Then, dredge the chicken in the pretzel mixture, shaking off any excess. Add the chicken to a wire rack placed on top of a baking sheet. Spray the chicken with cooking spray or olive oil. Bake for 15 minutes. Flip the chicken, spray with more cooking spray and bake for another 15 minutes.
Turn the heat down to 375 degrees F and cook for an additional 15-20 minutes or until the chicken is cooked through.
SAUCE:
Add the ½ cup blue cheese, mayonnaise, wing sauce and lemon juice to the food processor and puree until smooth and combined. Add salt and pepper to taste. Mix in the last two tablespoons blue cheese by hand. This gives the sauce a bit of chunky texture while the pureed blue cheese gives the sauce a more even blue cheese flavor.
Serve the buffalo blue cheese sauce alongside the chicken or drizzle it over the chicken along with more blue cheese crumbles.