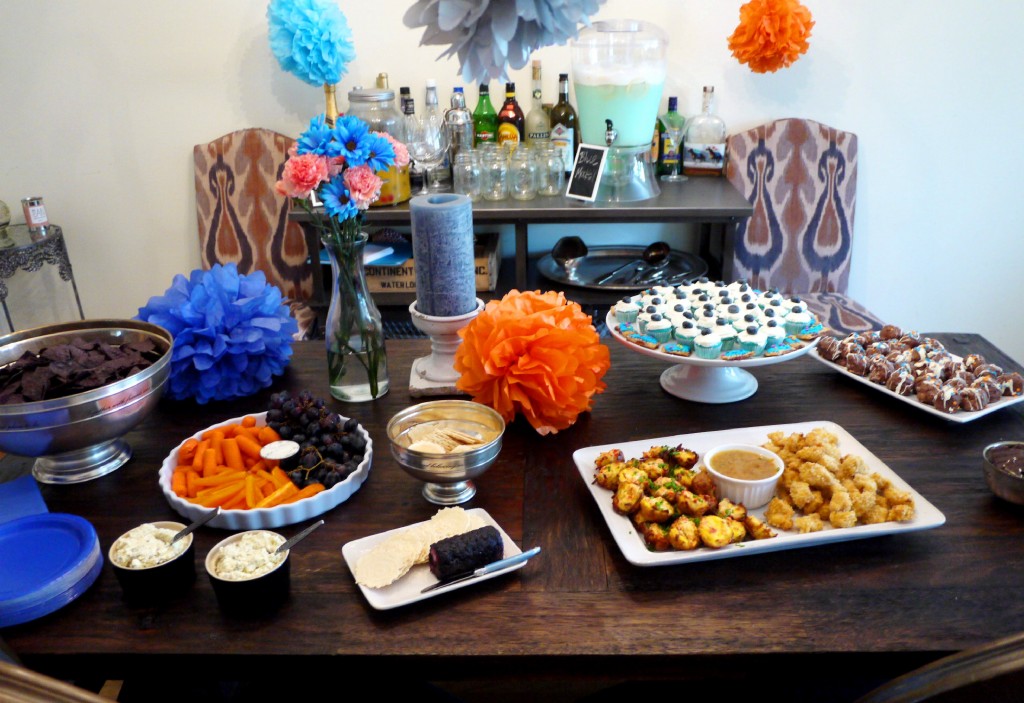 In honor of Mother's Day this Sunday, I'd like to take a minute to honor all the upcoming mothers out there. It seems that every corner I turn lately, I bump into another friend announcing her pregnancy. If you're in your 20s or 30s, I'm sure you've also noticed the drastic decrease in partying pics on Facebook and the drastic increase in baby pics. Fortunately, as a lover of anything in the baby state (human babies, kitties, puppies, etc), I don't mind the obsession with posting adorable pictures of youngins. In fact, I'm a fan of it.
You know what I'm not a fan of? Boring baby showers. You know the ones. Wilted sandwich platters from the grocery store. Extended present opening with no end in sight. And don't get me started on the candy bar diaper game. No one likes that!
So, when my friend, Heather, told me she was pregnant, I rallied together with our two girlfriends, Amy and Soquel, to create a vibrant, fun shower with delectable appetizers and no melted chocolate in sight. Rather than checking my watch after the first hour, wondering how much longer the shower would last, I was shocked when I realized that three whole hours had gone by before our guests started leaving. We had a happy mama-to-be, satisfied guests, and Amy, Soquel and I didn't leave the party exhausted.
Here are my tips for throwing a shower that will impress your guests without breaking the bank or losing your sanity:
1. THEME: I find that every party is easier with a theme. Not only does it give the party a cohesive vibe, but it narrows down the endless field of choices. For Heather's shower, to match the bright blue and orange invitations (inspired by their brightly-colored nursery), we chose a blue and orange color scheme for the decorations and the food (to the extent possible). Soquel made these adorable tissue paper pom poms which were actually a hot topic of conversation as everyone wanted to know how she made them.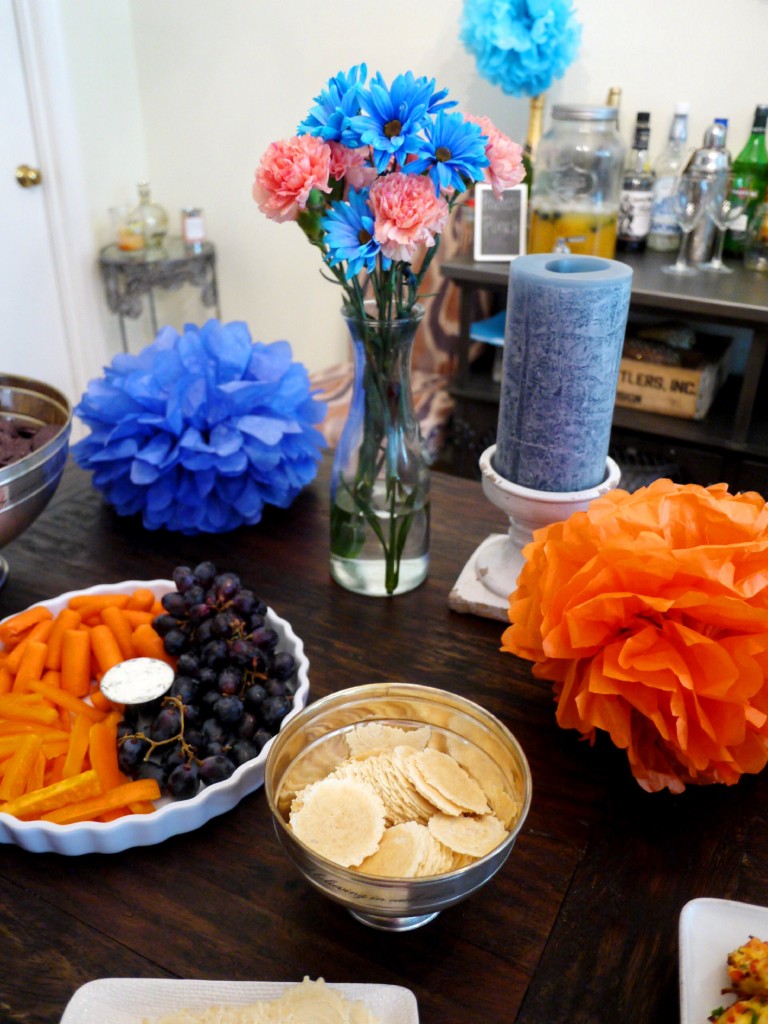 2. GAMES: Choose games that everyone will like and that will get people talking and interacting. We played two games. The first was a baby trivia game. Along the lines of "how many diapers does a baby go through a day?" I find that trivia goes over really well at showers. The second game was a "name the celeb's baby" game. I've done this game at a couple different showers and everyone always loves it. Sometimes it's done with pictures of celebrities as babies. Other times, you have to name the celebrities' children. For example, what are the names of Gwyneth Paltrow's kids? Apple and Moses. Extra credit or tie breaker if you can name all six of the Brangelina tribe. You can make your own game or buy one from online sites like ETSY.
3. FOOD: This is the most important part of a shower to me (shocking, I know!), and, surprisingly, the hardest part for this theme as there are not that many naturally blue foods out there nor are there ready-made menu ideas on the internet for blue and orange showers. But, by having the shower in the mid-afternoon, between lunch and dinner, we were able to keep the menu light and focus on a few really cute snack ideas. This also helped with the amount of work and the money situation. Also, for any baby shower, I love, love, love doing "baby" or "mini" finger foods like sliders and mini baked potatoes.  Here is the menu we used:
Crazy feta dip w/ blue corn tortilla chips and baby carrots
Blueberry cinnamon goat cheese and crackers
Salmon and chive hash brown cups with cheddar cheese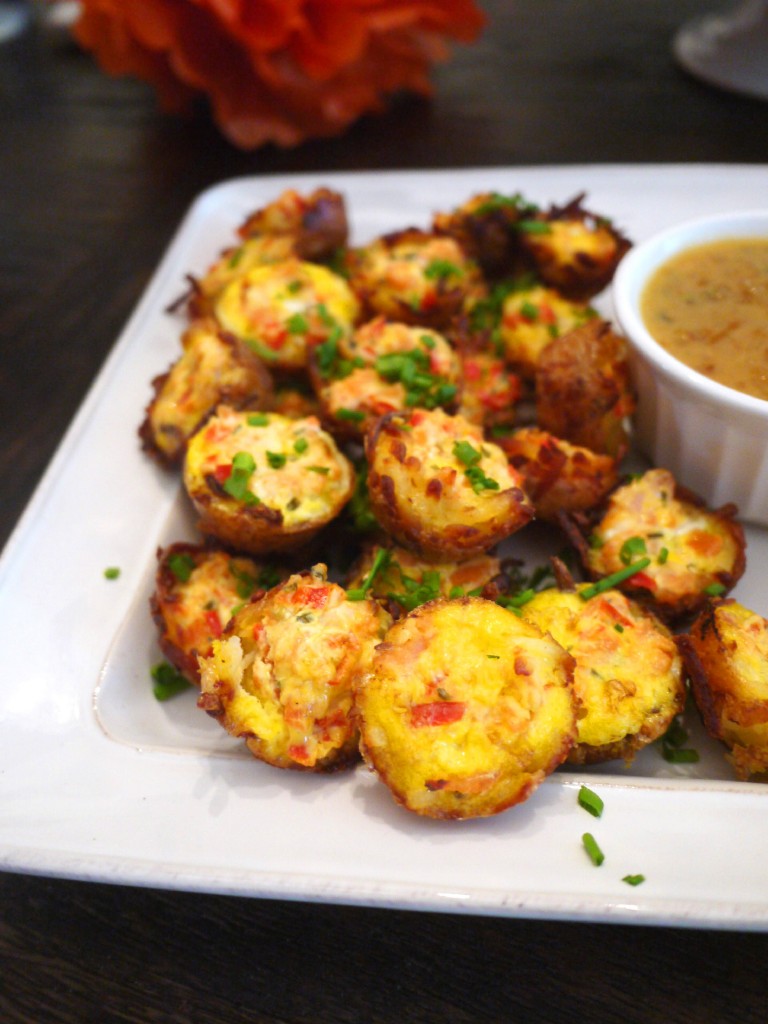 Panko-crusted chicken bites with apricot-mustard dipping sauce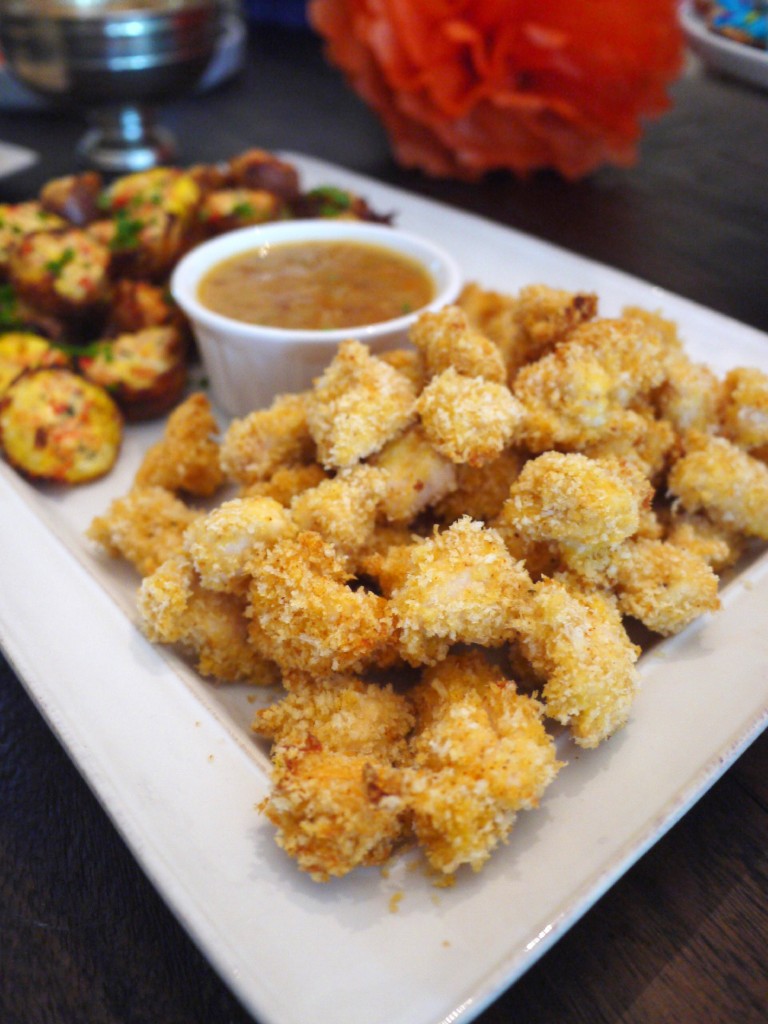 Cake balls with blue and orange sprinkles (if you have time, these are adorable)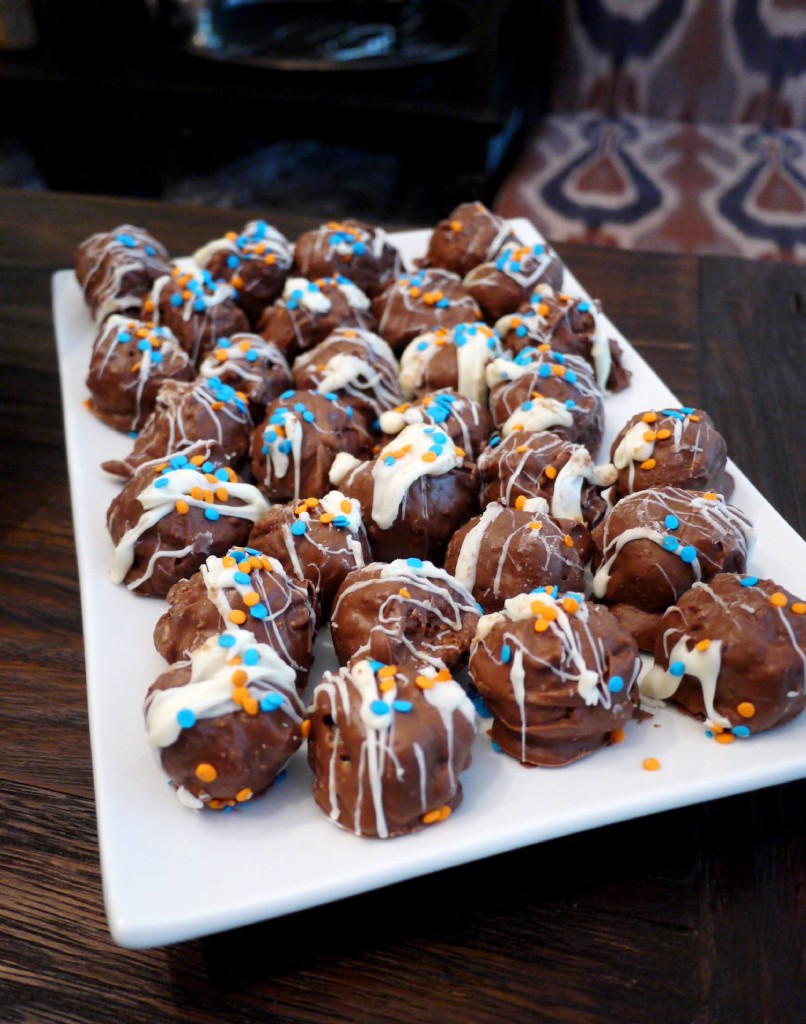 Mini pop tarts with blue icing – you can go hardcore homemade and follow this recipe or you can go semi-homemade with ready-made pie dough, jam and store-bought frosting. I went the easy route due to lack of time but stay tuned for next week when I share my own homemade pop tart recipe.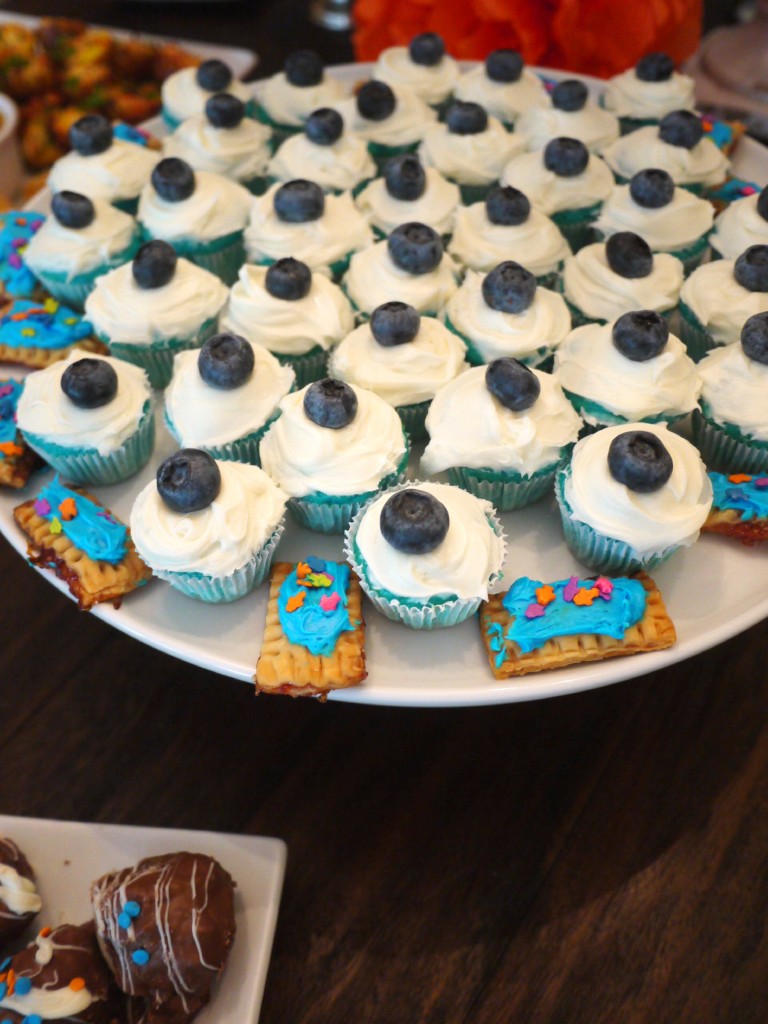 Peach prosecco punch. These Apricot-Ginger Bellinis from Cooking Light would have been another good choice.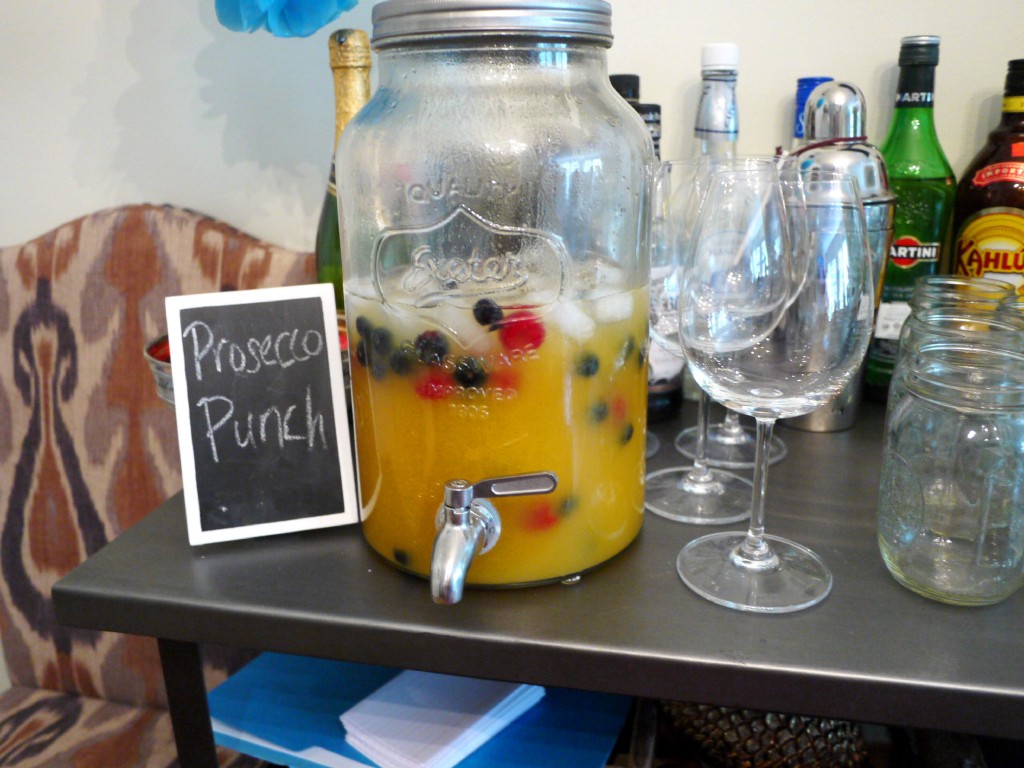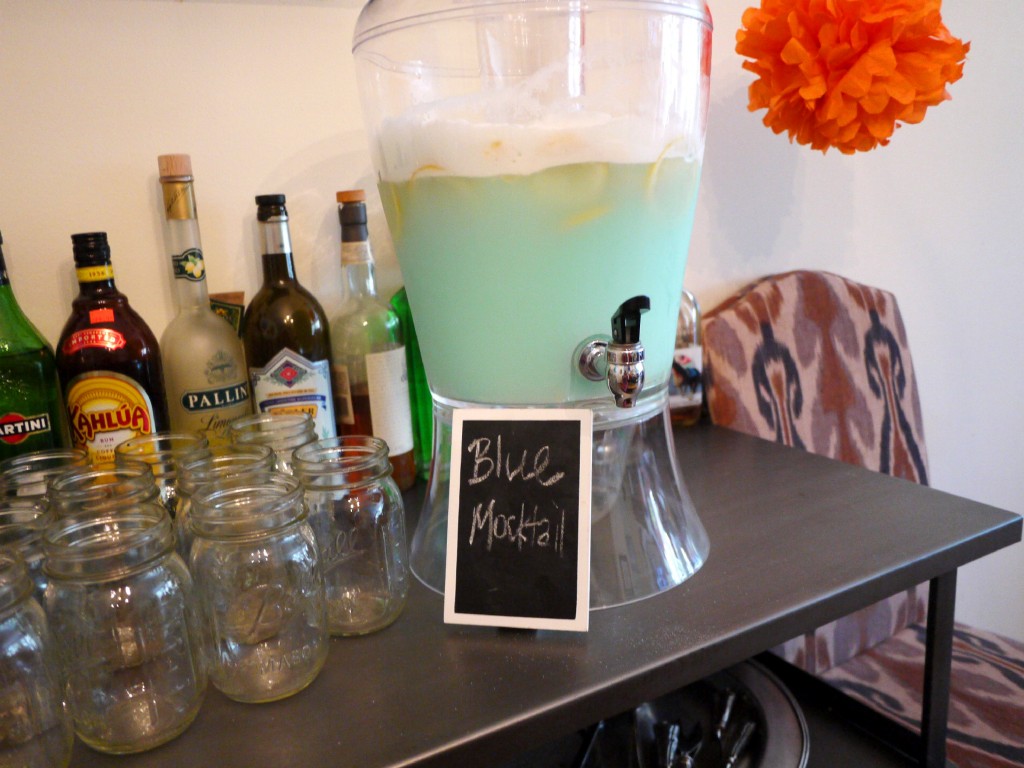 4. FAVORS: I love useable favors. I don't know about you, but I don't want to stockpile baby shower favors, so unless it's food or something useful, it's eventually going in the trash. We chose "She's About to Pop" favors with buffalo parmesan popcorn. We made our own labels but you can get really cute labels online. This works well for a big shower or little shower as popcorn is inexpensive and it's easy to make a large amount. Speaking of shower size, I find that it's better to keep the guest list small to keep the present opening time limited. I like the idea of two showers with two different sets of friends/family so that the mama-to-be can actually speak to people rather than a gigantic shower where she falls asleep opening presents for two hours. However, if a large shower is a must, you can do the following to cut down on the drudgery of present opening: 1. Have an unwrapped shower where no one wraps their gift 2. Mix it up by opening some presents, playing games and then going back to present opening. 3. Turn the present opening into a game.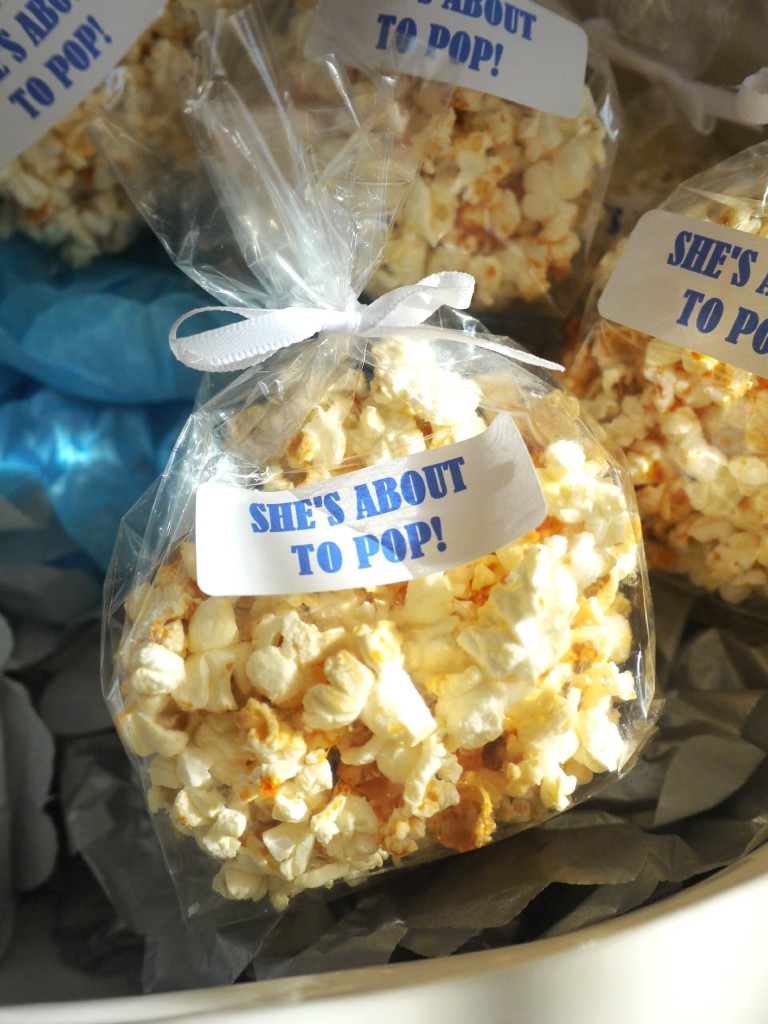 And, finally, don't try to do everything on your own. Get together with friends and divide and conquer. I would have been a frazzled mess if I threw the shower by myself. However, with Soquel focusing on decorations, me focusing on food and Amy focusing on everything else, we were able to pull the shower together with minimal time and effort and actually enjoy it. And, really, celebrating with your favorite mama-to-be is the most important part, isn't it? 🙂