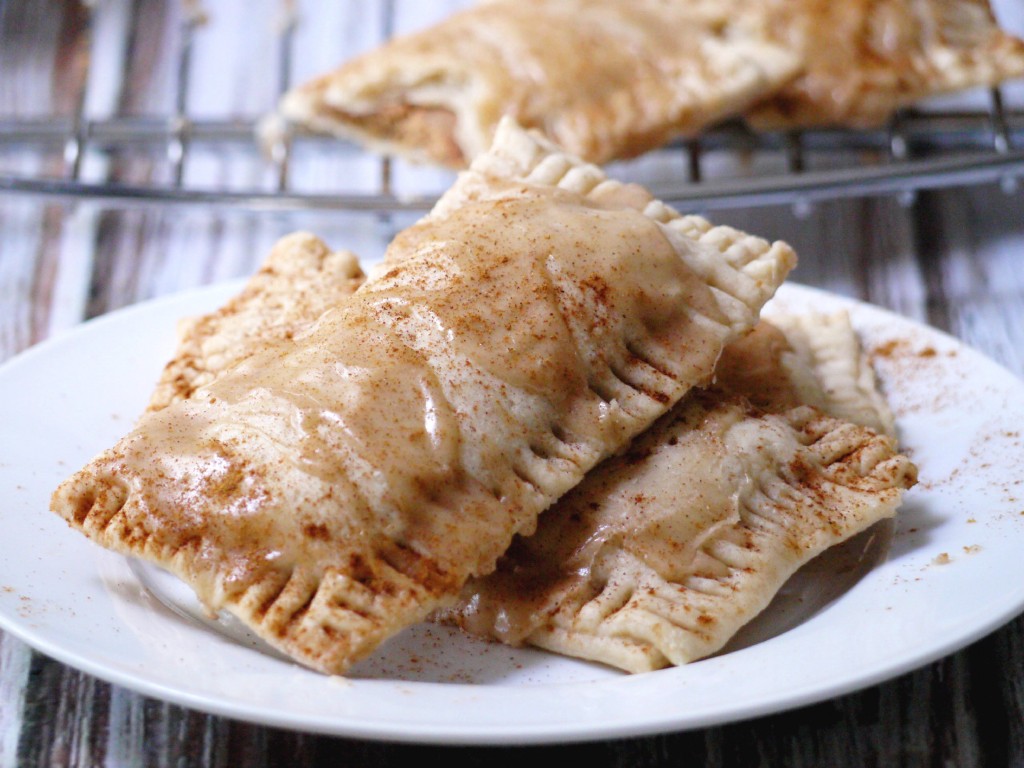 When I was a kid, I loved me some strawberry pop tarts. That's right. I loved me some food-color-enhanced, chemical-laden, high-fructose-corn-syrup-filled pop tarts. Back then, I loved a lot of things that were not good for me.
My goal for the baby shower was to make homemade mini pop tarts but time was not on my side, and I was forced to go with a semi-homemade version (still adorbs, right?) using ready-made pie dough, no-sugar added strawberry jam and store-bought bright blue frosting in honor of the blue and orange-themed shower. Slightly healthier than store-bought pop tarts but we all know that blue frosting is not au natural. In my search for blue-colored foods for the shower, I learned that there are very few naturally occurring blue foods.
After the shower, I was a little depressed that I didn't get a chance to do the full shebang with the tarts — homemade pie crust, homemade filling and homemade icing. Yes, this is the kind of thing that upsets me. #foodbloggerproblems. So, naturally, I spent the week following the shower planning my pop tart do-over. I thought long and hard about the ingredients, and it was an obvious choice to stick with my trusted favorite: strawberry. But, then, I saw peanut butter bacon pop tarts at a restaurant near my house, and I could not get those out of my head. Then, through the course of a week, peanut butter bacon pop tarts became almond butter bacon pop tarts which became almond butter pop tarts with maple syrup which became almond butter pop tarts with a maple-cinnamon glaze which became my newest savory-sweet breakfast obsession.
Just a small look into the mind of a warped, slightly OCD and obsessive food blogger.
You're probably wondering what happened to the bacon. Well, that's another story. I was dying to make this vegan pie crust I saw on Food52 using coconut oil instead of butter. So, I thought, alright, I'll make these pop tarts vegan. Yeah, vegan almond butter bacon pop tarts = perfect. Except…whooops….bacon is soooo not vegan. Hello coconut oil, buh-bye bacon. And this is what happens when you love trying vegan recipes but also harbor a deep need for bacon. Have I mentioned I'm a Gemini? Two opposing personalities. Vegan v. Bacon. Cheese Lover v. Lactose Intolerance. Welcome to my life.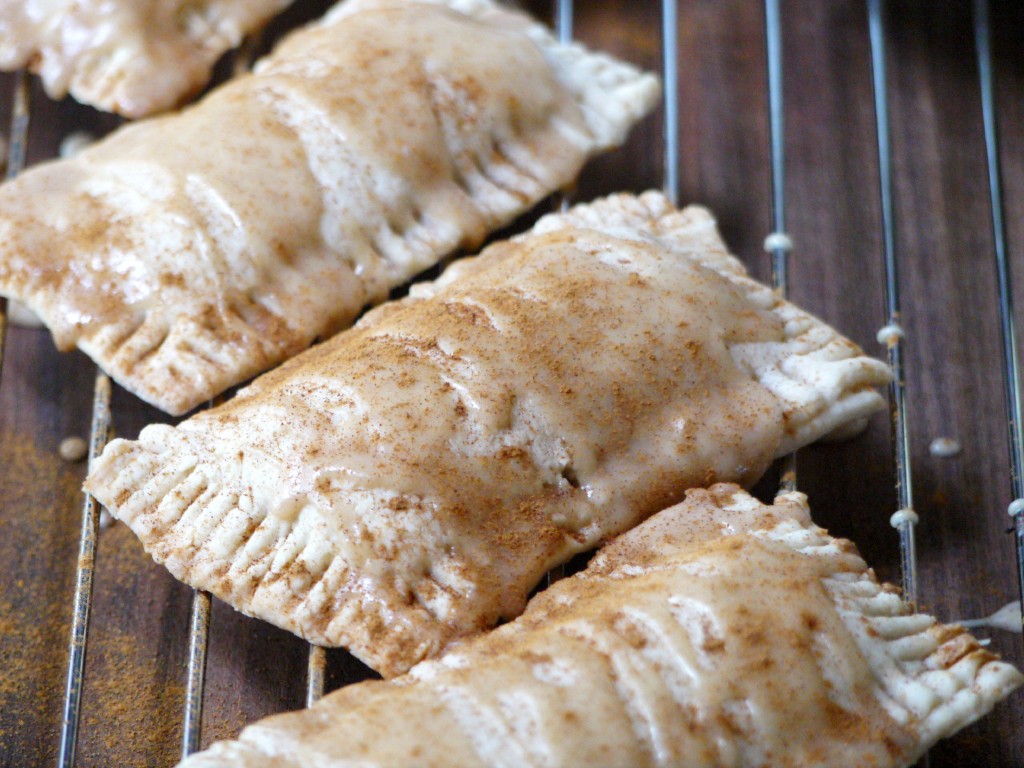 Anyways, let's get back to the matter at hand. I worked out my internal struggles and I've been rewarded with these amazing dairy-free, vegan pop tarts that are so good, dare I say, I don't even miss the bacon or the strawberry. They're made with a healthy chunk of almond butter which will be way more satisfactory than strawberry jam in terms of hunger satiation. Yes, there's a little bit o' sugar, but I guarantee you not anywhere near as much as regular pop tarts. No high-fructose corn syrup in sight! Oh, and did I mention they're freaking delicious? Like, I made them for a catering gig and one of the women said she couldn't stop eating them. Umm…yeah…I know how she feels. I can't stop eating them either. They're that good. Just look at that flaky crust.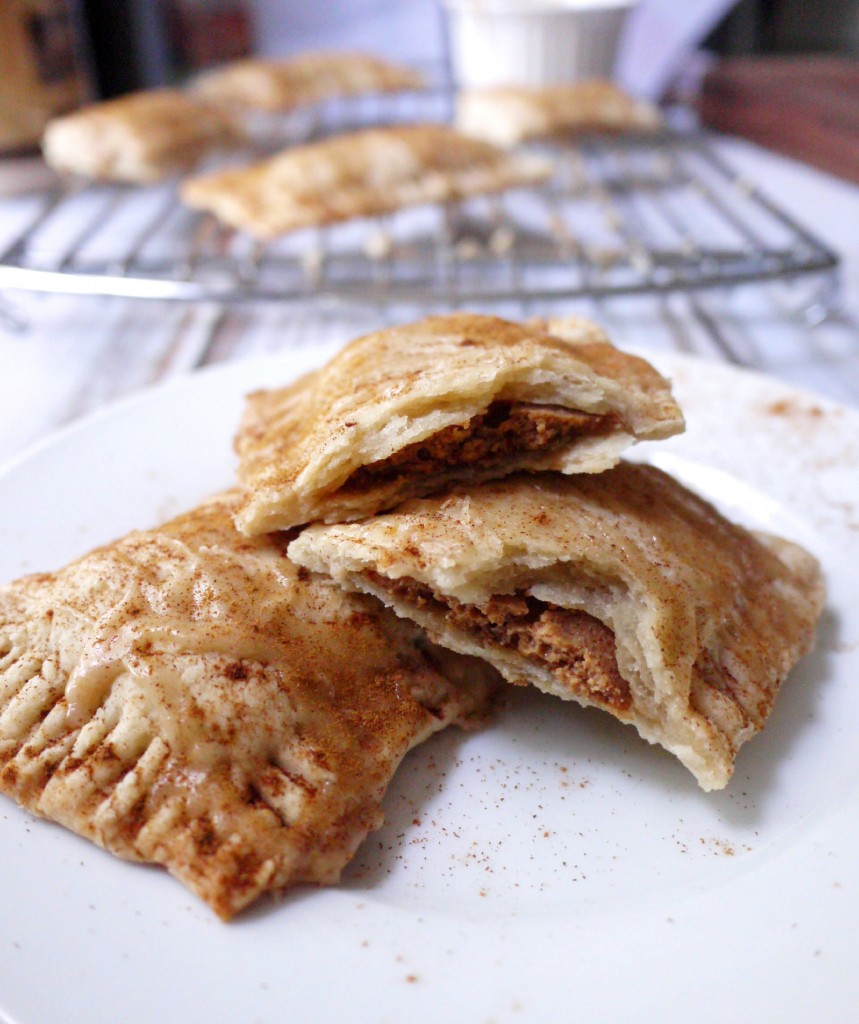 Oh, P.S. You can make these any size you want. Regular, medium or teeny tiny. Hehe, so cute!
Almond Butter Pop Tarts with Maple-Cinnamon Glaze
The vegan pie dough is barely adapted from
Gena Hamshaw
at Food 52. The rest is all me.
Author:
Healthy Recipe Ecstasy
Recipe type:
Breakfast/Snack
Ingredients
Vegan Pie Dough:
1 and ¼ cups all-purpose flour
1 teaspoon table salt
1 tablespoon raw cane sugar
½ cup (more as necessary) coconut oil, cool enough to be solid
½ cup ice water, plus more water for brushing the dough pieces
Almond Butter Filling:
1 cup raw almond butter
2 teaspoons light brown sugar
1 teaspoon vanilla extract
⅛ teaspoon kosher salt
Maple-Cinnamon Icing:
1 cup powdered sugar
¼ cup maple syrup
1 tablespoon coconut oil, melted
1 teaspoon unsweetened almond milk
¼ teaspoon cinnamon, plus more for garnish
Instructions
Vegan Pie Dough:
Start by placing the flour, salt, and sugar in the bowl of a food processor fitted with the S blade. Pulse to combine. Add your solid coconut oil and pulse until mixture is crumbly and will stick together when you squeeze it. Pulse in ½ cup water, or until the dough holds together well when you make a handful of it and is visibly starting to come together in the food processor. It's fine to have a lot of crumbs still--that'll make a good, flaky crust--but it should be easy to shape into a large ball, too. If necessary, add a little more water until the texture is right. Alternately, you can cut the oil into very small pieces and work them into the flour with bare, dry hands. Add the water and

knead

the whole mixture together until it has the texture described a moment ago.
Turn dough onto a clean, dry surface that has been dusted with flour. Divide the dough in half and shape each half into a smooth rectangle. Wrap each half in plastic and refrigerate until ready to use.
Almond Butter Filling:
Add the almond butter, brown sugar, vanilla extract and salt to a food processor. Process until all the ingredients are combined. Set aside.
Maple-Cinnamon Glaze:
In a small bowl, combine confectioners' sugar, maple syrup, melted coconut oil, almond milk and cinnamon. Stir until combined. Set aside.
To

Assemble

:
Heat your oven to 350 degrees.
If the dough has been chilled, remove it from the refrigerator and allow it to soften and become workable, about 15 minutes. Place one piece of dough on a lightly floured work surface, and roll it out and trim it into a rectangle about ⅛ inch thick. Cut the dough into 4 smaller

rectangles

about 3 x 4 inches in size. Repeat with the second ball of dough. Re-roll the trimmings to cut another 4 rectangles. You should have 12 rectangles in total to make 6 pop tarts.
Brush water over the surface of half the rectangles. Place a generous tablespoon of almond butter filling into the center of each rectangle, keeping a bare ½-inch perimeter around the filling. Place a second rectangle of dough atop the first, using your fingertips to press firmly around the pocket of filling, sealing the dough well on all sides. Press the tines of a fork all around the edge of the rectangle to make the pop tart edge design. Repeat with remaining tarts.
Gently place the tarts on a lightly greased or parchment-lined baking sheet. Prick the top of each tart multiple times with a fork. Bake them for 20 to 25 minutes, until they're a light golden brown. Cool in the pan for two minutes and then transfer to a rack to cool.
Once the tarts are cool, spoon a thin layer of maple glaze on each tart and dust with extra cinnamon.
MAKE THEM MINIATURE: Instead of cutting the dough into large rectangles, you can cut the dough into 1 and ¼ inch by 2 inch pieces which should yield about 26-28 mini pop tarts. Use ¼ teaspoon almond butter filling for each pop tart.