I know…that name is ridiculous. I can say that because I came up with it. "Chive and Fontina Eggs in Prosciutto Nests." It's like the name of a soap opera star or a pedigree dog. My family once had a dog whose regular day-to-day name was Puppy, but her pedigree name was Madame Pupastania of Pom. Try saying that without unintentionally falling into a British accent. Though Puppy was the sweetest dog ever and never one to live up to her silver dog boned fancy name, every time I thought of her as Madame Pupastania of Pom, I felt that I should curtsy in her presence. As if she were our master instead of the other way around. And when you love your animals isn't that usually the case anyways?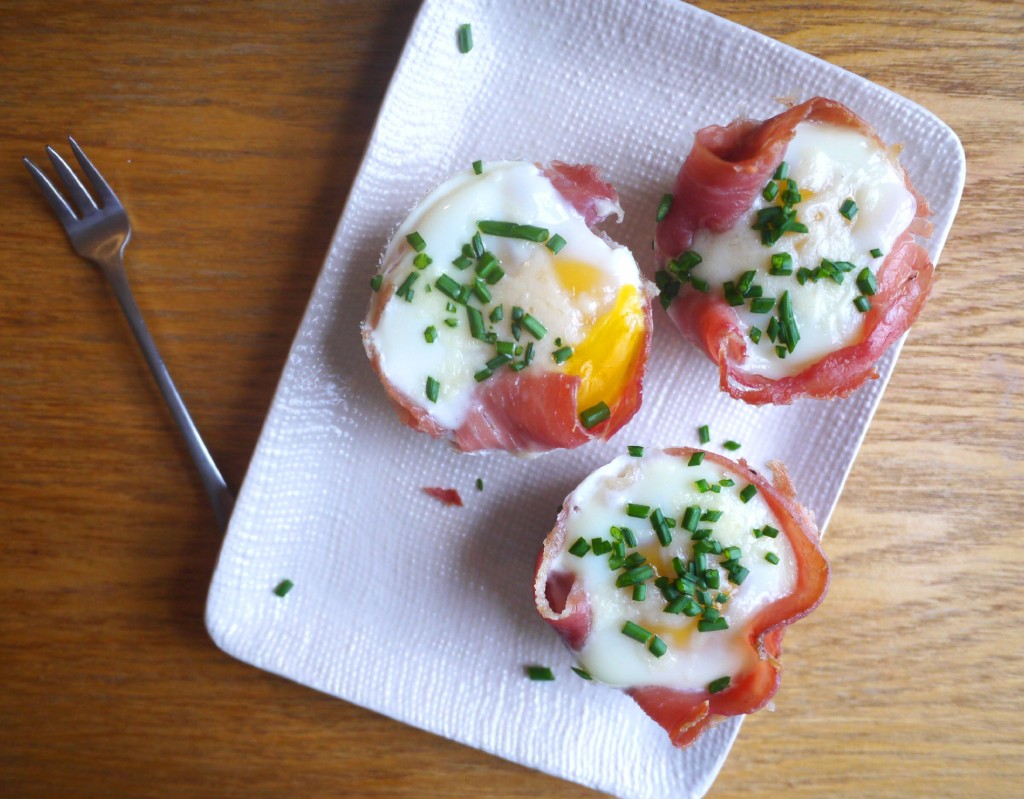 That's how I feel when I see the name of this dish. Like I should get out a proper knife and fork (polished silver, of course), put my lace napkin in my lap, and bow before the heavenly prosciutto nests before partaking in their splendor. But, then I look down at the prosciutto nests, like I used to look down at Puppy, and I realize that they, like she, have no idea such a high-class name has been bestowed upon them. They're just sitting around, in their muffin tins, looking cute as can be, waiting to be picked up, cuddled and brought home (home being my mouth). No silver cutlery or linen napkins necessary.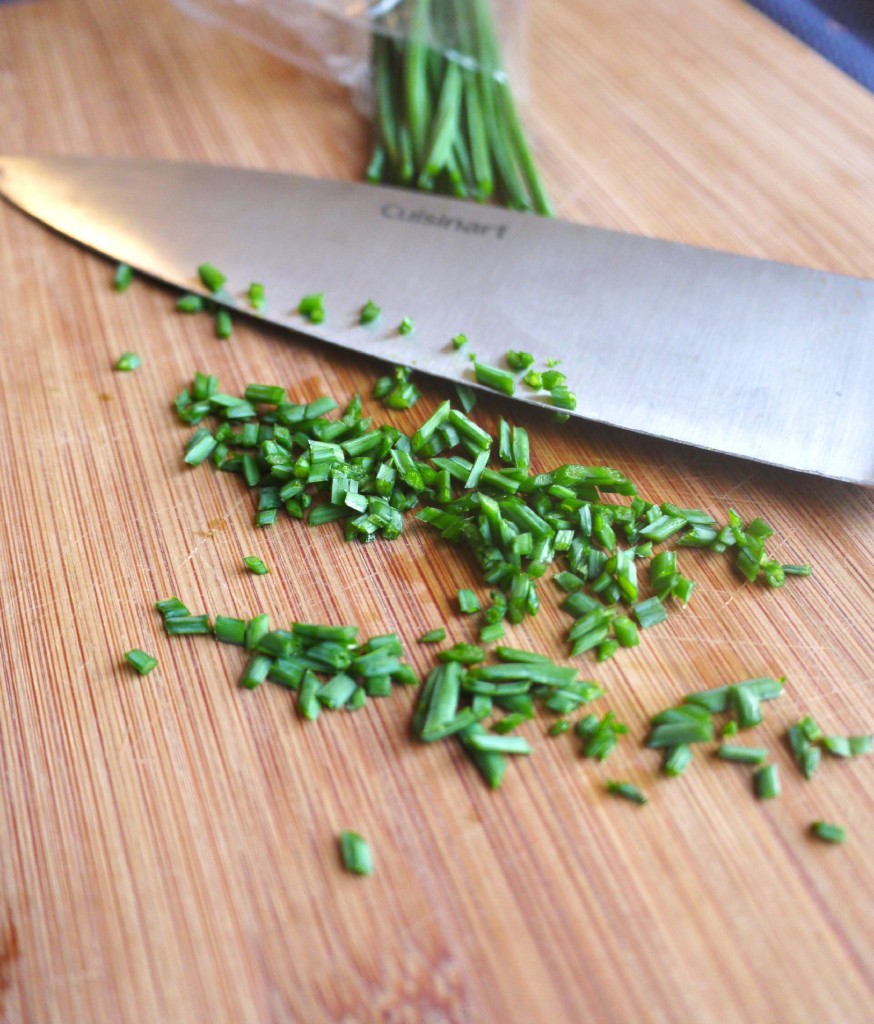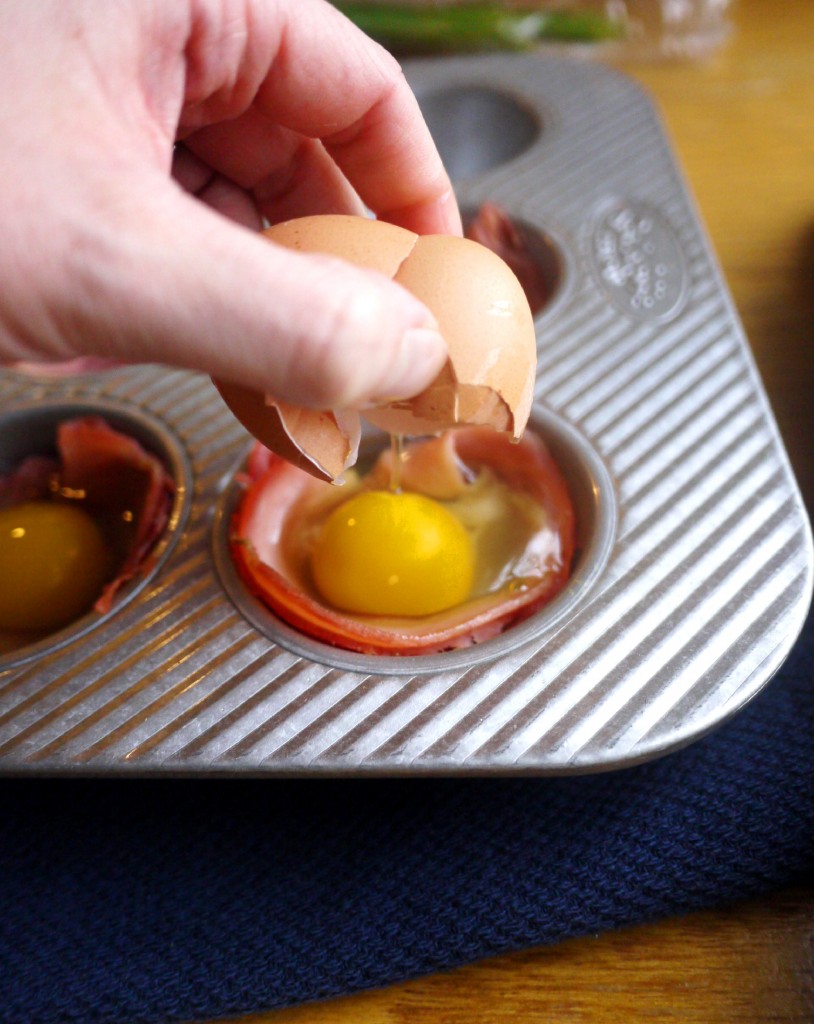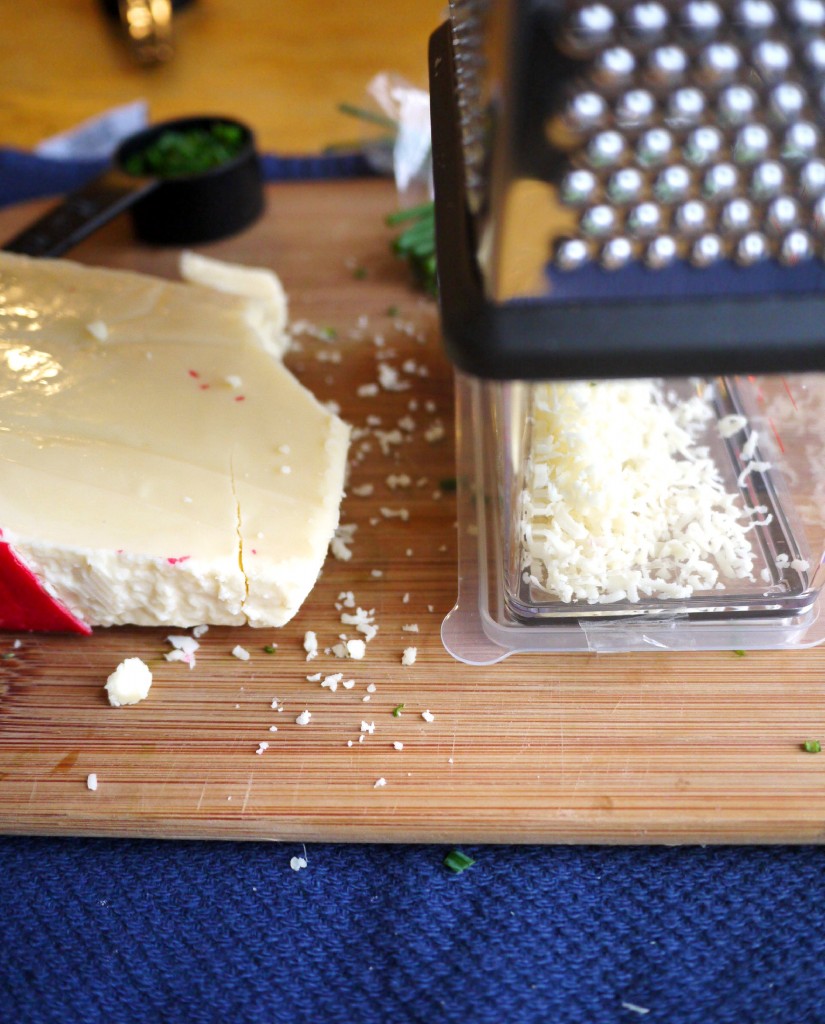 If you're a long-time follower, then you may already be familiar with my baked egg concept. Those spicy eggs in ham baskets were the more manly, please-the-spice-lovin' husband version. These beautiful creatures with their pedigree name are the version that I created when I catered a breakfast for the Junior League of Washington. Was that really a year ago?? The prosciutto nests were a huge hit despite not being quite as warm as I would have liked upon serving, and I've been meaning to share them with you ever since. But, things, you know, got in the way.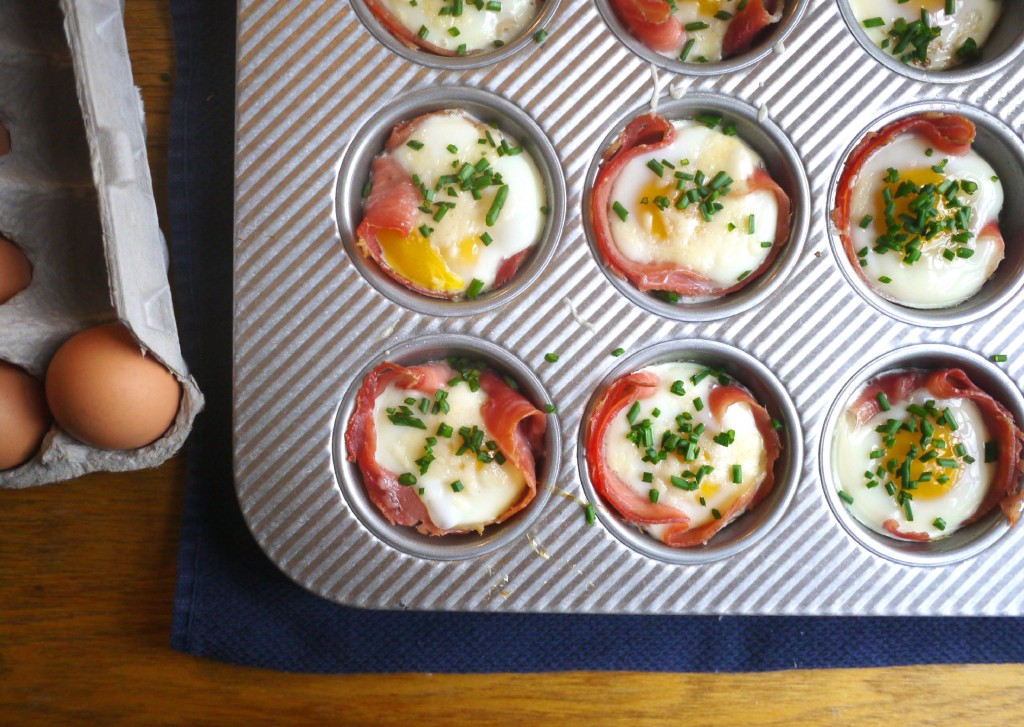 Now that those things are out of the way, I realized I had no excuse not to share this recipe with you. Especially as Christmas is practically on our doorstep, and I just know that all you out there in the blogosphere are dying to make these babies for your Christmas morning breakfast. Or maybe you're just feeling the holiday rush and would love to be able to grab an egg nest every morning next week and heat it up in the microwave at work. Either way, get to your kitchen, pop these in the oven, do a little curtsy, tell the prosciutto nests how cute they are, and then pop them in your mouth and chomp away. If you like your eggs a little runnier, use the minimum cooking time and bust out that fork and knife.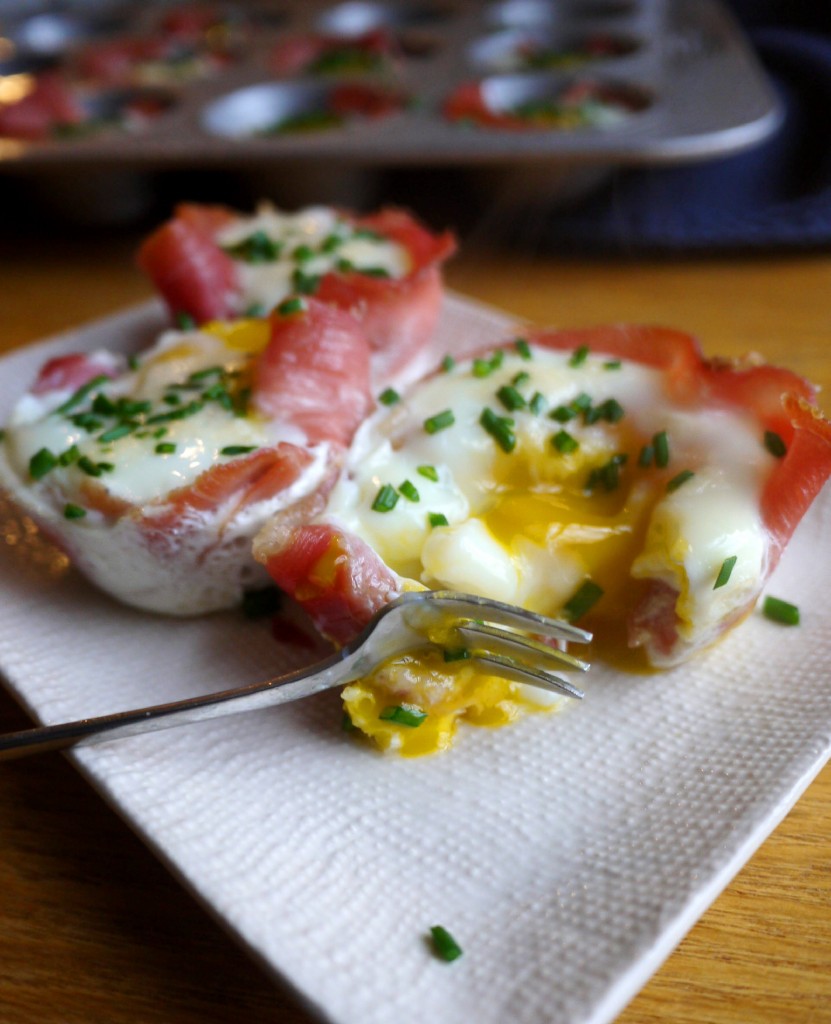 Health Recipe Ecstasy? Oh yeah. Obviously the ham baskets were a hit – they are probably my most popular recipe that I've posted thus far. Well, I got news for you. THESE. ARE. BETTER. First, you have the salty prosciutto. (Knees trembling). Then you have the creamy baked eggs. (Heart pounding). Then you have the creamy fontina cheese and chive topping. (Mouth watering). Then you realize that this amazing treat is gluten-free and low-carb and you practically pass out from happiness. Sure, it's got a little more salt content than the ham baskets and it's not dairy-free thanks to the fontina, but it's still a great morning choice. The best thing about the prosciutto nests is that they are totally customizable. Don't have chives? Use green onions. If you have dairy issues, just leave the fontina off or change to a cheese that you can digest better. Whatever you do, I'm sure it will be great.

Chive and Fontina Eggs in Prosciutto Nests
Author:
Healthy Recipe Ecstasy
Recipe type:
Breakfast/Brunch
Ingredients
12 slices prosciutto (ask your grocery store butcher to slice the prosciutto similar to thinly-sliced deli meat rather than uber thinly-sliced prosciutto that falls apart when you touch it. Not that there's anything wrong with that, we just need a lttle more heft here)
12 eggs
¼ cup grated fontina cheese
⅛ cup diced chives
Freshly-ground black pepper to taste
Cooking spray
Instructions
Preheat oven to 425 degrees.
Fold each slice of prosciutto in half and then nestle it into the muffin tin (hence the name prosciutto nests). It doesn't matter if the prosciutto nest looks imperfect or gaps at the bottom. It will be covered by the baked egg which will be cooked enough that it will not leak out any gaps in the bottom.
Bake for 5 minutes - as with the ham baskets, the meat needs to cook longer than the eggs.
Take the muffin pan out of the oven and crack each egg gently into each prosciutto nest. Bake for another 5 minutes.
Take the muffin pan out again and turn the heat down to 350 degrees. Sprinkle fontina cheese over each egg.
Bake for another 7 minutes to result in a creamy, slightly runny egg yolk. Bake for an additional 2 minutes if you'd like a harder yolk.
Top each nest with chives and black pepper to taste. Serve hot or room temperature.
NOTE: To reheat, approximately 30 seconds in the microwave is all you need.