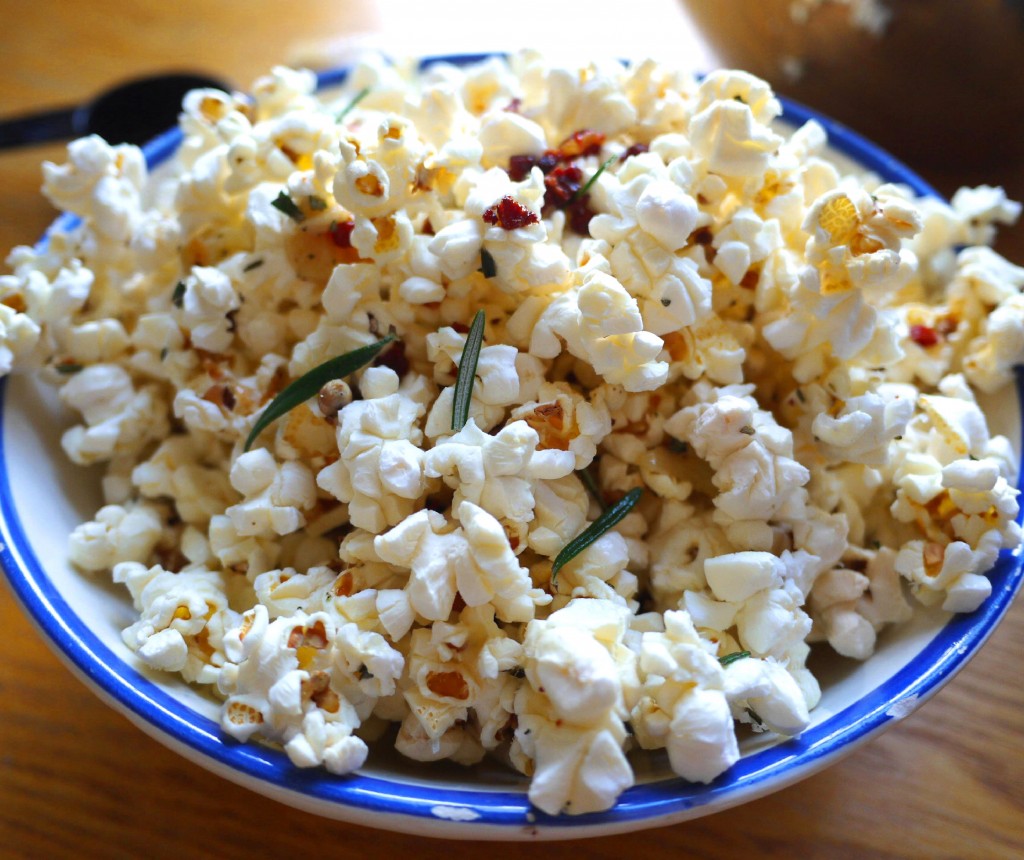 HOLY MOLY. I don't say holy moly very often – or ever. But this dish deserves a HOLY MOLY. This may be the best snack I've ever made. Scratch that. This is the best snack I've ever made. I know what you're thinking. Pork. Fat. Popcorn. How can I even look my HRX-face in the mirror and post a recipe this unhealthy? Well, I can definitely look myself in the mirror, and I'm smiling because IT WAS SO WORTH IT. Sometimes you just need  a naughty treat. And, honestly, this popcorn is not quite as naughty as it sounds.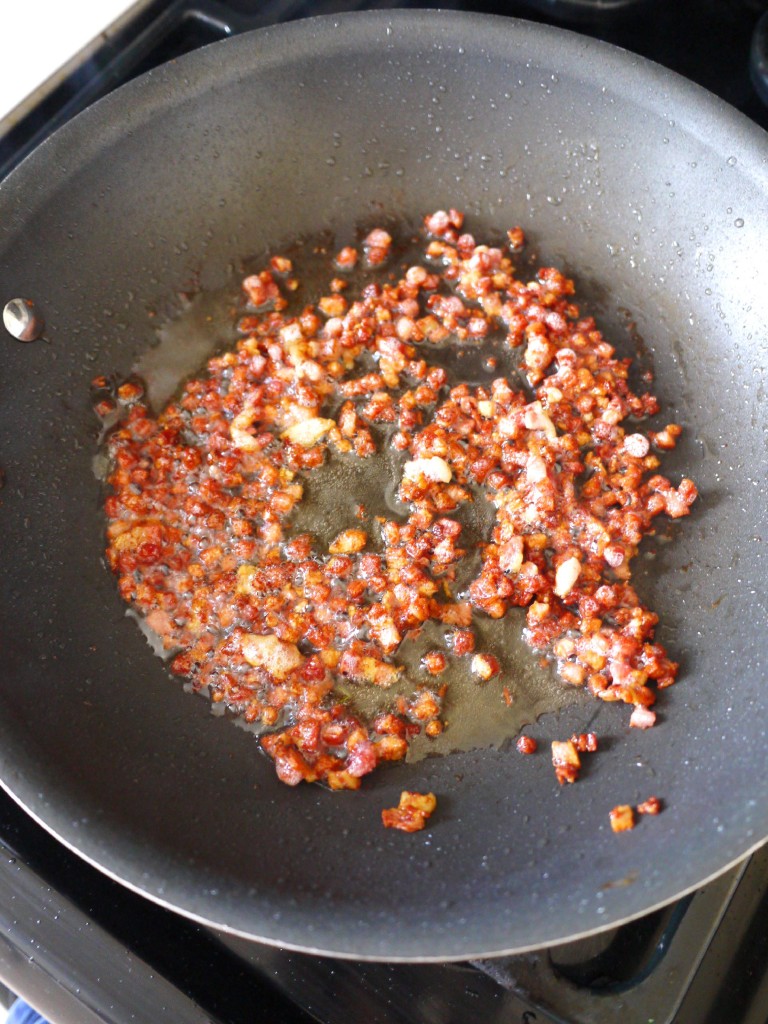 First of all – this popcorn plus its toppings is gluten-free. I know that just throwing around the phrase "gluten-free" doesn't make a dish healthy, but for all those gluten-intolerant folks out there, it's nice to be able to have a treat that scratches that salty, crispy, starchy itch without having to buy 15 kinds of alternative flours.
Second of all – most people top their popcorn with huge amounts of gross movie theatre butter. I do not like movie theatre butter. It's like manufactured slime. Yuck. On the contrary, pork fat not only tastes ridiculously sinfully real, but I've used a negligible amount compared to the amount of popcorn in the recipe. Ok, maybe negligible is the wrong word. Let's go with moderate. Everything in moderation, right? Plus, the addition of healthy garlic and rosemary helps counteract some of the fatty goodness…..That's what I like to tell myself. 🙂
Third of all – you're not going to eat the whole bowl. Or at least you're not supposed to. I, know that, after eating the whole bowl and feeling very guilty. You should make this popcorn for a special occasion and share it with family and friends. I'm serious. Do not make this while you're alone. It is too good. Too tempting. You will not make it out of the kitchen without eating every last drop and then licking the bowl.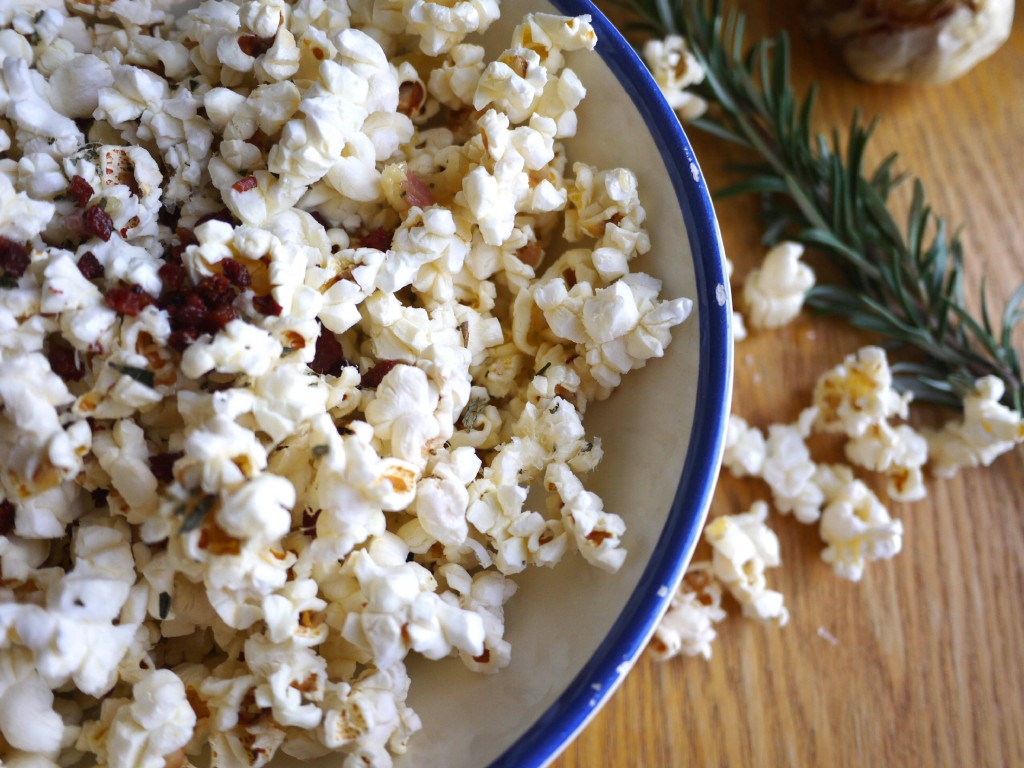 So that's my rationale for why you need to eat this popcorn. It's not so bad. It's definitely not the same degree of unhealthy as its inspiration – Pork Fat Noodles from Toki Underground. Alasdair and I visited D.C.'s Ramen noodle hotspot a couple of months ago and partook in their sodium-filled, fatty noodles. It was a heart attack in a bowl – a salty, creamy, explosion of flavor heart attack in a bowl. It was so life-changing that I started daydreaming about covering other foods in pork fat – like popcorn. But, instead of drowning my popcorn in the fat like the Toki noodles, I opted for moderation and using the fat as an accompaniment rather than the star of the show. Just 1/4 a cup of rendered pork fat plus the toppings – rosemary, parmesan, roasted garlic, crispy pancetta – work together to bring a subtle explosion of flavor that compliments rather than overwhelms the light popcorn.
On the HRX scale, this definitely weighs heavily on the "Ecstasy" side. 🙂

Pancetta and Rosemary Popcorn
Author:
Healthy Recipe Ecstasy
Ingredients
1 bulb of garlic
1 3-ounce bag natural popcorn (no butter)
1 cup diced pancetta (this should render ¼ cup fat)
1 tablespoon and 2 teaspoons chopped rosemary
2 tablespoons grated Parmesan cheese
Sea salt
Instructions
Preheat the oven to 400°F.
Peel away the outer layers of the garlic bulb skin, leaving the skins of the individual cloves intact. Cut off the top of cloves, exposing the individual cloves of garlic. Drizzle a couple teaspoons of olive oil over each head and wrap in aluminum foil. Bake at 400°F for 30-35 minutes, or until the cloves feel soft when pressed.
Allow the garlic to cool. Use a cocktail fork or your fingers to pull or squeeze the roasted garlic cloves out of their skins. Take five of the garlic cloves and mash together in a small bowl. Use the leftover roasted garlic on some bread or mix in with pasta.
Heat one tablespoon olive oil in a medium skillet over medium high heat. Add the diced pancetta and cook for about 6-7 minutes, stirring occasionally. Cook until pancetta is brown and crispy and has released its fat.
Remove from heat and pour the pancetta fat into a small bowl. There should be about ¼ of a cup. You may have to use a strainer but I was able to pour the fat off without disturbing the cooked pancetta. Let the fat cool for about 2 minutes and then whisk together with the roasted garlic. Reserve ¼ cup of the crispy cooked pancetta for topping. Save the rest for other uses like a salad topping or throwing into your morning egg scramble.
Make the popcorn according to the package. Mix the popcorn, roasted garlic-infused pancetta fat, chopped rosemary, parmesan cheese, and ¼ cup cooked pancetta in a bowl. Top with a sprinkle of sea salt. DEVOUR.