So, I've decided that it's time to jazz up Healthy Recipe Ecstasy with its very own logo – and I need your help. HRX will celebrate its first birthday in a couple of months. Can you believe it? I certainly cannot. Time really does fly when you're busy eating night after night of delicious food all in the name of research. 🙂
As you may have noticed, I often abbreviate Healthy Recipe Ecstasy as "HRX." In a world where we can barely get through a conversation without "LOL"-ing, everything need its own abbreviation, right? Well, Alasdair and I had the idea to take the HRX abbreviation one step further and transform it into "HRx" with an accompanying tagline of a "Prescription For Your Kitchen."
Did you know that Rx – today's symbol for a drug prescription – is actually an abbreviation for the Latin Word "recipere" or "recipe?" Back in ancient times, before we all were popping pills for every ailment, people cultivated herbs and plants as natural remedies. Recipes were the original prescriptions. Ginger is a known digestive aid.  Garlic has demonstrated antibacterial and antifungal properties and has become a home remedy for the common cold. Chamomile is thought to aid in anxiety and sleeplessness. The list goes on and on!
While I'm no nutritionist nor do I claim to give ANY type of medical advice, I do know from personal experience that food can have some pretty fantastic effects on your body and health – both positive and negative. I know that when I indulge in too much dairy, I often feel congested and nauseous. On the other hand, I know that when I'm ingesting a lot of fruits and vegetables and whole grains, I tend to feel lighter and have more energy. For me, all these recipes are an ingredient in the overarching recipe of a healthy and happy life. Even the slightly naughty ones like Pancetta and Rosemary Popcorn. As I always say, the occasional culinary indulgence helps keep me mentally balanced. If I feel overly restricted then I am sure to go off the rails in my eating habits!
Unfortunately, Rx now has such an entangled connotation with the pharmaceutical industry, that I'm not sure it would be smart to bring it into the HRX fold. That's where I need your help. Please leave me comments letting me know what you think about this potential logo idea and whether it's too connotative of the drug industry: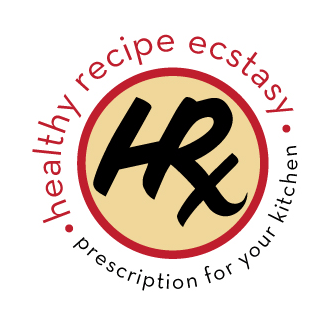 Or, let me know if you think I should keep it simple. Like this logo below (probably without the tagline):

Thanks for your help!!