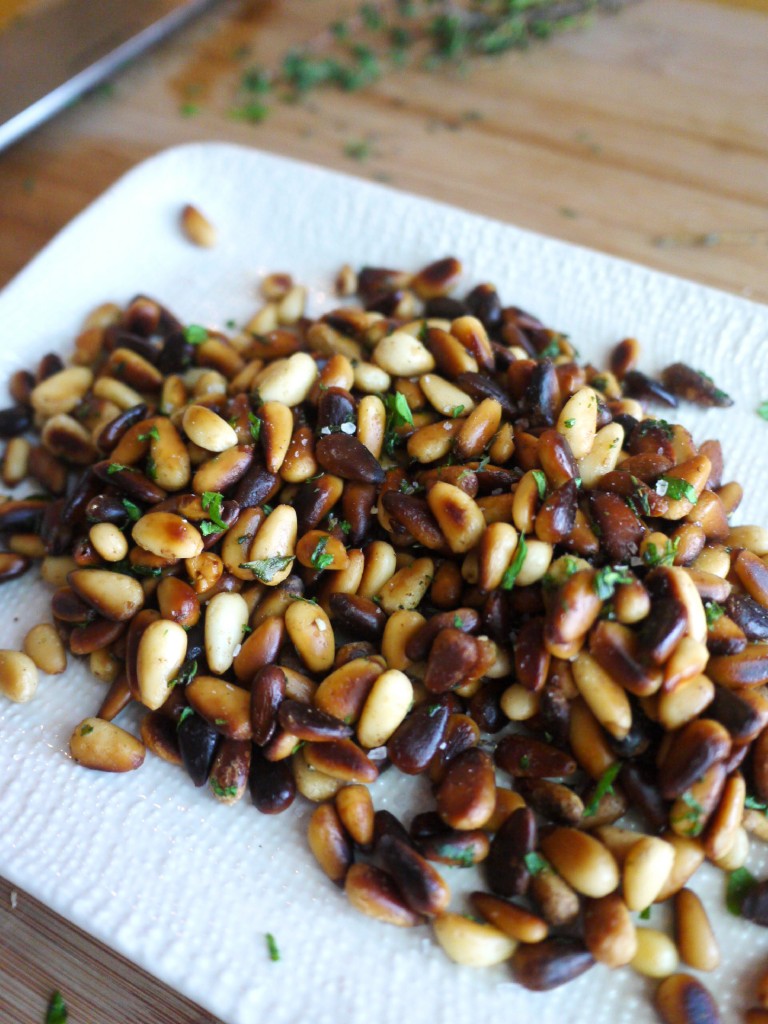 If you read my post last week, you may have noticed that I was having a "slight" wedding-related breakdown. Fortunately, my nerves have calmed from the boiling point to just below a gentle simmer. That's mainly due to the fact that I finally decided on a wedding dress, and, more importantly, I've made the decision to simplify my life. I'm the kind of person who didn't think twice before jumping head first into a year that included working full-time, buying a house, renovating a house, planning a big wedding, joining a band, cooking elaborate meals several times a week, and starting a blog. In the past, I've thrived under pressure, but, this year, the pressure finally got the best of me. Maybe it's getting older, maybe it's shifting priorities, or maybe I'm just tired. Whatever the reason, it's time to stop and smell the roses (or the thyme).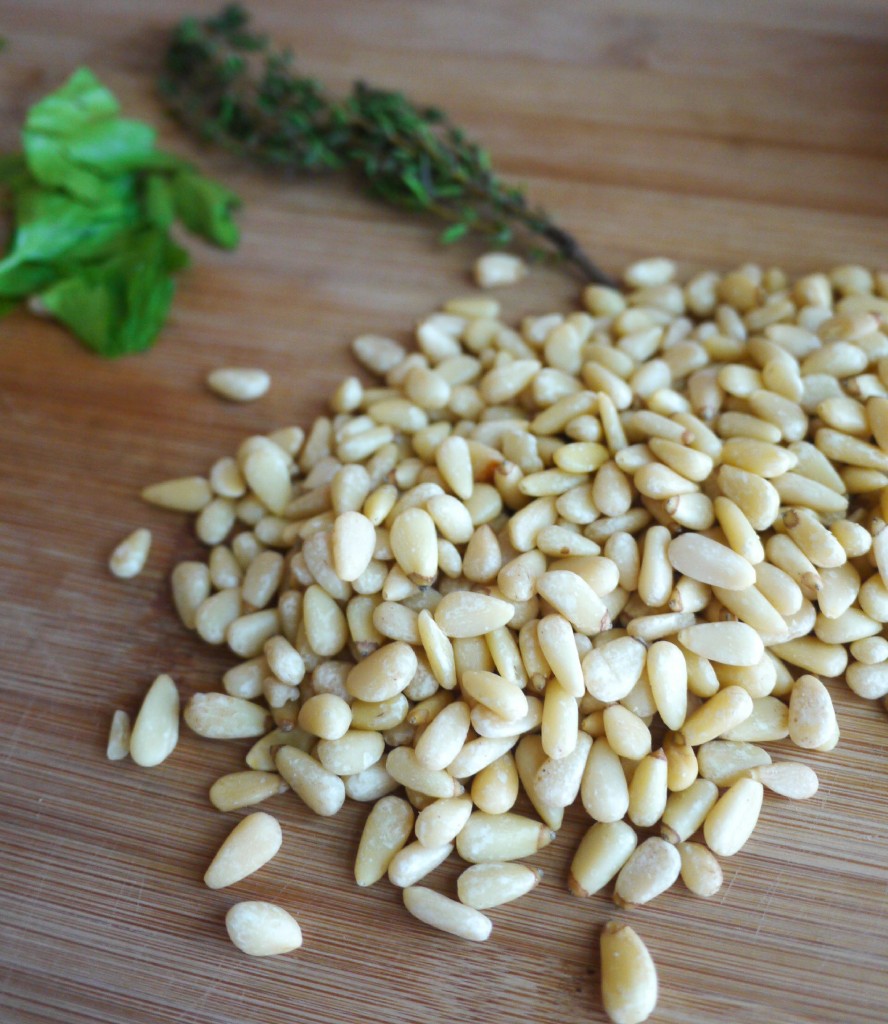 So, this week, instead of trying out complicated new recipes and spending hours cooking for the blog, I'm going to keep things simple. Simple dinners, simple lunches, and simple snacks. And, you really can't get more simple than these five-ingredient toasted pine nuts. I discovered toasted pine nuts just last week when I was throwing together a kale salad to eat with dinner. It was the end of the week, and I was trying to use up various kitchen items so an everything-but-the-kitchen-sink-type salad was on the menu. Inspired by Smitten Kitchen's kale salad with pecorino and walnuts, I tossed pancetta, bread crumbs, and pine nuts into a skillet and then mixed the toasted ingredients with kale, cheese and a few other tasty treats. It was delicious, and I promise to post the recipe one day, but back to the nuts….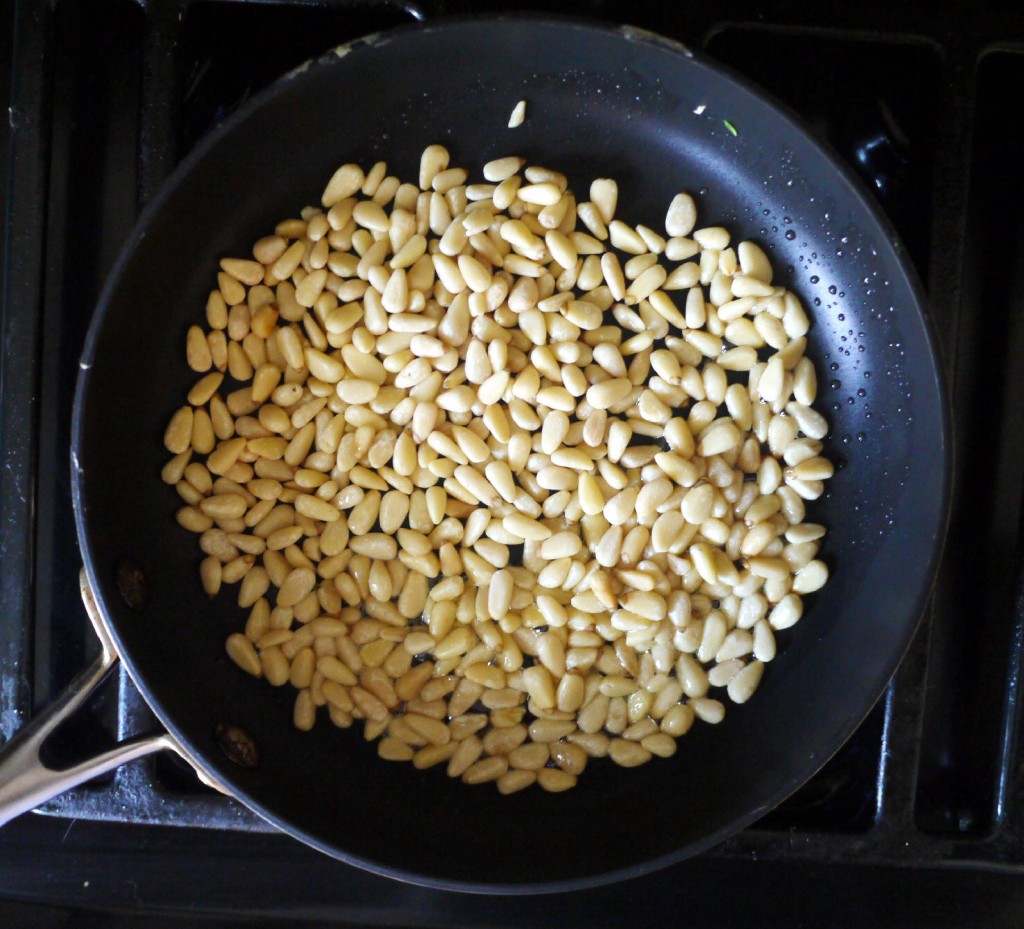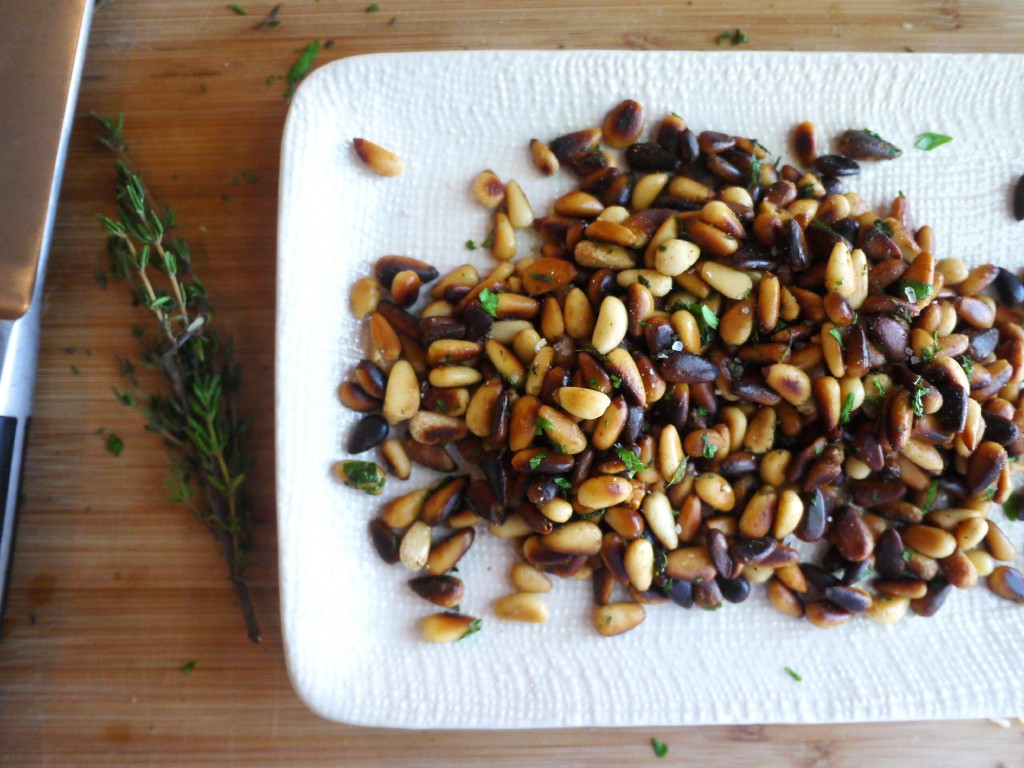 While I was making the kale salad, I kept smelling popcorn which is one of my all-time greatest addictions. It didn't take me long before realizing that the glorious smell was coming from the toasted pine nuts. How I've lived my whole life without knowing that toasted pine nuts smell and almost taste like popcorn is beyond me. But, now that I know, it's really a life changing discovery. I can take a handful of pine nuts, sauté them in olive oil, and, in under five minutes, and I've got a healthy, satisfying snack reminiscent of popcorn. Toasted pine nuts are great on their own, but when you add fresh herbs and sea salt they reach a whole new level of delicious. The optional grated cheese is just the rose on the icing on the cake.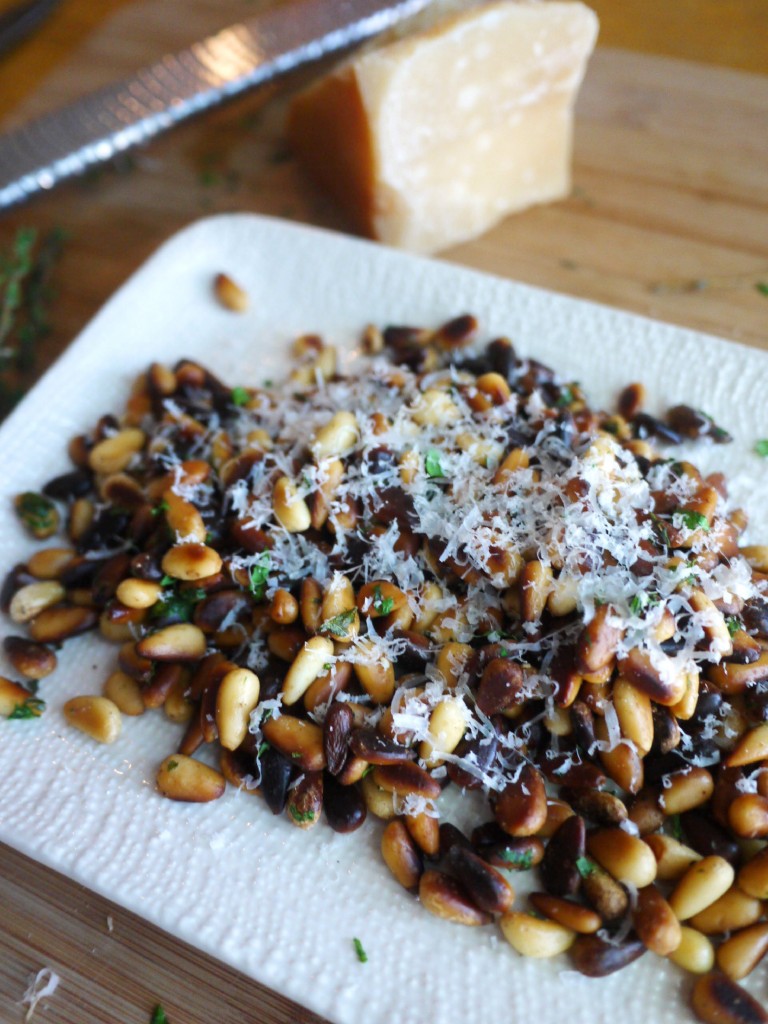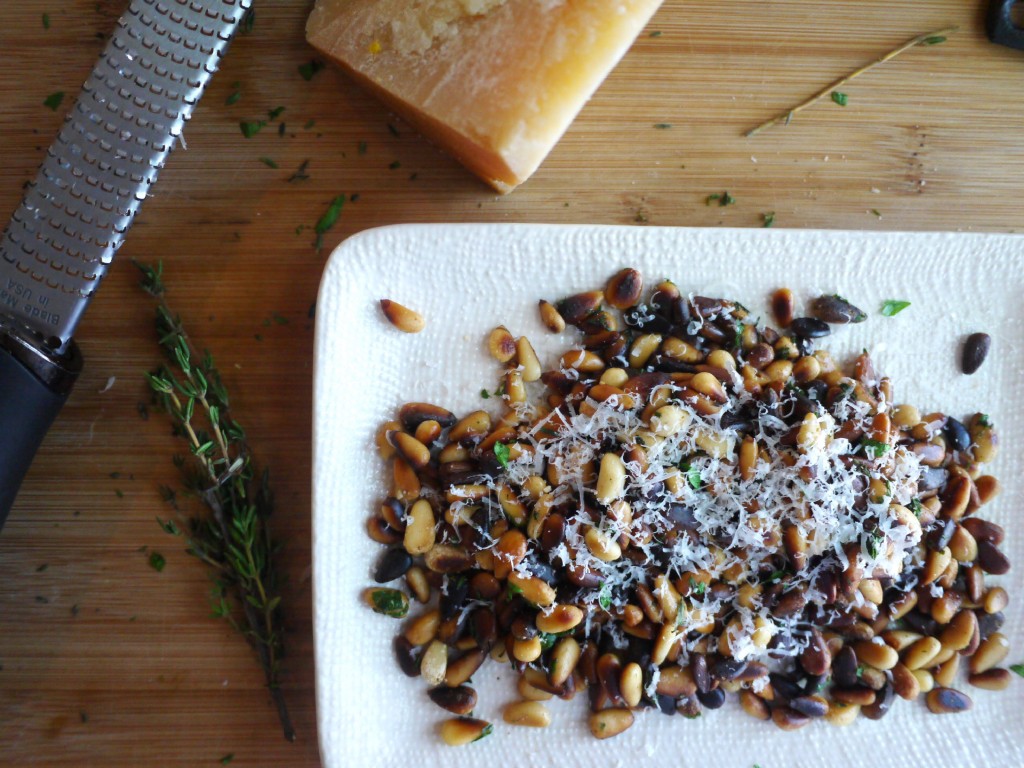 Healthy Recipe Ecstasy? While pine nuts aren't necessarily low in calories, they are a great gluten-free, dairy-free, vegetarian, and Paleo-friendly snack (if you forgo the cheese), and they contain heart friendly mono-unsaturated fatty acids that help reduce cholesterol levels. I plan to separate the toasted nuts into mini sandwich bags for ready-made snacks all week long. Toasted pine nuts are also great to have on hand to throw on top of salads, pastas, or soups. Regarding the herbs, feel free to swap in whatever herbs you have in your kitchen. Toasted pine nuts is more of an "idea" than a strict recipe. I imagine there are hundreds of variations that would work – cumin toasted pine nuts, spicy toasted pine nuts, buttery toasted pine nuts…. Just toast the pine nuts and toss them with your favorite herbs and/or spices, and you'll be good to go. If you experiment, be sure to let me know your favorite combination!

Toasted Pine Nuts with Fresh Herbs and Sea Salt
Author:
Healthy Recipe Ecstasy
Ingredients
1 cup pine nuts
1 teaspoon olive oil
1 teaspoon finely chopped fresh thyme
1 teaspoon finely chopped fresh parsley
Sea salt to taste
Grated Parmigiano-Reggiano (optional)
Instructions
Heat a medium skillet over medium heat and add the olive oil.
Add the pine nuts and cook for 2-3 minutes, stirring occasionally until pine nuts are golden brown. NOTE: Keep an eye on the nuts because they will burn quickly. I neglected to watch my nuts which is why some of them are beyond "golden brown" in the pictures.
Remove from heat and toss pine nuts with chopped herbs and sea salt to taste. Add grated cheese if desired.