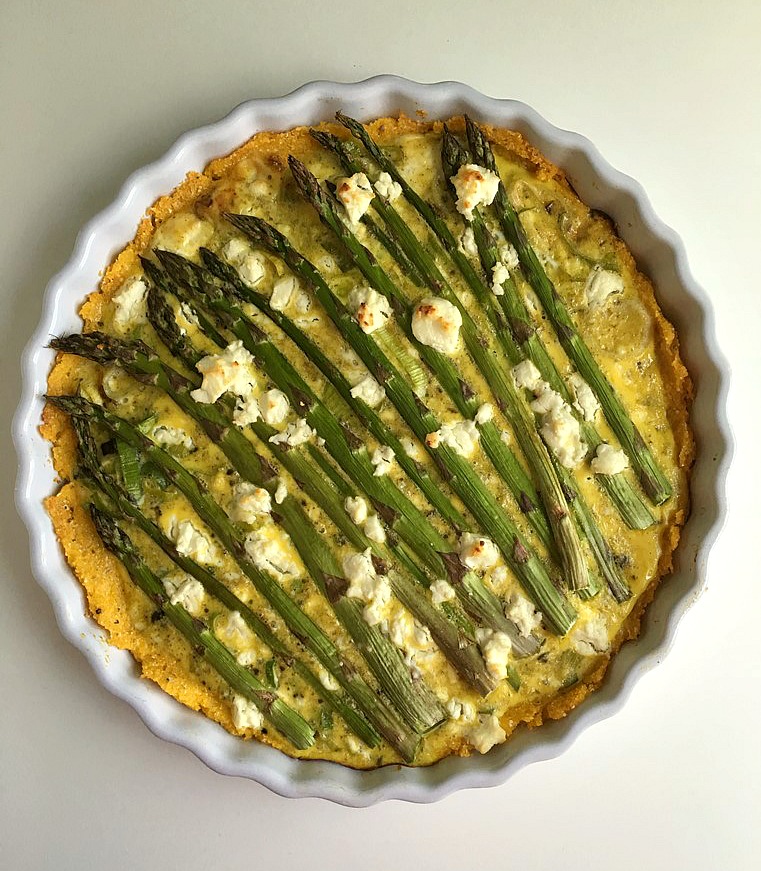 I know, I know. It's been awhile since I've written a blog post. Hopefully, you've been missing me…. 🙂
Things in my life have just been a little crazy with house renovations, wedding planning, work, etc, etc. But, through all the crazy, I have never stopped cooking. I just haven't been able to get my act together to write about it. But, I promise, there are some awesome dishes coming your way like….wait for it….Pork Fat Popcorn. Don't look at me like that. I am absolutely clear that Pork Fat Popcorn is more "ecstasy" than "healthy recipe" but we all need a little indulgence in our lives. More on that later…
In the meantime, let's talk tart. Spring vegetable tart. Parmesan polenta crust tart. Everything good in springtime and life tart.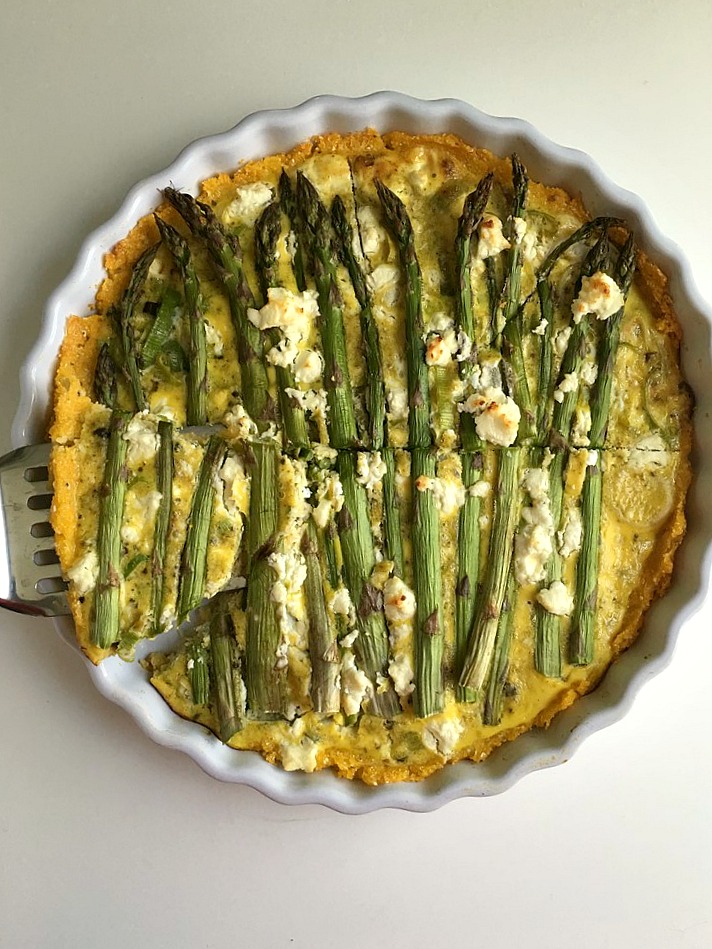 Let's go back to the polenta crust. I never thought of using polenta for a tart crust (mind blown!) but it totally works. It's a little cheesy, a little crumbly, and a lot perfect. I was a little worried it wouldn't hold up to the hearty asparagus and leek veggies and custard-y filling but polenta crust gets the job done.
This recipe is a great template for a gluten-free, vegetarian dish. You can easily switch out the vegetables or try a different cheese. You can also add whatever herbs and spices you want to the crust and the filling. I'm thinking mushrooms and goat cheese next time around or spring onions and feta. The possibilities are endless.
And so is my hunger for this tart.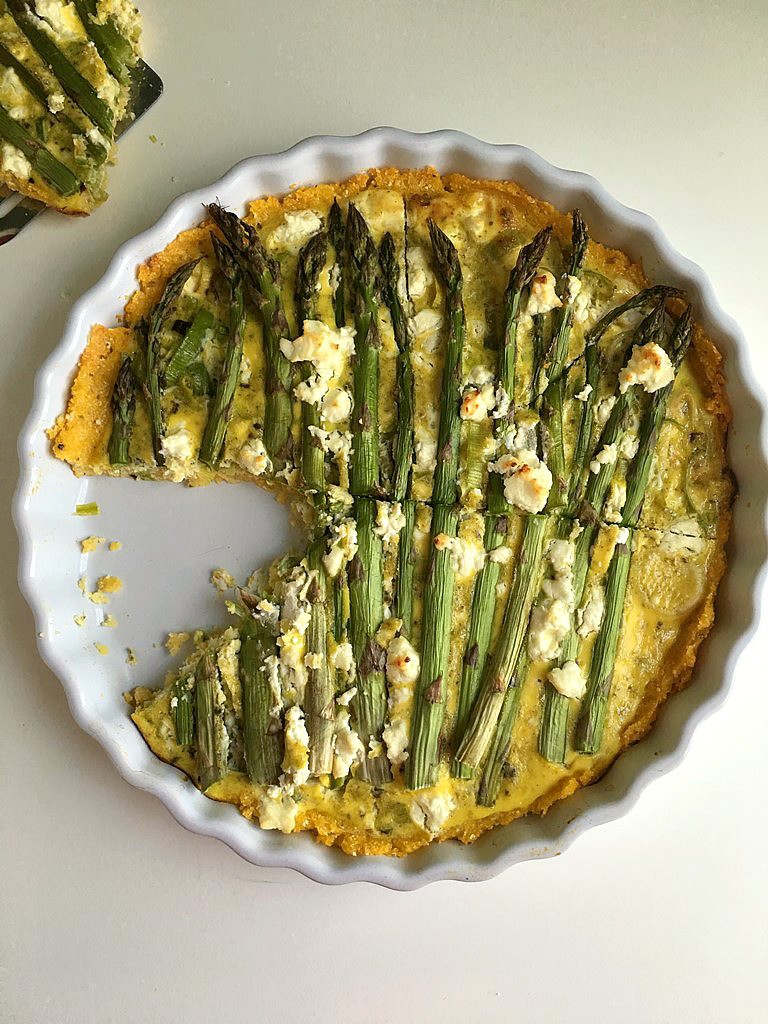 Asparagus and Leek Tart with Polenta Crust
This recipe is gluten-free and vegetarian.
Author:
Healthy Recipe Ecstasy (Adapted from The Complete Guide to Naturally Gluten-Free Foods)
Ingredients
For the crust:
3 cups vegetable stock
1 cup yellow corn grits
1 teaspoon garlic powder
¼ cup shredded parmesan cheese
Pinch of kosher salt
Freshly ground black pepper, to taste
For the filling:
1 tablespoon olive oil
1 leek, white parts only, thinly sliced and well rinsed
1 bunch asparagus, trimmed and chopped into pieces
4 large eggs
¼ cup non-fat Greek yogurt
4 ounces crumbled goat cheese
½ teaspoon ground thyme
Pinch of kosher salt
Freshly ground black pepper, to taste
Instructions
Preheat the oven to 400 degrees F.
To make the crust, bring the stock to a boil in a medium saucepan. Whisk in the corn grits and decrease the heat to low. Cook slowly, stirring occasionally, until the polenta is thick and no longer feels gritty. Remove from heat, cover and let stand for a few minutes. Mix in the garlic powder, parmesan cheese, salt and pepper. Adjust seasonings to taste.
Pour the polenta mixture into a 9-inch tart or pie pan. Cover with plastic wrap and press down the plastic wrap to flatten the polenta on the bottom and up the sides of the pan. Let cool to room temperature until firm (about 10-15 minutes). Remove the plastic wrap and prick all over with a fork.
Bake for 15-20 minutes, or until golden brown. Set aside to cool and decrease the oven to 350 degrees F.
To make the filling, heat the olive oil over medium heat in a medium saute pan. Add the leeks and saute until softened, about 5 minutes. In a medium bowl, whisk together the eggs, yogurt, thyme, salt and pepper. Stir in the leeks and goat cheese and pour the mixture into the polenta crust. Arrange the asparagus spears on top, pointing outward in a circular shape.
Bake for 25-30 minutes or until the middle of the tart is just set. Allow the tart to cool to room temperature before cutting.