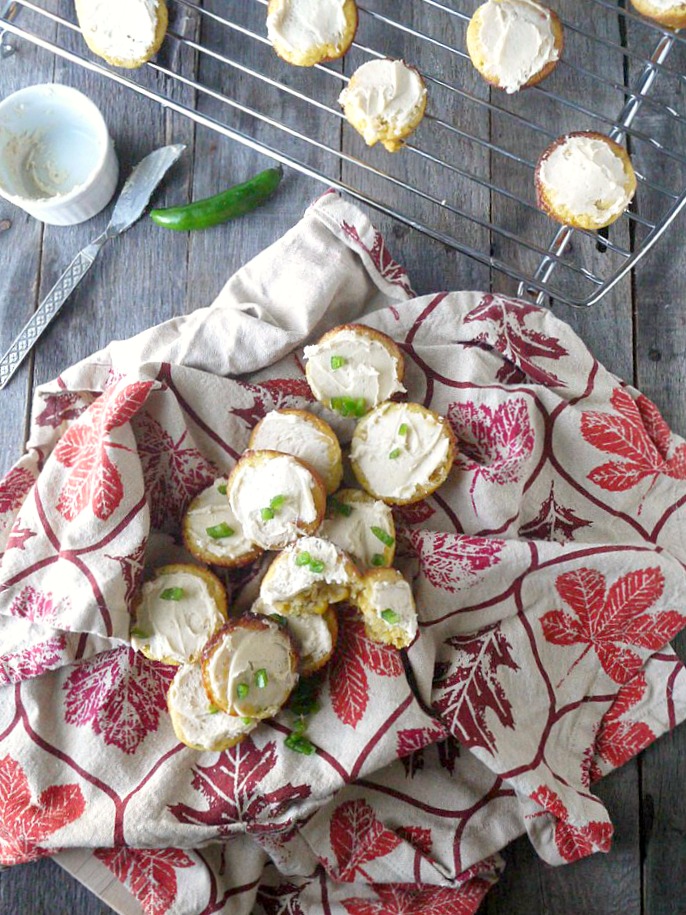 I know what you're thinking. How can cornbread also be a cupcake? Mind-blowing, right? Anyone? Bueller?
Ok, I guess in a world where dessert cross breeds faster than Hollywood's pet shops (Dalmachshund?? Yes, please!!) no one is that concerned when a savory Thanksgiving side dish falls in love with a frosted dessert. I mean, we've already got cronuts, bronuts and cruffins, oh my!
But, I'm an old school gal. I still get excited over Frankenfoods that don't involve three pages of directions and a pastry chef background. And mini foods? They still rock my world. When I can have spicy jalapeno cornbread as an appetizer, a dessert, or, dare I say, a mid-afternoon snack, it makes my tummy do the happy dance. Don't worry. I won't show you what that looks like – it's not pretty post baby.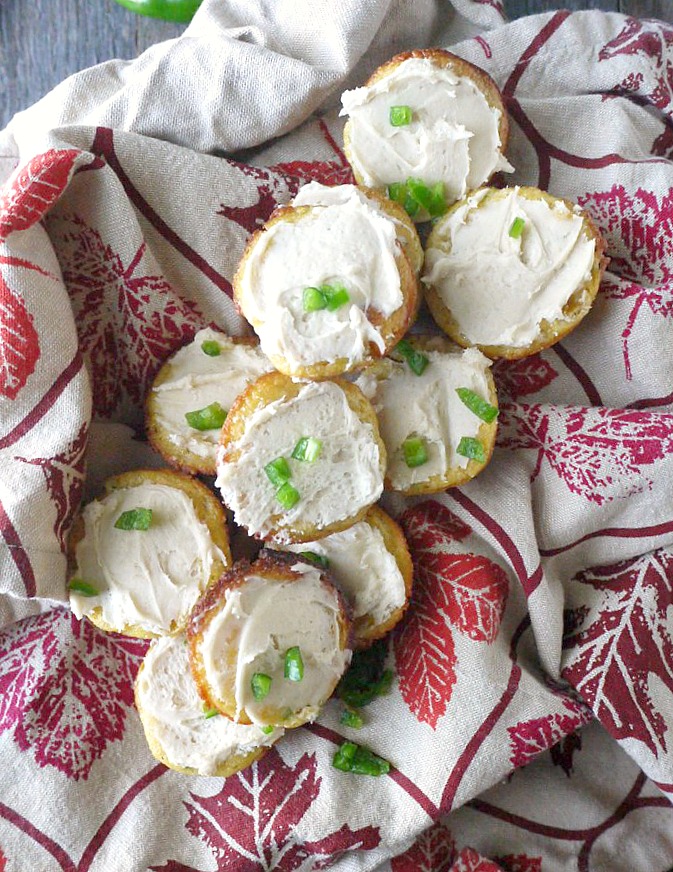 I've only ever posted one traditional (and by traditional I mean purely sweet) cupcake recipe on this blog because…..I'm just going to come out and say it….I'm not a huge cupcake fan. Phew! Glad I got that off my chest. Seriously though, I don't love overly sweet frostings and I've rather save my carbs for a nice toasty French baguette. When the world was flying high on the cupcake bandwagon (pre-cronut), I was standing by watching with idle amusement. Never one to bow down to peer pressure, I maintained my apathetic stance through the years of cupcakeries that opened in my city. Sure, I'll eat your salted caramel masterpiece, but not if I have to stand in line for any length of time and/or take money out of my wallet to pay you.
Translation? I like my cupcakes the way Martha Stewart intended: homemade, free and served at kid's birthday parties.
I digress. You all know I'm a savory girl at heart (which is why I couldn't resist an apple and goat cheese cupcake), but ever since my hormones went on the roller coaster that is pregnancy, breastfeeding and sleep deprivation, sweet has been sneaking into my life on the daily. Pre-pregnancy I probably would have preferred the straight-up, old-fashioned cornbread dish with minimal sugar and lots of butter. But post-pregnancy? I get a little pee-my-pants excited when you spice things up with jalapenos AND sweeten things up with some maple syrup and honey butter frosting. Frost yourself. You know you wanna.
Now, let's talk about the elephants in the room. Corn muffin mix and confectioner's sugar. These are two ingredients I hardly ever use. Because? Well, grocery store corn muffin mix is full of all sorts of hard to pronounce ingredients and refined confectioner's sugar has no redeeming qualities. If you read this blog on the regular, you know that I like my indulgences but I like them in the form of something a little more au naturel (say it with the accent) like good-quality chocolate and cheese or anything with brown butter. I hate relying on chemically souped up store-bought goods when I could just as easily make the dish at home using whole foods or healthier substitutes. But, as a mom, I've realized I can't be that girl 100 percent of the time. Sometimes I need shortcuts. Especially around the holidays when I'm cooking for parties and crowds and need to throw something together during nap time. So, these jalapeno cornbread cupcakes only get to come out to play a few times a year. And, when they do, they are so O.M.G. WORTH. IT.
Work it cupcakes. Work it.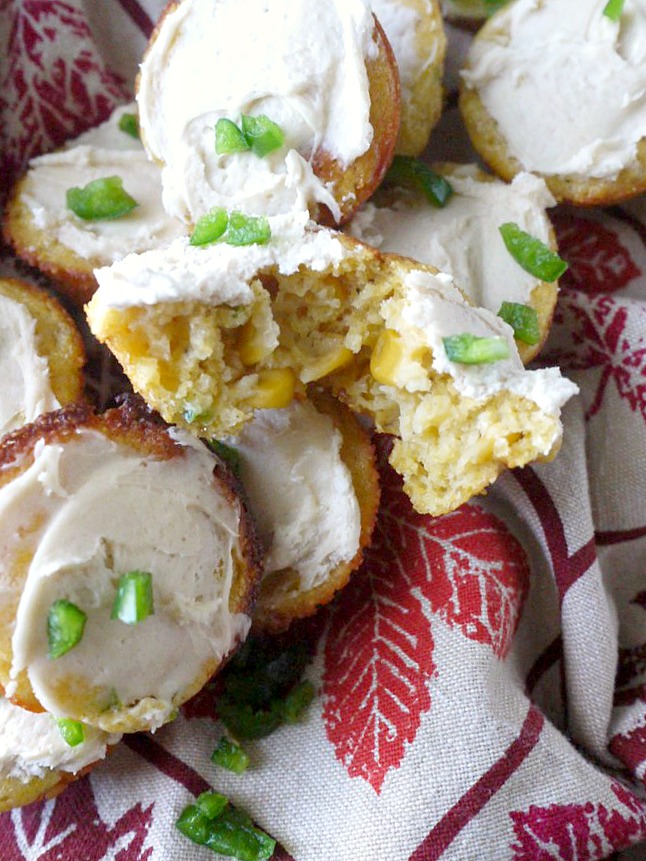 Mini Jalepeño Cornbread Cupcakes with Honey-Butter Frosting
You can store these cupcakes for up to three days in a sealed container at room temperature or you can store them in the fridge for up to a week. If you store them in the fridge, you can heat them in 2-3 ten-second blasts in the microwave - just enough heat to warm up the cornbread cupcake but not enough to melt the frosting.
Author:
Healthy Recipe Ecstasy
Ingredients
Cornbread Cupcakes:
1 8-ounce package corn muffin mix
1 15-ounce can cream-style corn
⅓ cup non-fat Greek yogurt
¼ cup maple syrup
1 large egg
¼ teaspoon black pepper
½ teaspoon salt
1 large jalapeño, finely diced
Honey-Butter Frosting:
½ cup butter, softened to room temperature
½ cup confectioner's sugar, plus more as needed
¼ cup honey
½ teaspoon vanilla extract
¼ teaspoon salt
Instructions
Cornbread Cupcakes:
Preheat oven to 400.
Combine the dry ingredients - corn muffin mix, salt and pepper - in a small bowl. Mix together the wet ingredients - creamy-style corn, Greek yogurt, maple syrup and egg - in a medium bowl. Slowly whisk the muffin mix into the wet ingredients. Stir in the diced jalapenos.
Spray a mini cupcake or muffin tin generously with cooking spray. Fill each cup with about two tablespoons of cornbread batter.
Bake for 16-18 minutes or until the cupcakes are golden brown. Let the cupcakes cool completely on a wire baking rack.
Honey Butter Frosting:
Beat the softened butter and honey together with an electric mixer on medium speed. Add in the salt and vanilla and mix until combined. Turn the mixer on high and slowly pour in the confectioner's sugar. Whisk for 2-3 minutes until the sugar is completely combined and the frosting is nice and thick.
Once the cupcakes are completely cool, frost each cupcake with 1-2 teaspoons honey butter frosting. Garnish with diced jalapenos, if desired.