For 32 years of my life, Mother's Day has been about celebrating my mom and her favorite things (Ann Taylor Loft gift cards, cookbooks, walks, and tasty salads). But, this Mother's Day, something new has been added to the mix. ME. That's right, folks, this Sunday is my first Mother's Day, and we're celebrating MY favorite things (spa days, cooking magazines, bagels, naps and this guy).
Traditionally, Mother's Day means a day off from the kitchen for mama, but this mama's been missing her pots and pans while busy with baby duty. So, when Country Crock challenged me to use one of their buttery spreads to make a Mother's Day baked brunch recipe for their #WhenWeBake recipe contest, I just couldn't resist throwing together some of my latest obsessions into one big tasty treat.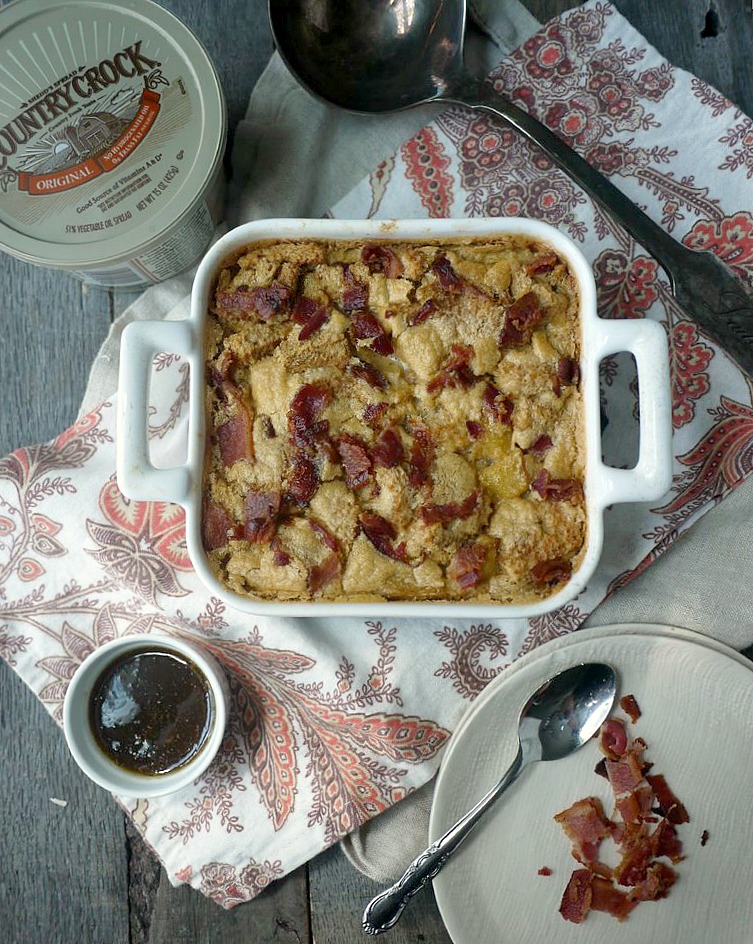 Last week, my mom and I went out to lunch, and the dessert menu boasted a ridiculous peanut butter bread pudding, which I, of course, had to order. Unfortunately, the waiter accidentally brought out a cinnamon raisin bread pudding instead. It was swimming in delicious caramel sauce so I was obviously too busy drooling to complain, BUT, since then, I can't get peanut butter bread pudding out of my head.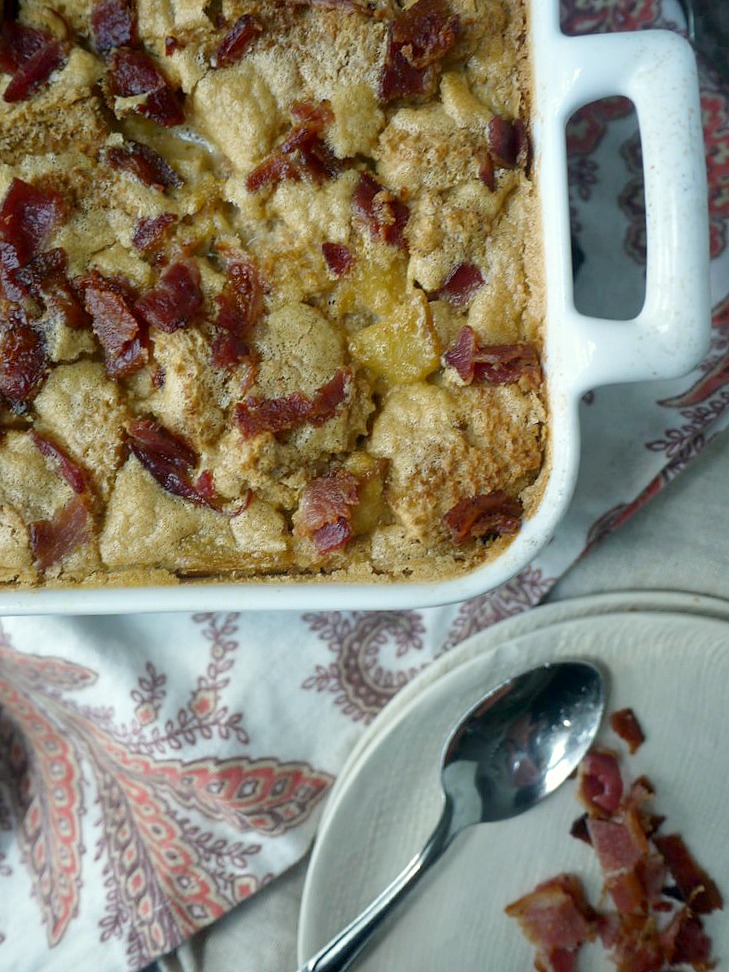 I've been obsessed with peanut butter lately and bread pudding is a new love of mine after years of wrongly assuming it was a stinky old person's dessert (WHAT WAS I THINKING???). Who knew that it was so delicious and versatile?? I can't think of anything else that I'd rather eat for Mother's Day brunch. Especially when it's topped with crispy bacon crumbles and sweet brown butter sauce – just the kind of savory and sweet mash up that I love. Mama's licking her lips….
You probably think I've gone over the indulgence cliff. I get how it sounds: bacon, butter sauce, bread….It's like I jumped on a first-class jet to Monoco and I'm rolling up to the hotel penthouse with my Louis Vuittons and Louboutins – luxury city. But, before you're all "where's the healthy in the healthy recipe ecstasy?" let me break it down for you.
I'm all about the moderate indulgence and this dish is moderately indulgent. On holidays, I used to be all about the indulgence indulgence, but, now that I'm all old and wise (yep 2 months of mamahood under my belt and I'm getting cocky), I recognize that I just feel bad after a ridiculous indulgence which takes away from the fun. Instead, I'd much rather indulge with a little bit of moderation so I can taste the good and feel the good at the same time. Know what I'm sayin'?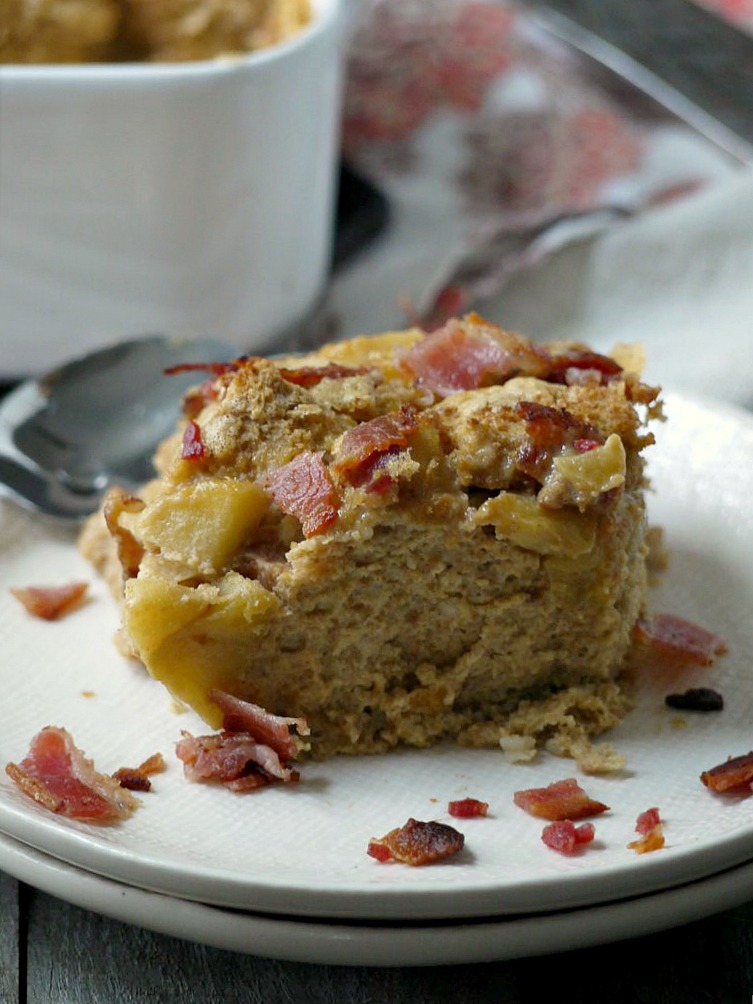 Tons of bread? Indulgent. Using multigrain bread? Moderately indulgent.
Milky custard? Indulgent. Using almond milk and half egg whites? Sneaky healthy.
Tons of bacon? Indulgent. Using a small amount of bacon crumbles? Moderately indulgent.
Brown Butter Sauce? Ok, can't really get around that one, but I did use Country Crock which is lower in fat than real butter AND it's the butter spread that I grew up on so it's kind of a homage to my mama.
To balance out some of the more indulgent parts of this dish, we've got all-natural peanut butter (protein city and healthy fat) and lots of apples instead of the usual heaping amounts of sugar in bread pudding.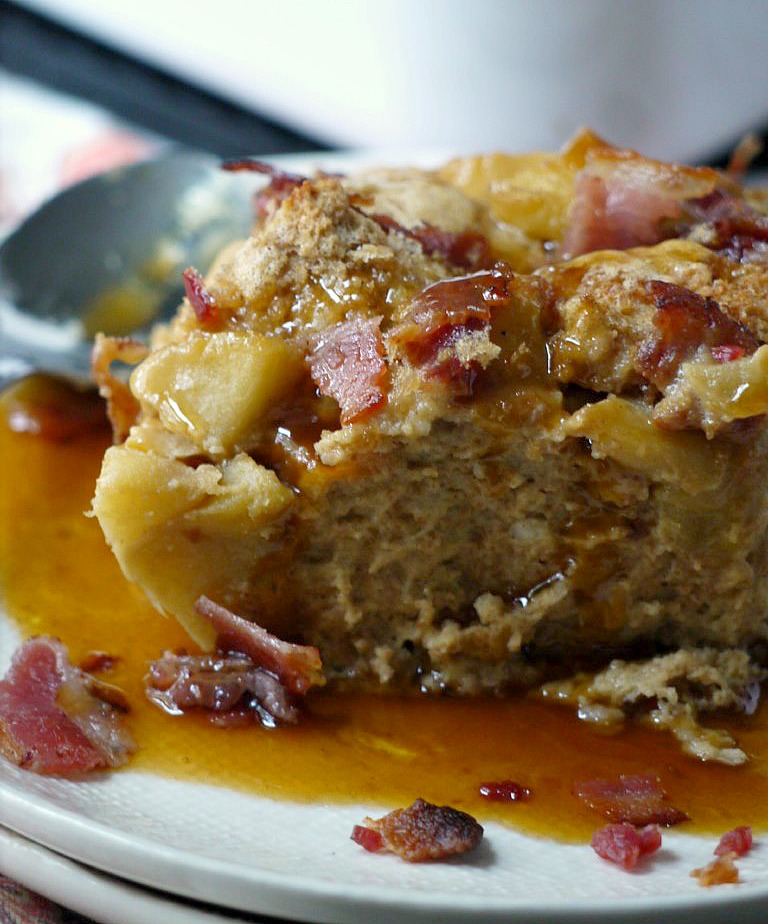 It's good to be mom.
Disclosure: I received a coupon for a free Country Crock Butter Spread as part of the contest but all opinions are my own.

Peanut Butter-Apple Breading Pudding with Bacon Crumbles and Brown Butter Sauce
I used a multigrain bread which has a strong flavor and stands out more than if you use a milder whole wheat or white bread. If you don't like the flavor of multigrain bread stick with whole wheat or splurge on some nice French bread. Whatever you pick, bread pudding is a great way to use up stale bread. This is also a fantastic recipe for old, mealy apples. NOTE: This recipe makes 9-12 servings, depending how you slice the pudding. The photos show the recipe halved in a smaller casserole dish.
Author:
Healthy Recipe Ecstasy
Ingredients
Bread Pudding:
8 slices whole wheat or multigrain bread, stale or lightly toasted, cut into 1-inch squares and crust removed (about 5-6 cups)
6 slices center-cut bacon
4 medium apples, peeled, cored and chopped (yields approximately 4 cups)
1 tablespoon Country Crock butter spread, plus more for buttering the baking dish
1 tablespoon coconut sugar
Pinch of kosher salt
3 cups unsweetened almond milk
3 eggs
2 egg whites
1 cup all-natural, no-sugar-added peanut butter
1 tablespoon vanilla extract
Brown Butter Sauce:
½ cup Country Crock butter spread
¼ cup coconut sugar
1 teaspoon vanilla extract
Instructions
Bread Pudding:
Add the bacon to a large baking sheet. Put the baking sheet in the oven and heat the oven to 400 degree F. Set the timer to 20 minutes. Take the bacon out after 20 minutes or when it's cooked and crispy. Drain the bacon on paper towels, reserving one tablespoon of bacon grease. After the bacon drains and cools enough to touch, crumble it and set aside.
While the bacon is cooking, melt one tablespoon butter in a large skillet over medium-high heat. Add chopped apples and cook for 5 minutes, stirring frequently, until apples begin to soften. Add the coconut sugar and pinch of salt. Turn the heat to medium low and cook for another 15 minutes, stirring occasionally, until apples are soft and caramelized. Set aside.
Turn the oven down to 350 degrees F.
Add the almond milk, eggs, egg whites, peanut butter and vanilla extract to a blender. Blend until smooth. Add the bread cubes and caramelized apples to a buttered 9-inch square baking dish. Pour the peanut butter mixture over the bread and apples. Make sure they are completely covered - the bread and apples should be drowning in a pool of custard! Top with bacon crumbles.
Bake for 45-55 minutes or until the top is browned and the middle is set. Do not overbake or the bread pudding will become dry.
Brown Butter Sauce:
In a small pot, melt the butter over medium heat until it bubbles and foam, whisking as it melts. Continue whisking until the butter turns golden. Quickly stir in the sugar and vanilla extract and then remove the pot from the heat (it will continue to cook off the heat). Brown butter can burn in a second so keep a close watch.