I've got something pretty awesome for you guys today. Make that two something pretty awesomes.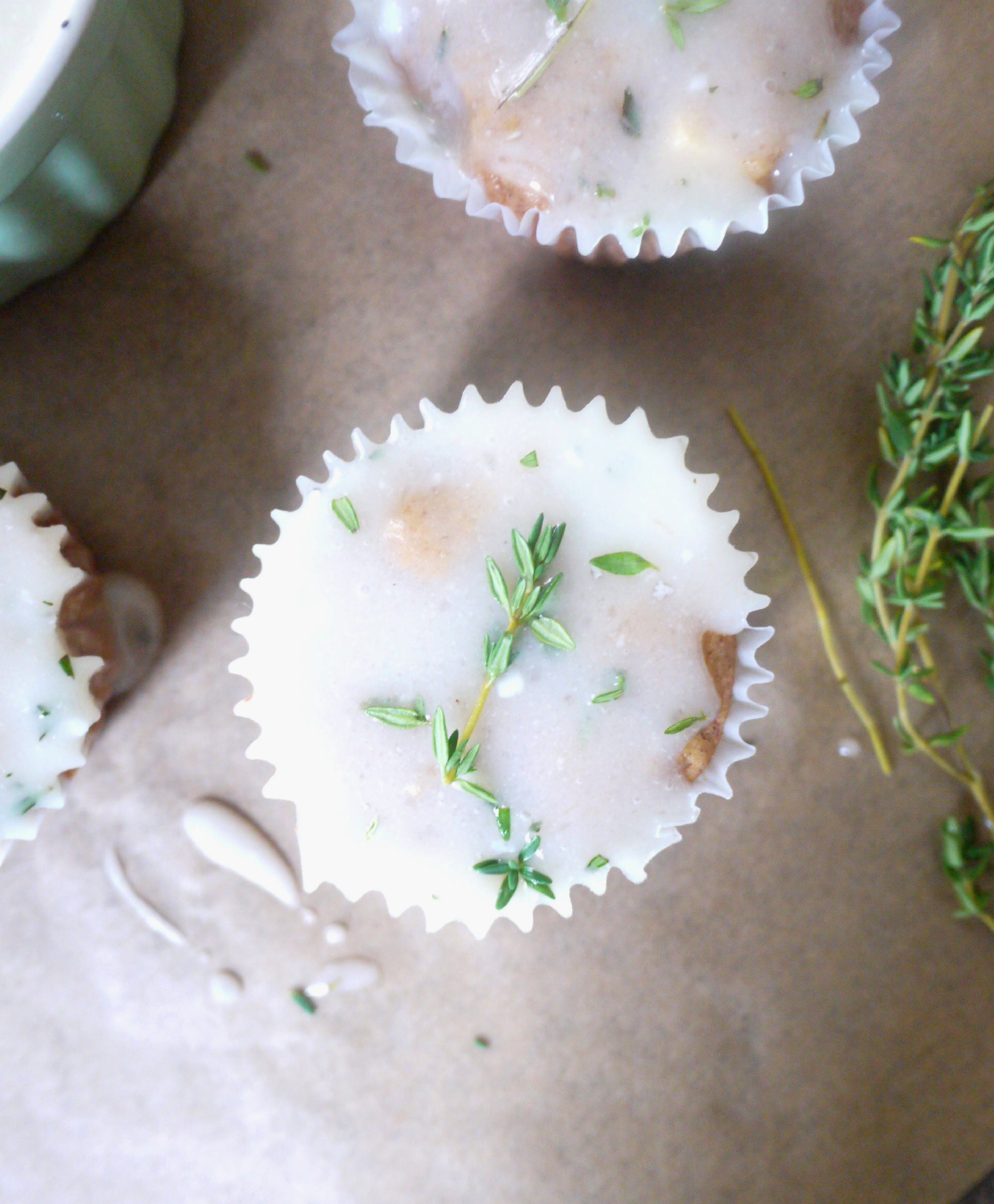 First up, I've got the perfect fall cupcake: apple cupcakes with goat cheese-thyme glaze. Did you hear me? APPLE CUPCAKES WITH GOAT CHEESE-THYME GLAZE. Sorry I got all shouty but I'm just a teensy bit over-excited. I'm not even a cupcake person but this sweet, savory, herby, tangy, apple-y goodness rocks my world.
Second, I've got the perfect fall giveaway: a KitchenAid mixer. Did you hear me? A KITCHEN…. Ok, you got it this time. No more shouting. PROMISE! Whoops. But seriously, how else are you going to make all those apple and pumpkin muffins this without getting spatula elbow if you don't have a KitchenAid mixer?
P.S. Spatula elbow? That's a thing.
Before we get into the details of the giveaway, humor me as I drool over the cupcakes for another minute. Ever since I went to Pippin Hill vineyard for a girls weekend, I've been dying to make thyme frosting. I know it sounds kind of strange but the winery restaurant had some crazy apple cake dessert with thyme frosting, and it was so good and unexpected that it's been on my "to make" list ever since.
Somewhere along the way apple cake became apple cupcakes and thyme frosting became goat cheese-thyme glaze and I fell even deeper in love.
I was *this* close to making the cupcakes vegan but I was too into the goat cheese glaze idea. Instead, I swapped out the butter and most of the refined sugar for applesauce and coconut oil for a little health boost. Yeah for healthy(ish) cupcakes!!!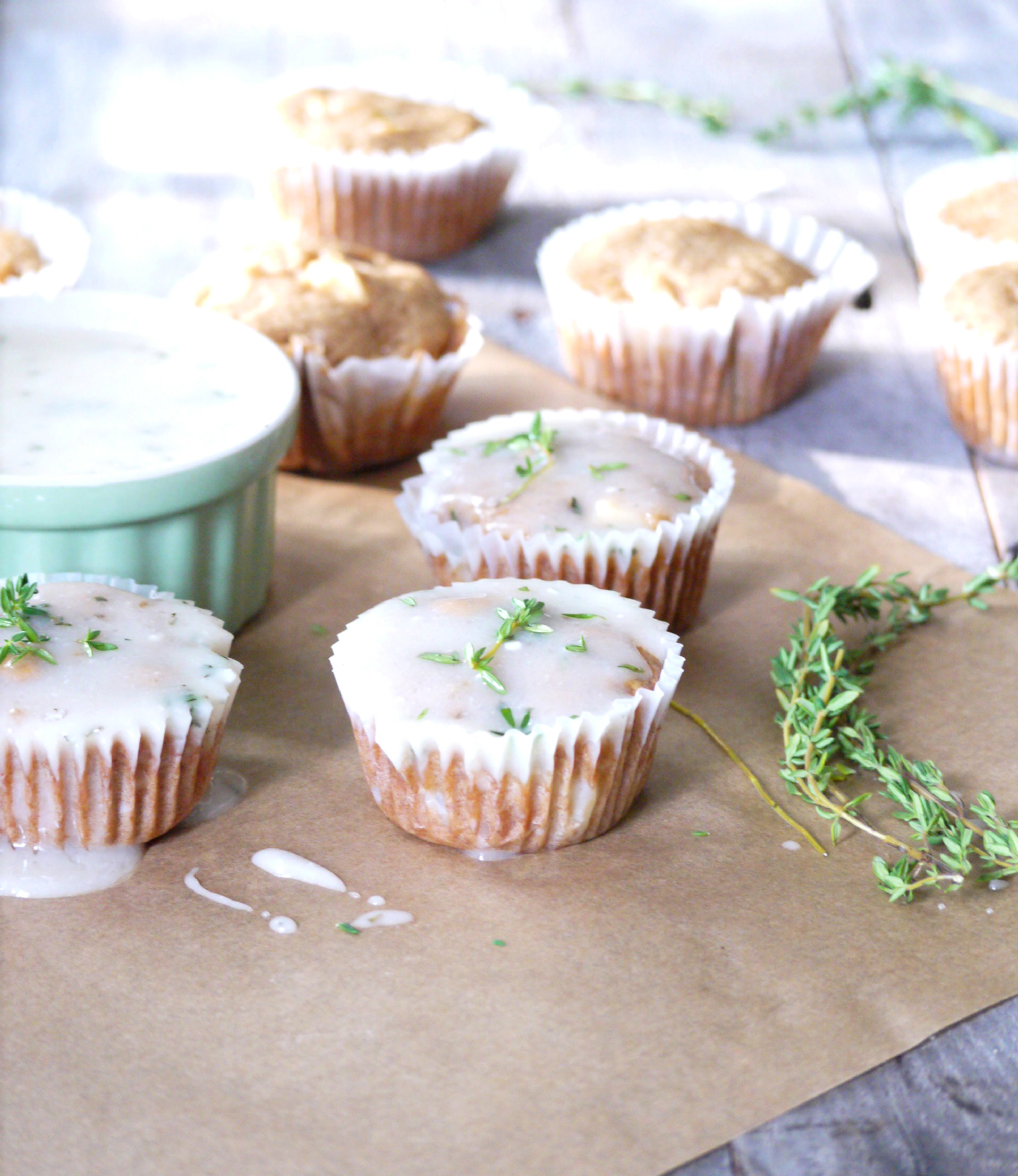 Ok, now we can move onto the giveaway. A bunch of amazing food bloggers and I put together this killer giveaway for all our readers. The giveaway is live today (Friday, Sept 19th) and ends Friday, October 3rd. The winner will get to choose their color and any attachments they want. Who can say no to a free KitchenAid mixer? Not this girl.
a Rafflecopter giveaway

Brought to you by these lovely ladies! Be sure to click on each person and it will take you straight to their site. You'll love them!
Between my apple cupcakes and the other ladies' delish recipes you can be KitchenAid mixing till next spring! Your friends and family will start calling your Sir Mix-A-Lot and you will be all, "I like big muffins and I cannot lie…I've got cakes that you can't deny…"
Yeah, that just happened.
Now, let's eat some cupcakes to erase that awkward moment. 🙂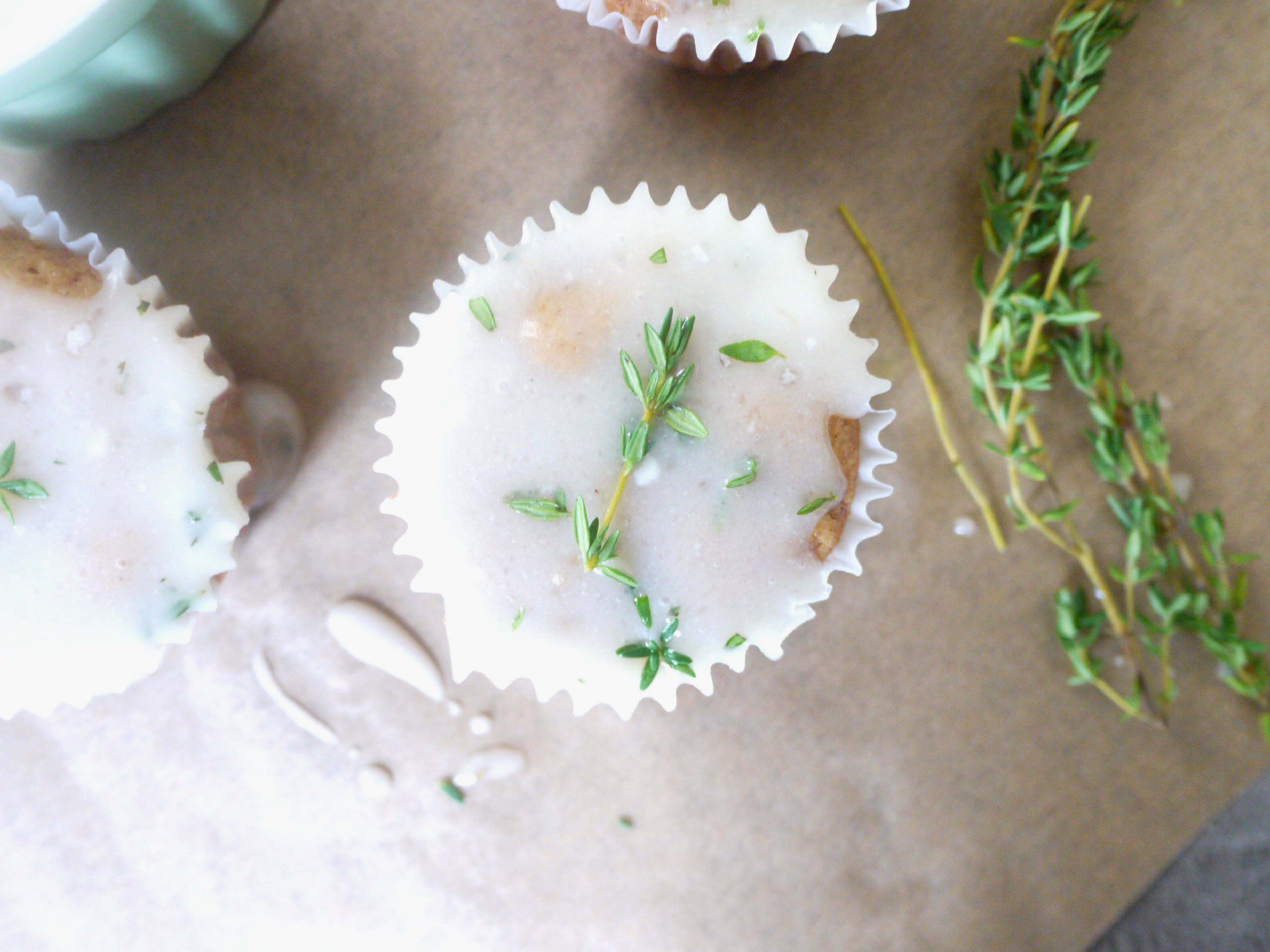 Apple Cupcakes with Goat Cheese-Thyme Glaze
Author:
Healthy Recipe Ecstasy
Ingredients
Cupcakes:
½ cup granulated sugar
¾ cup applesauce
1 large egg
¼ cup coconut oil, melted
1 teaspoon pure vanilla extract
1 cup all-purpose flour
1 teaspoon ground cinnamon
½ teaspoon baking soda
½ teaspoon baking powder
½ teaspoon salt
3 apples, cored, peeled, and chopped
Glaze:
4 ounces goat cheese, softened
¾ cup coconut oil, softened
⅛ cup honey
2 teaspoons chopped fresh thyme, plus more for garnish
1 teaspoon vanilla
2 cups powdered sugar
Instructions
Cupcakes:
Preheat the oven to 350 degrees F. Line 1 regular size cupcake pans with cupcake liners.
In a large bowl using an electric mixer on low speed, combine the sugar, applesauce, eggs, coconut oil, and vanilla extract until blended. In a separate large bowl, combine the flour, cinnamon, baking soda, baking powder, and salt. Add the flour mixture to the butter mixture, mixing on low until blended. Stir in the apples.
Fill the cupcake liners three-quarters full with batter and bake until the cupcakes spring back when touched with your finger, 20-22 minutes. Let cool in the pans for a few minutes, and then remove to a wire rack to cool completely.
Glaze:
In a large bowl, beat the goat cheese, coconut oil, honey, vanilla and thyme leaves at medium speed with mixer until creamy. Gradually add powdered sugar, beating until smooth. Put the glaze in the fridge for 30 minutes to set up. I originally wanted this to be a frosting but it was runnier than most frostings because of all the liquid ingredients. However, it totally works as a glaze!
Once the cupcakes and glaze are completely cool, spread the glaze on the cupcakes and garnish with thyme leaves.
NOTE: Store the cupcakes in the fridge or in a cool place so the glaze doesn't melt.