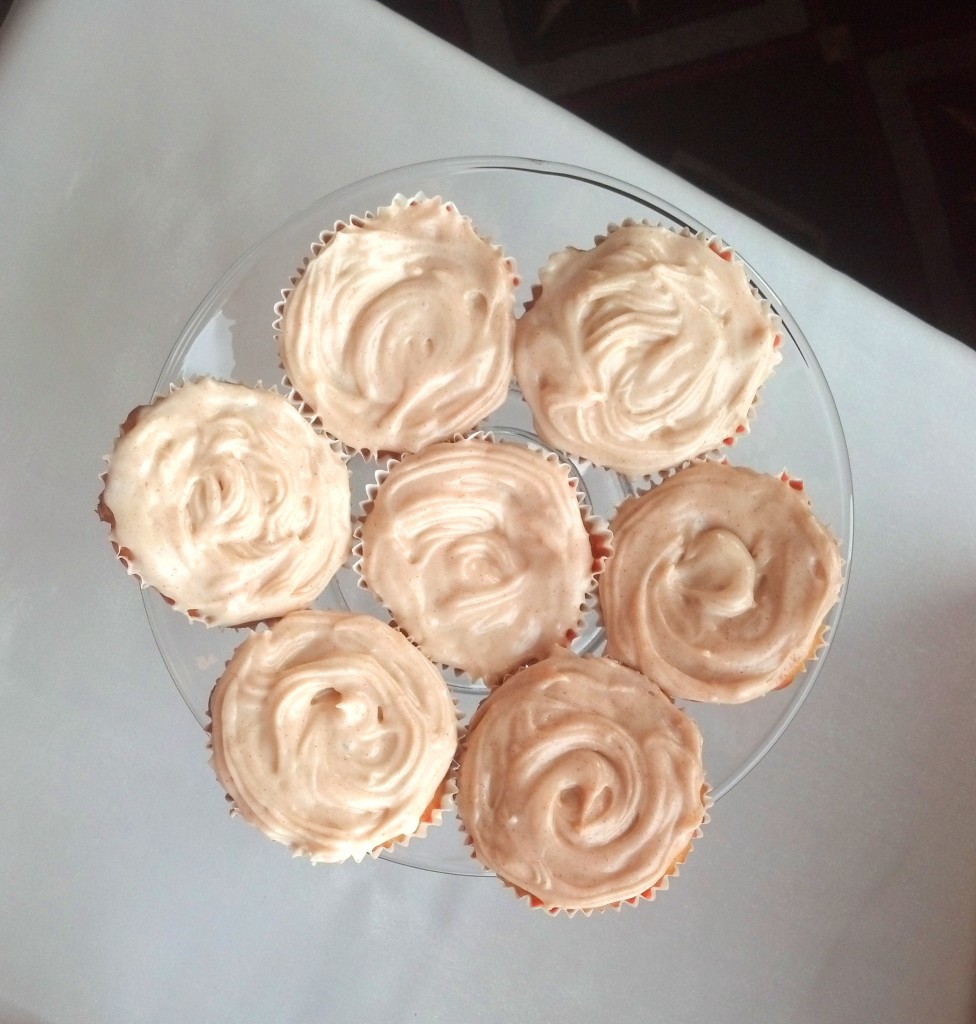 You know what I haven't had in a while? No, I'm not talking about fettuccine alfredo again. I'm talking about a vacation. A real vacation. Sure, I travel all the time for weddings, work, visiting the in-laws in Scotland, but I'm talking lying on the beach in 85-degree weather with a daiquiri in one hand and a trashy romance novel in the other. You know, the kind of trip where you eat and drink too much and do nothing productive for days on end and your only goal is to spend more time sleeping than you do awake. I literally cannot remember the last time I was in that place.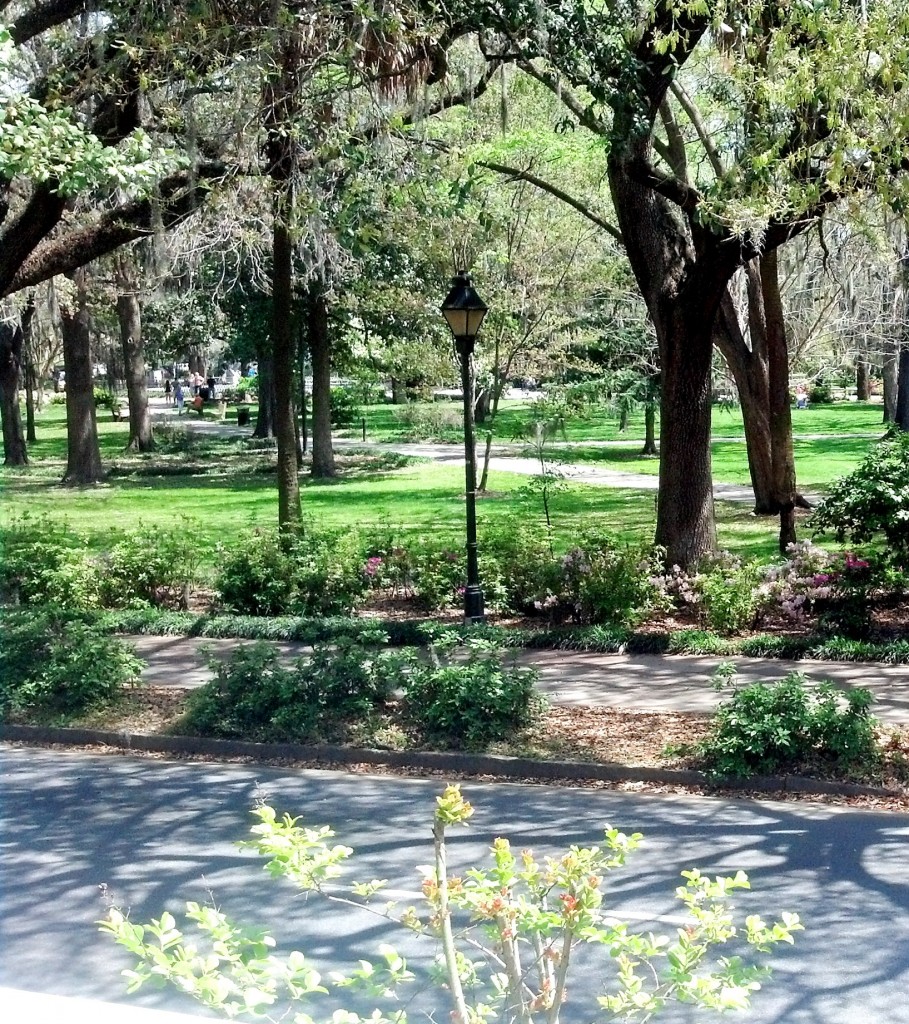 Maybe I'm reaching the point of desperation, especially after last year's wedding craziness and this torture chamber of a winter, but, this past weekend, I considered three gloriously warm and sunny days in Savannah, Georgia for one of my best friend's weddings the closest thing I'm going to get to that beach vacation. It wasn't very restful (weddings rarely are) but there was a riverboat involved, the weather was a sunny 85 degrees and I definitely ate and drank too much – starting with my first low-country boil at the rehearsal dinner!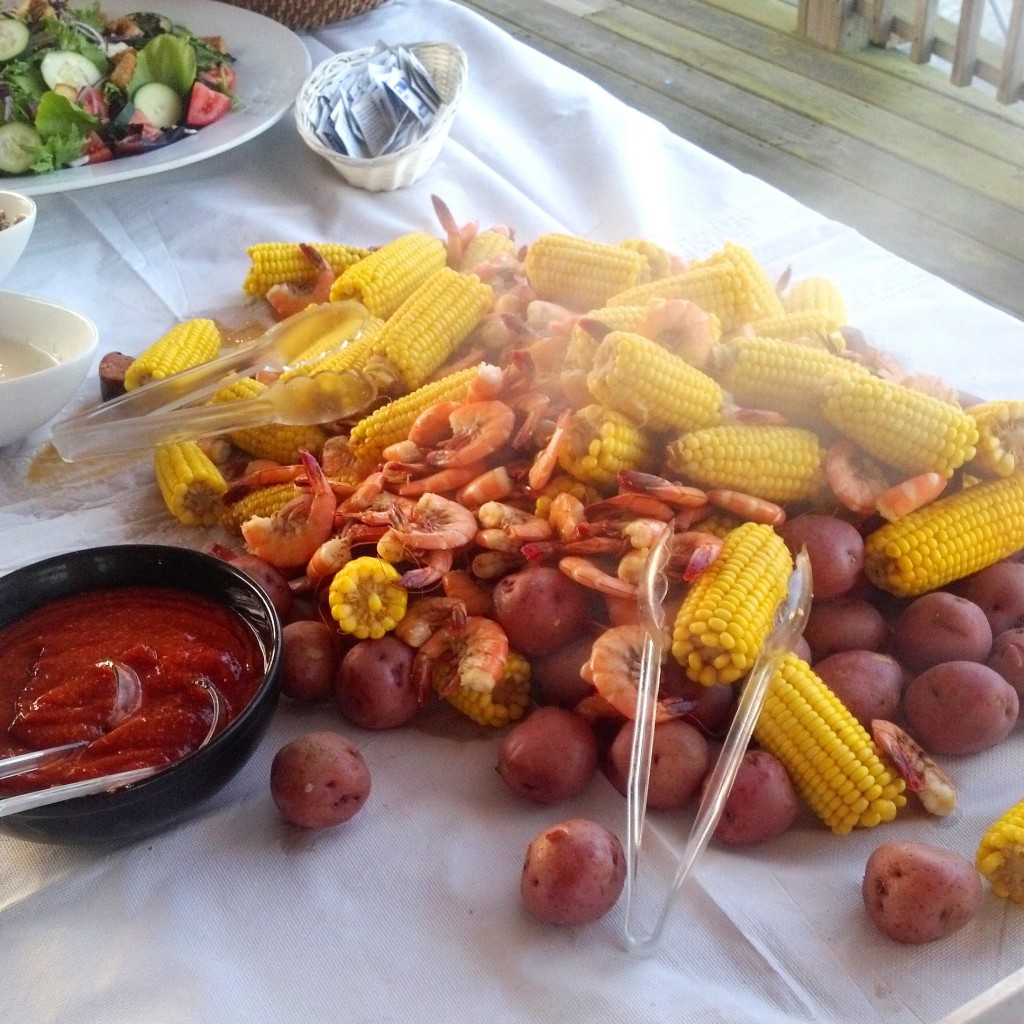 The wedding dinner included a southern buffet with some of the best mac 'n' cheese and fried chicken I've had in a while followed by amazing peach cupcakes that the bride and I baked the morning of the wedding. For the post-wedding brunch, we had hash brown casserole, vegetable strata, bagels, fruit salad – you name it, I ate it. It's no wonder that I'm still in a food coma two days later. Every vacation or pseudo vacation has its upsides and downsides.  The downside here is a food baby that won't quit and a cancelled flight home that was rebooked as a 5 a.m. flight the next morning – not a fan of early morning flights. But, it was all worth it for the beautiful bride, beautiful wedding, and beautiful weather.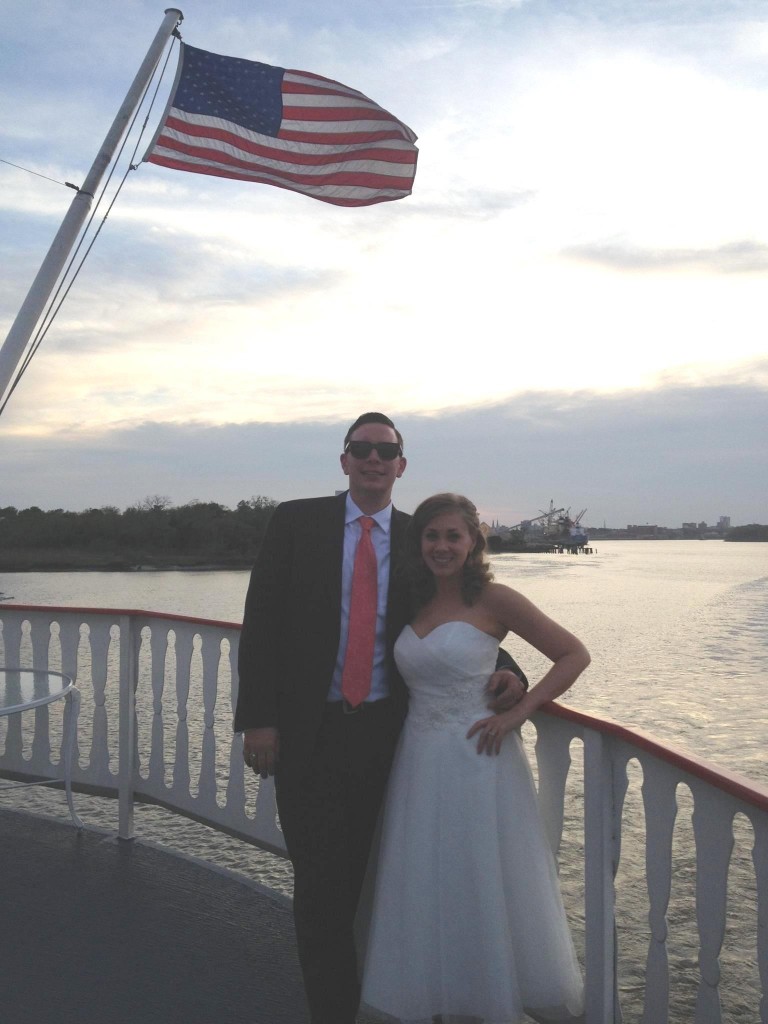 Speaking of peach cupcakes, let's just say that me, the bride, and our other bestie were fighting over the icing the morning of the wedding. That's how good these cupcakes were. And they went over big with the wedding guests. Kim, the bride, really wanted fruity cupcakes and found a recipe for Peach Cobbler Cupcakes with Buttercream Frosting on the blog, Bake It In A Cake. Georgia Peach cupcakes for a Savannah, Georgia wedding could not be more perfect. The bride and groom are cream cheese fans so we swapped in cream cheese frosting for the buttercream. Like most everything we ate this past weekend, the cupcakes were not at all healthy. But, if a wedding isn't time to indulge, I don't know what is!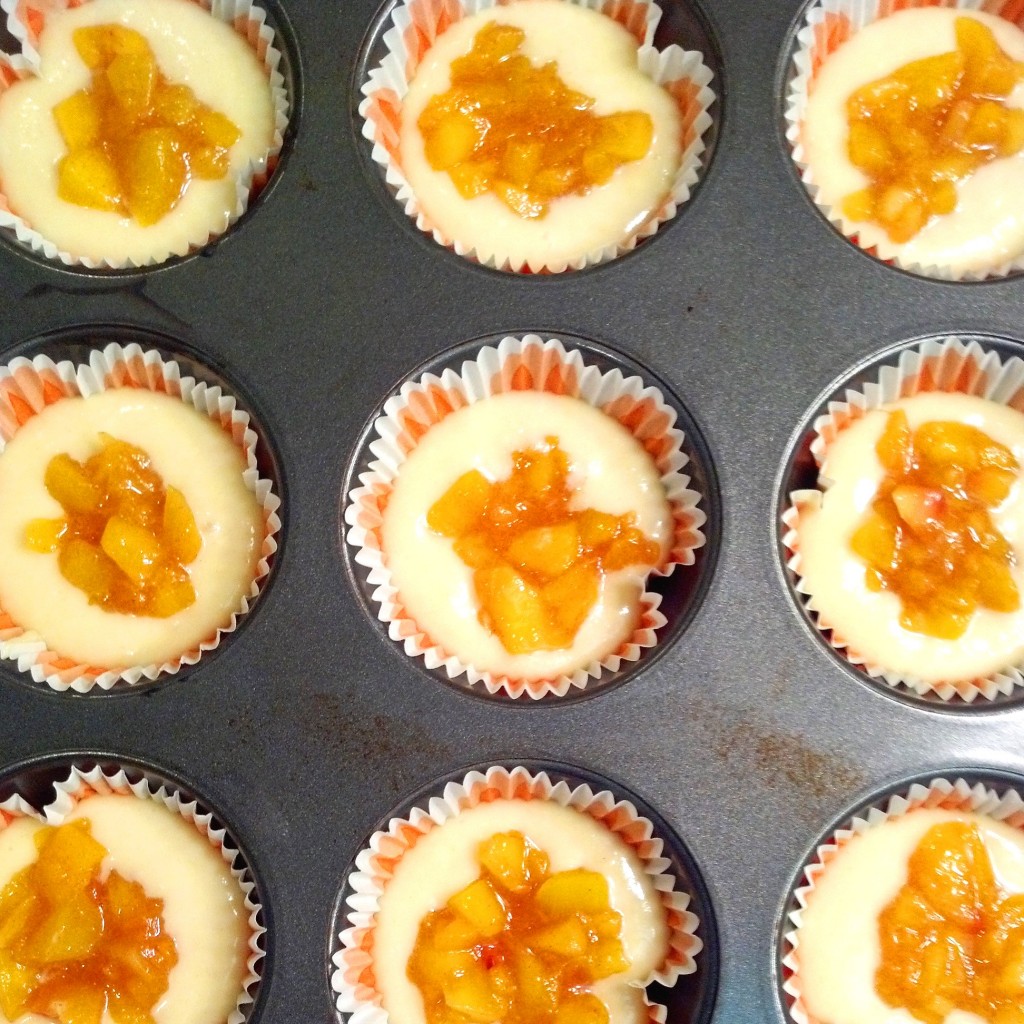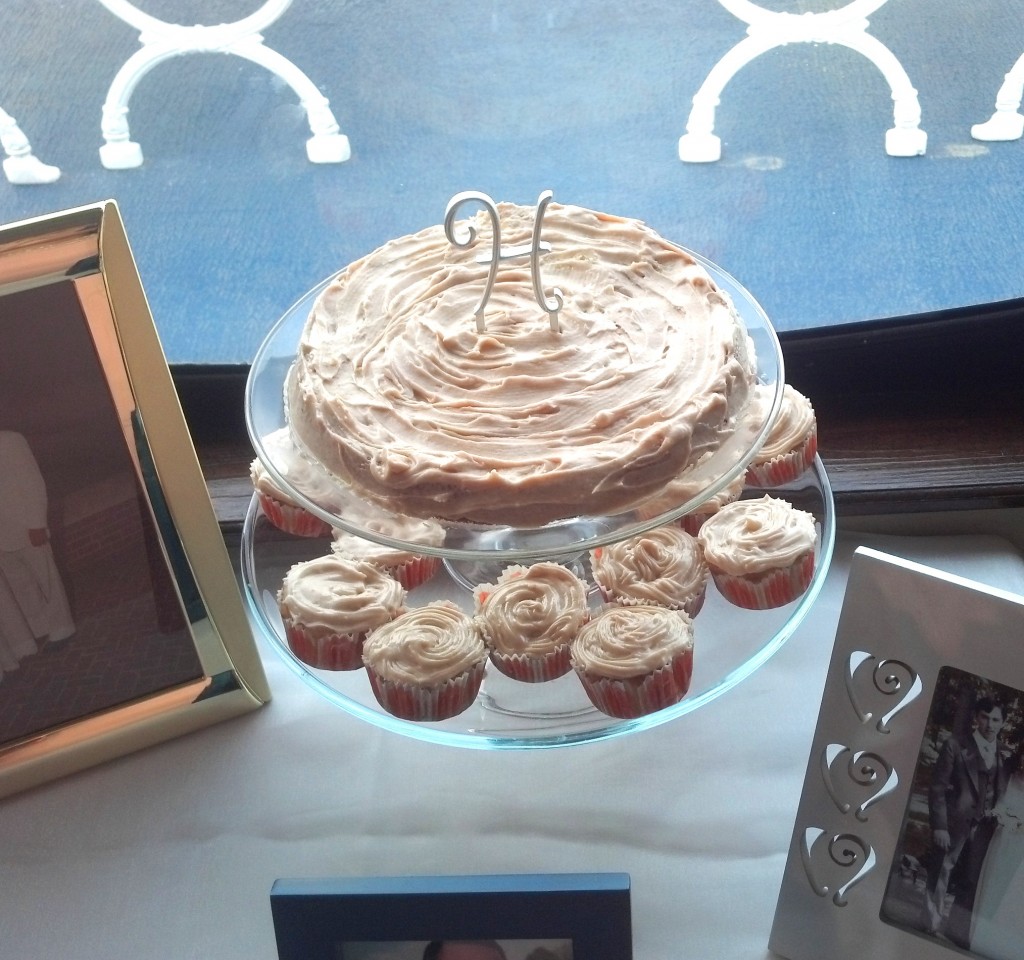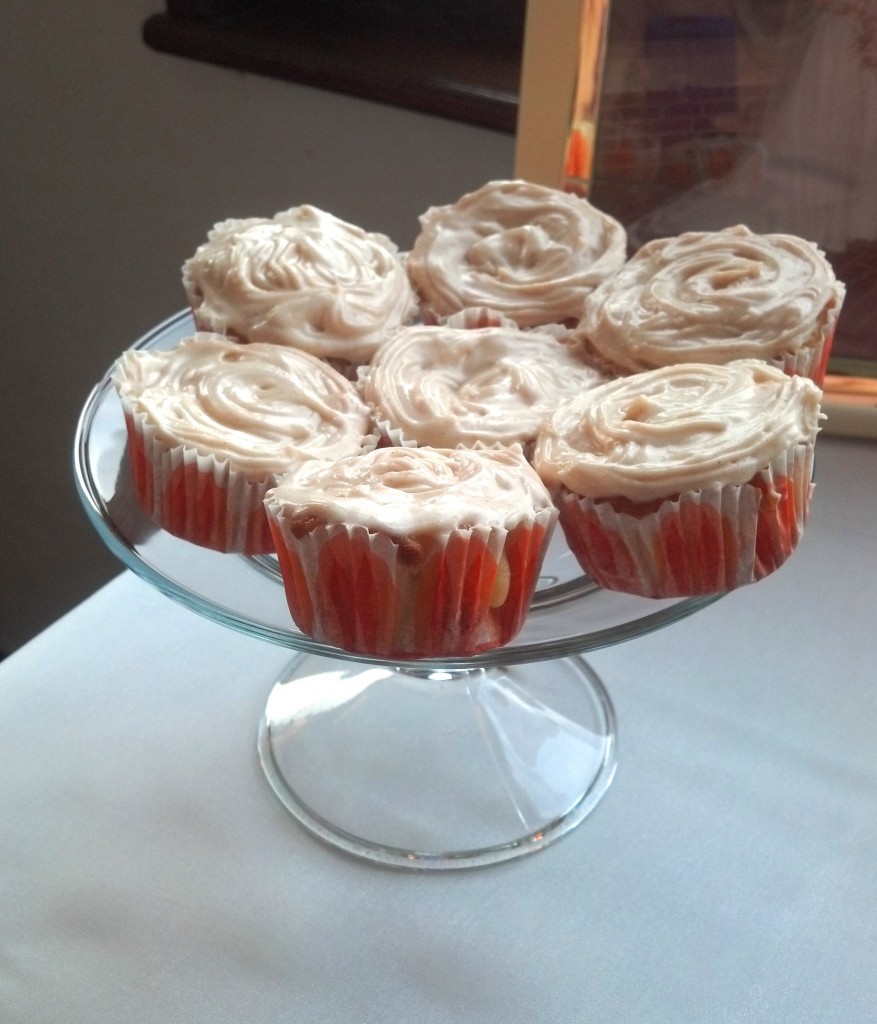 Now that I'm home, and I've had a taste of vacay, I cannot fathom the thought of going back to work. Fortunately, for me, my time back at work will be short-lived as we're about to jet-set off on another trip. This time, and for the first time in a long time, I think I will actually get to relax (say what??) though there will be plenty to do. Important stuff like shopping, indulging in good wine and great food, having a spa day and taking some cooking classes. Any guesses as to where I'm going? I'll let you know when I get there. 🙂

Georgia Peach Cupcakes
Author:
Healthy Recipe Ecstasy (Slightly Adapted from Bake It In A Cake)
Ingredients
Peach Filling:
3 small peaches or 2 large peaches (you can use frozen peach slices if peaches are not in season)
½ teaspoon cinnamon, more to taste
Cupcakes:
1½ sticks unsalted butter, room temperature
1½ cup granulated sugar
3 eggs
2 teaspoons baking powder
½ teaspoon baking soda
¼ teaspoon salt
2 teaspoon vanilla
2½ cups all-purpose flour
1⅓ cups whole milk
Cream Cheese Frosting:
8 ounces cream cheese, room temperature
4 tablespoons unsalted butter, room temperature
2 cups powdered sugar (add another cup of sugar for a thicker, sweeter frosting)
1 teaspoon vanilla extract
1 teaspoon cinnamon (more or less to taste)
Instructions
Cupcakes:
Pre-heat the oven to 350 degrees (F).
Peel and dice the peaches into small pieces. Place the diced peaches in a bowl and toss them with about a ½ teaspoon cinnamon (or more to taste). Set aside.
For the cupcake batter, cream together the butter and sugar until fluffy. Add the eggs, one at a time, and mix until combined. Add the baking soda, baking powder, vanilla, and salt and mix for about a minute, on medium high, until creamy (be sure to scrape down the sides of the bowl once or twice, to ensure everything is getting worked in). Then add the milk and flour, alternating between the two ingredients (to avoid lumps) until the batter is smooth and everything is well combined.
Scoop two heaping tablespoons of batter into your paper-lined cupcake tins so they're about ⅔ of the way full. Spoon a heaping teaspoon of the peach mixture into the center of each cupcake tin, and slightly press the peaches into the batter with the back of the spoon. Top with one more tablespoon of batter.
Bake for about 22-25 minutes, until the cake is golden brown and set (it will bounce back when you gently press your finger into a cupcake). Allow cupcakes to cool completely.
Frosting:
Using an electric mixer, whip the butter and cream cheese until combined and creamy. Then add the powdered sugar one cup at a time, scraping down the sides of the bowl between additions (to make sure everything is getting incorporated). Mix in the cinnamon and vanilla.
Once the cupcakes are cool, use a rubber spatula or a pastry bag to add the frosting.
NOTE: We didn't have the time, but the cupcakes would be really cute topped with a peach slice.