What do you get when you cross my Chicken Curry with Chorizo and my Crispy Black Bean Tacos with Feta and Spicy Lime Cabbage Slaw? You get surprisingly amazing Chicken & Chorizo Curry Tacos.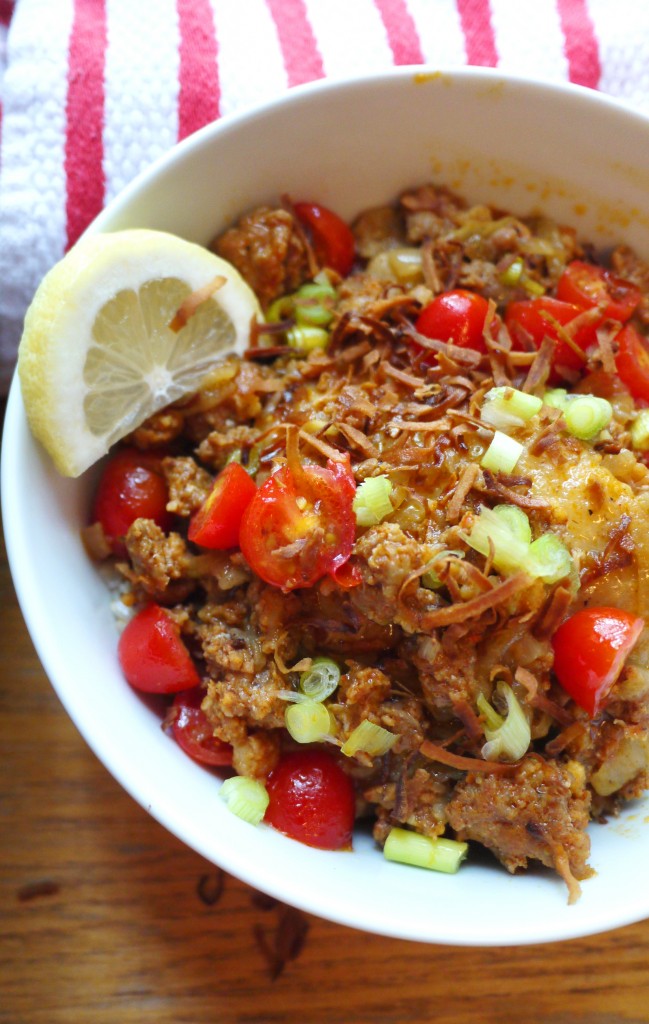 +  (Plus)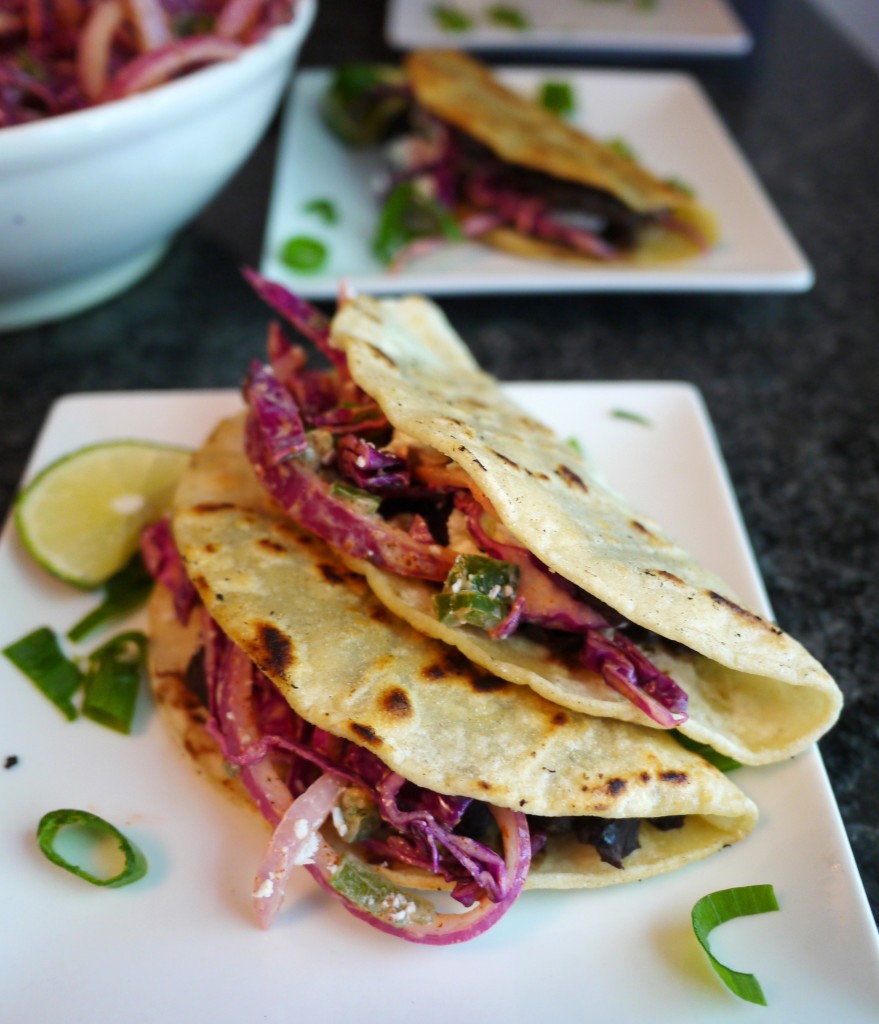 = (Equals)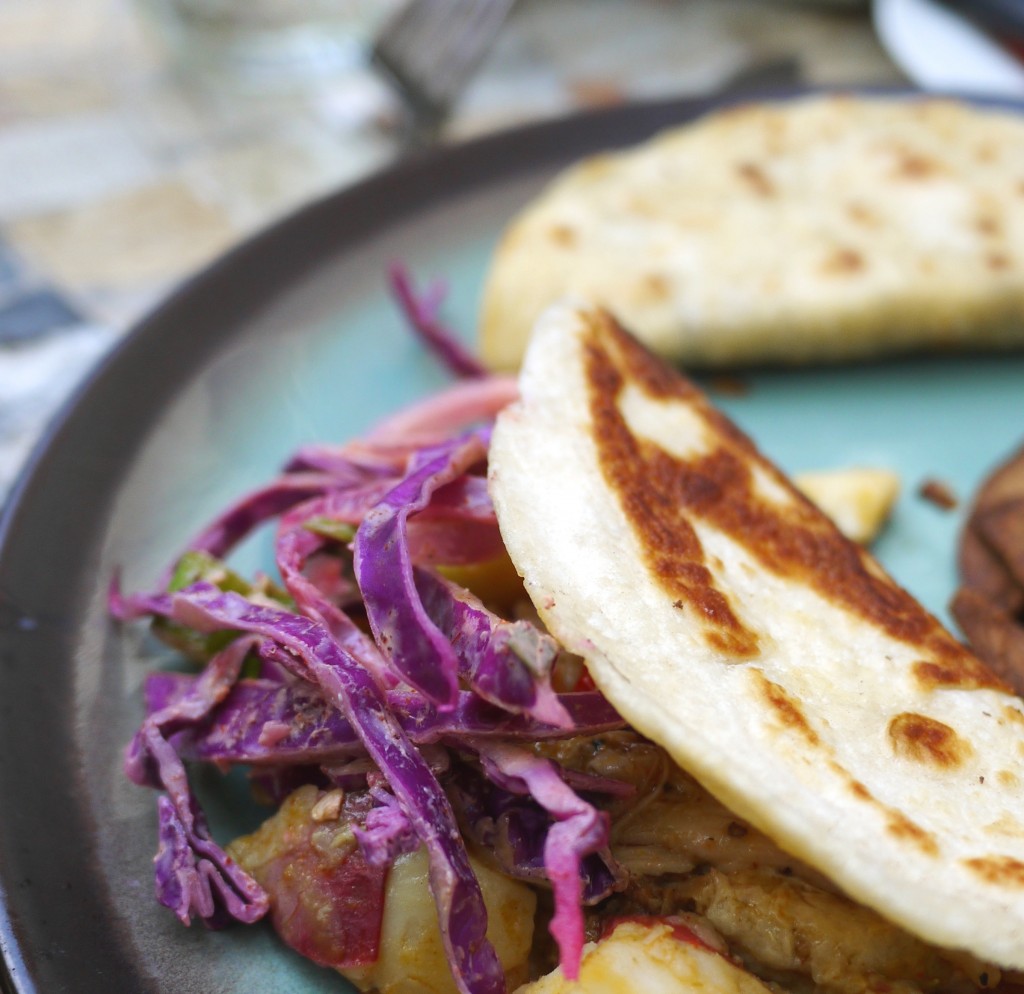 Last night, we were faced with that dreaded decision. Do we go out to eat or do we make use of the hodgepodge of leftovers in the fridge? You know how it is. You don't have quite enough leftovers from any particular dish to make a full meal, let alone two full meals. But there are enough leftovers sitting around your fridge in Tupperware that you feel bad going out to eat, and you know if you don't eat those leftovers soon, they will likely end up going bad, and, ultimately, you will have "wasted food" guilt.
So, I made an executive decision. Not only were we going to finish off the curry and tacos, but we were going to do so with culinary style.
Here's how it worked. We ate the black bean tacos per the usual instructions. However, with the curry, I decided to get a little crazy. I took the leftover curry (a mixture of chicken thigh, chorizo, some potato that Alasdair had thrown in, cherry tomatoes and sauce) and I shredded it. I took the chicken meat off the bone, I cut the potato up into little pieces, and I further diced the chorizo.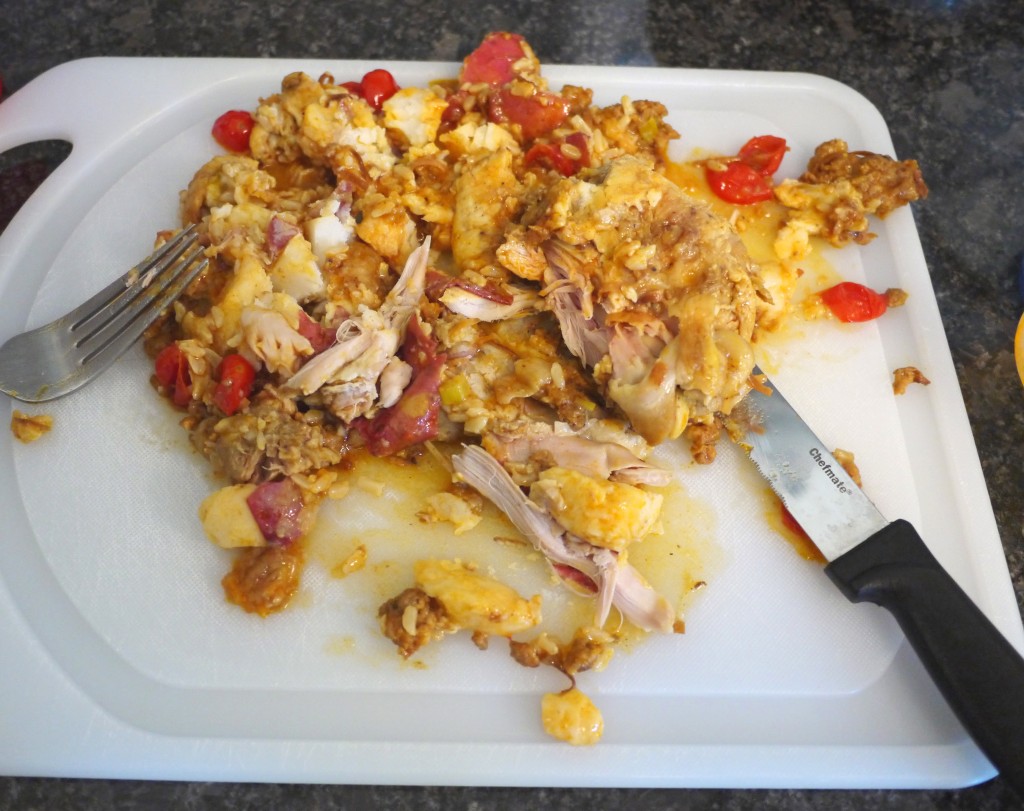 Then, I followed the exact same instructions as the black bean tacos.
I heated up a tortilla (I used flour rather than corn because they are slightly thicker and the curry needed a hefty wrap). I added a couple tablespoons of the curry mixture and let it cook for about a minute. Then, I folded one side of the tortilla over and continued cooking until the tortilla was browned on both sides (about 30 seconds each side). NOTE: The flour tortilla cooks faster than the corn tortilla.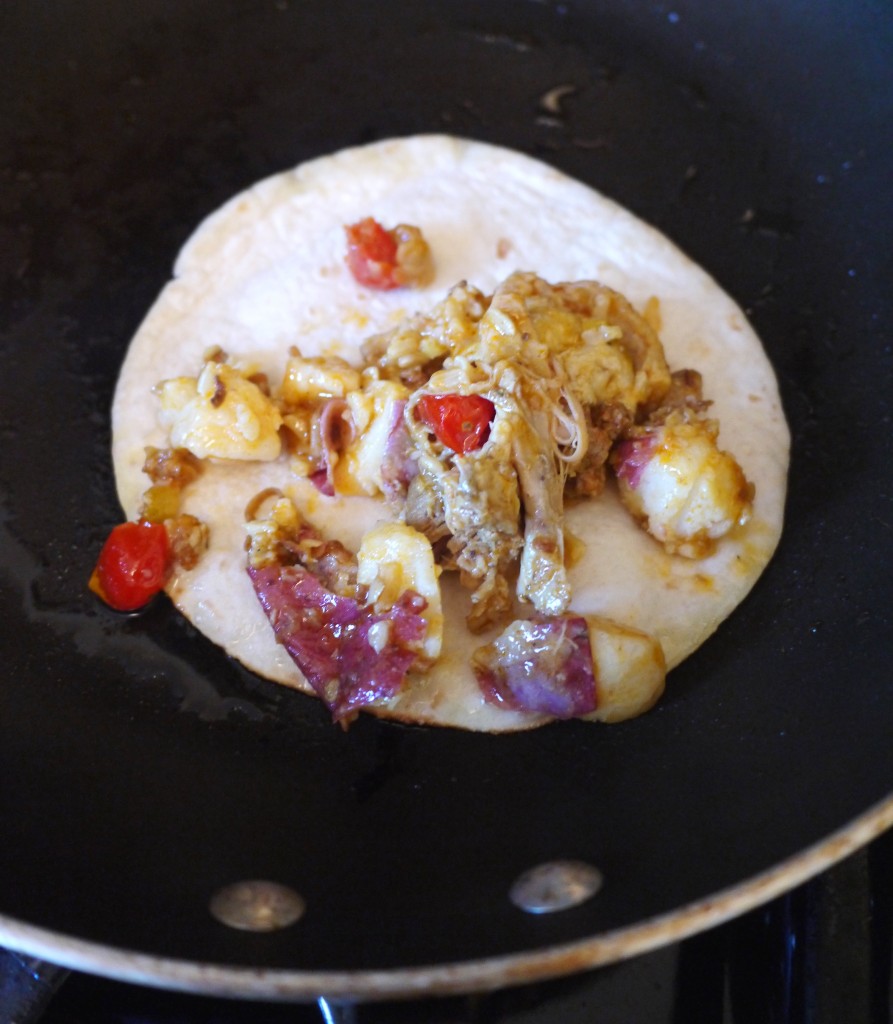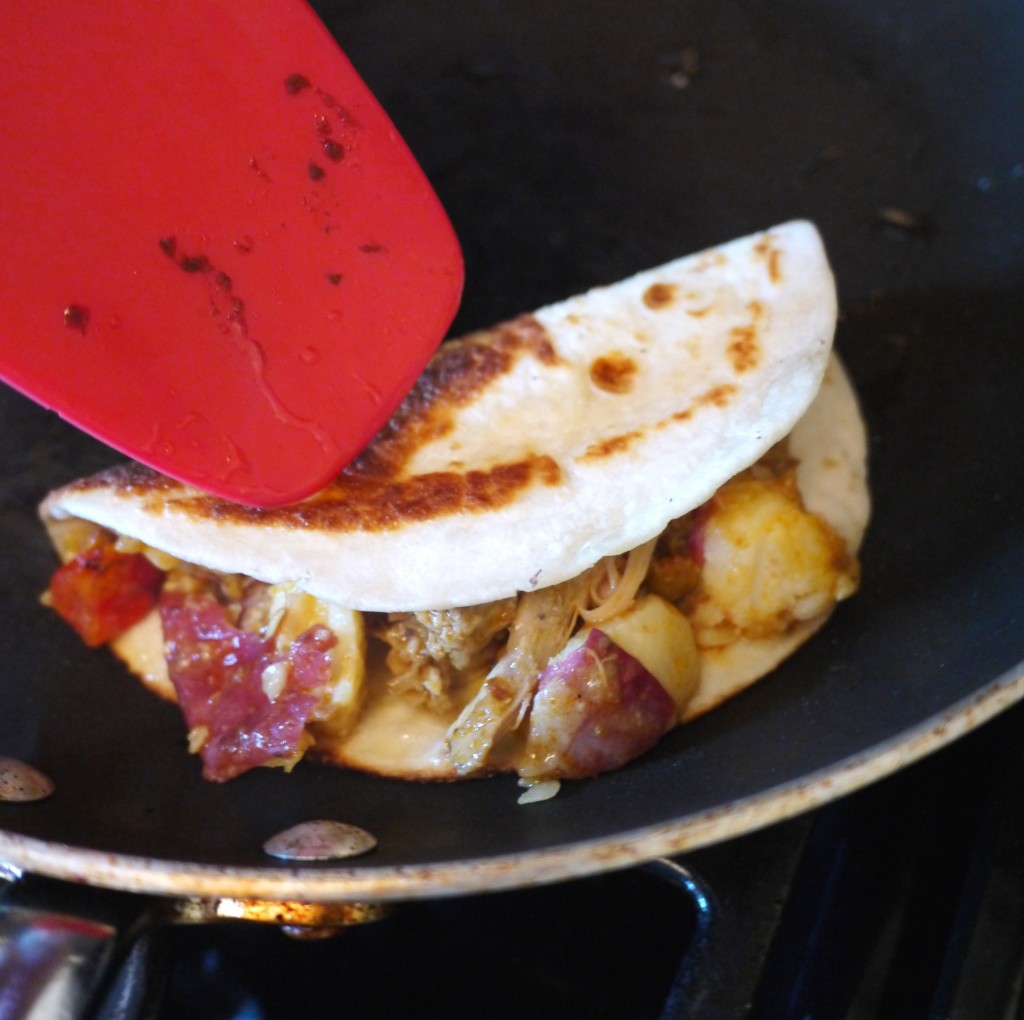 THEN, for the piece de la resistance (I love saying that), I added the spicy lime cabbage slaw to the tacos.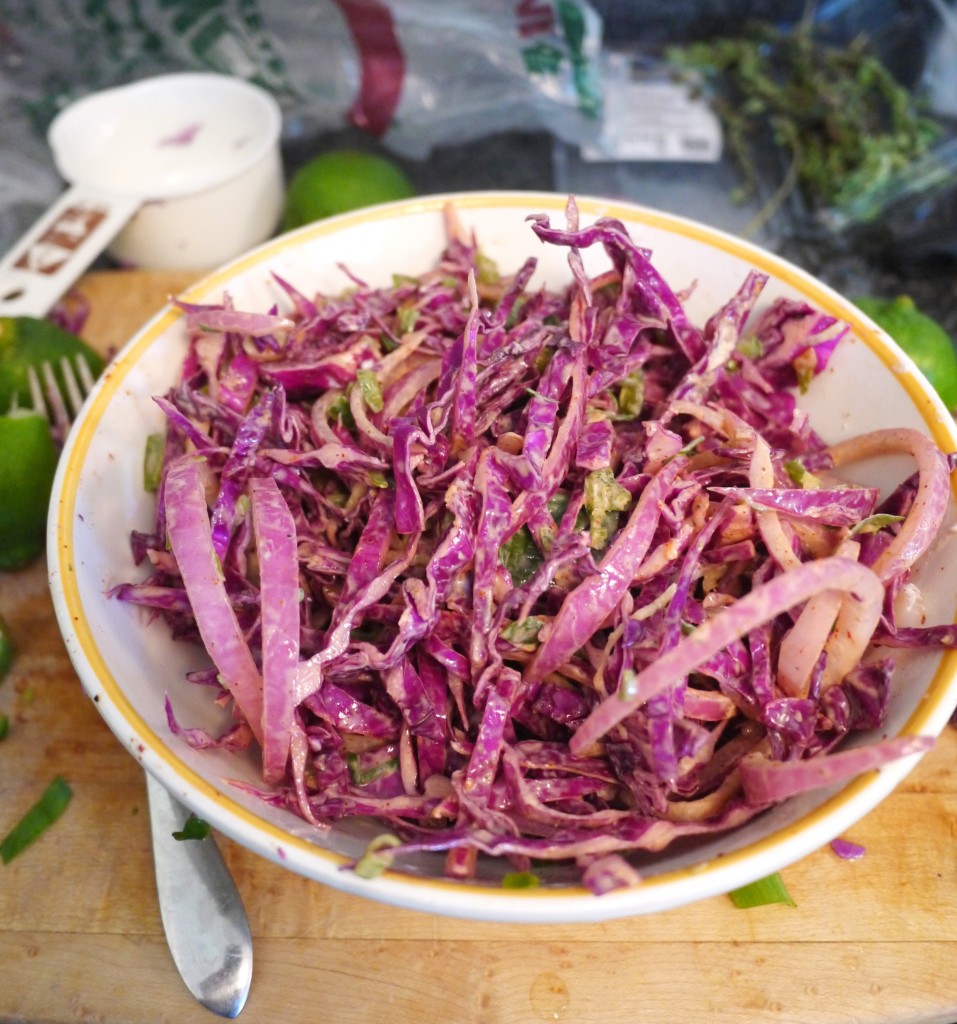 And, you know what? It was good. Really good. I mean, almost better than the black bean tacos good. So good that Alasdair said, you should really keep going with this fusion taco thing.
So I will. Keep the fusion taco thing going, that is. I've already made Cooking Light's Korean-Style Beef Tacos for you, and my California-style Tuna Tacos are the most requested dish in our house.  I have a theory that just about anything stuffed into a tortilla shell will come out amazing. Ok, maybe not cereal. But, sometime, in the not so distant future, I will test that theory by making curry tacos, Italian tacos, maybe even French tacos (yes, I know, the equivalent of a French taco is probably a crepe but we're talking tortilla here….) Anyways, the sky is the limit!
Until, then, if you make my Black Bean Tacos and Chicken Curry with Chorizo in the same week and have leftovers, don't be afraid to go wild. You just might discover something amazing.