Remember when I told you last month about my theory that just about any food stuffed into a tortilla shell will come out amazing? And I said I was going to test that theory by making all sorts of tacos? Well, I wasn't lying! This week is my first installment of "what doesn't taste good in a taco?"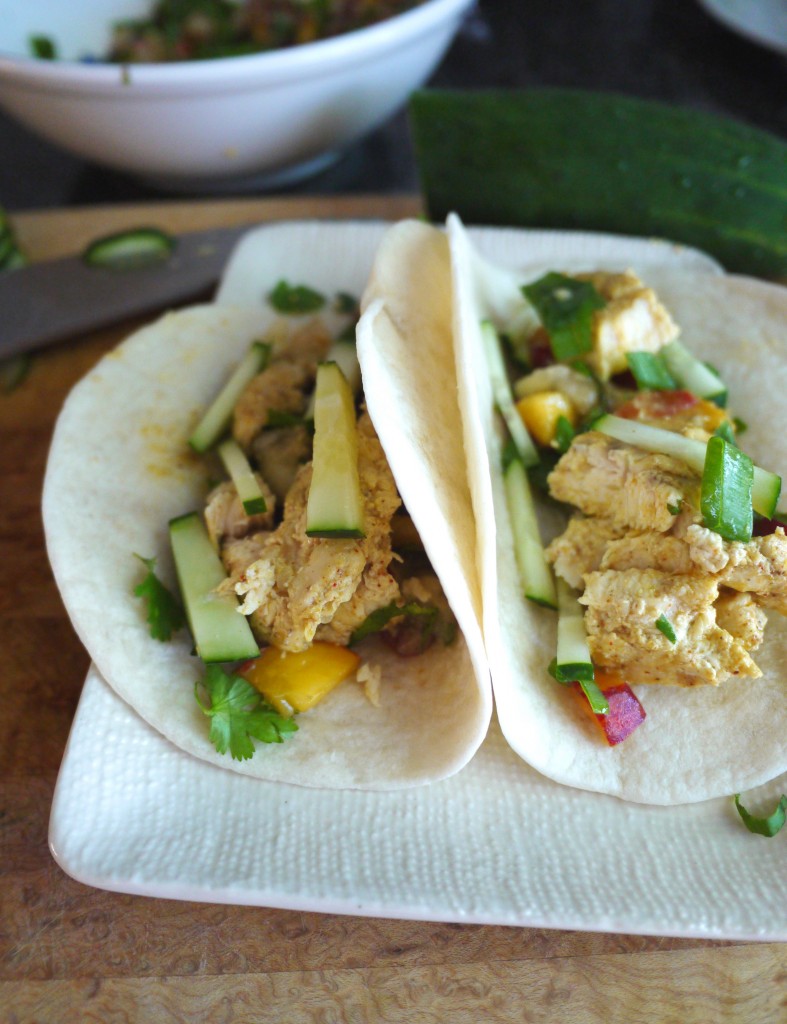 It seems that I'm not the only one who had the fusion taco idea. Cooking Light has ventured into the fusion taco territory with German-inspired Beer-Braised Chicken Tacos and Asian-inspired Tofu Tacos. Both of which sound interesting. To follow up on my original curry taco experiment, we're going to take the fusion taco idea one step further by experimenting with an Indian-inspired chicken curry taco topped with a spicy peach and mint chutney.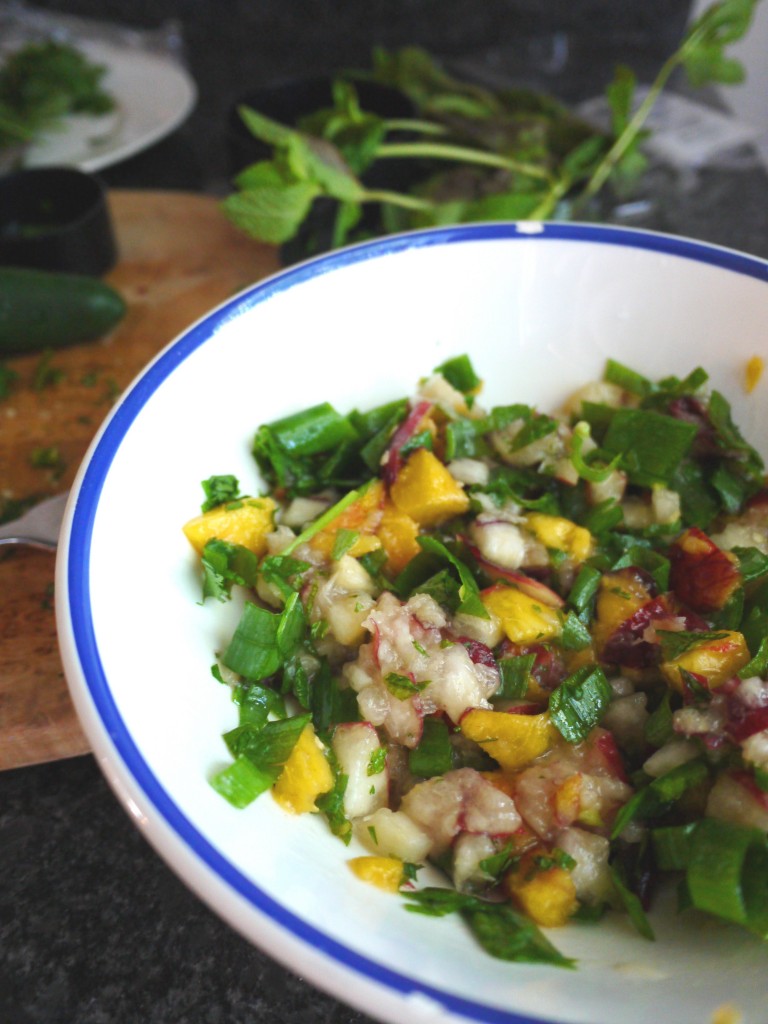 I was a little hesitant about the chutney because I don't love adding fruit to my savory dishes, but I could not get enough of it. Alasdair, of course, was pleased because he got to eat curry all week in different forms! First, we had his almond butter curry dish (which I've been begging him to share with you all), then we ate the chicken curry tacos, and then I experimented with some Thai-inspired lemongrass beef tacos. The lemongrass tacos looked good on paper – they had all the right spices and sauces – but for some reason the finished product did not come together. I'll keep working on those….
Healthy Recipe Ecstasy? These tacos were a hit! The curry chicken was moist and flavorful. And the sweet and spicy chutney was the perfect bright topping to add a little acidity to the dish and cut the strong curry flavors. I used flour tortillas because I think they stand up better than corn tortillas to heavy taco fillings; however, if you have a gluten issue, feel free to use corn tortillas instead. There is no dairy in this dish and the only added sugar comes from the fruit. If you have any doubts about whether you should be eating these tacos, let me put your mind at ease. I have lost all the birthday weight I gained on a steady diet of curry taco dinners (and spin class, of course).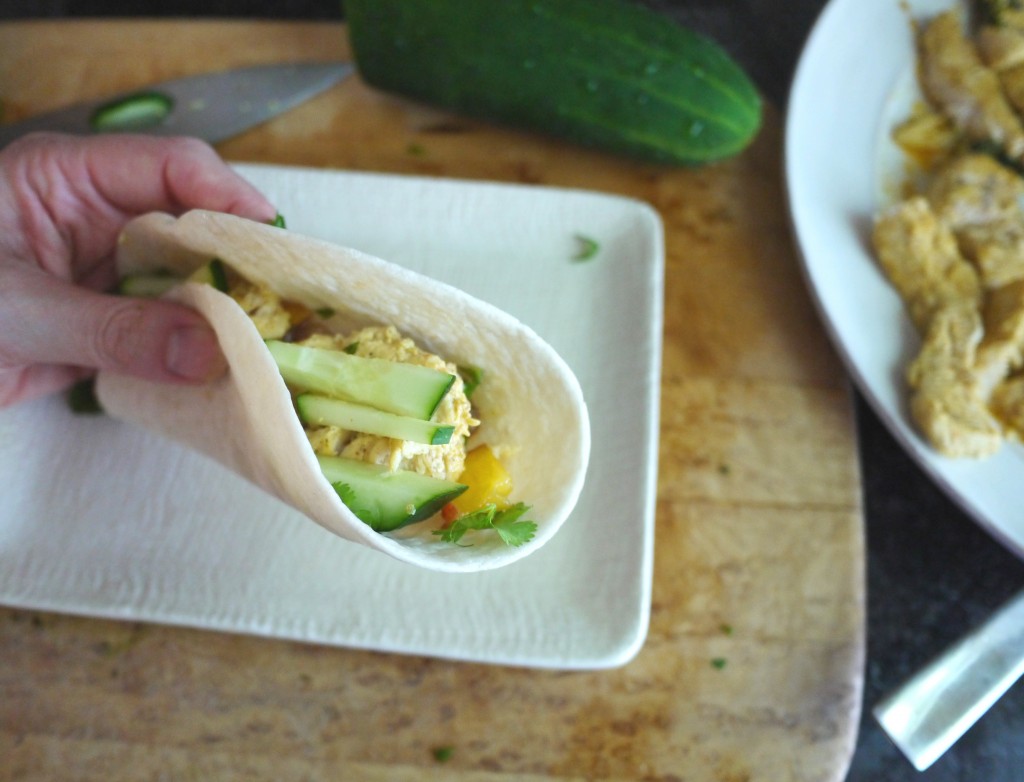 Chicken Curry Tacos with a Spicy Peach & Mint Chutney
Author:
Healthy Recipe Ecstasy
Ingredients
MARINADE:
8 skinless, boneless chicken breast halves
1 cup light coconut milk
1 tablespoon curry powder
1 teaspoon chile powder
1 tablespoon lime juice
5 cilantro sprigs
3 garlic cloves, crushed
CHUTNEY:
2 cups chopped peaches
¾ cup finely sliced green onions
1 tablespoon chopped fresh cilantro
1 tablespoon chopped fresh mint
1 tablespoon diced jalapenos (remove the seeds if you would like a milder chutney)
2 tablespoons lime juice
Salt and pepper to taste
TACOS:
1 tablespoon canola oil
Pinch of kosher salt
Half a large cucumber
6 flour tortillas
Instructions
Combine chicken, coconut milk, curry, chile powder, one tablespoon lime juice, cilantro sprigs and garlic in a large heavy-duty zip-top plastic bag or large bowl. Seal and marinate in the refrigerator for 30 minute - 2 hours, turning occasionally.
Combine all the chutney ingredients in a medium bowl (peaches through lime juice) and toss gently. Season to taste with salt and pepper. Cover and set aside.
Slice and dice cucumbers into matchsticks.
Preheat skillet to medium-high heat.
Remove chicken from bag; discard marinade. Sprinkle chicken with a pinch of Kosher salt. Add chicken to skillet and cook, 2-3 on each side. Let stand five minutes. Cut chicken across the grain into thin slices.
Place two tablespoons of peach chutney in the center of each tortilla. Divide chicken evenly among tortillas.
Garnish with a squeeze of lime, matchstick cucumbers and more cilantro, if desired.