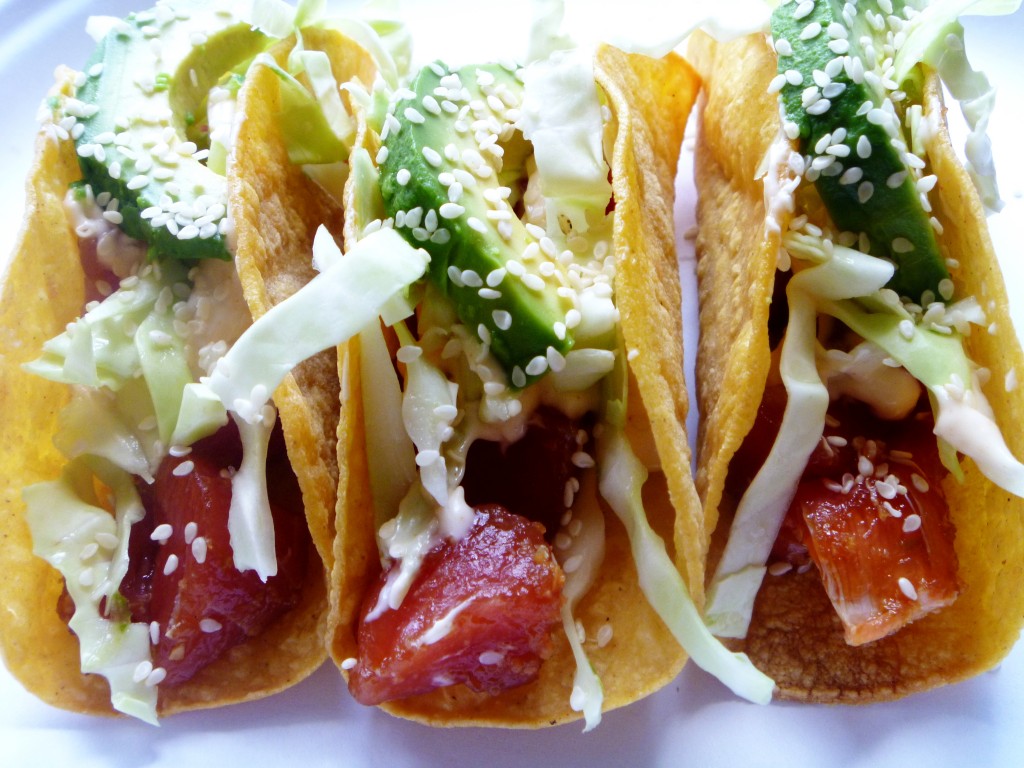 In March, Alasdair and I went to Napa Valley to do a little wine tasting. As much as I loved the wine tasting, my favorite part of the trip was dining at all the amazing restaurants. From JoLe in Calistoga to Girl and the Fig in Sonoma and Ad Hoc in Yountville, we tasted top-notch California cuisine. All three restaurants are well-known and well worth the price tags. Even though those restaurants had some of the best food I have ever tasted, my most memorable food experience during our trip was at a little roadside food stand called Gott's Roadside.
Before going to Napa, my mom told me that we had to try the fish tacos from Gott's. I've never been a fan of fish tacos. But my mom swore up and down that these were the best tacos she ever had and, possibly, the best meal she had in Napa. So, on our way from Calistoga to Napa, we stopped on the side of the road in St. Helena, CA at 11 a.m. and tried the fish tacos. She was right. They were, without a doubt, some of the best tacos I have ever had.
Mouthwateringly delicious.
A few months later, I was still thinking about those tacos. I could still taste the delectable combination of fresh avocado, rare ahi tuna, and spicy sauce. In a food-crave frenzy, I searched everywhere for a copycat recipe, but none was to be found. Fortunately, the menu specifies the ingredients used in the tacos – ahi poke, avocado, green cabbage, cilantro, toasted sesame seeds and spicy mayo in crispy taco shells – so I decided to have a go at making my own copycat recipe. Unfortunately, exactly what is used to marinate the tuna is not listed. Neither are the ingredients that make up the spicy mayo sauce. So, there I had to improvise.
The results of my improvisation? RIDICULOUSLY TASTY. If you can't make it out to Napa for the original, these are just as good.
Let's talk about the taco shells for a second. You have multiple options that would work here.
Option #1: Buy crispy taco shells from the store. It's quick and easy if you're in a rush.
Option #2: Heat up tortillas in the microwave and make yourself some soft tuna tacos.
Option #3: Pan fry the tortillas and gorge on some fresh crispy tacos.
Option #4: Drape the tortillas over the oven racks and bake them until crispy.
HEALTHY RECIPE ECSTASY? YES, YES, YES!! Out of everything I've ever cooked for him, this is probably the dish that Alasdair requests the most. It's citrusy, crunchy, spicy and creamy. Everything you could ask for in a taco. Oh, and it's super healthy. I always feel good when I eat these tacos – like I'm doing something good for my body and my taste buds. 🙂 The tacos may not be Gott's exact recipe but they are just as mouthwateringly delicious!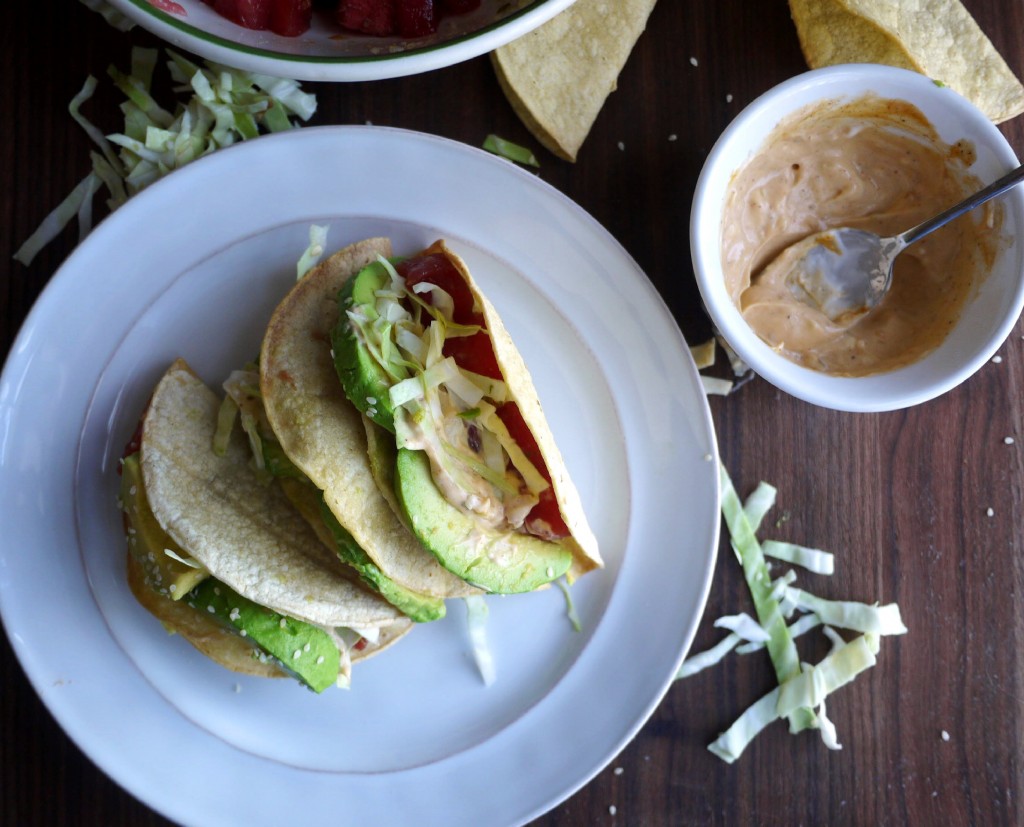 Best Fish Tacos EVER!
Author:
Healthy Recipe Ecstasy
Ingredients
TACOS
2 tuna steaks
1 tablespoon chopped or grated ginger
¼ cup soy sauce
½ tablespoon minced jalapeno
1 teaspoon kosher salt
2 cups shredded green cabbage
½ teaspoon kosher salt
Juice and zest of one lime
1 avocado, sliced
Sesame seeds for garnish
6-8 corn tortillas
Canola oil (if you're frying the tortillas)
SPICY MAYO SAUCE
¼ cup low-fat mayonnaise
1 tablespoon Cajun mayonnaise (I used Boar's Head)
1 teaspoon hot sauce
Instructions
Chop tuna steaks into half inch cubes. Mix together tuna steak cubes, ginger, soy sauce, jalapeño, and 1 teaspoon kosher salt in a bowl. Let tuna sit in fridge for 30 minutes.
Mix cabbage with kosher salt, lime juice and zest.
Mix mayo, Cajun mayo and hot sauce in a bowl.
For Fried Taco Shells: Heat canola oil in pan so that is covers the whole skillet. Put one half of the corn tortilla in the oil and hold the other half up with kitchen tongs. After 20-30 seconds, flip the tortilla so the other half is in the oil and hold the fried half up with kitchen tongs. Fry for 20-30 seconds. Once tortilla is golden and puffed lay it out teepee-style on a paper towel to cool and dry. Repeat with all tortillas.
For Baked Taco Shells: Heat the oven to 375 degrees. Warm the tortillas in the microwave for 30 seconds. Spray each tortilla with cooking spray and drape them individually over two oven racks. Cook for 7-10 minutes or until crispy.
When tortillas are cooled, fill each tortilla with a tablespoon of the spicy mayo, ½ cup green cabbage, a couple chunks tuna steaks, and a couple slices of avocado. Sprinkle with sesame seeds.