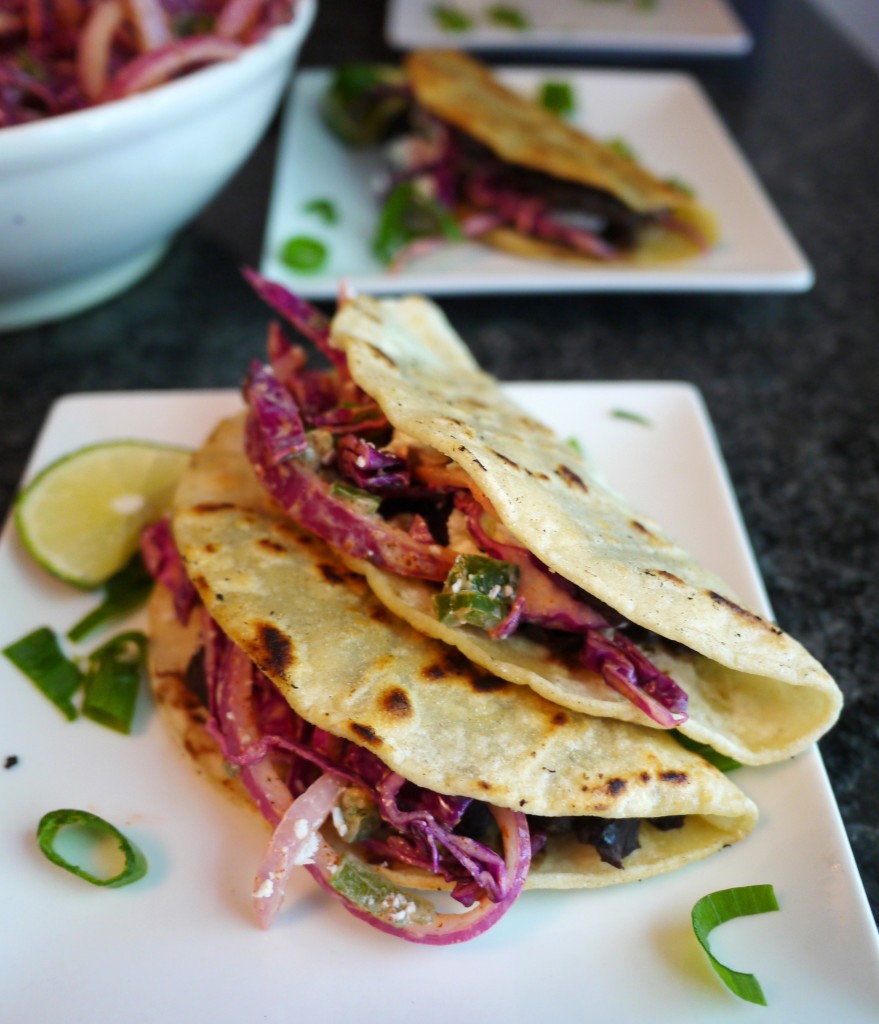 It's been nearly two weeks since our Cinco de Mayo party, which, in the world of pantry and fridge, can be a lifetime. Despite the amount of time that has passed since our fiesta, the limes are still rolling deep on the counter. The black bean cans are still standing strong in the pantry.  The tortillas are still stacked up in the fridge and the cabbage is still taking up its hulking residence in the produce drawer. How are all these ingredients still fresh, you ask? I honestly have no idea. Sure, tortillas stay good for a while, but the cabbage should be brown and soggy by now. Instead, it's going strong just waiting for its next home inside some crispy taco dish.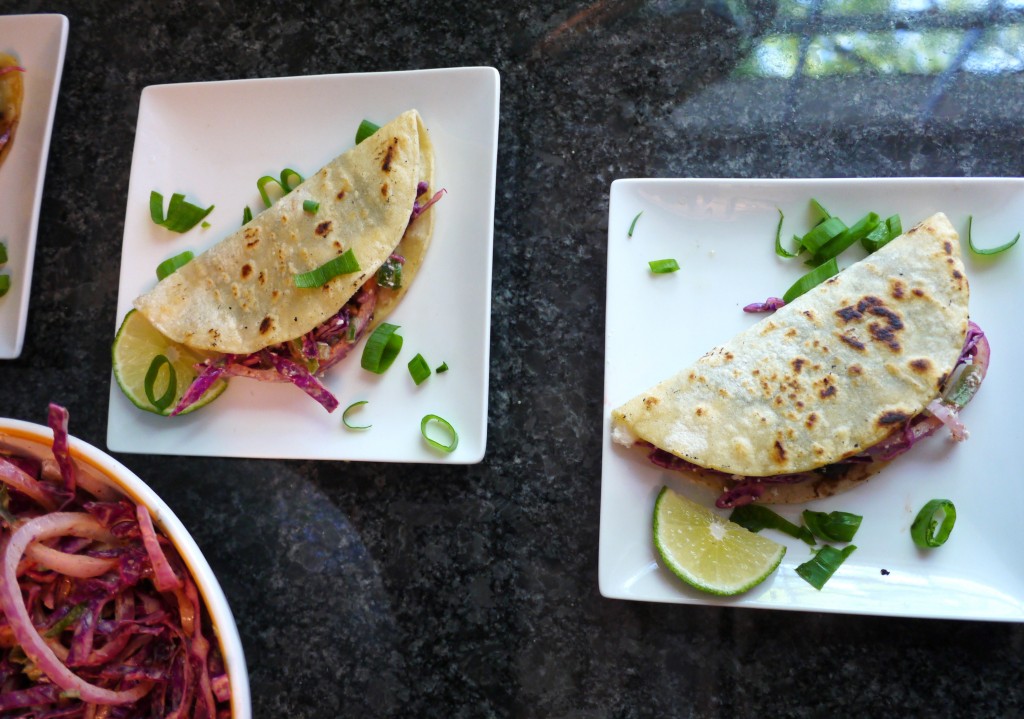 This past week, Alasdair put a bug in my ear about cleaning out the kitchen and using the ingredients we already had to make dinners. And, by bug, I mean he is borderline prohibiting me from returning to the grocery store until these items have disappeared from the shelves and counters into our hungry bellies.
So, in a panic and anticipating horrible grocery store withdrawal, I Googled lime, cabbage and black bean recipes. One recipe in particular kept popping up — Crispy Black Bean Tacos with Feta and Cabbage Slaw. It was on bonappetit.com, smittenkitchen.com, and epicurious.com just to name a few. It sounded like a fantastic combination but, according to Smitten Kitchen, a trusted source, the recipe was nothing to write home about. I saw the problem immediately. Great idea, but poorly implemented. The base was there but it needed a little pizzazz in the form of some additional herbs and spices and a little more love.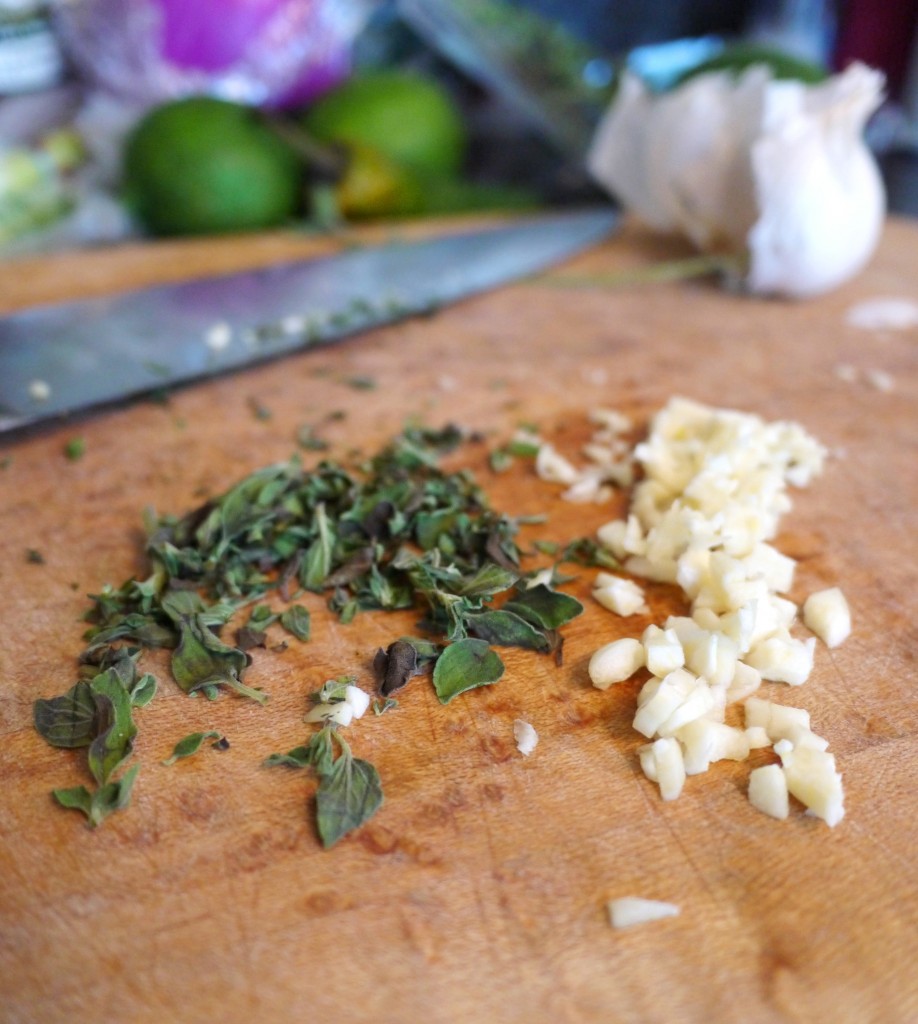 I was hesitant to add another one of these black bean taco recipes to the web, but the HRx version is so delicious and full of salty, tangy, spicy, zesty, creamy (how many more adjectives can I add?) flavor that I figured I had to share it with the masses.
Healthy Recipe Ecstasy? Gluten-free? Check! Vegetarian? Check! Low in fat and sugar? Check! Better than the original Bon Appetit version? I can't say for sure since I never tasted the original version but based on common sense I'm going to give myself a check. The original version has black beans mashed together with just cumin. Black beans are amazing in any form, but when they are the main part of the dish, I think they need a little dressing up. That's why my tacos include an even easier version of my Easy Refried Beans which I've cooked and mashed with various spices.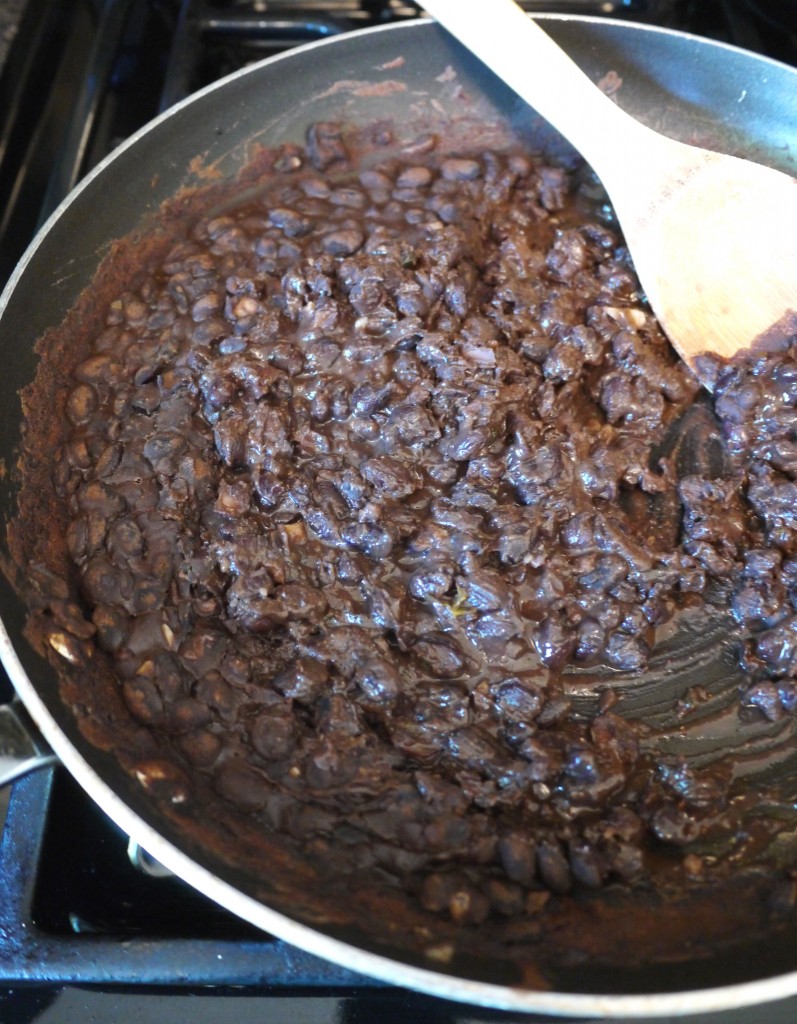 The original version of these tacos uses a coleslaw mix. My version uses a creamy, spicy cabbage slaw that combines the heat of the jalapeno with tangy yogurt and zesty lime.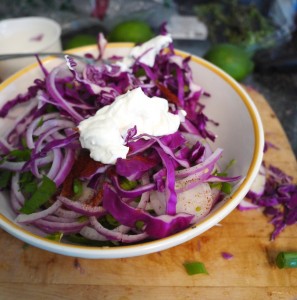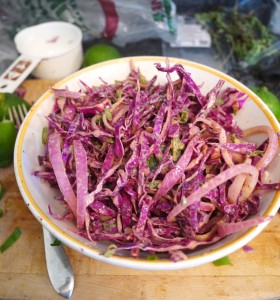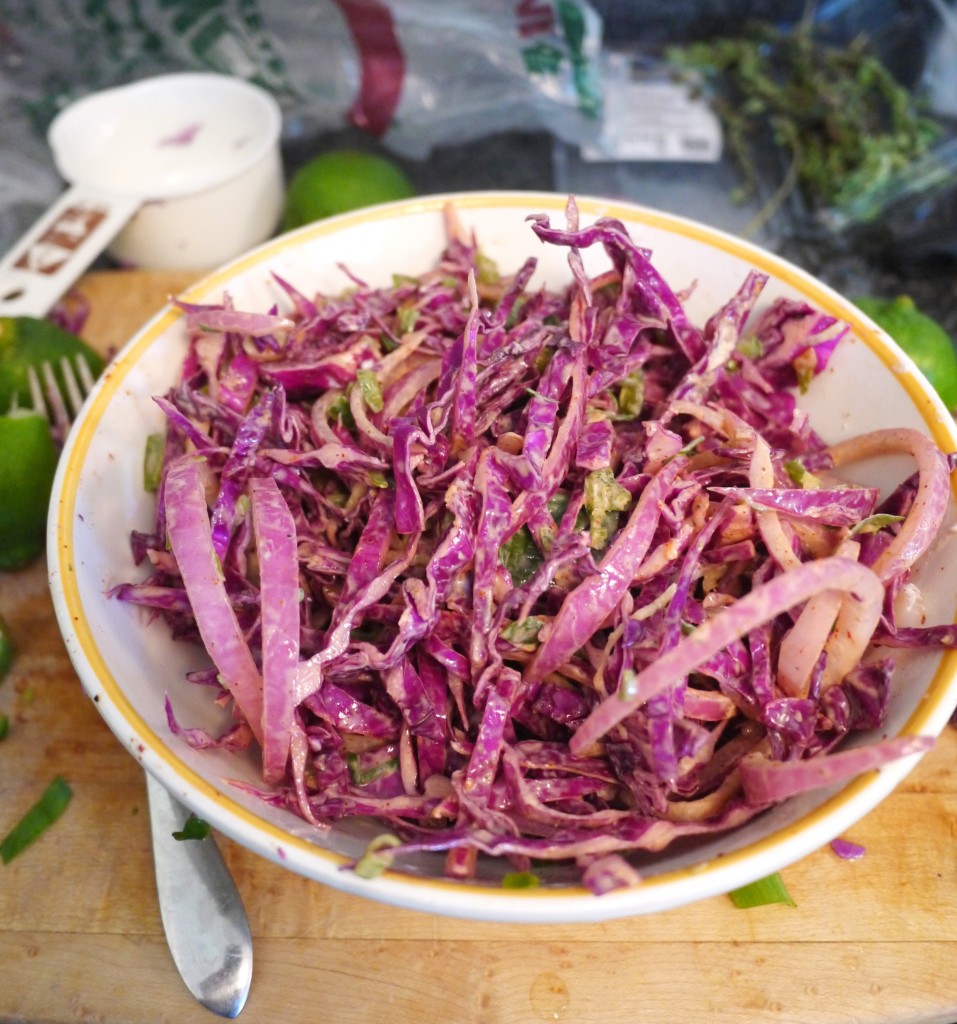 And my version includes tons of extra lime juice for the sole purpose of clearing those limes out of our kitchen. This recipe is slightly more time-consuming than the Bon Appetit recipe but the taste and flavor far outweigh any increase in time. At least in my not so humble opinion…. 🙂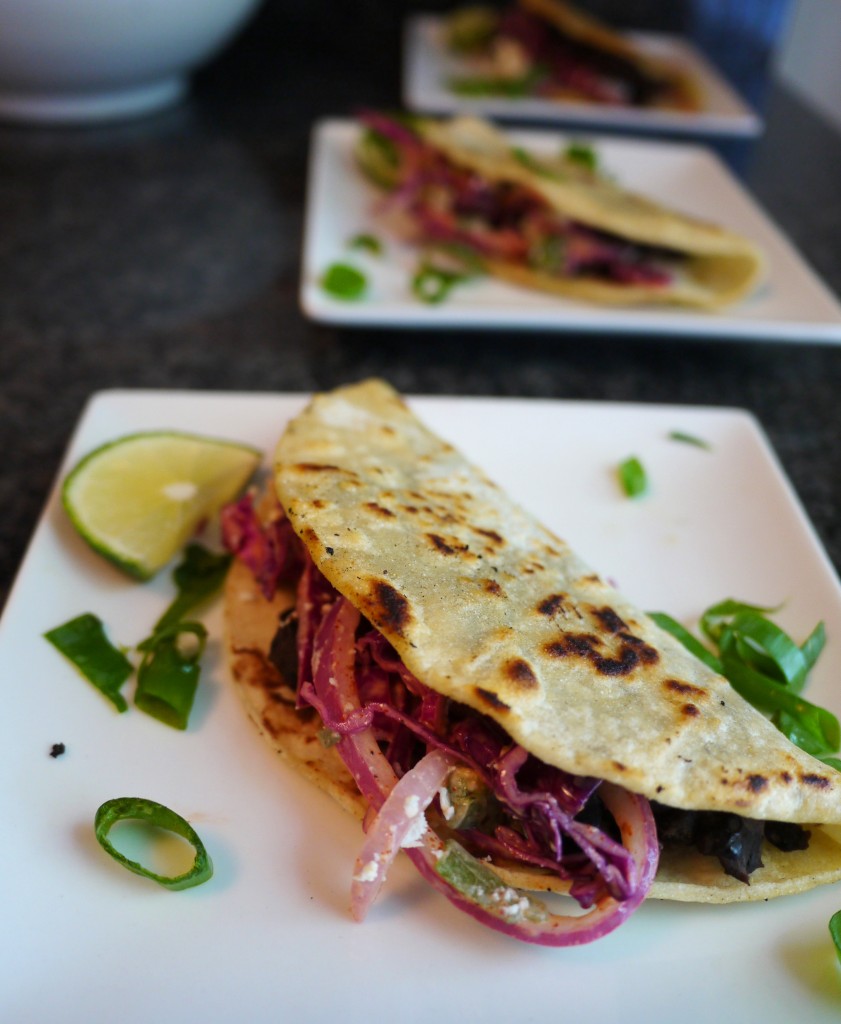 Crispy Black Bean Tacos with Feta and Spicy Lime Cabbage Slaw
Author:
Healthy Recipe Ecstasy (Adapted from Bon Appetit)
Ingredients
Refried Beans:
1 tablespoon olive oil
2 can black beans, rinsed and drained
2 garlic cloves
1 tablespoon fresh oregano
1 teaspoon chili powder
½ teaspoon cayenne pepper
½ teaspoon ground cumin
Pinch of salt
Cabbage Slaw:
2 cups shredded red cabbage (you can use green but red makes the dish more visually interesting
½ small red onion, sliced very thin
1 large scallion (white and light green parts; sliced thin)
1 jalapeno, minced (discard the seeds and ribs if you want less heat)
½ cup plain Greek yogurt
½ teaspoon chili powder
Juice and zest of two limes
Sea salt and freshly-ground black pepper to taste
Tacos
3-4 tablespoons olive oil
10-12 corn tortillas
¾ cup crumbled feta cheese
Extra scallions and lime for garnish
Instructions
Chop garlic and oregano.
Heat one tablespoon olive oil in a large saute pan over medium heat. Saute garlic for 30 seconds or until fragrant, stirring constantly. Add oregano, stirring constantly, for another 30 seconds.
Add blacks bean and 2 tablespoons of water. Bring to a boil. Add chili powder and salt and allow the mixture to boil for one minute.
Turn the heat down to low so it begins to simmer. After a minute, start mashing the black beans until they reach their desired consistency (simmering and mashing at the same time cuts down on the cooking time). I mashed for 2-3 minutes. Take the beans off the heat and allow to cool.
Add all the cabbage slaw ingredients from cabbage through lime juice to a medium bowl and toss. Season slaw to taste with salt and pepper.
Heat one tablespoon olive oil in a large nonstick skillet over medium-high heat. Add tortillas in single layer. Spoon two tablespoons of bean mixture onto half of each tortilla; cook one minute. Fold tacos in half. Cook until golden brown, about one minute per side. Repeat with remaining tacos. You may need to add another tablespoon olive oil to the pan after a few tacos.
Fill tacos with feta and slaw. Garnish with scallions and lime.
NOTE: The original recipe calls for cilantro and hot sauce. I didn't use cilantro in my version because I don't particularly care for it. If you're a cilantro fan, add some chopped cilantro to the slaw or use it as a garnish. Also, I didn't use hot sauce because I think the cayenne pepper and jalapenos add enough heat, especially if you use the seeds. Again, if you love hot sauce, go ahead and pile it on there.