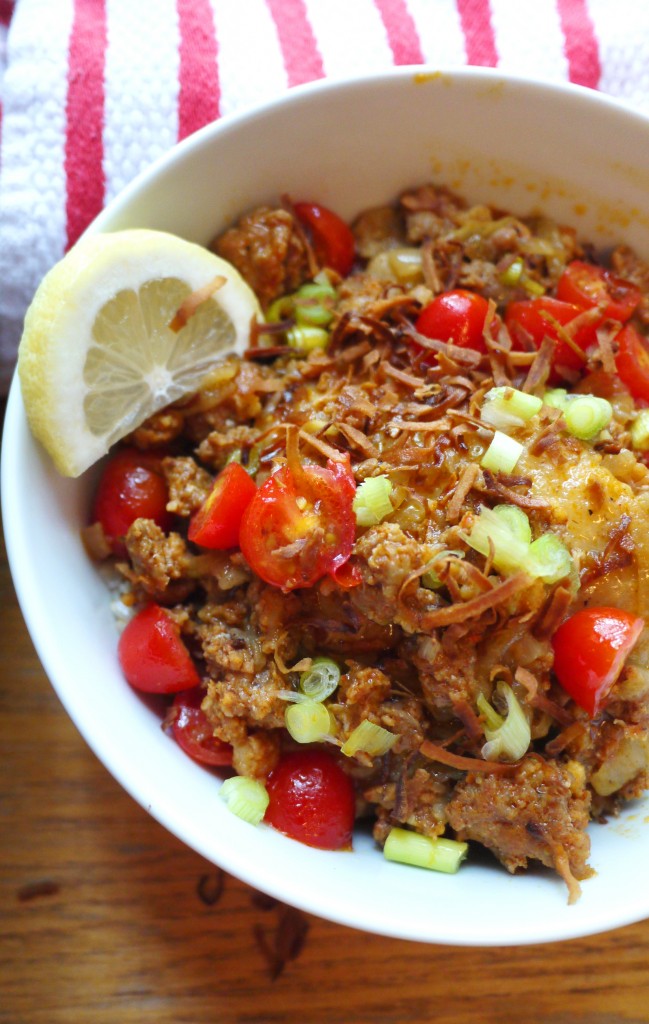 I love the alliteration in the title of this dish: Chicken Curry with Chorizo. Almost as much as I love the fact that it includes chorizo – my recent obsession. The idea for this recipe came from a food-related listserv that I belong to called, "Tasting Table."  I've been getting the Tasting Table emails for months – new recipe ideas nearly every day. And, true to form, I have been reading each recipe, drooling over its contents, filing the recipe away in an email folder and, then, promptly forgetting about it. Until this week when I decided to skim through my compilation of Tasting Table recipes and came across a recipe for Portuguese Chicken Curry with Chorizo and Olives which Tasting Table adapted from Abraham Conlon of Fat Rice in Chicago. With curry and olives it looked like the perfect dish for my future hubby. However, as I'm not a huuuuge curry fan, and I despise olives, I knew the recipe would take a little adapting to intrigue my taste buds. So I nixed the olives, kept the chorizo and lightened the sauce up a bit. It was the perfect compromise. Saucy and spicy enough for Alasdair but not too creamy and hot for me and my belly. And, I loved the toasted coconut flakes sprinkled on top so, of course, I added more of those.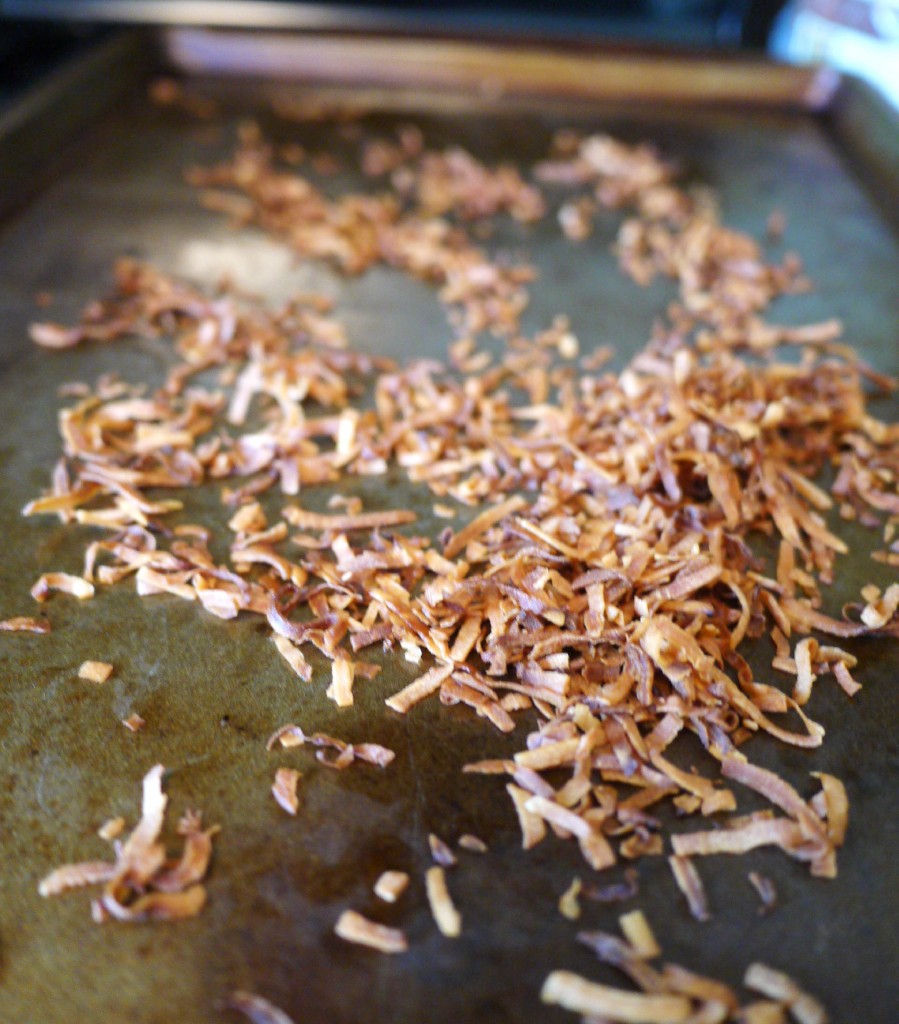 Healthy Recipe Ecstasy? Curries are great for individuals with gluten and dairy intolerance. Usually served over rice or potatoes, there's no wheat or gluten involved. And coconut milk is used instead of cow's milk. However, curries are often loaded with fat due to the amount of oil and coconut milk used – coconut milk having a high fat content. To combat that issue, I used light coconut milk rather than the full-fat coconut milk called for in the original recipe and decreased the amount of oil. I swapped out the white rice for brown basmati rice to up the amount of fiber and nutrients, and I made a few additional modifications based on convenience. Unfortunately, my convenience modifications added a bit of fat back into the dish. For example, I used regular hot chorizo instead of dry-cured chorizo because I can never find dry chorizo. AND, I cooked the other ingredients in the chorizo fat which gave the dish a different color and consistency – almost like a Bolognese or a chili due to the extra meat grease and the red-orange color of the chorizo.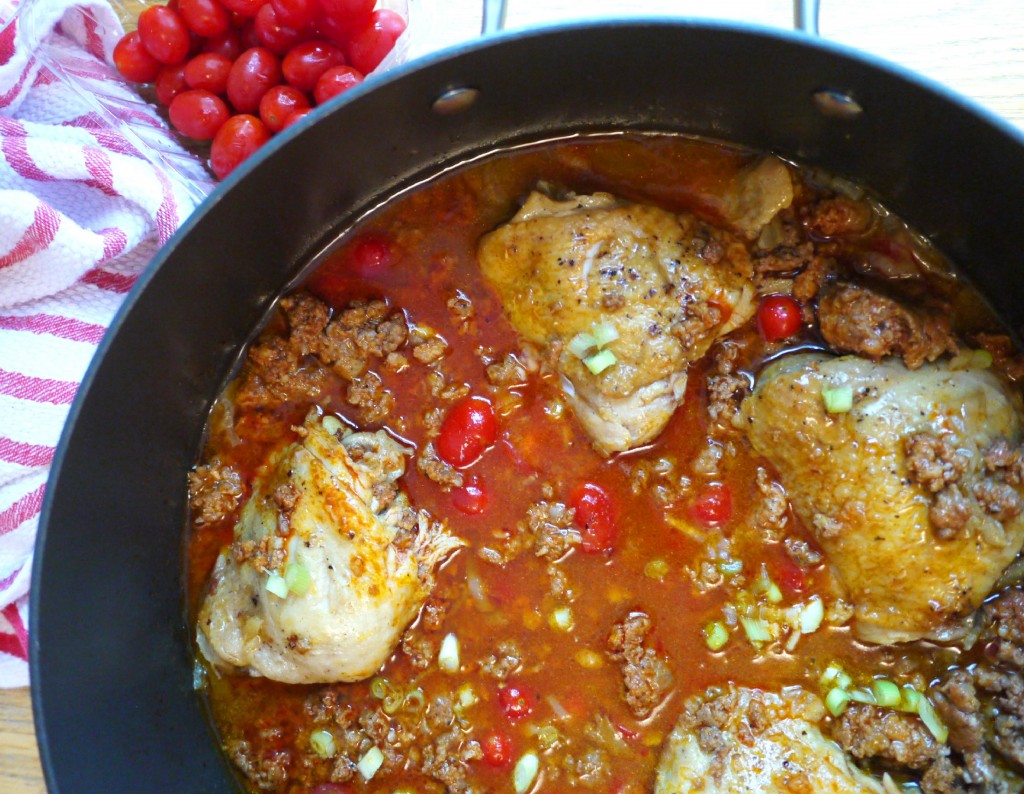 Alasdair said this dish reminded him more of a stew than a curry but I'm sticking with curry because it contains coconut milk and curry powder. If you want to cut down on the fat even further you can dump the chorizo fat as I've explained in the directions below. Either way it's a tasty, filling and moderately healthy way to end the night.
Chicken Curry with Chorizo
Author:
Healthy Recipe Ecstasy (Adapted from Tasting Table)
Ingredients
4 tablespoons unsweetened coconut flakes
1 pound hot chorizo, casing removed
4-6 chicken thighs (The recipe calls for 6 boneless, skinless chicken thighs but my grocery store only had large chicken thighs with skin and bone so I used those. It's a little extra fat but a whole lot more flavor!)
2 teaspoons Kosher salt
½ teaspoon freshly ground black pepper
1 tablespoon olive oil
1 large Spanish onion, halved and thinly sliced
One 1-inch piece of fresh ginger, peeled and finely chopped
1 tablespoon curry powder
1 teaspoon cayenne powder
3 cups light coconut milk
10 cherry tomatoes, halved
1 small bunch chopped flat-leaf parsley or chopped scallions
1 lemon, sliced into wedges
Brown basmati rice, for serving
Instructions
Preheat the oven to 350 degrees. Spread the coconut flakes in an even layer on a baking sheet and toast until the coconut is golden and fragrant, 5-7 minutes. Remove the baking sheet from the oven and set aside to cool.
Place the chicken thighs on a plate and pat dry with paper towels. Season the chicken thighs with salt and pepper.
In a large Dutch oven set over medium-high heat, add 1 tablespoon oil. Once oil is hot, add the chorizo and cook, stirring occasionally and breaking up the meat, for 5-7 minutes. Take the chorizo out of the pan with a slotted spoon and leave the juices in the Dutch oven. Let the chorizo cool in a bowl. (If you would like to make this dish even healthier, you can pour the juices out of the pot and wipe it down before the next step.)
Add the chicken to the same Dutch oven and cook, without moving, until lightly browned on one side, 4-5 minutes. Turn the thighs over and cook until the other side is browned, 2-3 minutes. Transfer the chicken to a plate.
In the same Dutch oven set over medium heat this time, add the onion and ginger and cook, stirring occasionally, until the onion is soft but not browned, about 5 minutes.
Add the curry powder and cayenne and cook, stirring constantly, until the spices are fragrant, about 30 seconds.
Pour in the coconut milk and stir to combine.
Add the chicken thighs back to the pot and bring the liquid to a simmer.
Reduce the heat to low and cover the pot. Continue to cook until chicken thighs are cooked through, about 50 minutes.
Finally, remove the lid from the pot and stir in the tomatoes and chorizo. Cook until warmed through, about 3 minutes.
Top the curry with toasted coconut, scallions or parsley and lemon wedges. Serve with brown rice.