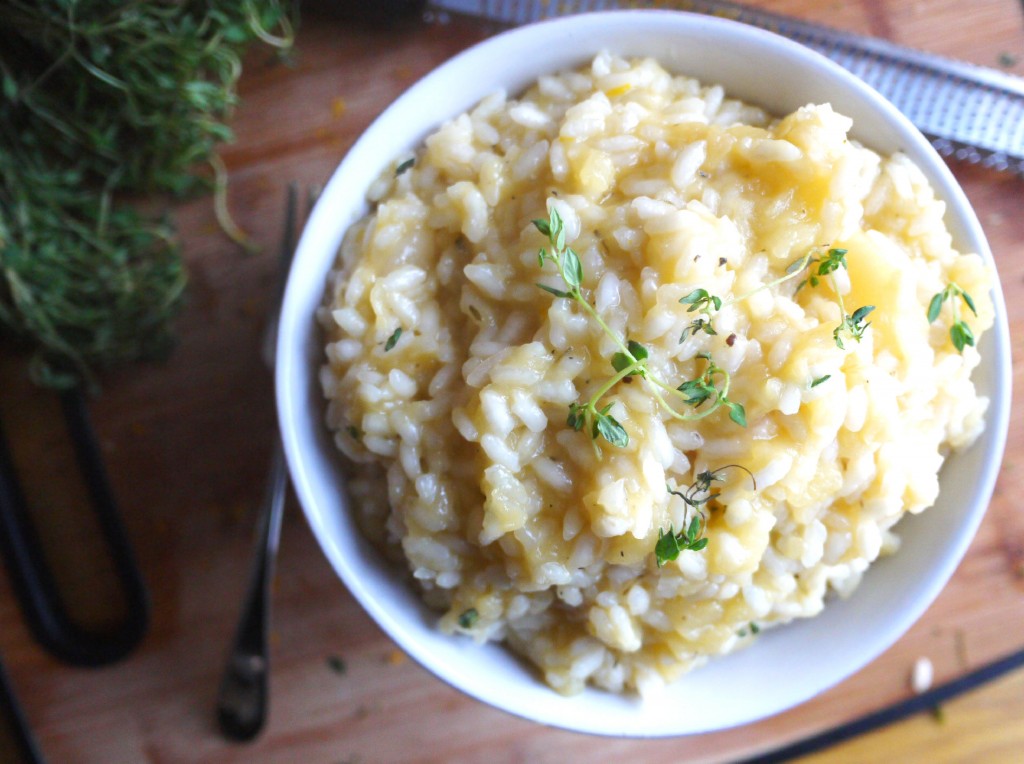 This is, without a doubt, one of the best dishes I have made thus far for the blog. So good, that I repeatedly burned my mouth eating the steaming hot risotto right out of the pot. Despite my pain, I literally could not stop myself. Sorry taste buds. But, the risotto – IT'S AMAZING. In fact, this risotto may be forever more my favorite fall dish, and I hope it becomes yours too! Actually, I don't hope. I KNOW if you try this sweet, creamy dish that you will think of nothing else throughout the fall season.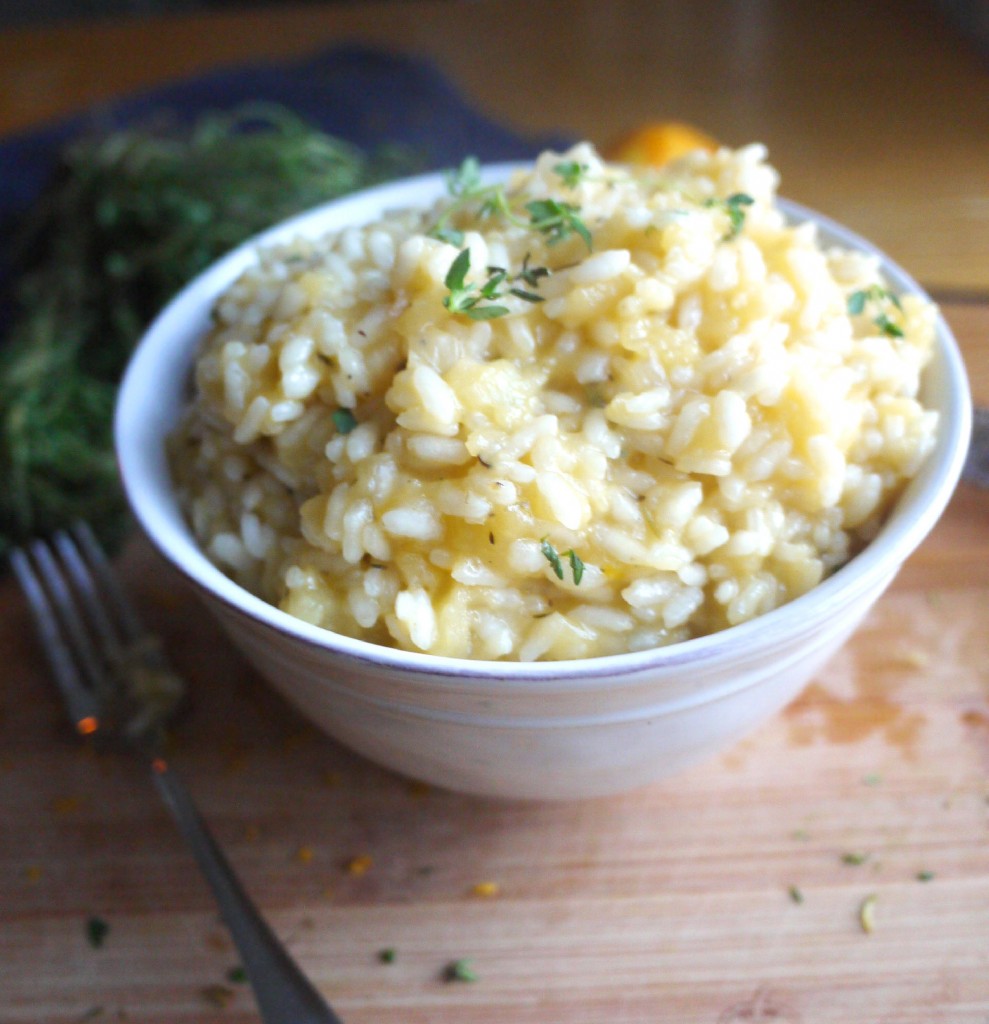 The idea for this risotto recipe was two-fold. First of all, I ordered a delicious apple risotto at a new French restaurant on H street called Le Grenier. It was topped off by a crispy duck confit but the apple risotto stole the show which is a hard thing to do when you're competing with a fatty, tender duck. I was determined to recreate the dish in my kitchen (minus the duck confit because that is not something I'm prepared to make anytime soon!). Second, I have been promising Alasdair a risotto dish for weeks. Not because he's a particularly big fan of risotto – to him, risotto is just fancy rice. No, it's because I have a problem. A risotto-related problem. When we started packing up the kitchen pantry for our move, we discovered not one, not two, but three full boxes of risotto. Two of which had been opened and barely used. Whoops. The crazy thing is, I only remember buying one of those boxes. For some reason, my subconscious feels the need to endlessly stockpile carbs (I have a similar pasta problem). Anyways, with Le Grenier's apple risotto in my mind, and Alasdair's request to empty our pantry of Arborio rice boxes, I decided to get to cooking.
And I'm so glad I did. If I could waft the smells that came from my kitchen through the computer into your home, I would. Whatever happened to smell-o-vision? Seriously though – the buttery apples just break down and melt into the creamy risotto. The smell of caramelizing apples is knock-you-off your feet tantalizing and the acidity from the orange juice is the perfect complement to the sweetness of the fruit, keeping the dish from becoming overly sweet. Are you hungry yet? I know I am.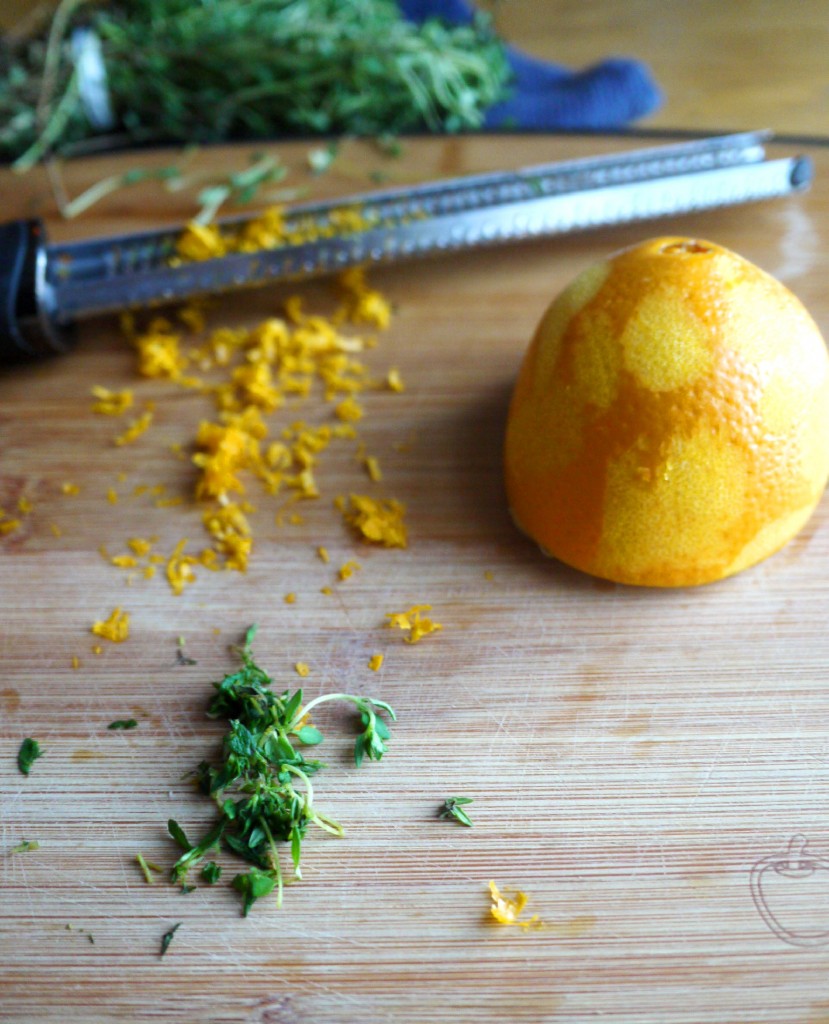 Healthy Recipe Ecstasy? This hearty, gluten-free vegetarian risotto is perfect for the crisp fall weather we're experiencing and will keep you full all through winter. Risotto is a stick to your ribs kind of meal. Most restaurant risottos use heavy cream or a ton of cheese. Not this dish. The apple/butter/oil mixture in my recipe provides enough of a creamy base that you don't need to finish off the risotto with cream or cheese. You won't miss it – I promise. What you will miss is this risotto if you don't make it! The only thing that could make this risotto better would be topping it with a handful of crispy, salty pancetta. Maybe next time…..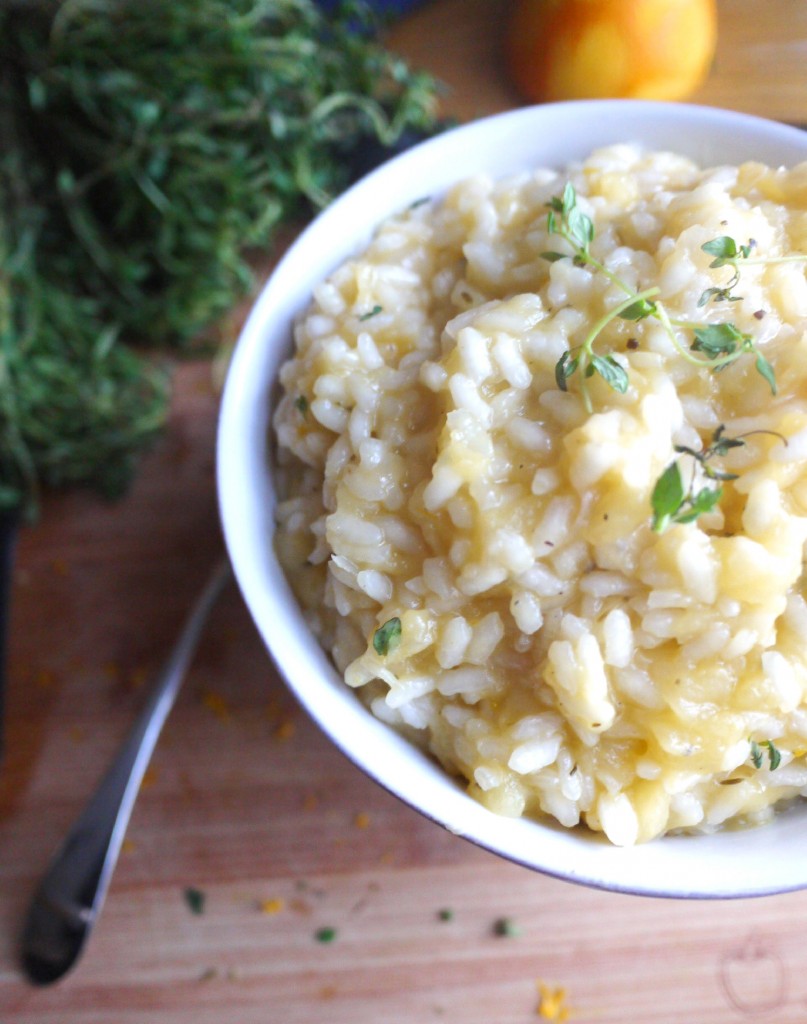 **This post and recipe was updated on 12/16/13.

Caramelized Apple Risotto
Author:
Healthy Recipe Ecstasy
Recipe type:
Entree/Side Dish
Ingredients
4 tablespoons salted butter, divided
2 tablespoons olive oil
3 Braeburn-type apples, peeled, cored, and chopped into cubes (any good baking apple would work but don't use green aples because they are too sour!)
1 teaspoon dried thyme
Generous pinch of salt
Freshly-ground black pepper to taste
2 cups Arborio rice
1 cup orange juice (approximately 2 medium oranges)
5 cups vegetable broth (low-sodium if its available)
Zest of half an orange
1 tablespoon fresh chopped thyme
Instructions
Heat the vegetable broth in a small sauce pan and keep warm.
Melt two tablespoons butter plus two tablespoons oil over medium-high heat in a large pot. Once the butter begins to froth, add the apples, salt, pepper, and dried thyme and give everything a big stir. Cook for 5 minutes over medium high heat, then turn heat to medium low and cook for an additional 15 minutes, stirring occasionally, until the apples start to break down and caramelize.
Turn heat back up to medium high and add two cups Arborio rice and cook for one minute, stirring constantly. Add one cup orange juice, turn heat to medium, and cook for 2-3 minutes or until the liquid is absorbed, stirring constantly.
Add two cups vegetable broth, stirring constantly until liquid is absorbed, which takes about 5-6 minutes.
Next, add another cup of broth and stir constantly until the liquid is almost absorbed, another 5 minutes. Repeat with the last two cups of broth.
Take the pot off the heat and stir in the remaining two tablespoons of butter, orange zest and fresh thyme. Adjust seasonings if necessary.