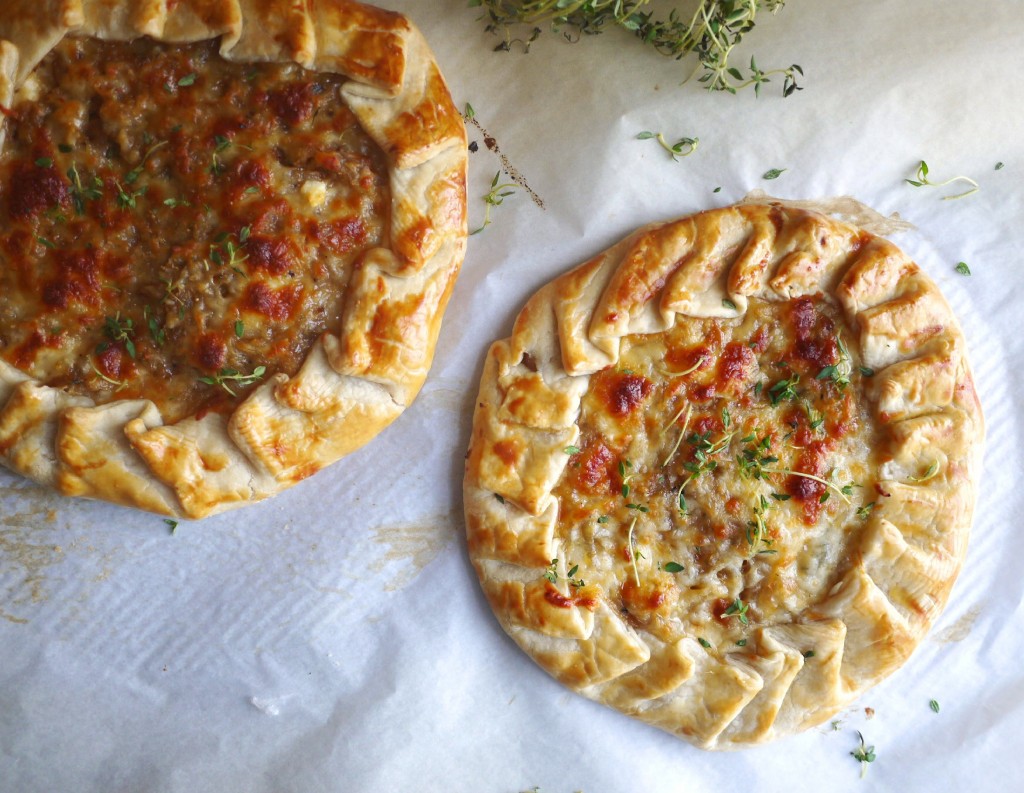 I may be on Santa's naughty list this year. And not because of my recent holiday binges. It's because I've done something mean – to you guys – my lovely readers. No, I haven't been talking behind your backs. I would never do that, and even if I was the kind of mean girl who would talk behind your backs, I don't know you well enough to do that (which we really need to rectify….). Nope, it's because I've been holding out on you. I've been sitting around writing about all my culinary creations, and between the fiery Asian noodles and apple risotto, I've been happily munching on the best onion tart ever and never saying a word about it to you.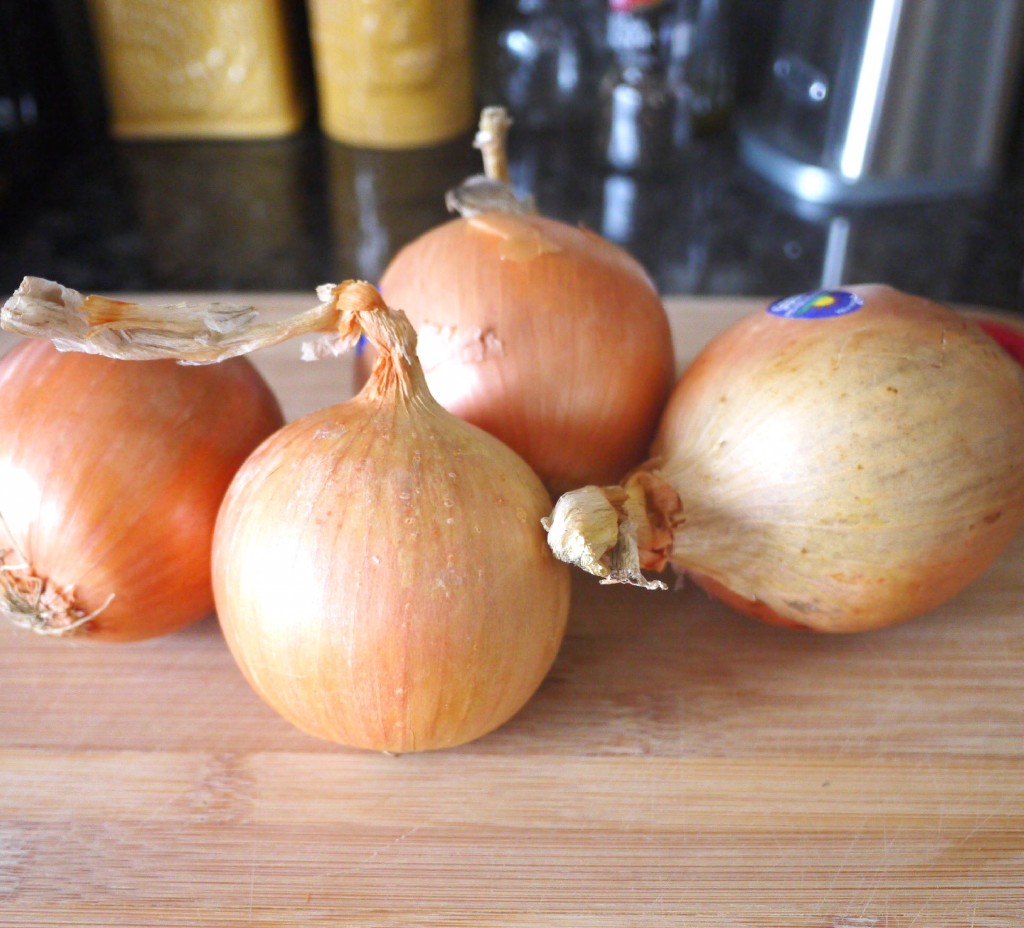 In my humble defense, it was nothing personal. It's just that the recipe is so simple and easy that it disappeared among the more complex and exciting creations that came out of my kitchen this past year. Or maybe it's that I didn't want a mass stampede to the grocery store for onions and flaky pie crust only to arrive at the store and find that there's none left for me. I know, I know. That's a little selfish. But when caramelized onions are involved, I tend to lose my head.
Fortunately, for you and for my guilty conscience, I recognized my selfish tendencies before I became a full on onion-lovin' Grinch. "I am just too busy to post about the caramelized onions. Even if I wanted to my schedule wouldn't allow it. 4:00, wallow in self pity; 4:30, stare into the abyss; 5:00, solve world hunger, tell no one; 5:30, jazzercize; 6:30, dinner with me – I can't cancel that again…" That line always makes me laugh. But, in the end, the Grinch does the right thing and makes time for Whoville. Just like I'm going to do the right thing and share with you the BEST. ONION. TART. EVER. Seriously, that's what it's called. I didn't make that up. It's one of Cooking Light's 2011 greatest hits, and it's been one of my greatest hits ever since I first tasted the recipe.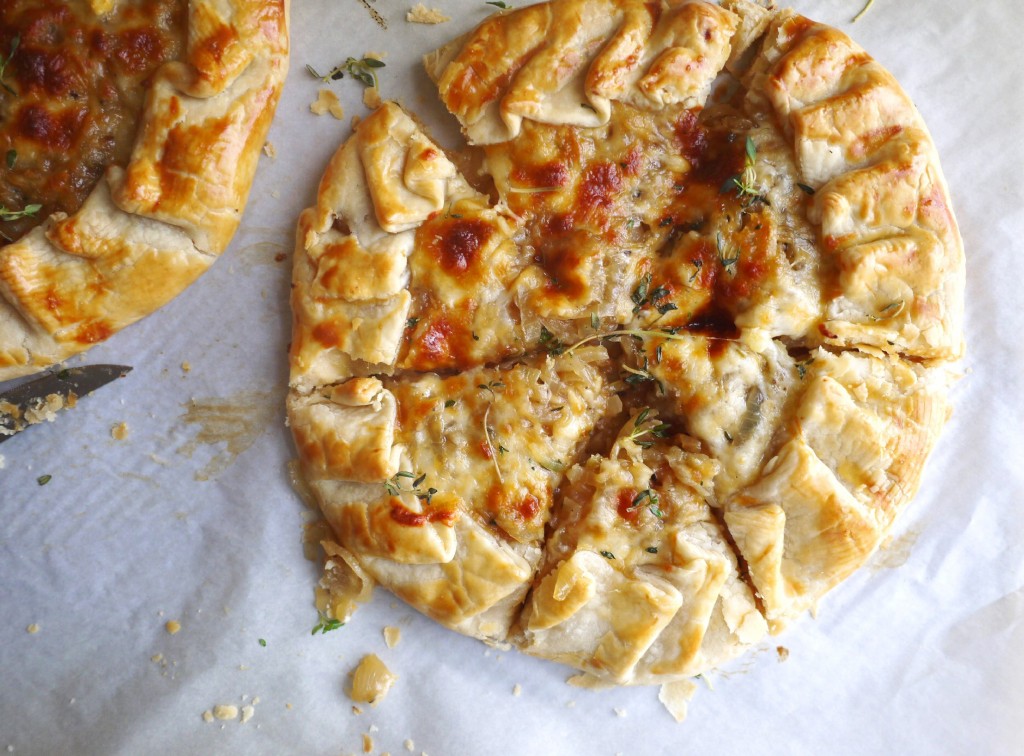 Healthy Recipe Ecstasy? Here's what I love most about this earthy tart. It's one of the few vegetarian, meatless Monday meals that I can sneak past Alasdair without having to explain why we're not eating meat. In fact, not only does he refrain from complaining, but he actually requests this dish of his own accord. I know, right? Big triumph. There's just something about a flaky Pillsbury pie crust that very few people I know can resist – especially around the holidays. You all know that I'm a pretty big fan of caramelized onions, and even though this recipe does not call for a super deep caramelization, the onions cooks just long enough to reach that state of soft, gooey, sweetness which is, of course, the perfect complement to the salty, tangy feta cheese.
Speaking of cheese, I swapped out the original ingredient of swiss cheese for mozzarella cheese just because I like mozzarella cheese better. Who would rather eat swiss? No one I know. I also used full-fat feta cheese rather than low-fat and I increased the amount. Close your mouths. I get that it's not like me to add more cheese to a recipe, but, even with my increase, it's still a moderate amount. And, when using a moderate amount, I like to get the full range of flavor which is why I opted for full-fat feta rather than reduced fat. The end product is a light and flaky tart that's full of tangy sweetness and golden brown melted cheese. It pairs incredibly well with an arugula salad for a light weeknight meal. But, the tart flavor is outstanding enough to hold its own on a special occasion.
Best Caramelized Onion Tart Ever
Author:
Healthy Recipe Ecstasy (Adapted from Cooking Light)
Recipe type:
Entree/Side Dish
Ingredients
1 tablespoon olive oil
3 medium onions (approximately 4 cups chopped, yields approximately 1.5 cups after caramelization)
2 tablespoons chopped fresh thyme
¾ teaspoon kosher salt
¼ teaspoon black pepper
½ (14.1-ounce) package refrigerated pie dough (such as Pillsbury)
½ cup crumbled feta cheese
½ cup shredded low-fat mozzarella cheese
1 large egg, lightly beaten
Fresh thyme leaves for garnish
Instructions
Preheat oven to 425°.
Heat oil in a skillet over medium-high heat. Add chopped onions, thyme, salt, and pepper; cook 20 minutes, stirring occasionally. Keep a watch on the onions and if they start to brown too quickly, turn the heat down to medium.
Roll dough out on a parchment paper-lined baking sheet. Sprinkle feta cheese in center, leaving a 1 and ½-inch border. Top with the caramelized onions. Sprinkle with mozzarella cheese.
Fold piecrust border up and over onion mixture, pleating as you go, leaving a 6-inch-wide opening. Combine egg and 2 tablespoons water; brush over dough.
Bake at 425° for 25 minutes or until golden. Cool for 10 minutes and garnish with fresh thyme leaves.
NOTE: The recipe makes one tart, which lasts me and my husband one night with enough leftover for my lunch the next day. If you're looking to get two night's worth of dinner out of thise recipe, I would double it and make two tarts. Also, if you top the tart with a fried or poached egg, it makes a great brunch dish.