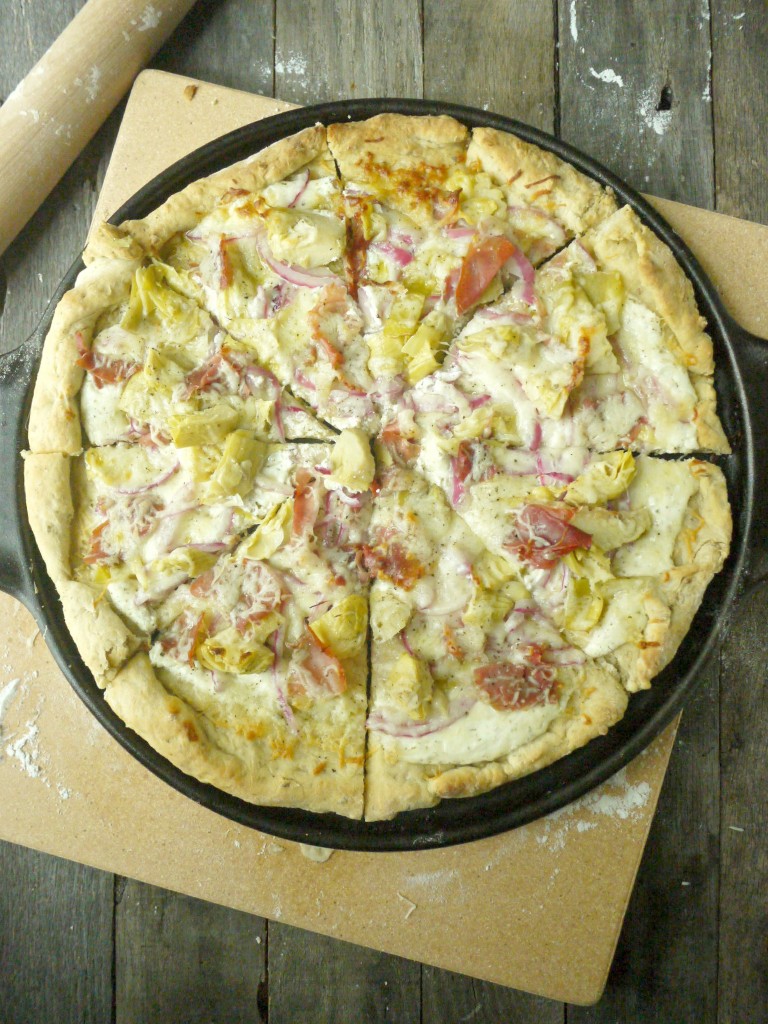 I feel the need to start today with an apology. You see, I'm what they call a food porn tease. OK, maybe nobody calls anybody a food porn tease and I just made that phrase up, but, if there is such a thing as a food porn tease, I'm guilty as charged.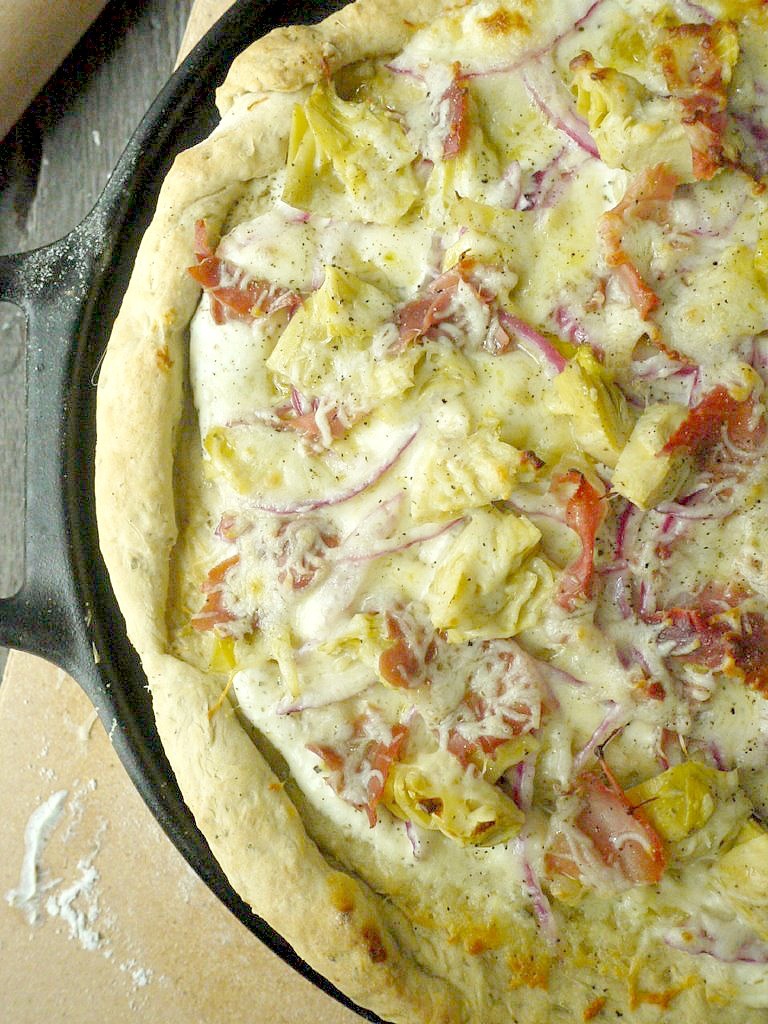 I've been virtually parading around the internet with pizza pictures, showing off my new garlic-oregano pizza dough, and tantalizing all my followers with some delectable, yet unnamed, toppings. Toppings that have made my mouth water for a week now with their tangy, salty, herby flavors. Toppings that have filled my mind with longing as I hunger at work all day just waiting for that first bite upon sitting at the dinner table. Toppings that may or may not be the essence of my entire being. Toppings that obviously make me get carried away and lose my grip on reality. Though that may just be the sleep deprivation…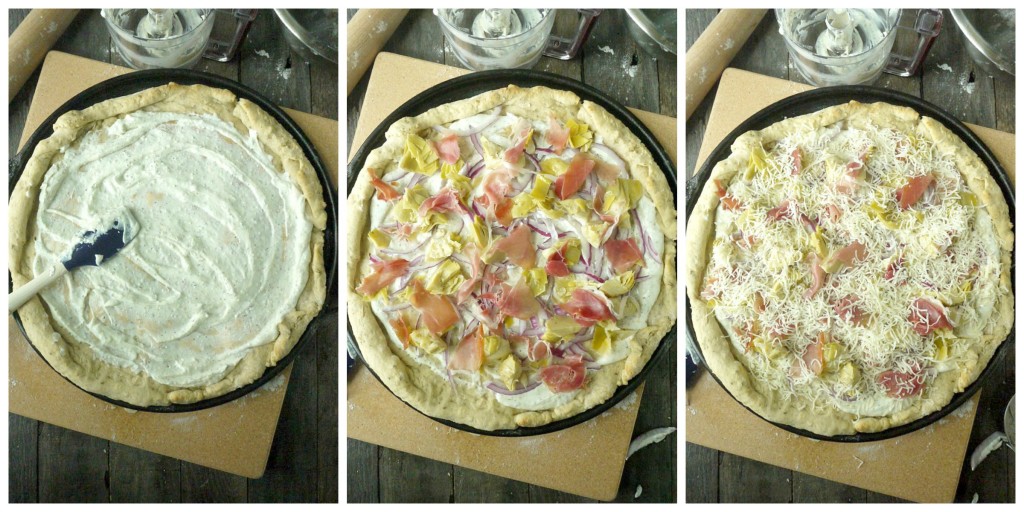 I can't apologize for being a little verbose in my description today because, well, I feel these toppings justify a little bit of verbal over-indulgence. But I do apologize for taking my sweet time in sharing with you the lovely ingredients that topped last week's dough – because no one should have to wait to eat this pizza with its ARTICHOKES, PROSCIUTTO and RED ONIONS on a creamy YOGURT-FETA SAUCE.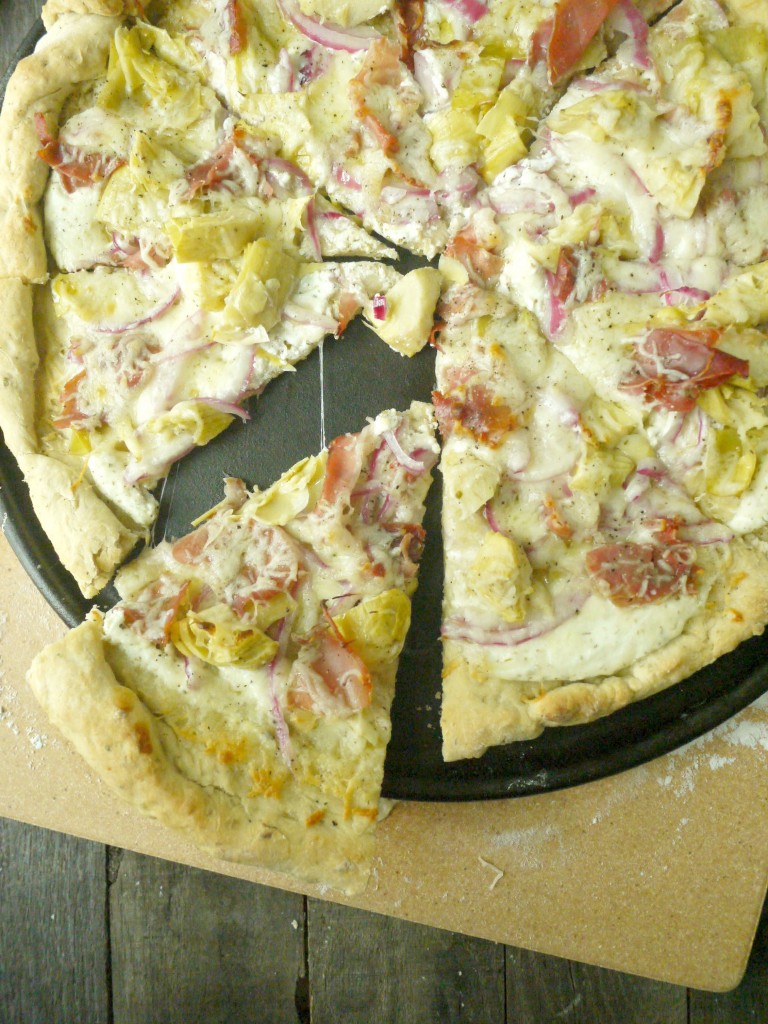 There. I said it. It's all out in the open and now you can all lose your minds with me.
You all know that I'm a fan of prosciutto as a pizza topping – I mean, who isn't? Don't answer that. I don't want to know. But I never really thought of pairing prosciutto with artichokes and red onions.  Now it's all I can think about. It just works. And the yogurt-feta sauce? Well that's going on just about everything I make this summer.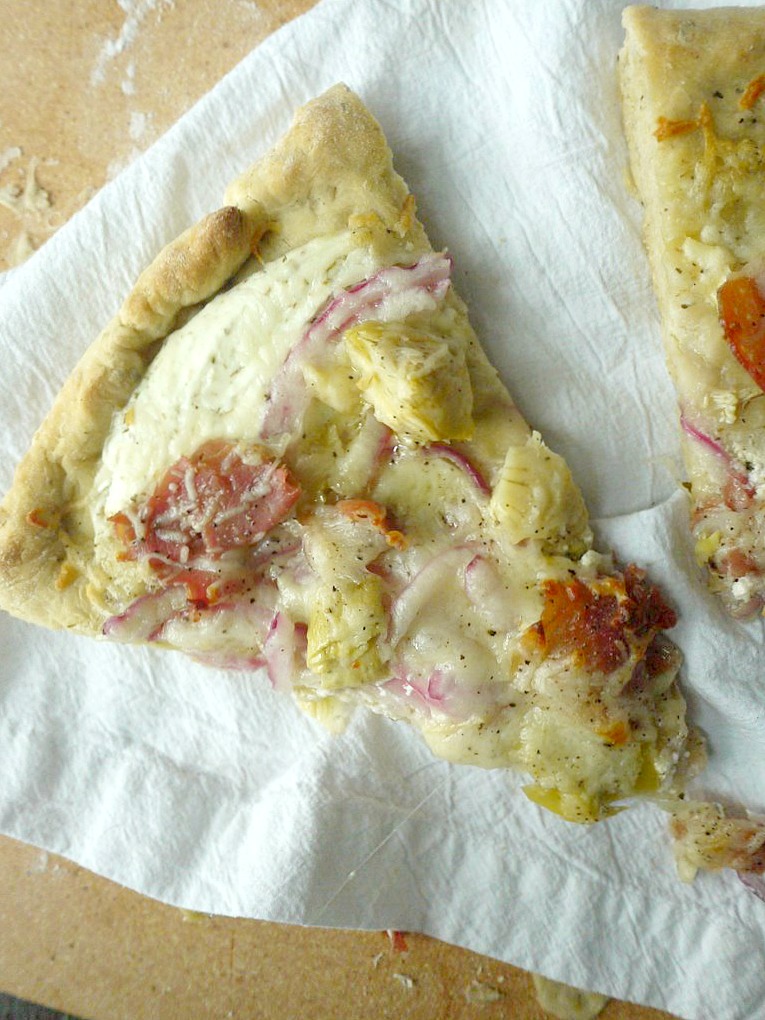 Who needs delivery? Not this girl.

Artichoke and Prosciutto Pizza with Yogurt-Feta Sauce
My garlic-oregano pizza dough only takes 20 minutes to make, but, if you're pressed for time, feel free to use ready-made pizza dough.
Author:
Healthy Recipe Ecstasy
Ingredients
1 ball of garlic-oregano pizza dough
½ cup non-fat Greek yogurt
4 ounces feta cheese
2 tablespoons olive oil
1 teaspoon dried oregano
Coarse salt and freshly-ground black pepper, to taste
1 cup marinated artichokes hearts, roughly chopped
3 slices of prosciutto, torn into small pieces
½ a small red onion, thinly sliced
1 cup shredded mozzarella cheese
Drizzle of olive oil
Freshly-ground black pepper, to taste
Instructions
Preheat the oven to 450 degrees. Pat or roll the dough out into a round. Transfer crust to a lightly greased pizza pan or baker's peel dusted with cornmeal. Roll the edges in about ½ an inch to form the crust. Cook for 10 -12 minutes or until dry and golden brown.
While the pizza crust is pre-baking, add the yogurt, feta, 2 tablespoons olive oil, oregano and salt and pepper to a food processor and process until smooth.
Spread the yogurt-feta sauce on the pizza crust after it pre-bakes. Top with artichokes, prosciutto and red onion. Sprinkle the mozzarella cheese evenly over the toppings. Drizzle with olive oil and sprinkle with black pepper, to taste.
Bake for another 10-12 minutes or until the cheese is fully melted.