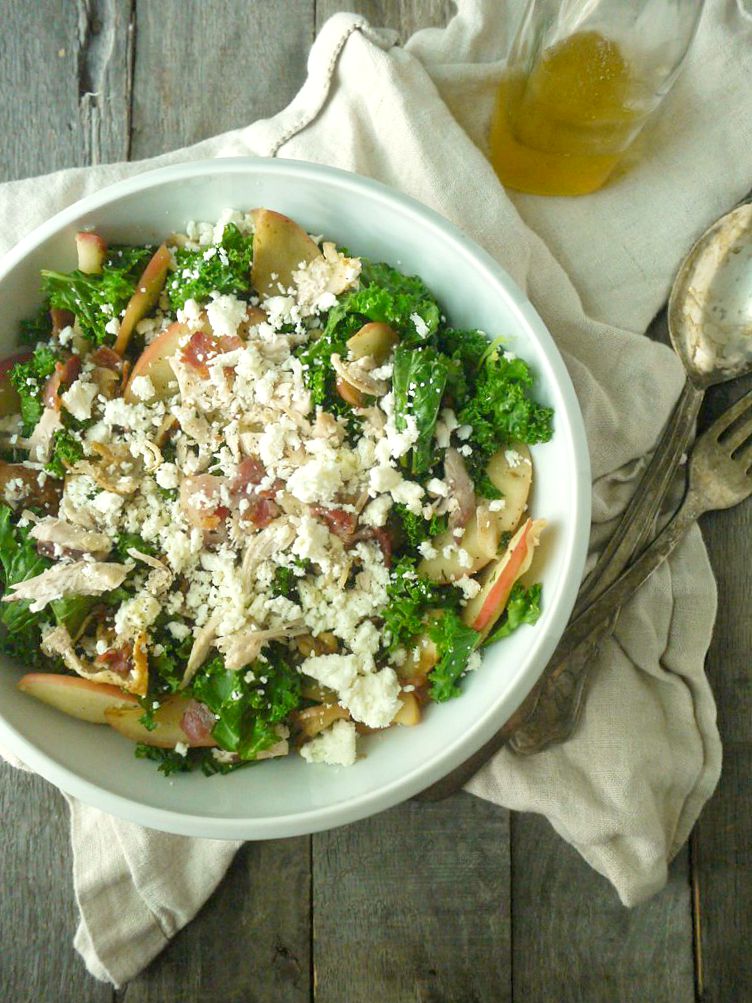 Is kale still cool? Remember a few years ago when everyone was like "kale this" and "kale that?" It was all anyone could talk about. Well, that and government shutdown… I've been up to my ears in diapers this year so I don't know what's cool anymore in the fast-moving culinary world.
All, I know is that my life changed when my grocery store recently began selling huge (I'm talking almost too big for my fridge self) bags of pre-washed kale. It's like those ginormous bags of greens were calling my name: Michelleeeee….. Buy us…. We're pre-washed and easy to handle…. Ready to be popped into the oven and baked until crispy…. Ready to be thrown into a salad or pasta…. Ready to change your life. Seriously, that happened.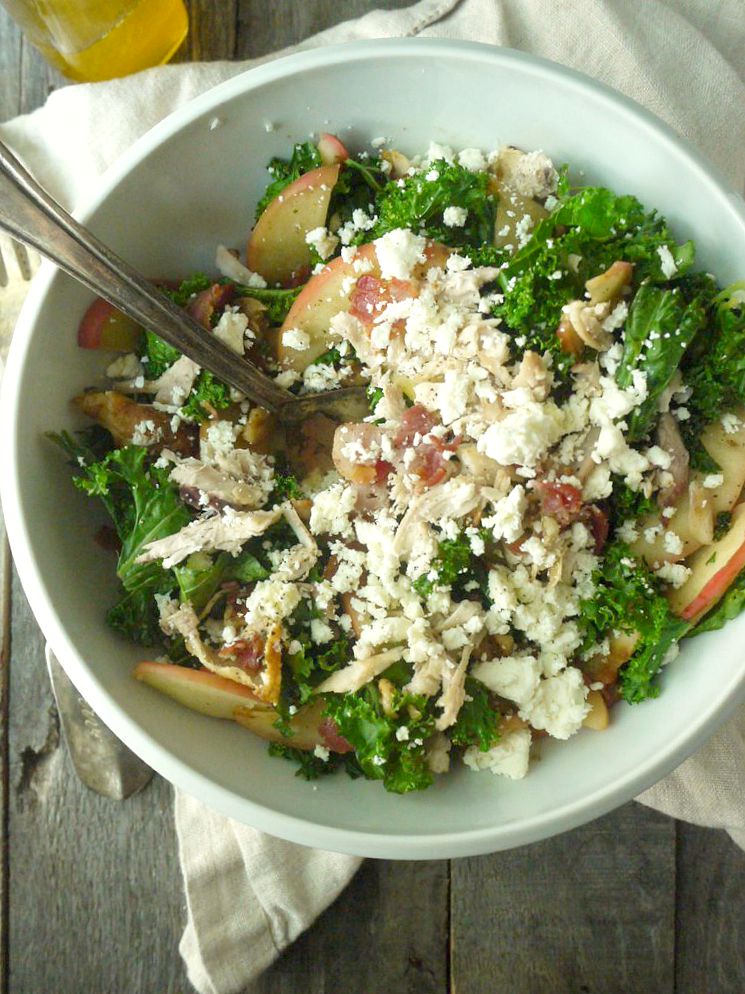 So, I bought a huge bag of kale one week. Then, the next week, I bought another bag. Then, the following week, I lovingly tossed yet another bag of kale into my cart where it snuggled up cozily next to the walnuts and feta cheese. Every week, Alasdair asked his usual question: What are we eating for dinner this week? My stock response became: Kale. Yes, kale. Yes, kale, again.
It's just so darn versatile, and it seemed like there were endless options for its use. I really couldn't stop myself from making all kinds of kale salads and kale dishes (kale guacamole, anyone?). Back in the kale heyday, I threw a fun "kale week" party on this blog and I started with this kale and apple salad. I deemed it "fall in a bowl." But, this week, when I went to make my "fall in a bowl" salad (because it's already September and I'm obviously behind the times as far as fall recipes go), I thought it needed a little tweaking.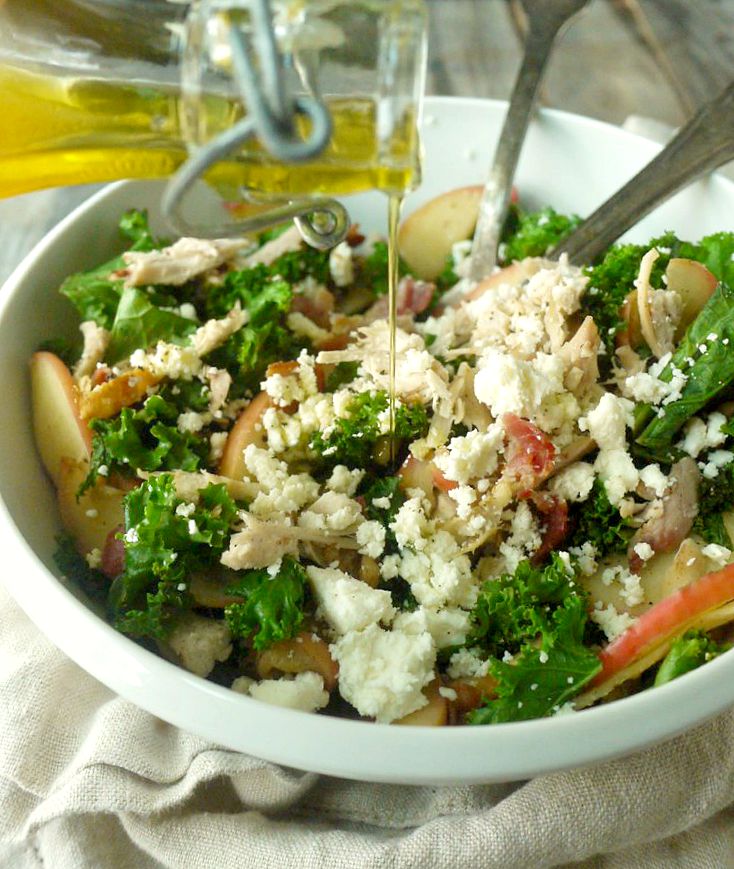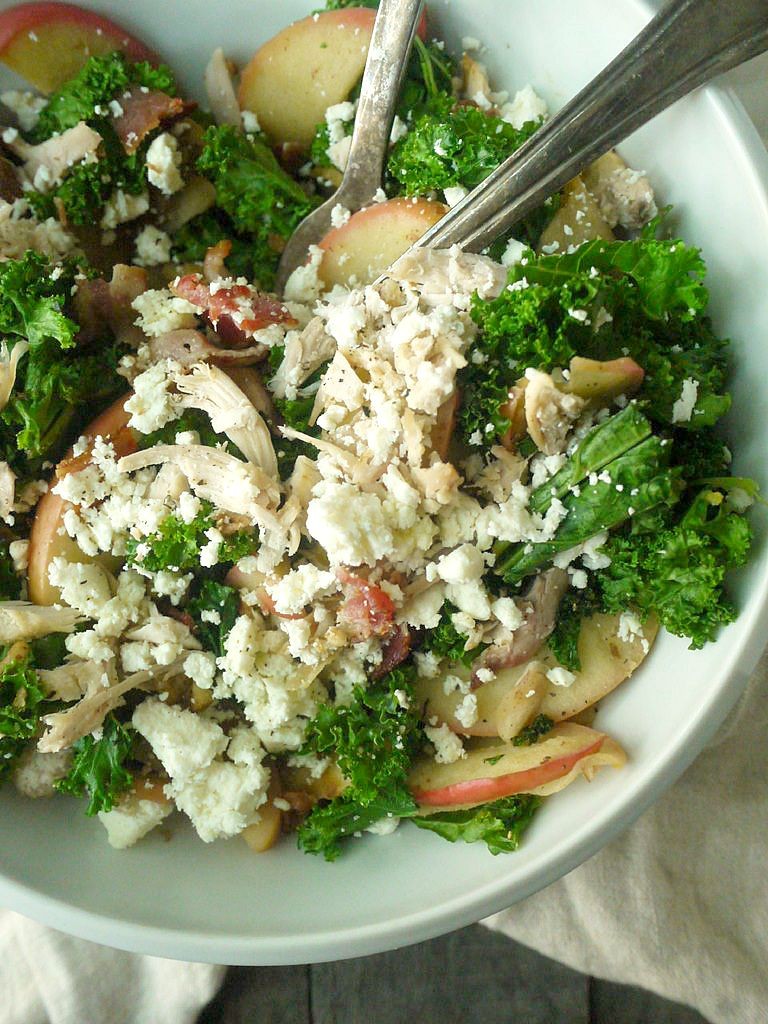 Speaking of fall, it's a coming whether we like it or not. I'm in the "not" category. Don't get me wrong – I love fall in D.C. With the changing leaves, a crisp feeling to the air, and a welcome break in the humidity, it's one of D.C.'s best seasons. But, I just cannot get my head around cold weather. As soon as the temperature drops below 75, I start to shiver and look fondly back over my shoulder at the 90 degree days of summer that wrapped my bare shoulders in warmth. And, as much as I'd like to put on a fleece and go apple picking at a nearby orchard, all the while breathing in the crisp fall air, I will more likely be bundled up by the fire sipping hot tea and secretly turning up the heat when Alasdair turns his back.
Fortunately, I have neighbors who not only go apple picking, but also bring me back a bag of beautifully crisp sweet apples. The kind of apples that are too good for mundane snacking and deserve a special dish where they can shine alongside our new favorite dinner friend, kale. And that is the story of how the kale salad with chicken, apples, and toasted walnuts came to be….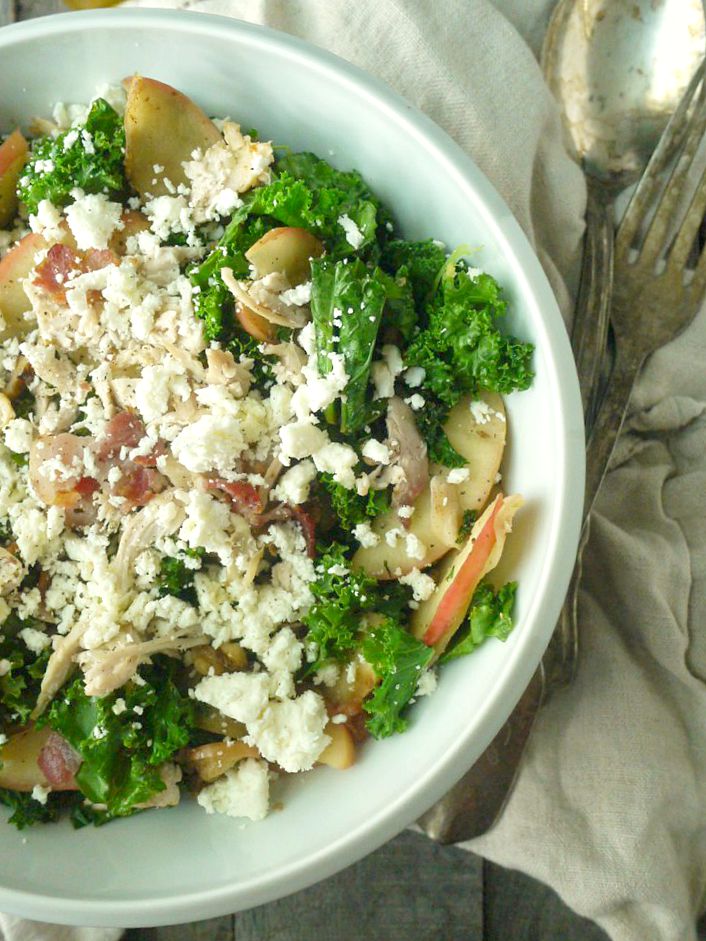 Back to the tweaking… I was never happy with the way the apples turned out in this dish. They were no longer crunchy but not quite caramelized. They needed a boost. And the boost's name is BACON. Here's the thing – it's almost impossible to hate on kale. Even if you're not a greens person and even if you don't care about the plethora of super-food, super-health benefits that kale brings to the table, it sneaks up on you and before you know it, you are eating kale for breakfast (kale smoothie), lunch (kale salad), snack (kale chips), and dinner (kale pasta). And you're feeling good because kale IS good for you, really good for you. But, even if you don't like kale, you MUST like bacon. You HAVE to like bacon or we're not friends. Even my vegetarian friends tell me bacon is their kryptonite.
So I might have kind of fried up the apples and walnuts in bacon fat and then crumbled crispy bacon all over the salad. Whoops. The combination of the flavors – the crunchy kale, the roasted chicken, the sweet apples, the toasted walnuts and the salty crumbled feta – already made this salad pop but the bacon takes it to the next level. It's so much better than before.
If you're worried I've gone to the dark side, don't be. You're still eating a kale salad WITH apples AND chicken AND walnuts. All good for you things. You're just getting a little treat in terms of the bacon and the feta. Because we all deserve a treat right? Especially those of us up at 4 am….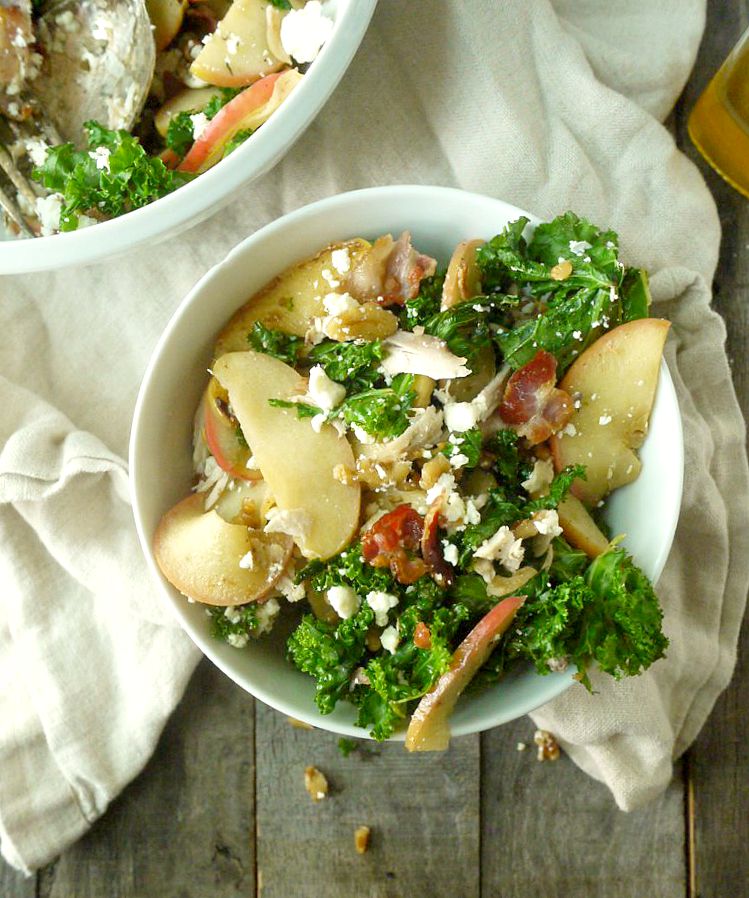 Chicken and Kale Salad with Bacon-Fried Apples and Walnuts
If you are Paleo or dairy-free, you can leave out the feta cheese.
Author:
Healthy Recipe Ecstasy
Ingredients
SALAD:
8 slices center-cut bacon
2 medium sweet apples such as Honeycrisp, Gala or Pink Lady, thinly sliced about an ⅛ of an inch thick
1 generous pinch of kosher salt
1 teaspoon dried thyme
½ cup coarsely chopped walnuts
6 cups loosely packed kale, hard stems removed and leaves massaged and torn into smaller pieces
2 cups shredded rotisserie chicken
½ cup feta cheese
DRESSING:
1 tablespoon honey
1 tablespoon lemon juice
2 tablespoons apple cider vinegar
¼ cup extra-virgin olive oil
1 pinch of kosher salt
Freshly-cracked black pepper, to taste
Instructions
SALAD:
Cook bacon in a large skillet over medium-high heat until crispy. Drain the bacon slices on a paper towel-lined plate and leave the bacon fat in the skillet.
Add the apple slices and walnuts to the skillet. Cook over medium-high heat for five minutes, stirring frequently so the nuts don't burn. Add the kale leaves along with a generous pinch of kosher salt and a teaspoon dried thyme, stir, and cook for 2-3 minutes or until the kale is just starting to wilt. Transfer the salad to a large bowl. Add the shredded chicken and feta cheese.
DRESSING:
In a small bowl, whisk together one tablespoon honey, one tablespoon lemon juice, two tablespoons apple cider vinegar, ¼ cup olive oil and a pinch of salt until combined.
Toss the dressing and the kale salad together. Season with black pepper, to taste.