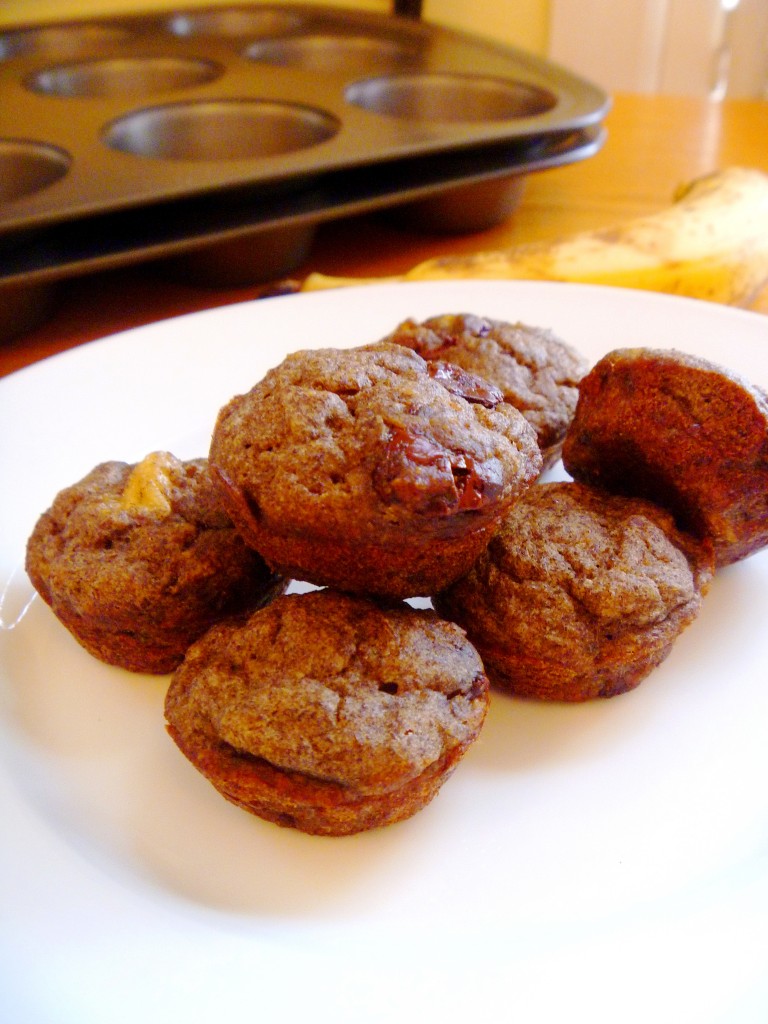 Remember my Dark Chocolate Banana Bread Brownies? Healthy, gluten-free and delicious? Well, I know they say, "if it's not broke, don't fix it," but I couldn't help playing around with this recipe before I served it at the Junior League breakfast. And, I am so glad I did, because this version is EVEN BETTER.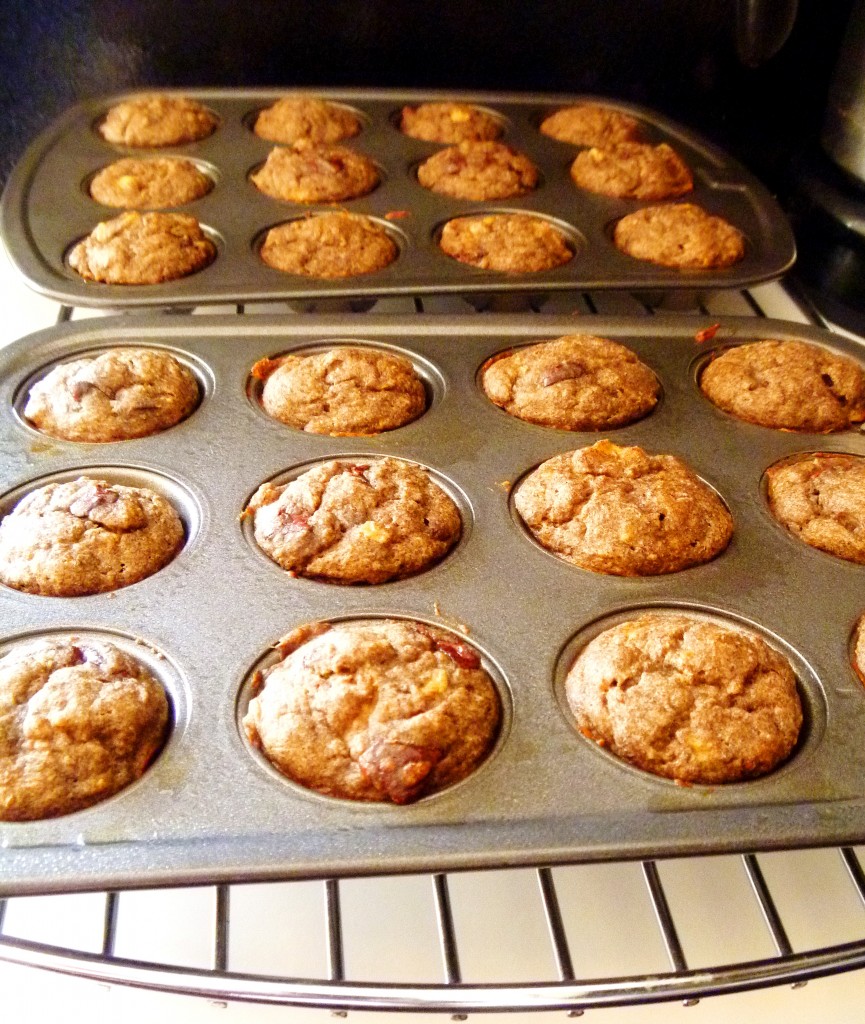 Here are the changes:
1. I decreased the amount of buckwheat flour and added a little all-purpose flour so this version is not gluten-free. Of course, if you need a gluten-free version you can keep just stick to the buckwheat and flax.
2. I added an extra banana – this one little banana makes a huge difference. It adds flavor and moisture and general yumminess.
3. Instead of squares, I baked these into little mini muffins. This recipe is very rich, especially for breakfast, and the mini muffin is the perfect size.
4. I added a little more chocolate. Because, let's be honest, there's nothing wrong with more chocolate.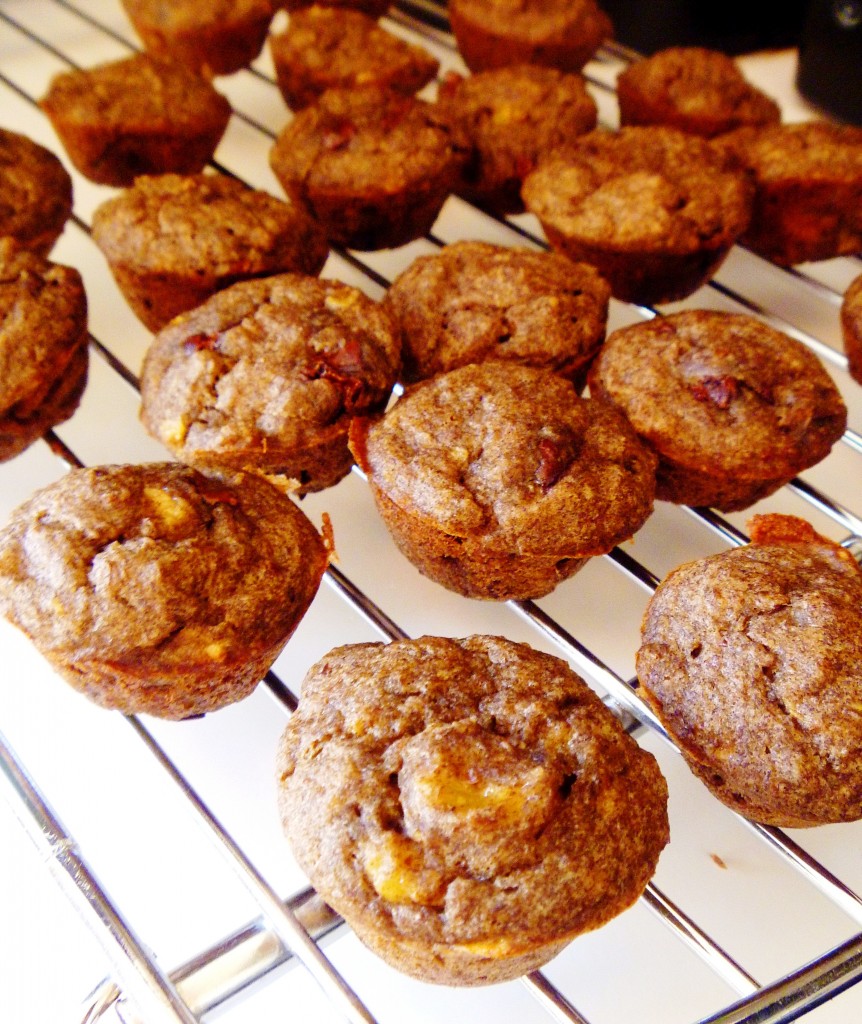 Healthy Recipe Ecstasy? Even though these banana bread bites are no longer gluten-free, they are still incredibly healthy. Most of the moisture comes from fruit – bananas and applesauce – and the bites still contain the healthy buckwheat flour and ground flax. And they taste AMAZING.

Chocolate Banana Bread Bites
Author:
Healthy Recipe Ecstasy
Recipe type:
Breakfast/Snack
Ingredients
¾ cup all-purpose flour
½ cup buckwheat flour
¼ cup ground flaxseeds
1 teaspoon baking powder
½ teaspoon salt
3 large ripe bananas
4 ounces unsweetened applesauce
¼ cup butter, softened
2 large eggs
1 teaspoon vanilla extract
5-6 ounces dark chocolate (I used 1.5 bars of Lindt Dark Chocolate with Sea Salt)
Instructions
Preheat oven to 350 degrees. Get your old bananas out and mash them. Lightly spoon flours into dry measuring cups; level with a knife. Combine the flour and ground flax, baking soda, and salt, stirring with a whisk.
Place applesauce and butter in a large bowl, and mix by hand (my preference) or beat with a mixer at medium speed until just blended. Add the eggs, one at a time, mixing/beating well after each addition. Add banana and vanilla; mix/beat until blended. Finally, add the flour mixture; mix/beat at low speed just until moist.
Cut the dark chocolate into little pieces and gently mix the pieces into the batter. Spoon the batter into mini muffin pans coated with cooking spray. Bake for 17-18 minutes or until a toothpick inserted into the center of one muffin comes out clean.
Cool on a wire rack.