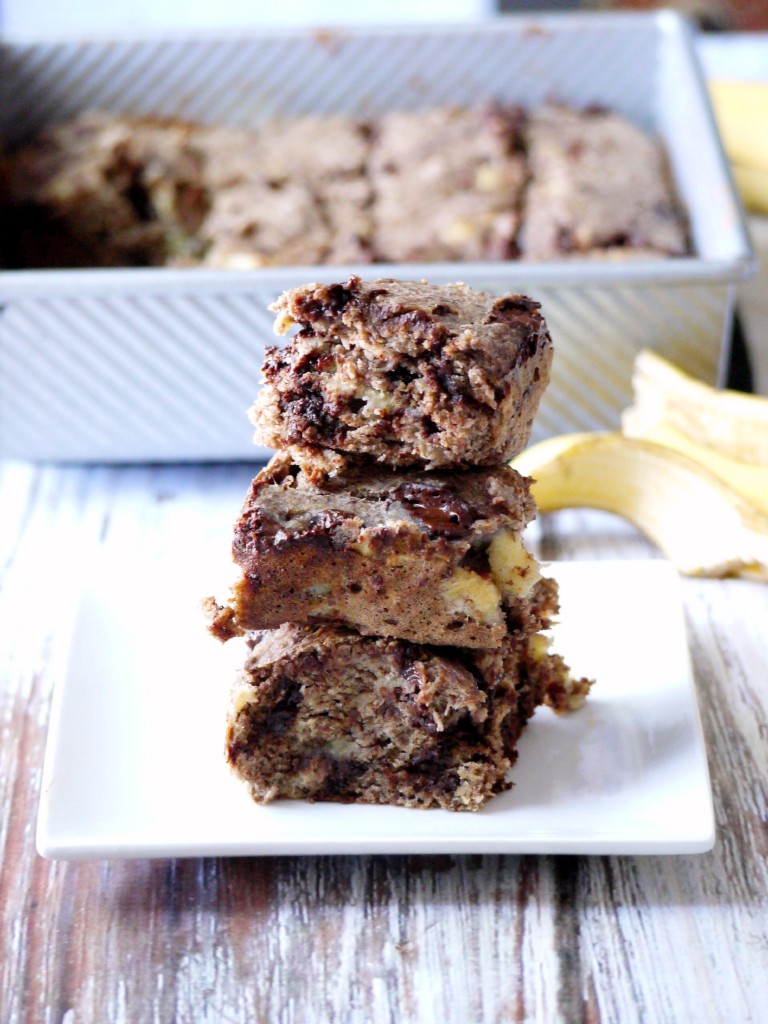 I was going to title these babies "Gluten-Free Dark Chocolate Buckwheat Flax Banana Bread Brownies" but I thought that might be a bit too long for a title. But seriously, I wanted everyone to understand just how much is going on in these little squares. A whole lot of flavor and a whole lot of healthy goodness.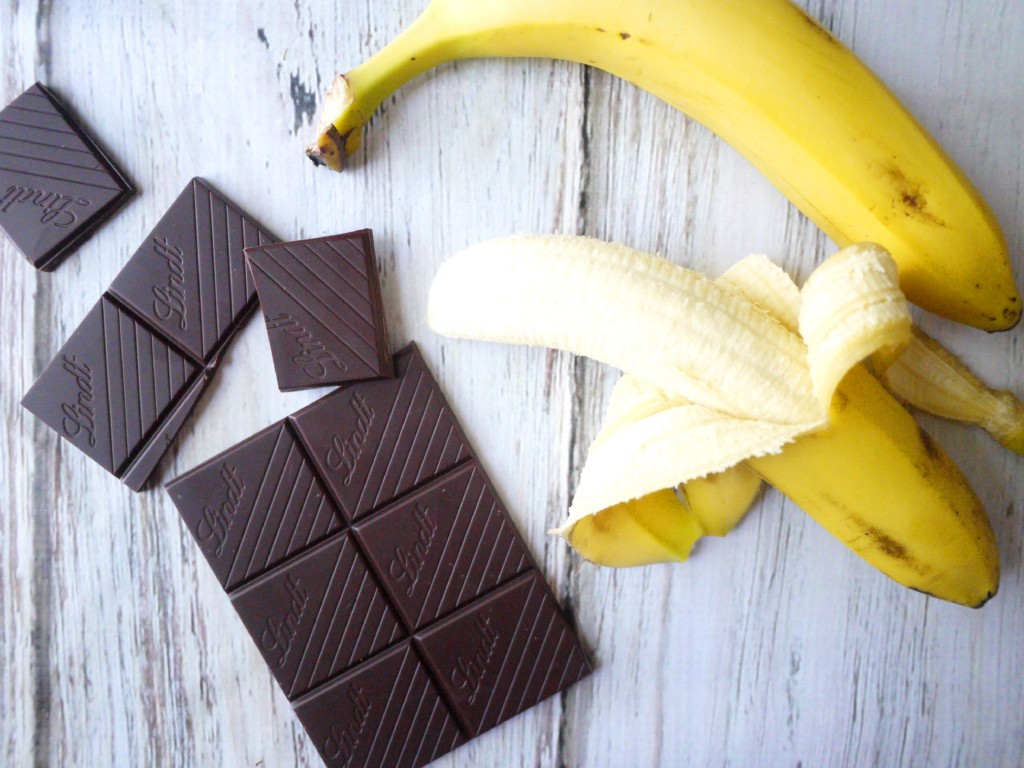 I've never made banana anything before, and I'm obviously not the most experienced baker, but when I saw we had a bunch of bananas leftover from the weekend that were going bad, banana bread was the first thing that came to mind.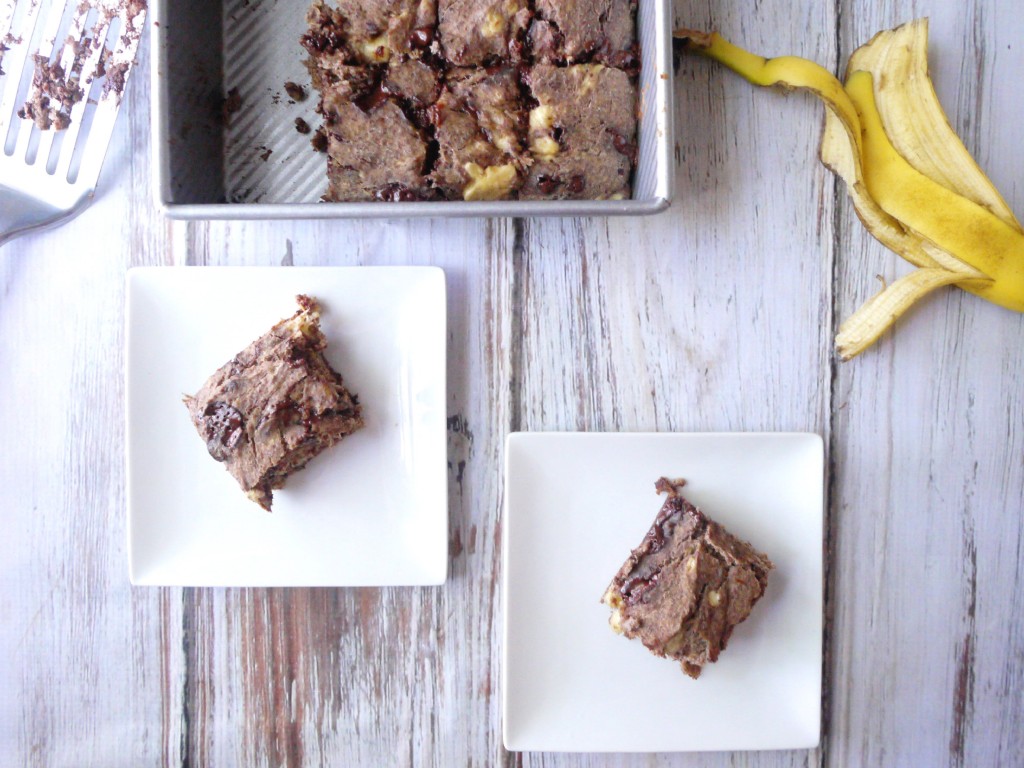 Of course, I did not want a huge loaf of sugary, floury baked goods sitting around the apartment taunting me and my waistline so I knew I had to HRx the classic banana bread. And that's what I did. Honestly, I didn't even think. I just started throwing things in a bowl and mixing. I was sure it was all going to go horribly wrong. I mean, it had to. You can't just wing it with baking. But it didn't turn out wrong. It turned out good. So good that I ate three brownie squares right out of the oven. So good that I'm eating two more right now as I type this. So good that I'm going to have to bring the rest to work tomorrow so I don't eat the whole batch. Or not…I don't really want to share…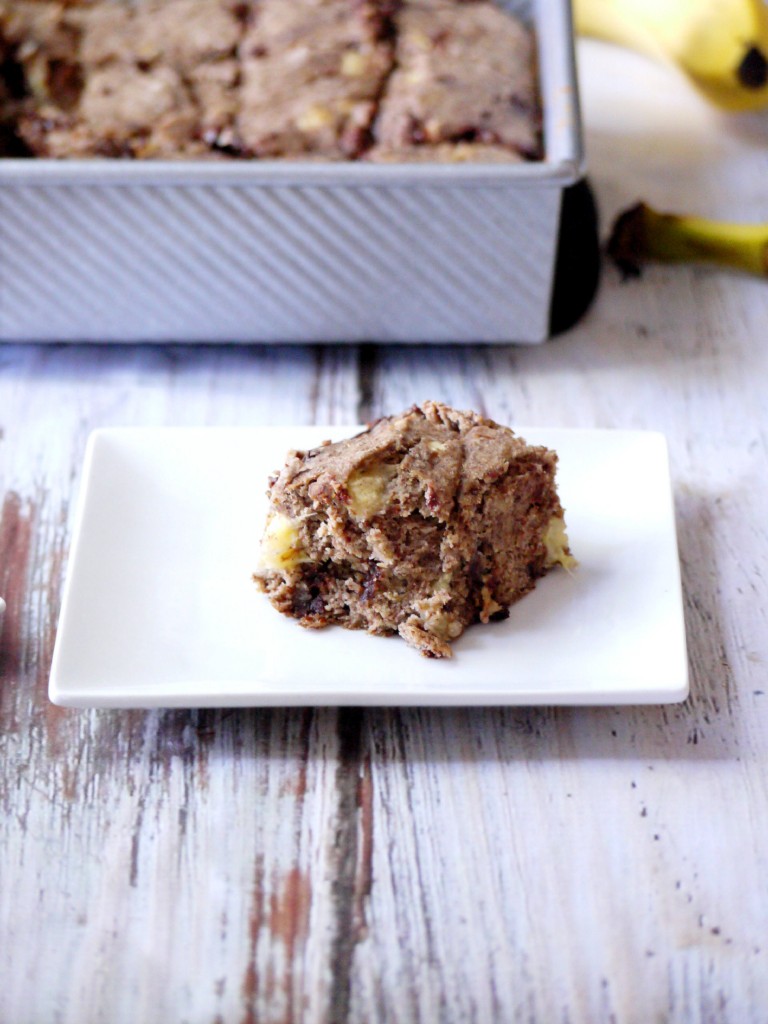 Seriously. I didn't think it was possible for something to taste simultaneously healthy and delicious. All in one bite I get the nutty buckwheat and flax taste, the banana and apple flavoring, and then a surprise hit of gooey delicious melted dark chocolate.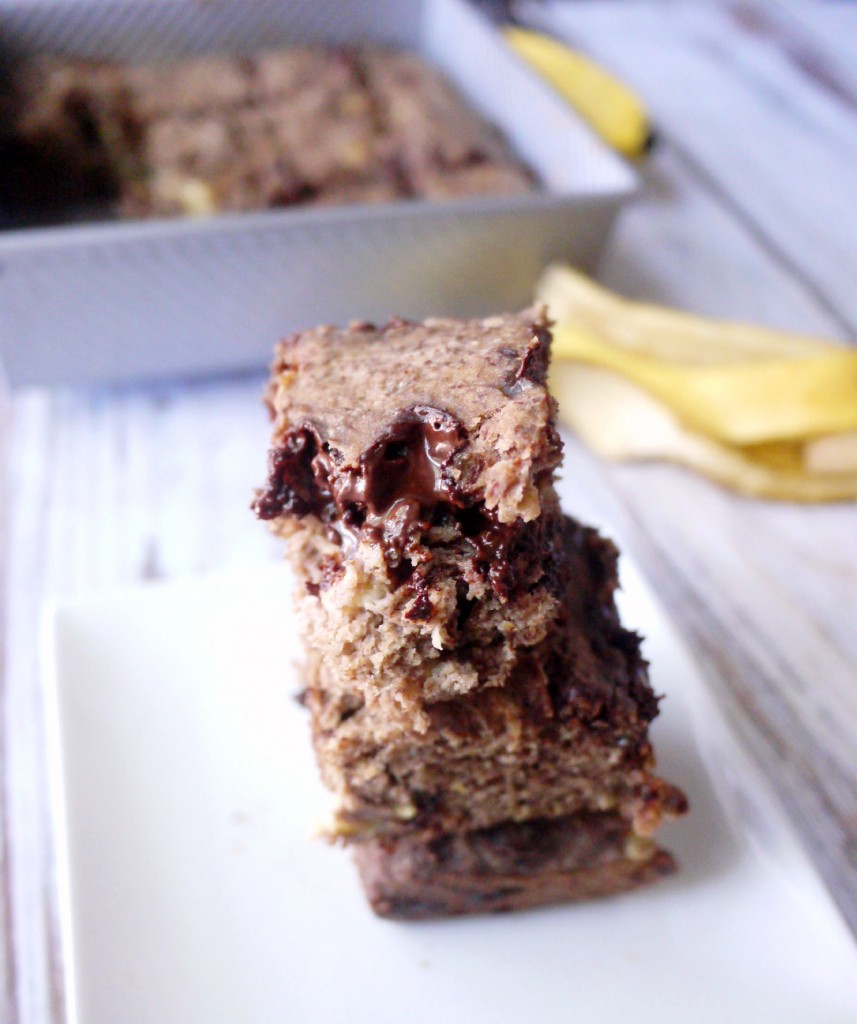 Healthy Recipe Ecstasy? Classic banana bread generally has 2 cups of white flour, 1 cup of sugar and some sort of dairy (milk or yogurt). What does my banana bread have? NONE OF THAT! I used buckwheat and flax flour instead of white flour because buckwheat and flax are gluten-free. I used unsweetened applesauce instead of sugar and I left out most of the dairy (except for a small amount of butter). Really, these are practically dairy-free.  All the sweetness comes from the fruit alone which means this is a much more savory banana bread recipe than most people are used to, but as a savory addict, that's what I prefer. Plus these babies are chock full of fiber. Who needs boring cereal in the morning when you can get your fiber from chocolate-y banana bread squares??
Note – make sure that your buckwheat flour isn't mixed with wheat flour or gluten if you have a serious gluten sensitivity.  Also, I didn't have a loaf pan so I baked these in square and rectangular baking pans like brownies – hence the squares rather than big slices of bread. Better for portion control!
Now just look at that gooey chocolate. Look at it! I'm off to eat more banana bread brownies…
Dark Chocolate Banana Bread Brownies
Author:
Healthy Recipe Ecstasy
Recipe type:
Dessert/Snack
Ingredients
1 and ¼ cup buckwheat flour
¾ cup ground flaxseed
¾ teaspoon baking soda
½ teaspoon salt
1 cup unsweetened applesauce
¼ cup butter, softened
2 large eggs
1½ cups mashed ripe banana (about 3 bananas)
1 teaspoon vanilla extract
3.5 ounces gluten-free dark chocolate (I've used Lindt Dark Chocolate with Sea Salt and 70% dark chocolate - both were amazing - but feel free to use your favorite dark chocolate)
Instructions
Preheat oven to 350°. Get your old bananas out and mash them.
Lightly spoon flour into dry measuring cups; level with a knife. Combine the buckwheat and flax flour, baking soda, and salt, stirring with a whisk.
Place applesauce and butter in a large bowl, and mix by hand (my preference) or beat with a mixer at medium speed until well blended (about 1 minute). Add the eggs, one at a time, mixing/beating well after each addition. Add banana and vanilla; mix/beat until blended. Add flour mixture; mix/beat at low speed just until moist.
Cut the dark chocolate into little pieces and gently mix the pieces into the batter.
Spoon batter into a baking pan coated with cooking spray. Use a 9 x 12 rectangular pan for thin brownie squares or an 8 x 8 pan for thicker brownie squares. Bake at 350° for 25-30 minutes or until a wooden pick inserted in center comes out clean. The thicker brownies in the 8 x 8 pan need a few extra minutes.
You should cool for 10 minutes before removing from pan....but they're just too good to wait! Look at that gooey melted chocolate! Who can resist that? Certainly not me...
link
link