Good morning everyone! I really do feel like it's a good morning because I got more than nine hours of sleep last night which is amazing. Ordinarily, I am NOT a morning person. That's why, when my friends at the Junior League of Washington, asked me to run the 2013 Bright Beginnings 5K next Saturday morning, I balked. You want me to wake up at the crack of dawn and be active??? I don't think so!
BUT, then I realized that Bright Beginnings, Inc. is sponsoring the race to support homeless children and families. All proceeds from the event will go directly to Bright Beginnings, which provides education, therapeutic, and family-stabilizing services that give homeless infants, toddlers and preschoolers, and their families the best chance of success in school and in life. That got me. I've always been a big advocate of helping individuals who are homeless. In fact, my goal one day is to be able to provide legal advice AND food to those less fortunate. Getting back on topic, I decided that even if I don't wake up and run, I want to support this event however I can – donating money, time, cheering on my friends who are running, etc.
One thing I can definitely do is provide some suggestions on pre-race breakfast ideas.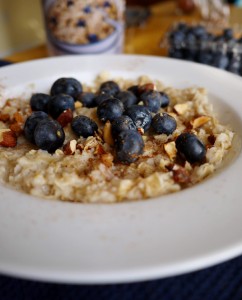 I'm not a natural runner, but I did run one 10K race a couple of years ago. It was an amazing adrenaline rush, and I was super excited that the race sponsors provided everyone with a bagel and cream cheese afterwards – my favorite treat. I didn't even have to feel guilty about eating a bagel and then going out to brunch and eating everything in sight, because I had just run a 10K! However, the one thing I was unsure about was what to eat before the race. Trying to remember back, I may have had a banana or a granola bar. I have a sensitive stomach so I didn't want to risk eating too much.
After doing some research, I see that I wasn't too far off. Here are a few tips for pre-race eats:
1. You definitely don't want to eat anything that will upset your stomach like super fatty or greasy foods. I'm looking at you bacon, egg, and cheese sandwich.
2. You do want to get some energy-providing carbohydrates in your body along with just enough protein and fat to keep your hunger at bay during the race. For example, peanut butter on toast with banana slices.
3. Ideally, you're supposed to eat 3-4 hours before a race, but as most people don't want to get up at 4 a.m. to have breakfast, the meal usually comes 1-2 hours before the race. Therefore, it's important not to overeat. No carbo-loading like they do in the big leagues!
Here are some more examples of good pre-race snacks:
Oatmeal with Blueberries, Chopped Almonds, and Cinnamon. Oatmeal makes a good pre-run breakfast that is easy to digest and will keep you full. Make race-morning oatmeal with water instead of dairy for a more carbohydrate-focused meal.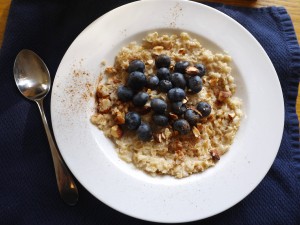 A Banana. If you're not a big breakfast person, rather than skipping altogether, grab a banana to go. Bananas are packed with tons of potassium, a mineral lost through sweat during exercise.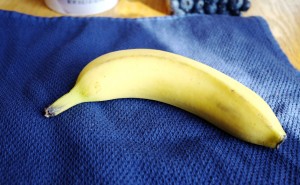 Banana Bread Bites. If you want something a little more substantial, my banana bread bites are perfect before a race because they combine carbohydrates, potassium-filled bananas, and applesauce which is a low-fiber fruit. Just remember to leave out the chocolate if you're going to make these to eat pre-race!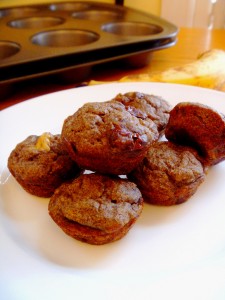 If you live in the D.C. area, and you're interested in running the 5K, you still have a few days to register. Check out this website for more information. http://www.brightbeginningsinc.org/5k/. I've copied additional information on the event and Bright Beginnings below.
About the event…
The Bright Beginnings 5K is a high-visibility opportunity to be part of the solution for vulnerable homeless children and their families, and join other well-educated, well-connected, and passionate supporters and organizations in helping homeless infants, toddlers and preschoolers and their families succeed in a devastating economic and employment environment. At a larger location this year, the Bright Beginnings 5K will start and finish at West Potomac Park. Participants will enjoy a scenic view of the Tidal Basin, Hains Point, and the Potomac River. As an added bonus, did you know that the Bright Beginnings 5K course is USATF certified?!
About Bright Beginnings…
The top reasons that lead to homelessness include unforeseen economic crisis, job loss, foreclosure, serious medical condition, and death in the family. According to the Annie E. Casey Foundation's 2011 KIDS COUNT data, 30% of the District of Columbia's children live below the poverty level, compared to 17% nationally. Bright Beginnings serves 25% of the homeless children younger than 5 years old in Washington, DC. In this environment, Bright Beginnings has been a beacon to homeless families across the city, many of whom travel long distances from far corners of the city to bring their children to a place of hope, help and respect. Please click on the following link for more information about Bright Beginnings: http://www.brightbeginningsinc.org/home.html.