For this week's recipes, I'm doing things a little different. I'm basing three very different recipes around one ingredient: rotisserie chicken.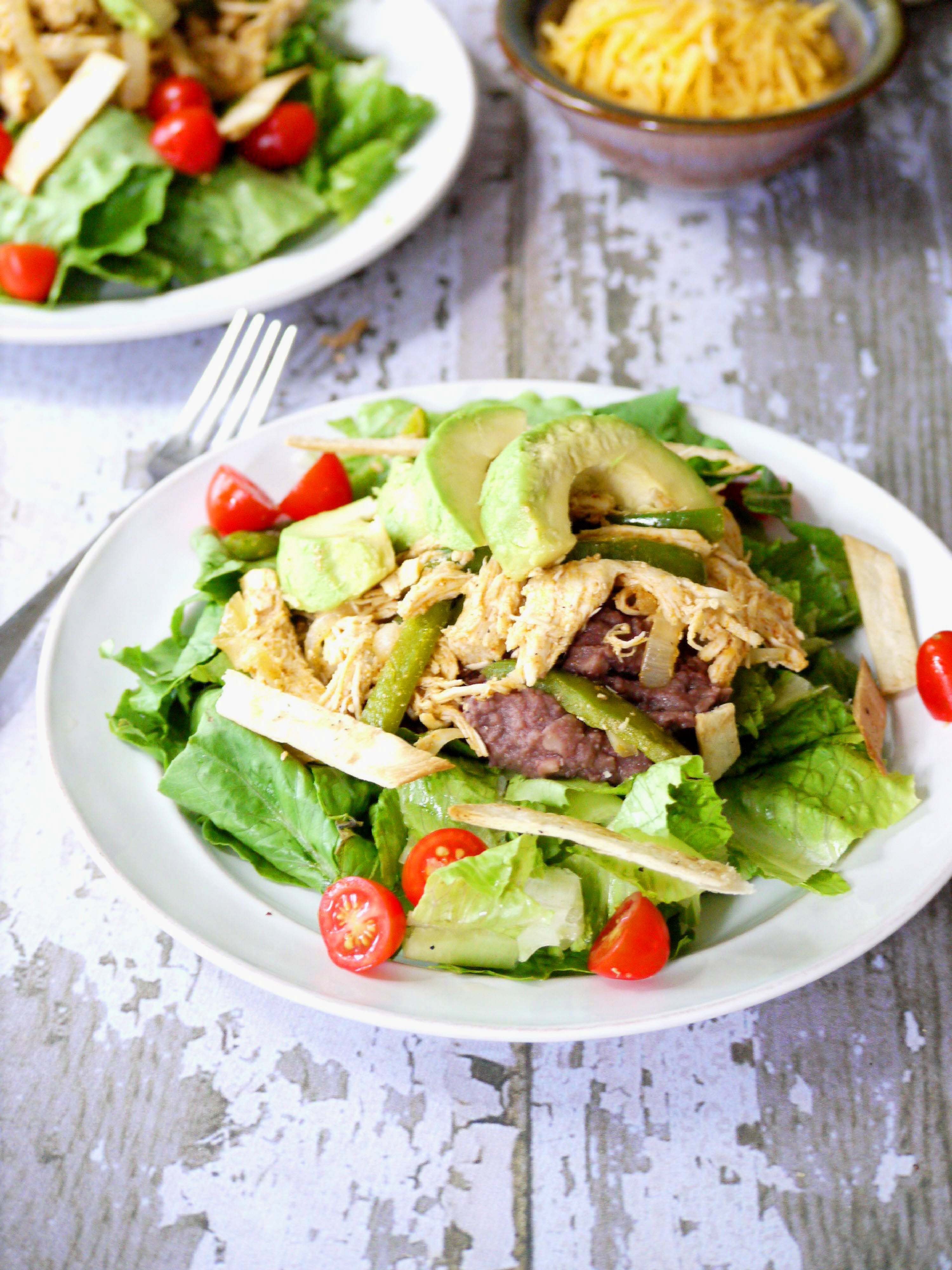 I love rotisserie chicken because it's so diverse. Seriously, rotisserie chicken can be the workhorse of your kitchen during the week. You can feed your family all week long without having to lift a finger. Just let good ole' rotisserie chicken do its thang.
I love that rotisserie chicken is already cooked so you can pull the chicken right off the bone and start eating immediately on a night where you get home from work and you're at your max "hangry" level. Insert picture of me standing at the counter picking off chicken pieces and stuffing them into my mouth. If you're still at minimal "hangry" levels, you can throw the chicken into an Asian stir fry, use it to make a sandwich, a salad, or a burrito.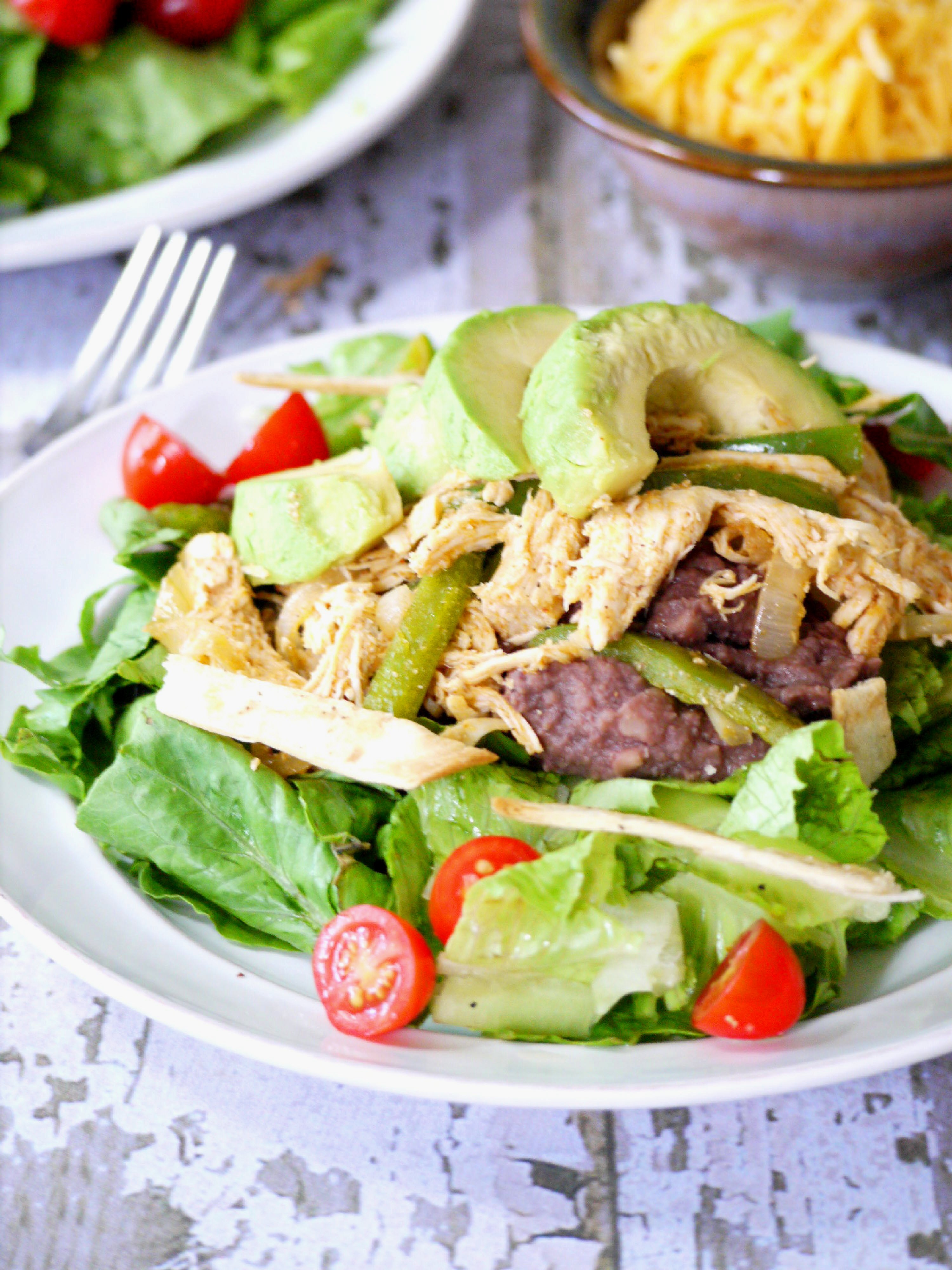 Back when we were dating and trying to impress each other, Alasdair made me his signature fajita burritos. It's a big, orderly production. He fries up chicken, peppers and onions in taco seasoning, rolls them up in a big flour tortilla along with refried beans and cheese and tops the whole thing off with sour cream, wing sauce and chopped jalapenos (can you feel the heartburn?). Different elements have to be heated at different times using different kitchen apparatuses. He has the fajita burrito down to a T, and it's delicious….but not so healthy.
Three years and many fajita burrito dinners later, I decided that I couldn't keep downing huge, Alasdair-sized burritos if I wanted to button my pants and keep the heartburn at bay. So, I came up with a compromise that keeps the flavor but cuts down on calories, carbs and dairy.
Step 1: Get rid of the huge tortilla and substitute a few crunchy baked tortilla strips.
Step 2: Leave out the packaged taco seasoning which is made with who knows what and use seasonings from my spice rack instead.
Step 3: Nix the fatty sour cream and substitute creamy avocado which is full of heart-healthy fats.
Step 4: Add in greens and minimize the portion size.
All the important parts are still there – the seasoned chicken, the onions and peppers, the creaminess, and the spiciness (if desired) with the added elements of crunchy freshness from the baked tortilla strips and crisp lettuce. If you want to minimize carbs even further, you can leave out the tortilla strips. Or, if you have a gluten issue, you can use corn tortillas instead of flour. The shredded cheese is an optional topping but totally unnecessary so this starts as a completely dairy-free salad.
The rotisserie chicken fajita salad has quickly become one of my favorite weeknight salads. Partly because it's quick and easy to make. Mostly because it doesn't taste like a salad – it tastes like a big plate of Mexican deliciousness!
If you don't believe me, ask Alasdair. Every time I make this salad, he walks into the kitchen and goes: "what smells so good?" Followed by: "wow, this chicken tastes good" as he picks chicken out of the skillet. Not once does he complain about eating a salad for dinner. Instead, he chows down with a smile on his face and thanks me for a hearty meal. Now, that's a victory if I ever saw one.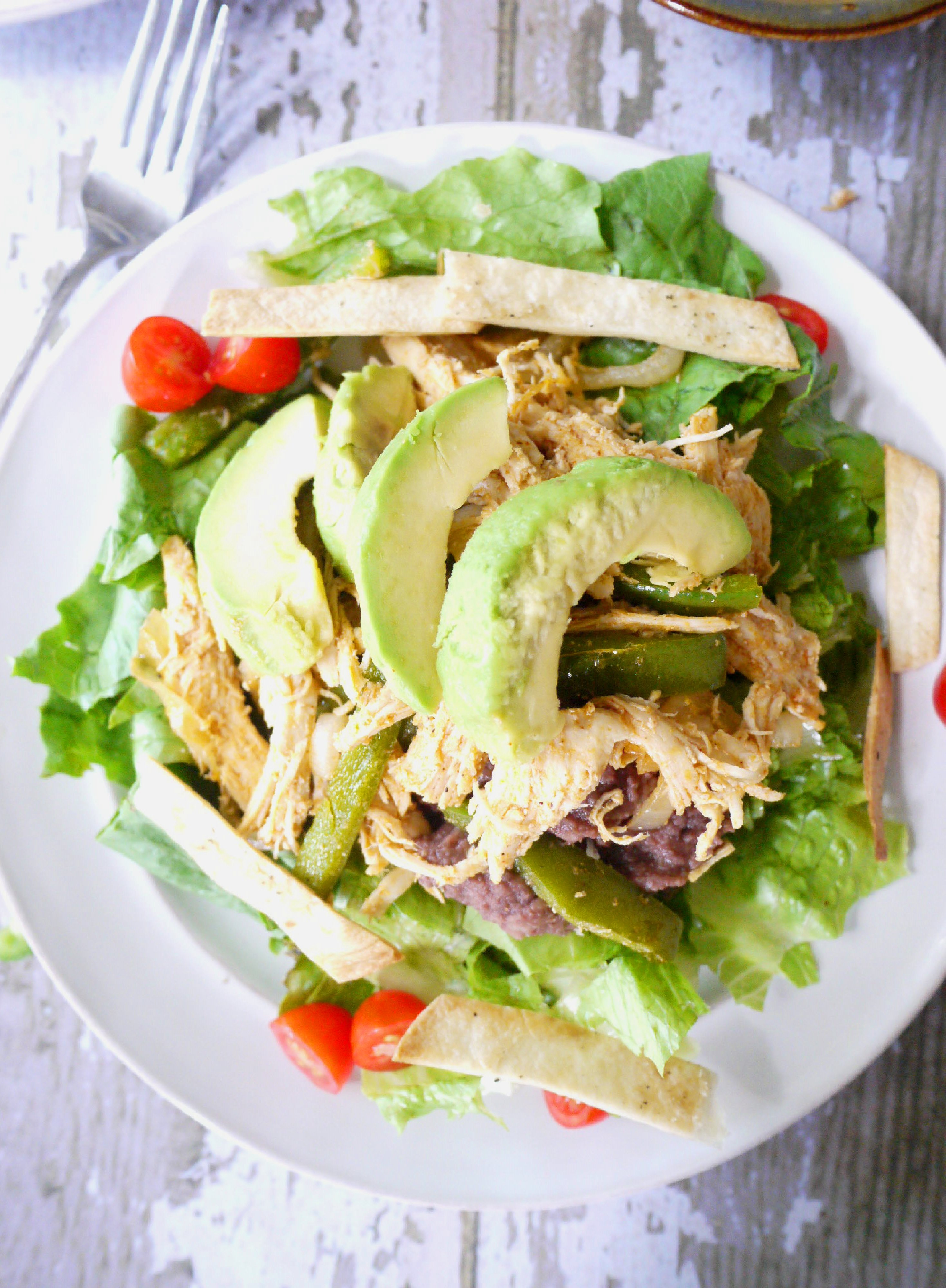 Rotisserie Chicken Fajita Salad
The best thing about this salad is that you can personalize it to your own taste. Alasdair likes things a bit spicy so he adds diced hot peppers and wing sauce to his salad. I usually top mine off with some mild salsa so as not to aggravate my heartburn! If you don't have a rotisserie chicke on hand, you can substitute any leftover shredded chicken. I made this salad using the leftover slow-cooker enchilada chicken from my
tostada recipe
, and it was amazing!
Author:
Healthy Recipe Ecstasy
Ingredients
2 medium-sized tortillas
2 cups rotisserie chicken, shredded
1 teaspoon garlic powder
½ teaspoon kosher salt
¼ teaspoon chili powder
1 tablespoon olive oil
4 cups lettuce (Romaine lettuce is good but I've also used a mix of butter lettuce and arugula)
2 cups refried beans (check out my recipe for Easy Refried Beans or you can use canned refried beans)
1 green pepper, sliced into strips
½ large onion, vertically sliced
½ cup cherry tomatoes, sliced
1 avocado, sliced
Optional toppings: Salsa, shredded cheddar cheese, wing sauce, diced jalapenos
Instructions
Preheat oven to 400 degrees. Spray each tortilla front and back with cooking spray. Lightly season with salt and pepper. Cut tortilla in strips then bake for 8-10 or until crisp and lightly browned.
Heat olive oil in a large saute pan over medium-high heat. Add peppers and onions and saute for five minutes. Add chicken, saute for one minutes. Stir in garlic powder, salt and chili powder. Turn heat down and simmer for five minutes. Warm the refried beans in the microwave.
Build your salad: Put one cup lettuce on a plate. Add ½ cup refried beans and ½ chicken mixture. Top with tomatoes and sliced avocado. Add 4-5 tortilla strips, broken up into pieces.
Top with salsa, cheese, wing sauce and/or jalapenos, if desired.